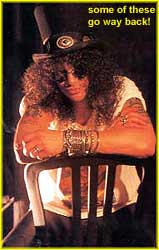 We're having another contest! There will be 5 winners, and the prize is a single cd. It's the first single off Ain't Life Grand, "Been There Lately". It's a promo copy, one track with front and back artwork. It costs nothing to enter and nothing to win! This is another SLASH trivia contest which might be difficult if it were not multiple choice. If there are more than 5 fans with correct answers, then the names of 5 winners will be drawn from among those with correct answers. Only the question number with the answer letter needs to be sent; there is no need to send the question. Direct these to webmaster@snakepit.org. Use CONTEST ANSWERS or something similar for replies. The contest begins tonight, Saturday, September 29 and goes through Wednesday, October 10 at midnight your time.

CONTEST QUESTIONS!



1. SLASH and Steven Adler played in this pre-GNR band:
   a. Amazon
   b. Road Crew
   c. Wild Bunch
2. On ESPN's XTreme Sports a few years back, which GNR member was in
   SLASH's band?
   a. Axl
   b. Gilby
   c. Matt
3. In the GNR video, "Since I Don't Have You", SLASH is lying down 
   laughing at the devil. Where is he lying?
   a. On a bed
   b. On a beach
   c. In a boat
4. First video where a SLASH girlfriend/wife makes an appearance?
   a. Sweet Child O' Mine
   b. Back off Bitch
   c. Welcome to the Jungle
5. SLASH wrote this song still played on AOR and soft jazz stations.
   a. Mean Bone
   b. Obsession Confession
   c. Nightrain
6. SLASH performed with this artist the night before the terrorist
   attacks, Sept. 10.
   a. Neil Young
   b. Les Paul
   c. Michael Jackson
7. The GNR antiwar song is
   a. Civil War
   b. Live and Let Die
   c. Power to the People
8. SLASH covered this John Lennon antiwar song live in some GNR concerts.
   a. Strawberry Fields	
   b. Imagine
   c. Live and Let Die
9. Which artist does SLASH now say he would most like to work with?
   a. Ricky Martin
   b. Dolly Parton
   c. Stevie Wonder
10. The old Snakepit studio in SLASH's previous home was used to record
   which album?
   a. Chinese Democracy
   b. Ain't Life Grand
   c. Chic Live at the Budokan


Good luck!