SLASH !
SLASH's Official Fan Site
SLASH Discography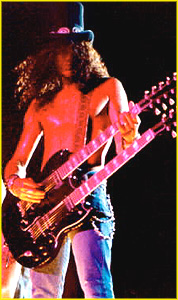 SLASH is most famous for his work on the Guns N'Roses albums and singles, but he has done a great deal of work on his own. Some involves guest appearances on another artist's album or remix of a single. SLASH is invited to do these guest shots often, but sometimes the schedule doesn't mesh with his and, sometimes he feels that his music doesn't fit. This seems to be the minority as there is a long list of albums where he is credited. He has also done movie soundtrack work, and of course SLASH's Snakepit, radio shows and interviews. SLASH's music has appeared in compilations, and the list of these appears here.

If you are looking for some new music, you can check out SLASH guest appearances. There's no one like SLASH to recommend new music for you. All the catalog information is provided so if you need to, you can have them ordered at a record store. This is some of our favorite music, and we hope you find the list to be helpful.

The list here is not a final list by any means. SLASH says that there are some musical guest appeearances we won't know about because he didn't ask for credit on them. So you never know when you might be listening to SLASH! Send any additions/corrections to the SLASH page! Email webmaster@Snakepit.Org Thanks!



Discography Menu
Guest Appearances
SLASH's Snakepit
Soundtracks
Compilations
Radio Shows
Interviews (Non-Print)
SLASH's Snakepit

1995




To Return to the SLASH Official Fan Site's Main Menu, Click on this rare photo of SLASH's face!: