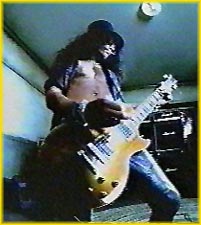 SLASH has appeared in so many videos! Just when you think you have them all recorded, another one pops up. We're including music videos where SLASH does a guest appearance. We also have the Snakepit videos. And there are videos where SLASH is interviewed or does a commentary on another artist. These are regular releases that can be bought at the video store or are promotional videos. No bootlegs. Send along any changes or additions to SLASH Page. Thanks!

With so many videos being re-released on DVD, you'll find a mention of that here if it applies.



VIDEOS

The Concert For The Rock and Roll Hall of Fame
Columbia. Running time: 62:58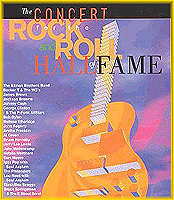 This video covers the opening of the Rock and Roll Hall of Fame in Cleveland, OH on September 18, 1999. There were many, many artists there. SLASH played on "Red House" with Boz Scaggs, but the whole show is a once in a lifetime event worth watching completely.



Carole King
Carole King In Concert
1994 White Star Video D1690 - DVD and Video Cassette

In 1993 Carole King did a concert for Connecticut Public Television at Hartford's Bushnell Hall during her Colour of Your Dreams tour. SLASH has two appearances here, on "Hold Out For Love" and on "Locomotion". Time is listed as 1:25. The CD for this video is listed under "Guest Appearances" on SLASH's Discography Section.



Marta Sanchez
Maja Mi Corazon
1997 Spain Polygram/Iberia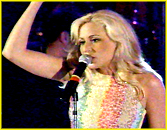 This video is a track from a Marta Sanchez album called Azabache. After SLASH worked with Marta Sanchez on the Curdled soundtrack, they did this track with a video. It was played in Spain.



BAD COMPANY
IN CONCERT: MERCHANTS OF COOL
BMG Distribution - Theatrical Release 1/1/02 - DVD and VHS Release:5/21/02
ASIN: B00006703K (DVD) and B010067D3J (VHS)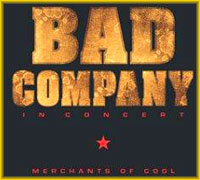 There are two concerts here, one was recorded live at the Paramount Theatre in Denver, Colorado. The second is from the show at The Grove of Anaheim in Anaheim, California in January 2002. SLASH appears at this show and is sensational! SLASH does "Wishing Well" and "Crossroads". The DVD includes some bonus features such as backstage footage, photo gallery, band and celebrity interviews, biography, hidden bonus track and more. SLASH can be seen in some of these selections such as backstage footage. The video is in color and is 140 minutes long. Recommended!



SLASH'S SNAKEPIT
MEAN BONE
Koch Entertainment LLC

This is a promotional video put out by Koch. The video is for "Mean Bone", the second single off the Ain't Life Grand album. This is a live band performance using footage from Snakepit's 2000 European tour along with an animated snake at beginning and end. Time is 3:57.



VARIOUS ARTISTS
HARDVISION #39
2000 RetailVision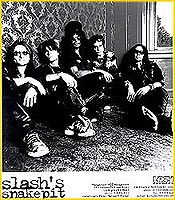 This is a promotional compilation video. The video of interest here is SLASH's Snakepit's "Been There Lately". Some other artists on this video are Limp Bizkit, Slipknot, Soulfly and Kittie.



INSANE CLOWN POSSE
SHOCKUMENTARY
1998 Island Records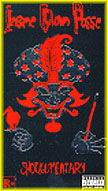 Insane Clown Posse brings together all their music videos along with interviews and concert footage. One of their videos is for the song "Halls Of Illusion". SLASH puts in a guest appearance on "Halls Of Illusion" on their album, "The Great Milenko". On the "Shockumentary" video, SLASH appears in a brief clip preceeding ICP's "Halls Of Illusion". He talks about being contacted to guest on the album and why he said yes. ICP is a raw, funny band!



WOODSTOCK 94
1994 PolyGram Video

Woodstock 1994 was billed as three more days of peace and music. Promoters brought in big acts and attracted over 300,000 people. Guns N'Roses was invited to appear but declined, saying the show was "too commercial." But SLASH managed to be there!

Paul Rodgers put a band together including SLASH, Neal Schon, Andy Fraser, and Jason Bonham. They rocked Woodstock! The video producers chose one song from each band, and for the Rodgers band, they chose "The Hunter". SLASH just rocks on this song!



PAUL RODGERS: IN CONCERT - MERCHANTS OF COOL
Sanctuary Records 2002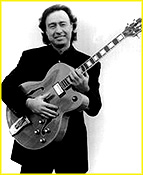 This show had SLASH on "Wishing Well" and "Crossroads".



JIMI HENDRIX
BAND OF GYPSYS: LIVE AT THE FILLMORE EAST
1999 Experience Hendrix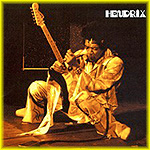 "Jimi Hendrix: Band of Gypsys" features the only known footage of the group in concert. The groundbreaking music is heard here, and there are interviews to describe the story of the music Jimi made and whose effects are still being felt today. The Band of Gypsys are all here. Also contributing are SLASH, Lenny Kravitz, Vernon Reid and engineer Eddie Kramer.


SLASH has an extensive interview - watch for him after Lenny Kravitz has been on for awhile. SLASH talks about the changes in the size of Jimi's band and why he may have made those changes. SLASH speaks about Jimi's creativity and much more.


ROCKVIDEO MONTHLY
HEAVY METAL RELEASES: MAY 1995
1995 Warner Music Enterprises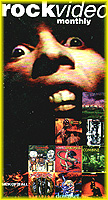 "Rockvideo Monthly" was a big video series that came out in different genres. In this heavy metal relese are 10 music videos. SLASH's Snakepit's amazing black and white video for "Beggars & Hangers-On" is included here.


ROCKVIDEO MONTHLY
HEAVY METAL RELEASES: AUGUST 1995
1995 Warner Music Enterprises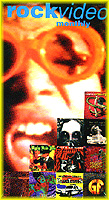 As described above, this is another in the "Rockvideo Monthly" series. One of the 10 videos included here is the "Good To Be Alive" video. In fact, it is the first video on the tape!


THE FREDDIE MERCURY TRIBUTE CONCERT
CONCERT: APRIL 22, 1992
1993 Buena Vista Home Video
DVD Special 10th Anniversary Edition
2 DVD Set with 24 Page Booklet.
2002 Queen Productions Ltd. 200min.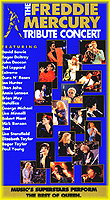 Music's superstars performed with Queen in London's Wembley Stadium to celebrate Freddie Mercury's life and music. Everyone from Elizabeth Taylor to Metallica, from David Bowie to Liza Minelli were there. And so was Guns N'Roses and SLASH! The band was almost excluded due to Axl Rose's gay-bashing "One In A Million". With some fancy footwork, Axl managed to get a slot for the band although many in the crowd protested.

SLASH and the Gunners played an emotional "Knockin' On Heaven's Door" and swung into "Paradise City". SLASH also came out and jammed with Queen's Brian May on "Tie Your Mother Down".

The DVD has the complete concert. The second half of the event featured Brian, Roger and John joined by a glittering array of vocalists and musicians The DVD contains many extras including unseen rehearsal and backstage footage. Profits benefit AIDS trusts.

CHAMPIONS OF THE WORLD
1995: THEATRICAL RELEASE DATE
12/5/1995 UNI/HOLLYWOOD - 120min.

This is a documentary about Queen including performances and rehearsal footage. Also included are extensive interviews from backstage at the Freddie Mercury Tribute Concert. SLASH performed at the concert (see above), and he commented on the death of Freddie Mercury. SLASH says it was a big loss to the rock and roll world and manages to avoid the topic of AIDS altogether.


ALICE COOPER
PRIME CUTS
1991 Summer Place Productions
Prime Cuts: Special Edition 2 Disc Set>

The Alice Cooper Story

DVD. Sanctuary Records. 2001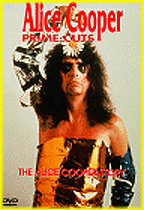 This video was a biography of Alice from the beginnings till 1971. Concert footage, TV appearances, and interviews are all presented here. 23 songs are on the video including "I'm Eighteen", "Elected", "Billion Dollar Babies", "Only Women Bleed" and others. SLASH calls Alice Cooper a legend and is available anytime for guest appearances on Alice's albums.


While SLASH has appeared with Alice in Concert and on his albums, he has not appeared in any videos. On this album, SLASH is one of the people including Ozzy Osbourne, producer Bob Ezrin and manager Shep Gordon that help Alice chronicle his career.


For 2001 version, Disc 1 contains an updated bio of the original. Disc 2 contains comprehensive supplementary material such as a virtual jukebox and a Coopergame, a board game revolving around snakes.


MATT SORUM
DRUM LICKS+TRICKS FROM THE ROCK+ROLL JUNGLE
1998 Rittor Music, Inc.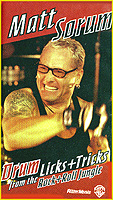 For the first time, Matt Sorum gives special insight into his playing. Matt was the drummer for The Cult as well as GNR. There are instructional segments here on drum setup, tuning, microphone placement, etc. Matt is joined by Larry Cardola on guitar an Chuck Wright on bass for performances that illustrate drum techniques.


SLASH and Duff McKagan show up for a great section where Matt and his guests work on a new song.The drumming develops with the song giving a sense of the drummer's role in song development. SLASH is just outstanding here as he really guides everyone along. And he takes solos here and there that make the song really rock!


HARD N HEAVY
VOLUME 7
1990 Directors International Video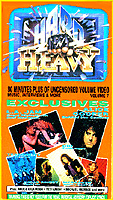 This is a heavy metal video that contains music, concert footage and interviews. For example, Alice Cooper gives a tour of his stage set and talks about his world tour. A report on the new Dio line-up and a taste of what's to come.


SLASH, Duff McKagan and Great White appear in footage from the Children of the Night Benefit in Los Angeles.


VARIOUS ARTISTS
1" NTSC GEFFEN RECORDS 2/7/95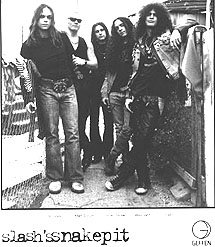 This iS A 1" NTSC tape from Geffen Records containing three promo music videos. Of interest is the one by SLASH's Snakepit, "Beggars & Hangers-On". The other two are by Siouxsie & The Banshees and The Stone Roses. Special viewing equipment is required.


GILBY CLARKE
PAWNSHOP GUITARS/GILBY CLARKE FAN CLUB VIDEOS - 1994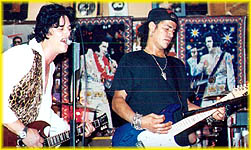 This is a tape of Gilby Clarke's videos from his Pawnshop Guitars album. SLASH appears in 2 of these videos. SLASH is in "Tijuana Jail" looking particularly handsome in his all black outfit, black cowboy hat and bandana. SLASH is also in the "Cure Me... Or... Kill Me..." video.


CHIC
DVD SUPERPRODUCERS '96 - "CHIC LIVE IN JAPAN"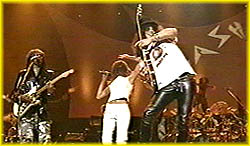 This is SLASH's first appearance on a DVD! It is a Japanese import from Roco Entertainment Corp. Chic appeared in Japan as one of the artists at the Superproducers '96 show. And SLASH played with Chic on Le Freak. Picture at left shows SLASH onstage with Nile Rodgers of Chick. In the background you can see the giant word "SLASH" that appeared when SLASH came running down the ramp to join the band.


BLACKSTREET
"FIX" VIDEO FROM THE ALBUM "ANOTHER LEVEL"
Interscope - 1997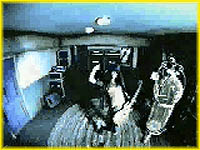 The great Teddy Riley approached SLASH about helping out with a remix for his Blackstreet band. The song was called "Fix". SLASH worked on the remix, and it was great! A video was put together which has a great story line featuring SLASH living in an apartment building on the top floor with all kinds of different people living below this guy who practices his guitar at an astounding level! It's just a super video, and it won the MTV Europe Video Award for best R&B music video.


IGGY POP
"HOME" VIDEO FROM THE ALBUM "BRICK BY BRICK"
EMD/Virgin - 1990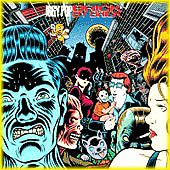 Before he was in the business himself, SLASH had met a family friend named Iggy Pop. SLASH has always liked working with Iggy, and he guested on a couple of songs on this album. One was "Home", and it shows the wild manic energy that Iggy has...and SLASH keeps right up with him.


MICHAEL JACKSON
DANGEROUS - THE SHORT FILMS
Sony - 1993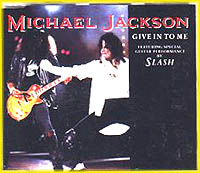 SLASH has played on several songs and many stages with the King of Pop, Michael Jackson. SLASH has made more than one video with Michael, too. On The Short Films video, you can see SLASH playing Give In To Me with Michael singing and dancing. Another video they did together which appeared on MTV was "Black or White".

On November 13, 2001, Sony released a DVD of Dangerous - The Short Films. Included are extensive at-the-shoot footage from "Black or White" and others. The uncut version of "Black or White" is also on the DVD with much, much more.


SLASH'S SNAKEPIT
BEGGARS & HANGERS-ON
Geffen - 2/1/95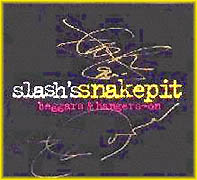 This was the first music video of SLASH's Snakepit's 1995 album, "It's Five O'Clock Somewhere". The video is entirely black and white which suits the seedy club atmosphere it is filmed in. Lots of strange characters hanging out there. Great effects used on SLASH and the rest of the band. SLASH's then-wife Renee appears briefly.


SLASH's SNAKEPIT
THE VIDEOS
Geffen Pink 3 - Promo - 1995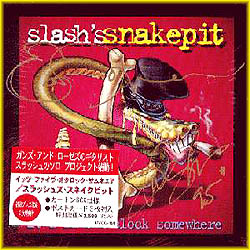 This Geffen promotional video contains both music videos from SLASH's Snakepit's "It's Five O'Clock Somewhere". The first is "Beggars & Hangers-On" and the second is "Good To Be Alive". "Beggars & Hangers-On" was shot with the recording band. "Good To Be Alive" was shot mostly live, and the Snakepit 1995 touring band appears on this video.


SAM KINISON
WILD THING (MTV Version)
Warner Brothers Records - Library 11/28/88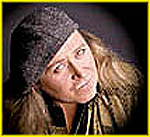 Sam Kinison does his cover of "Wild Thing", and SLASH appears in the group of rockers hanging around and watching the show.


HISTORY OF ROCK 'N' ROLL
GUITAR HEROES
Warner Home Video - 1995 - Sony Films
This series on the history of rock and roll has been shown many times on TV. It is also a video. One episode is about guitar heroes, and SLASH appears in this one.



LENNY KRAVITZ
ALWAYS ON THE RUN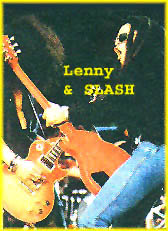 Lenny Kravitz and SLASH wrote "Always On The Run" together. There was a great video for this song, and you can still catch it now and then on VH1. No fake storyline, just two great musicians performing this song.



METALLICA
LIVE SHIT: BINGE AND PURGE
November 23, 1993 - WEA/Elektra Entertainment
3CDs, 3 Videos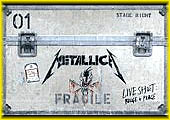 SLASH has always been friendly with the guys in Metallica. He pushed for a GNR/Metallica tour which allowed fans to see these two monster bands as well as Faith No More. On this Metallica box set, SLASH appears for less than a minute. When Metallica talked about the forthcoming tour with GNR, SLASH was sitting right there with Lars Ulrich.



METALLICA
A YEAR AND A HALF IN THE LIFE OF METALLICA - PART 2
ELEKTRA VIDEO - 1992 - Catalog # 40147-3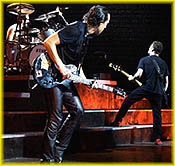 SLASH has always been friendly with the guys in Metallica. He pushed for a GNR/Metallica tour which allowed fans to see these two monster bands as well as Faith No More. On this Metallica video appears a couple of times. He's in a restaurant and nearly knocks a table over. And he's with them during the GNR/Metallica tour and at Wembley for the Freddie Mercury tribute concert. Axl Rose tried to get the video pulled from stores when he saw James snidely revealing Axl's backstage requirements. SLASH is sitting right there. Axl contended that SLASH had not signed a release; but of course, SLASH had, and the video continues to sell countless copies.



RONNIE WOOD
FAR EAST MAN
STEAMHAMMER 2002 SPV 554-7443A DVD GERMANY 112 minutes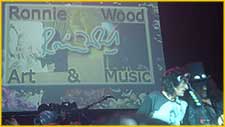 Ronnie Wood had a new album out, Not For Beginners and wanted to do a short tour in the UK. He invited SLASH to come over and be a special guest. This DVD is terrific as SLASH is live and appears throughout the show. Booklet has some pictures of SLASH.



CHEAP TRICK
SILVER 2004 CHEAP TRICK UNLIMITED, BIG3 RECORDS
DAVIS PARK ROCKFORD, IL 8/28/99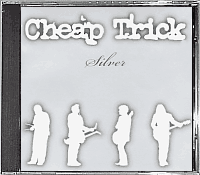 Cheap Trick was celebrating their 25th anniversary by doing a concert in their hometown of Rockford, IL. The result was a double CD and this promo video. SLASH played on the song "You Talk Too Much".



DORO PESCH
CALLING THE WILD
2000 PRO GERMANY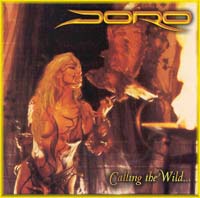 Doro Pesch is called the Queen of Metal in Germany. On this album, she has a guest appearance by SLASH. He plays on the track "Now or Never" and that is the video for this single.

ELAN

STREET CHILD

2004 PRO MEXICO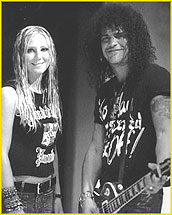 This is Elan's debut album, and she sings on a track with SLASH playing. The track is "Street Child". The promo video came out in 2003 from Silverlight Records.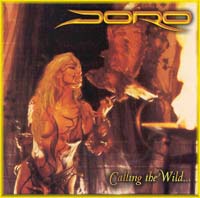 Doro Pesch is called the Queen of Metal in Germany. On this album, she has a guest appearance by SLASH. He plays on the track "Now or Never" and that is the video for this single.





To Return to the SLASH Movie, TV, Video Menu, Click on SLASH in a frame from the Blackstreet "Fix" video: