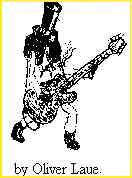 SLASH loves to draw. As a child he drew a lot of dinosaur pictures. He even sketched his tattoos. Some of his fans like to draw SLASH, and there are some sketches here. There are some instructions at the end for drawing your very own SLASH. Some SLASH fans sent along pictures of a craft they did with SLASH in mind. As a group, we are pretty focused on this guy! If you've got a painting, drawing, sketch or craft you'd like to share with other fans, email the SLASH page at webmaster@Snakepit.Org



(Updated January 2006)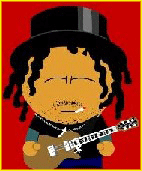 Blas Flores sent this in...it's his interpretation of SLASH as a South Park guy. Looks just right to us. Blas is from Tampico, Mexico, and we thank him very much for this great drawing.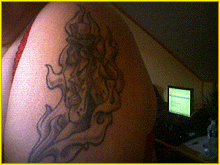 Here's a very sexy picture of Beatrice showing off her SLASH tattoo. It's in a pretty interesting place, so be glad you got a chance to see it! We had a difficult time getting this on the site, but we think it was worth it, don't you?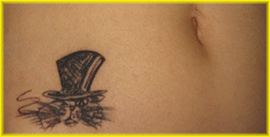 Wendy sent in another picture of her growing SLASH tattoo collection. If you scroll down further, you can see the Snakepit logo on her ankle and here is the SLASH cat tattoo on her tummy...just the way SLASH's is. Wendy's from Holland, and we thank her for sending this in!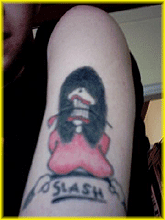 Osmar sent us this fine picture of his new tattoo all the way from Brazil. He lives in Botucatu, Brazil. This is the tat that SLASH has on his right upper arm, and we think this is a good copy of SLASH's. Thanks, Osmar!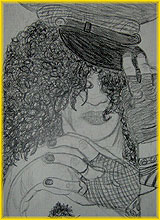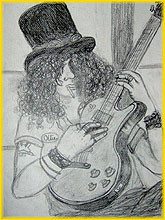 These SLASH drawings come from Essi, a HUGE SLASH fan in Finland. We think these are especially good drawings and particularly like his big hands that seem to be the focal point of the drawings. Thanks, Essi!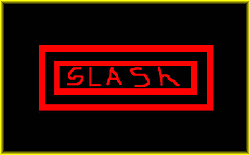 Helen calls herself SLASH's biggest fan. She says she draws all the time, but her scanner isn't working. She sent this SLASH name instead for the fan site. Pretty cool! Thanks, Helen!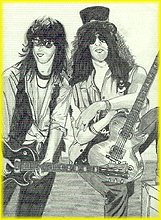 Here's a sketch we really, really like and we hope you do too. Here are the old buddies, SLASH and Izzy Stradlin with their guitars. The artist is Alexsandro Silva Alves. We don't know where he hails from, but he's done a great job here. Thanks, Alexsandro!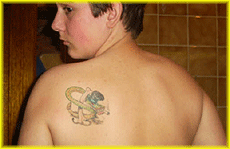 Jo Lemmens has this cool tattoo and is 17 and from Belgium. As you can see, SLASH's Snakepit is a big thrill as are the other band members from GNR, Velvet Revolver. Jo saw Velvet Revolver with SLASH at a festival in Belgium in 2004, and it was awesome. Nearly 3 weeks have passed since the tattoo was done, and it didn't really hurt. Thanks, Jo!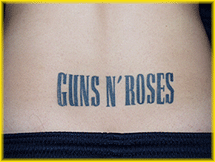 This tattoo belongs to Ambra from Milano, Italy. She's had it nearly a year now and everyone tells her she's crazy to have it, but she's listened to Guns since she was about 7 and has been playing guitar for 7 years. Ambra says she loves hard rock and is into the rock way of life. She says their music is the soundtrack of her life. She saw SLASH's Snakepit in 2000 and saw Velvet Revolver in Bologna where Matt Sorum let her come backstage! Thanks, Ambra!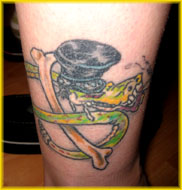 Here's a picture of Wendy's Snakepit tattoo. We've been struggling to get it on this section and we're glad to share it with you. Wendy says she is really bad with computers, but we got the picture A-OK this time. And it's a great one, but it makes us miss that great Snakepit band.


Fans must have just loved that Snakepit band because here's yet another tattoo. This one belongs to Lasse aka LASH in Finland! This one is a beauty and we got a great picture of it. Thanks, Lash!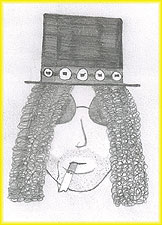 Here's a couple of drawings from Ariel that were done at school and at home just out of boredom. These show that Ariel thinks SLASH is an awesome guitarist and is a fan of anything with SLASH in it. Listening to "November Rain" these were a result, and they are beauties. Thanks, Ariel.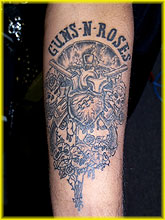 Juliez noticed that her husband, Rickey has already sent us a picture of his SLASH tatt. Rickey recently got a new one, and Juliez wants to send it to us for him. She says it's amazing to see what an effect SLASH has made in Rickey's life. So many of us feel that way!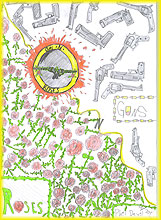 How do you like this one? It looks like a new logo for GNR, doesn't it? It's from Philip Jonsson who is 13 years old...one of SLASH'S younger fans. Philip is from Sweden, a country SLASH has visited several times and we hope Philip will get to meet SLASH someday.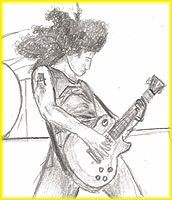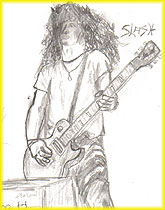 This is a note from Greg Bee who lives in the US part of Kandahar, Afghanistan. Pretty far away from most of us! Greg says he's a huge SLASH fan and calls him a guitar God.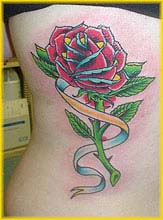 This is a rose tattoo that Jocelyn of California just got. It's a rose symbolizing SLASH's GNR days with a ribbon that forms an S on the stem. She says it is not as showy as some we have up here, but we think it is really a beauty. Thanks, Jocelyn for sending it in.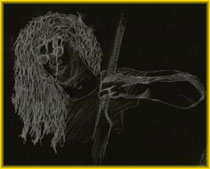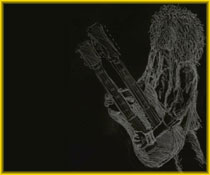 Tor-aksel made these two pictures of SLASH. We think they are really unusual. He says he drew them and scanned them and made them black/white. Not more than 10 minutes on each but they sure look like they were a lot of work. Very cool! Thanks!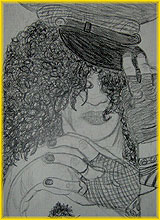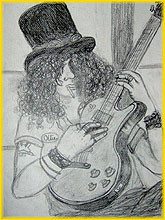 Essi is from Finland and here are some great SLASH pictures she sent in. And she also noted that she is a HUGE SLASH fan. Well, we could tell that by the great drawing. Thanks for sendin it in.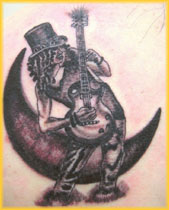 This is the tattoo Jodi got on May 25 on her left shoulder. It took about 3 hours to do. Way back in January, she came up with the idea, and the people at Sandra's Ink drew it for because, as Jodi says, she "kind of sucks at drawing". Her version was too funny. It took about a month and a half to get it just right. Jodi said it's not a great picture since it was taken a few minutes after it was done, and her skin is weirdly red. It has faded now and looks softer and better. Thanks for sending that picture in!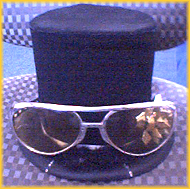 What's this? It's a Halloween deoration that Doris made on Halloween thinking of our "boo SLASH"! She's really proud of it and rightly so. Doris is a contributor to the VR and Snakepit forums and now she's sent this to us. Thanks, Doris!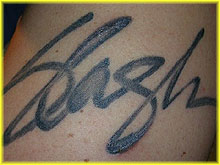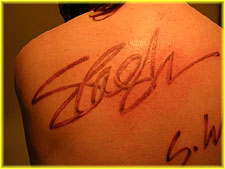 Here's husband and wife SLASH tats. Julie got her signing at the record signing in London last September. She was lucky enough to show it to SLASH after the show at Brixton earlier this year. He said she was crazy to get it done, but this didn't stop her husband from getting his done, too. She said she's had Hudson's Disease since she first heard "Appetite...". We think there are quite a few of this who have that. Thanks to the help of one of SLASH's assistants, they got a guitar pick. Now they'd really like a photo with SLASH! Thanks to John and Julie from Braintree, England who sent this in.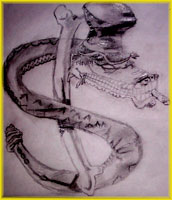 Jeremy Chance sent in this great drawing of the Snakepit logo. He said it was during class when the teacher was lecturing us the class on crap. He figured what way to spend his time! He says he thinks he did a pretty good job, and so did we! Thanks, Jeremy!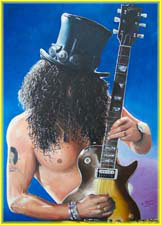 Our artist here is Richard Taylor. He lives in Somerset, England. He says he's always had a strong interest in music, particularly good guitar music. Richard says none could come better than SLASH and recently completed this wonderful oil painting of the "Master". Let's hope SLASH will also see it in one of his visits! Thanks, Richard!





This is a picture of the tattoo Rickey got on February 17 of this year in Hollywood. Rickey has been a fan since he was 10 years old, and he thinks SLASH is the best guitarist there is. Because of SLASH's playing, Rickey started to play the guitar. Rickey says that SLASH has made a huge difference in his world. An awesome dude! Thanks, Rickey!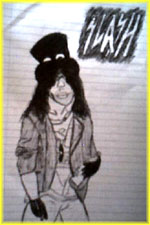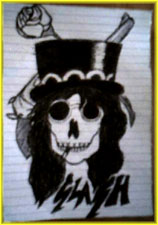 The one at right is his "Appetite" poster presented here for your enjoyment. Thanks!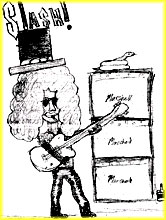 Here is a drawing of SLASH in honor of his amazing guitar skills. This is from Carl who will be seeing SLASH in Montreal in less than two weeks! This is a great picture of SLASH with the snake! And how do you like that giant hair? Very cool,and we thank you, Carl.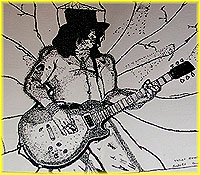 Jeremy drew this after a VR concert just for the hell of it. SLASH has inspired Jeremy to play guitar, given him great music to listen to and play, and this is a way of thanking SLASH. Thanks to you, too, Jeremy!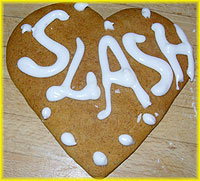 Do you like gingerbread? Lia baked up a heart shaped gingerbread, and look whose name is on it? We wish we'd gotten the gingerbread instead of just the photo, but it's Christmas time and we'll have to make due with some Christmas cookies shaped like guitars that we're making. This was a great idea, Lia!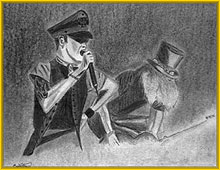 Ben is a great fan of SLASH. SLASH was the inspiration for Ben's playing music and guitar. He says he's been a huge SLASH fan since the old GNR days and has followed him up to now with Velvet Revolver. After seeing him live with VR, Ben started on this drawing of him and Scott, and he sent us this one to post here. Thanks, Ben!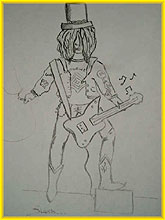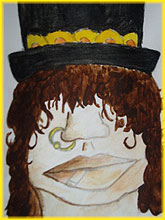 Elisabeth sent us both of these drawings. How do you like them? There's a nice closeup of SLASH as well as Our Guy full length! Elisabeth says she worked very hard on these and really wants to show them to other fans. Thanks, Elisabeth.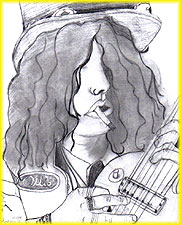 Here's a great picture of SLASH that Katrina drew. What do you think? We think...great! Thanks, Katrina!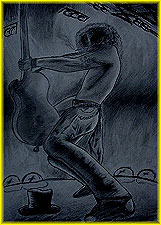 Nollaig sent us this great drawing from a well-known photo of SLASH on stage. Nollaig lives in the Republic of Ireland and is looking forward to seeing the Velvet Revolver guys there. Thanks so much for this great drawing!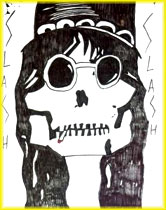 This drawing of SLASH comes from Kyle in Canada. He says it is a drawing of SLASH from the Appetite for Destruction album. He says he hopes we like it, and we do! Thanks, Kyle!



Kathryn Poulten send in this quick sketch of The Man. What do you think? We think we wish we could draw that well. Looks just like him. Thanks, Kathryn!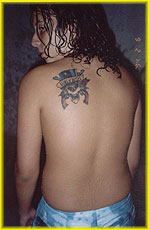 Here is an interesting tattoo from Geancarlo in Brazil. It's the one on SLASH's left shoulder, moved to Geancarlo's left shoulder. Geancarlo says he really loves SLASH's guitar playing and SLASH's personality. He also thinks SLASH is a better solo player, and he did this tattoo basically for SLASH, but he does like all the old band members. Thanks, Geancarlo!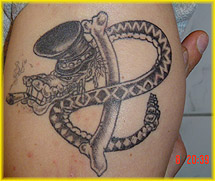 Here's a great tat from a Polish fan who still loves Snakepit! He goes by the handle "Snakepit" and has a userid of Jeepens in Poland. We think he got a wonderful tattoo, and we hope SLASH will see it someday.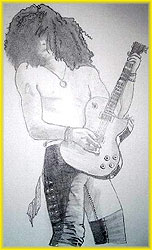 A fan who goes by the handle Simpsonlover sent in this cool drawing of SLASH. It's in pencil and Simpsonlover says they are very proud of it. Rightly so!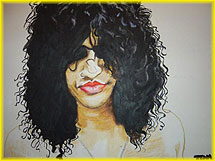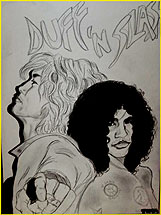 These two drawings are from Tina. Aren't they great? The one of SLASH solo is an oil pastel drawing. We especially like the colors in this one. Then, there is a black and white of a familiar site...the two ex-Gunners, SLASH and Duff, leaning on each other. Fantastic!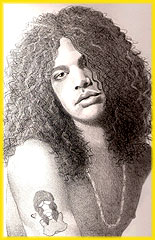 Pamela sent us a little note asking that we put her drawing on the web site. When we looked at it, we said, "WOW!" Isn't that a great drawing? We're proud to put this one up. Thanks, Pamela!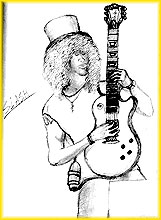 On the same day, we received another cool drawing of SLASH. This one's from Drew and shows Our Guy in his favorite place: onstage playing guitar. Thanks, Drew!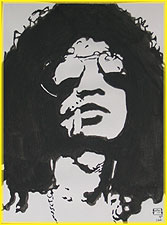 Sarah sent this SLASH picture in. She said it is actually a water color that her brother did for her birthday. It only took him one hour! She framed it, and it's now on her wall. Isn't it great? Thanks, Sarah and Happy Belated Birthday.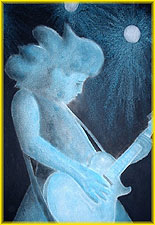 Here's a wonderful drawing we got from Igor. Isn't it great? SLASH is caught in a blue spotlight as he is at so many shows. We think he looks especially cool in blue! Thanks, Igor!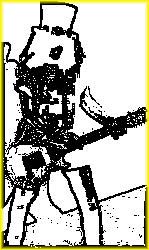 Marcus sent this in to us. He's a 13 year old fan of SLASH and lives in Uberlandia, a city in Brazil. He said he very much wanted to get his little SLASH pic in with the mural of pictures. Marcus says he knows most of SLASH's music, and most of SLASH influences him. Thanks, Marcus!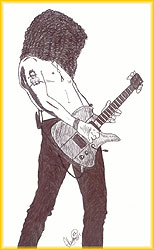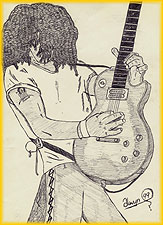 Alwyn is from Banbury, England, and she sent us these great SLASH sketches. She says they are her favorite ones in her sketch folder, and we can see why. As Alwyn says, "Long Live The King!".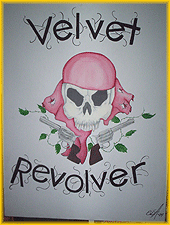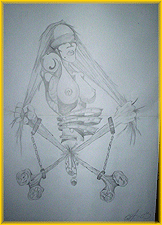 These two drawings are from Elin in Norway. How do you like her personally designed drawing for Velvet Revolver? Scary! And here you can also see her copy of the "Pretty Tied Up" logo. Pretty neat!



This is Mishop's wonderful drawing of SLASH of SLASH. This is a real beauty. Mishop is from the UK and has been a SLASH and GNR fan since she met her boyfriend a couple of years ago. They're both mad about Guns and SLASH and think SLASH is the best guitarist ever. They particularly speak about SLASH's presence on stage. Thanks to both of you, James and Mishop. And James, thanks for introducing Mishop to that SLASH guitar music!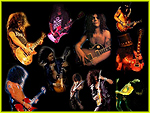 Fabian sent in some really wonderful SLASH wallpaper. You can see a small thumbprint of it here. If you click on it, you will bring up the 800x600 version and then you can transfer it to your wallpaper area! See SLASH everytime you login or go to your desktop. Thanks, Fabian!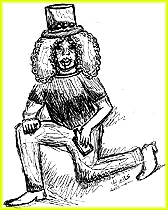 Carolina sent in this drawing of the Great Man. She says she has a wall full of photos, posters, desings...all of SLASH on the wall by her bed. SLASH gets a kiss goodnight every night! She's a guitar player and is influenced by SLASH and Led Zep. She collects all kinds of GNR things, but she likes SLASH best. Thanks, Carolina!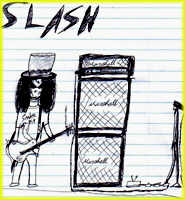 Here's a cool drawing of SLASH that Rob drew in study hall in about 15 minutes. He said he had nothing else to do. Let's see that report card, Rob! Rob suggests starting with a skull attached to a top hat and lots of hair. Next should come the guitar followed by the leather pants. Finally, put in the replica of his stage setup (talk box and wireless system). There you have SLASH! Thanks, Rob!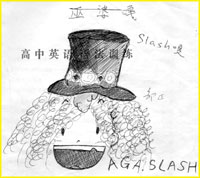 Aga is a SLASH fan from China. Looking through some old pictures drawn in an exercise book, Aga found this one. Aga is the name of a little monster in a comic, and our Aga put his face and SLASH's hair and hat together. Funny, isnt't it?!



Elin from Norway sent in three drawings for the SLASH page. Aren't they great? At far left is the blood dripping logo, in the center is the skull and crossbones logo and on the right is a very young looking SLASH. Thanks, Elin!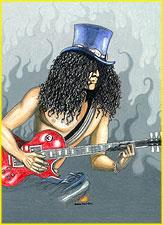 Dana and Michelle are a married SLASH fan couple. First, Dana took a pass at drawing a picture of SLASH. Then later came a note from Michelle that the one shown here was a better drawing...she'd done this one! It's great, isn't it? This picture is destined to be a birthday gift for their nephew on his 30th birthday.. a HUGE SLASH fan!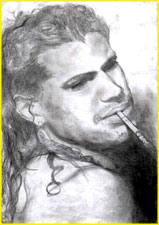 Betta lives in Italy, and she's sent us this great drawing of SLASH. Do you recognize this one? This comes from the famous "SLASH-in-the-shower" photo! Betta sent a copy to SLASH also, and we're sure he liked it as much as we do. Thanks, Betta!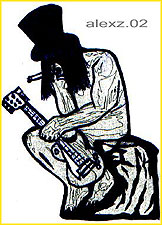 Alex from Mexico drew this graphic pen drawing of SLASH. Alex says he loves to draw, do oil paintings...just about all kinds of art. How do you like this picture? What famous sculpture is this drawing modeled on? If you said, The Thinker, that's correct! SLASH could not hold this position long enough to model for it! But he does do a lot of quick thinking on his feet. Thanks, Alex!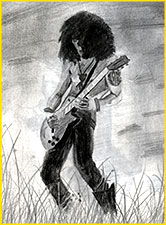 LeLand is from San Diego, CA, and here's his picture of "the all mighty SLASH". This drawing was done for LeLand's art class - he wanted to do a cool drawing and impress his buddies, so who better than SLASH?! SLASH's blues-inspired rock and incredible style that exceeds all others are two things about SLASH's music that LeLand admires. He says that SLASH has been the inspiration for his own band, guitar playing and writing. Nothing beats seeing SLASH with a cig in his mouth and a slide on his finger playing the classic Les Paul according to LeLand, and we agree! Thanks!



This dark, smoky acrylic painting of SLASH was done by Glenn Somelofske of New York. Glenn captures SLASH perfectly in the way he holds and plays his Guild doublenecks. The atmosphere looks like a club, doesn't it...way after hours maybe.. thanks, Glenn!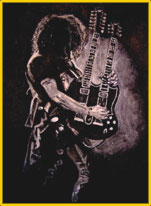 Glenn is a big SLASH and SLASH's Snakepit fan from New York. Glenn says he recently started painting pictures of SLASH, and he sent us this one for our collection here. Looks just like him, doesn't it?! Thanks, Glenn!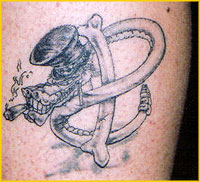 Sebastien wants to show you his new tattoo. He wants us to guess what it is! We don't have to guess, Sebastien. The man with the SLASH tat is webmaster of the French site, "SLASH France", so if you understand French, pay a visit to www.slashssnakepit.fr.st. Thanks, Sebastien!




Tiago made up some really super SLASH wallpaper. There are four fairly large SLASH pictures with a large one in the center. The background is white and cloudy looking. Perfect. Click Tiago's Wallpaper to see and save it. The usual magic right click is necessary to download and put this in your wallpaper list. Thanks, Tiago!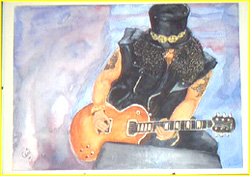 This picture was sent to us by Ceri who's from Liverpool in the UK. Ceri says that since meeting her boyfriend she has become a SLASH fan just as her boyfriend is. In order to pay homage to the great axe-man, she's immortalized SLASH in a painting which she has given to her beloved boyfriend. Don't you wish this were hanging on your wall? Ceri's 21 years old, and we're happy to meet yet another SLASH couple! Thanks, Ceri!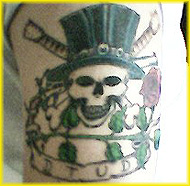 Steve went to the Jimmy Kimmel show in 2003 when SLASH was the cohost for the week. Steve was sporting his SLASH tat on his left arm, and he did get to show it to SLASH himself! Steve was in the TV audience at the show, and he was on TV a few times. SLASH handed Steve his guitar pick, and he got to hang out with Adam Day, SLASH's guitar tech, for nearly an hour. We imagine nothing compared to showing SLASH his tattoo!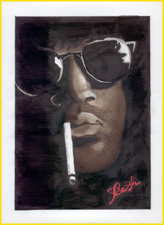 Nicole sent in a drawing of SLASH. The drawing was a big help to Nicole who we are sure got a lot of inspiration from her subject. This drawing is a Prismacolor marker drawing done as a final for her Visual Indication Class that Nicole took last year. Recognizing a cool subject and drawing, she was given an A!! Nicole took the course and passed with flying colors at The Pittsburgh Art Institute Online. Great work, Nicole. We will give you an A++ for using SLASH! Thank you for sharing it with us.






Ad lives in Singapore, and he's a real fan of SLASH. Ad says that SLASH has been his inspiration since he started to play the guitar at age 12. Although Ad has never had a chance to meet SLASH in person, he's hoping that will happen in the future! These tattoos are located on Ad's lower back, and he got them when he was 16. Cool!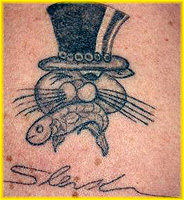 Here's a real cool cat. Trivia question: what famous rock guitarist sports this tattoo and where is it located? SLASH, of course, and it's on his tummy near his belly button. This tattoo is one that SLASH said could have turned out better, but we think it's great! Lynn now has this tat also! What's the big difference in the picture of her cat and SLASH's cat? Lynn replaced the cigarette that SLASH uses with a fish! Lynn says she doesn't smoke, and she's a Pisces. The fish represents Lynn in the whole scheme of things. Pretty good symbolism, Lynn! Thanks!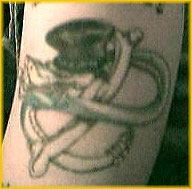 A true fan favorite tattoo is the logo from SLASH's Snakepit. It's got some good coloring and great lines. If you're a SLASH fan, you know it right away! This should be the official tat for SLASH fans. This one belongs to Sebastian who's both a big fan of SLASH and SLASH's Snakepit. Very cool! Welcome to the logo club!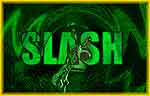 Click for wallpaper! Johan saw the other wallpaper available in this section, and he decided to make some, too. This is a swirling and mysterious picture in green and black. SLASH is there, too but you have to look for him in the swirling wallpaper. Feel free to take away a copy. This can also be an unusual SLASH picture to add to your collection as well as desktop wallpaper.Thank you, Johan!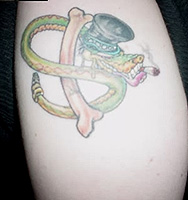 The owner of this tattoo is Italo, and he's from Toronto, Canada. Italo is a huge fan of SLASH, and all he's done. He got this cool Snakepit logo done as a tribute to his idol, SLASH!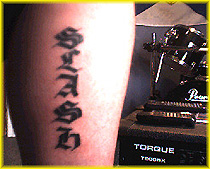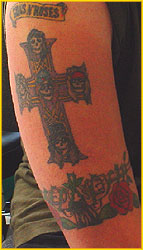 Stew is from the UK, and here are a couple of his body parts! His leg at left shows Our Man's name. Stew says SLASH is the one guy that got him into music. At right is his terrific GNR tat, recently updated! Stew now plays in a band called Black Rose! They love rockin' out like those original Guns N'Roses. Great tats, and Stew has a lot more surface area to cover.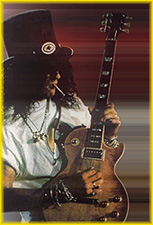 Dave obviously likes to see his computer and life wallpapered with SLASH! He's sent in a really great wallpaper that he designed. We hope you will feel free to copy it onto your PC or laptop. It's a great picture of the Master doing, what else?, playing guitar. Click to bring up the wallpaper. Thanks, Dave! Just click on the words below. Then do a copy which you should then save as wallpaper.

SLASH Wallpaper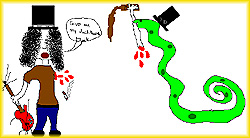 Rob drew this cool picture of SLASH with the pet we know best! A big snake. Poor SLASH has one arm! The snake bit it off. End of career! But is SLASH worried about any of this? No, he just seems grumpy that his Jack Daniels was taken away. Pretty tough way to stay on the wagon. When he's just a torso, we fans will still love him. No wonder his wife wanted the snakes out when the SLASH baby came! Good work, Rob!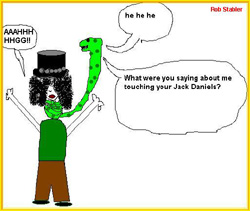 Rob sent us another in the series of drawings of SLASH vs. snake! In this one, you can see his boa has a choke hold on our guy! The snake obviously has a big thing for Jack Daniels, too; and SLASH must not be sharing. He may just come out of this with a long thin neck...matching those long thin legs. HELP!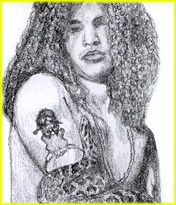 Here's a great picture of SLASH and his pet snake. This picture was done by Anna in Falun in Sweden. We especially like the snake here and the snake on SLASH's arm. Thank you, Anna!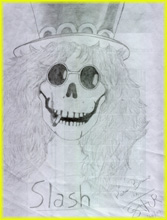 Bruno is from Argentina, and this drawing was made by a friend of his called Saturno. Bruno asked him to draw this because he's a huge SLASH fan, so Saturno dedicated it to him. This is SLASH from the Appetite for Destruction skull. Bruno thinks it's just perfect...so do we! Thanks, Bruno and Saturno!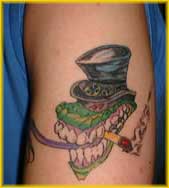 Here's another cool Snakepit logo tattoo. Isn't it great? If you want to try this tattoo shop, you'll have to go to The Netherlands! Jan works there, so he didn't have any trouble getting an appointment. Jan tells us that Theo did this great Snakepit tattoo, and the name of the shop is The Tattoo Studio Harderwijk. If you're in The Netherlands, stop in and say hi! to fellow SLASH fan, Jan; and he'll hook you up with Theo who can brighten your old tats or give you new ones.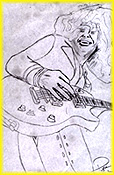 Paul created this line drawing of SLASH. Can't you just see SLASH rocking out on stage with his guitar and a big smile? We especially like that long, flowing hair.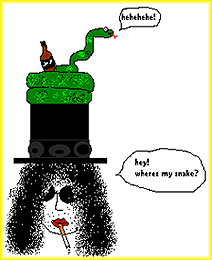 Steve lives in the UK, and he made this cute SLASH pic on his computer. This is a little joke on SLASH as you can see. What a great place to hide!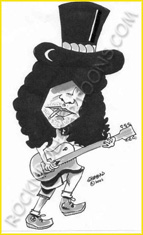 John has a website where he has caricatures of rock stars. And guess who is on the page? There's SLASH's picture at left. He looks great. There are all kinds of rockers pictured at the site, and you can buy a framed copy or the original! This is at rocknrollcartoons.com on the web, and we thank John for shooting old SLASH over here to us.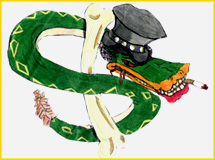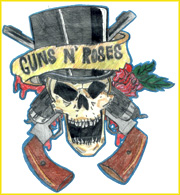 Kayleigh drew these three SLASH drawings, and aren't they great? The Snakepit logo and the GNR skull logo show SLASH's past band affiliations without Blues Ball (the band without a logo). And here's the guitarist and frontman for these bands, SLASH! These are really nice, and maybe Kayleigh will draw the next one for us, too. Thanks, Kayleigh!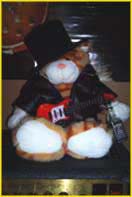 Clint's girlfriend made this sweetie for him as a birthday present. Have you ever gone to a Build-A-Bear store? That's where this guy came from with his tophat, guitar and leather jacket. Clint added the little Jack Daniels bottle. Does this look like SLASH? Well, he's furry like SLASH and has a nice smile and cool gear. Thanks!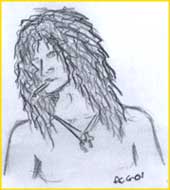 Andreas sent in these two drawings from Sweden. The one on the left is a lot like SLASH onstage...smoking and barechested. We especially like his hair and the two necklaces. On the right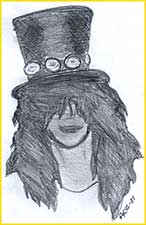 is a traditional SLASH picture. Look at that great tophat! The hat is just like SLASH's and Andreas got it just right. SLASH's hair is great here, too. Unfortunately, we cannot comment on his eyes! We think SLASH would like these pictures, too. Thank you, Andreas!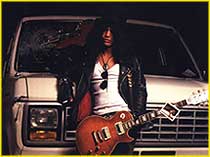 Michael made some cool SLASH wallpaper. This is SLASH with his old truck, and you can see it is the younger SLASH here. Younger, but really cool! If you want this for your wallpaper, just do a right click on the picture, and then click Set As Wallpaper. (If that is not an option on your browser, you'll have to right click and save the picture. On your PC, look up wallpaper in your help directory.) The wallpaper from Michael will remain as long as you don't change it! What a great way to see SLASH everyday. Thanks, Michael. Click here to see the picture and take it away:


SLASH Wallpaper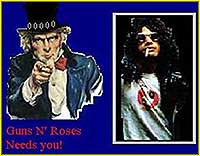 This great picture was made with the PC paint program. A fan who goes by Silent Assassin did this one. This painting can be taken a couple of ways. GNR needs us, the fans, is one way. The message is from Uncle Sam and SLASH. Or, does GNR need SLASH? Either way you interpret it, it's true! Thank you!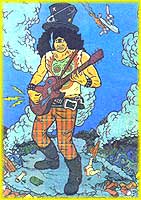 Has p-w from Russia been having nightmares about SLASH? This is not the SLASH we know and love! This is a cyclops disguised as SLASH. And what a scary tshirt, too! The pants are definitely not regulation SLASH leather or jeans. Hmmm. This must be SLASH dressed for Halloween although how he managed one eye, we don't know. Maybe p-w could send us a less scary picture! Thanks!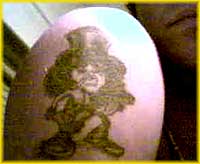 At left is Miguel's new SLASH tat! Miguel is from Argentina and is 19. How do you like this cute tat? We LOVE it, and Miguel has had it three years now. He was in LA three months ago, but he didn't see SLASH around anywhere. Miguel went to a lot of pubs looking for him which sounds like the way to mellow out in LA. Thanks, Miguel!


This is a SLASH drawing from Eric. Eric will be 8 years old in February. It's never too soon to become a SLASH fan! His brother sent this to us, so we have two in the same family! Thanks, very much guys and especially to Eric!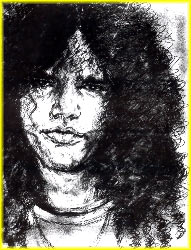 How about this beautiful drawing from Vicki? We had to compress it for the web and SLASH still looks great. The large version we have is just out of this world. Look at all the attention to detail. SLASH's hair has never looked better! Thanks, Vicki!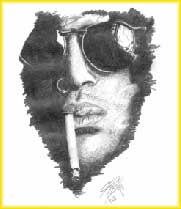 This is a different type of drawing showing SLASH coming through the background paper. It was done for us by Attila. He says that he bought a sketch pad the other day, and the next day he began to draw. And he drew first...SLASH, of course! Attila's away from home and the net during the week, so he'll have time to sketch some more for us. We especially like those trademark sunglasses. Thanks, Attila!


An anonymous fan sent in this super SLASH drawing via her friend Ian. What do you think? Looks great, and here's someone who's not afraid to draw the sunglasses and the eyes behind them. Onstage, he looks just like this with his head sometimes tilted back. Thanks to the artist and to Ian who sent this one in!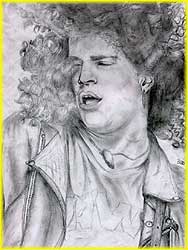 Betta drew this great picture of SLASH. Look at the action here! His hair is blown off his face, and he seems to be singing, too. Notice what his tshirt says! This is a great SLASH picture! Thanks, Betta!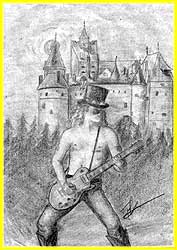 Bris sent in some new SLASH drawings. The one on the right is SLASH at Dracula's castle...how about a big bite on the neck? The one on the left is the famous SLASH in the shower picture...always a favorite. And at the bottom is a sweet picture of SLASH and his beloved Les Paul. Thanks, Bris!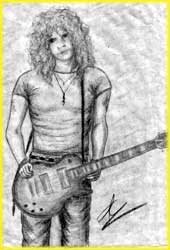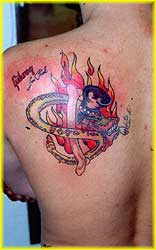 Len plays guitar in a band called Crawling Back. He's heavily influenced by SLASH and has two Les Pauls, Marshall amp, Ernie Ball strings etc.! He is often called the Dutch SLASH. Check out his Snakepit tattoo on his back! Now that's a big one, and it is even in the same place as SLASH's. Great! Thanks, Len!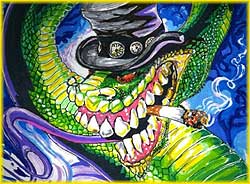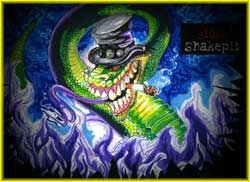 Every SLASH's Snakepit fan knows this guy! It's the new Snakepit logo! Two different versions! Meryam is a SLASH fan from Paris, France, and she's the artist here. She says that she plays the guitar today because of SLASH! She just loves SLASH and hopes other fans will like her drawing. We think that's a safe bet. As Meryam says, "SLASH rules"! And his snake logo is pretty cool, too. Thanks, Meryam!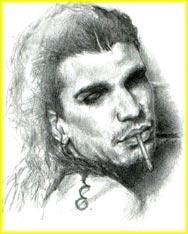 Ghislaine completed this drawing last month, and it's wonderful, isn't it? SLASH's moody, sexy look is right in front of you. Looks like he is fresh from the shower and having a cigarette. Just gorgeous! Thanks, Ghislaine!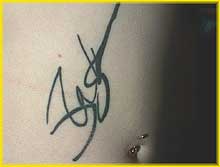 How about this great tattoo? SLASH signed Lisa's belly (at her request of course!!) when SLASH's Snakepit was in the UK, and Lisa decided to preserve it forever as a tattoo. We wish we'd see one of these great signature tatts around here so we'd know we were in the presence of a true SLASH fan. Thanks, Lisa! Looks great!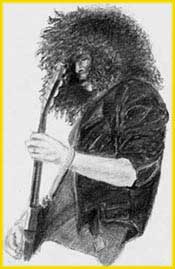 Michelle says she hadn't pick up a drawing pencil in 7 years when suddenly she was inspired by SLASH! Here is a reproduction of her charcoal drawing of The Man. Her very young son sent in a drawing before, so Mom decided she would send in something too. We hear that something may be coming from Michelle's older son. Both sons have clearly inherited Mom's ability and what a cool talent to have in common with SLASH. Thanks, Michelle!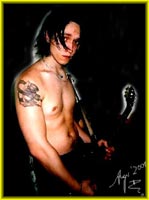 Meet Sebastian (called Anger). He's from Eilenburg, Germany and plays guitars and sings. He likes to rock with his band, In Disguise. Anger says SLASH is his idol and has learned a lot from him. Anger wanted to show us his great looking SLASH's Snakepit-inspired tattoo! Thanks, Anger!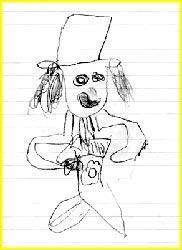 Michelle likes to draw, and she drew some killer pics of SLASH that were unfortunately lost in a move. Her young son made one to send us! He's six years old! That must be some kind of record for the youngest fan. SLASH is still pretty young, too, so when this little guy grows up, SLASH should be around still meeting and greeting his fans. This little artist can say, "Remember me? I was 6, and my mom sent in my first SLASH picture"! Thanks to Michelle and her cool son for this picture.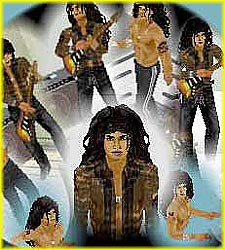 Have you ever heard of the Sims package? Zita in Switzerland made use of Sims to make some really lifelike pictures of SLASH. We'll give you the link to get there. You can see SLASH walking in his house, swimming, playing pinball etc. Click on the small pictures to see SLASH in wonderful detail. Thanks, Zita!


Zita's SLASH World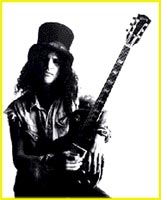 From time to time we get requests for SLASH desktop wallpaper. Now we have some! Nikola made up some that are white with a cool SLASH pic in the corner. This wallpaper fills the entire desktop at once; it is not the tile kind. Save it in your wallpaper directory (c:\windows, enable active desktop), and it will become a choice for your monitor display. Because these are so large, we have them linked here, so you can see them and pick the one you like. Feel free to use any or all of these. Thanks, Nikola!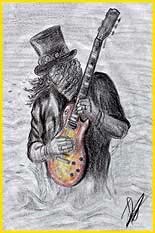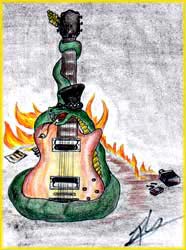 These two drawings come to us from Bris in Romania. Bris loves to draw, but with school there is not much free time for this hobby. Bris has a lot of SLASH sketches - with SLASH and guitars and snakes and things. Bris chose these two favorites to send our way. Thank you, Bris!




Syrrah was fooling around with Microsoft Powerpoint and decided to make a slide presentation for SLASH and this website! This is really cool. You can take a Powerpoint slide presentation and save it as a web html file. That's what we have here. At left you will see an index to the slides. Click them in order (just like a slide carrel), and you will see Syrrah's slide presentation converted for the web. Even SLASH would be impressed! Thanks Syrrah!

Syrrah's Slash Slides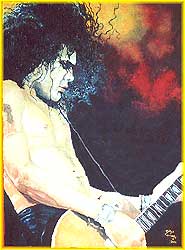 Jizz from Amsterdam sent in one of the best pictures of SLASH we've seen. His girlfriend made this for him. Her name is Bianca, and she is also from Amsterdam. It's an oil painting, about 1.2 meters by 0.80 meters. Any collector would be pleased to have this picture of SLASH on the wall, but Jizz is keeping it all to himself. Thanks, Jizz, for sharing it with us; and thanks to the artist, Bianca.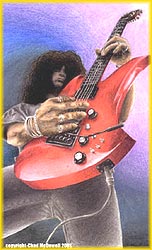 Chad did this unusual drawing of SLASH. Isn't it great? First, the perspective is from the audience just in front of and below the stage level. Many of us have really seen him this way! And there's something different about that guitar! Not the usual Les Paul but SLASH's B.C.Rich Mockingbird. You've seen this one onstage and in at least one GNR video. Thanks, Chad!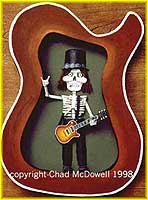 Chad sent in something else. This is a paper sculpture he did of SLASH. Chad was in high school at the time. How do you like this, SLASH?! Pretty cool. Thanks again, Chad! You are so talented!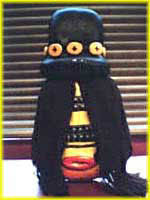 Linda made a mask for Crafts in the beginning of the school year, and it was supposed to have some special meaning. She decided to make something dedicated to SLASH! His face is a Les Paul (with vintage sunburst finish of course), and he has yarn hair, and a tophat made of plaster. The rest of this cutie is plaster, also. strange, Linda says the pickups are a little strange, but there's real guitar strings. Ernie Ball's no doubt! Linda got a 100 on it! SLASH was in the school art show. Linda called the piece "In Awe of Greatness". Linda, that's wonderful. Thank you for sharing this with us!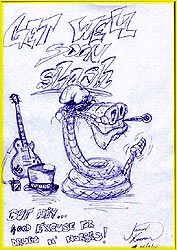 SLASH had flu and pneumonia in 2001 prompting the band to cancel many shows. James got the idea to draw a funny picture commemorating this sad event. That snake does look a little woozy! Thanks, James!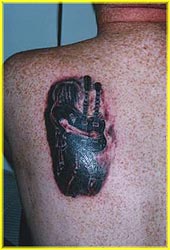 Glenn had this very interesting tat done on December 5, 2000, the day Snakepit played in London. Glen says it took about 2 hours to do, and was done by a top tattoist in Southampton, Barry Johnson. It certainly is unique, and we hope Glenn will get a chance to show it to SLASH in person someday. Thanks, Glenn!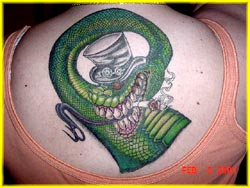 And how's this for a stunning tattoo? Ingrid chose the new Snakepit logo for her back, and wasn't she clever to wear a top that shows it off so well? If you see this logo, you know that's got to be a major league fan. Ingrid says she has been a fan since the 4th grade! Thank you, Ingrid!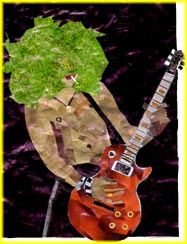 Bella made SLASH out of "a whole lot of pieces of paper"! Two of the main ads she used were, not surprisingly, a Marlboro ad and an ad for vodka. This is our second SLASH collage, and we kind of like this new artform! We think SLASH will be pleased with his cool hair color, too. Thanks, Bella!



Here's a great little drawing of our favorite axeman! This sketch comes all the way from Italy for you to see. Elisabetta is 14 years old, and she says she did this drawing of SLASH on her geography book. Another one who is not paying attention in class! SLASH is an excellent teacher though, and we're glad you sent this in. Thanks!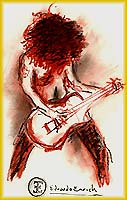 In this drawing, SLASH is performing onstage. His hair is in motion, and he's taken his shirt off. We've all seen SLASH stand this way before. Eduardo Enrich from Uruguay has captured SLASH in motion in his drawing. This is a super one! Thank you, Eduardo!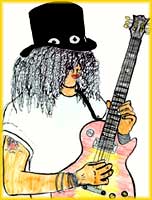 Compare this drawing by Erjo Jarvinen with the one above. In this picture you can feel the stillness as SLASH concentrates on playing something just right. SLASH says he can hear the music in his head before he plays it. He makes his fingers play what is inside his head. It takes a lot of concentration, and in this picture, he seems to be doing just that. Good time to take his picture! Thanks, Erjo!



Look at this great collage! SLASH in the middle of two of his favorite things: his Les Paul and a bottle of Jack Daniels. Sam Speer sent this to us from the UK. Sam says SLASH is his idol and that he is 13 years old. Great taste for a young teen! Thanks, Sam!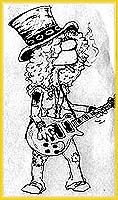 This cute cartoon has a sad story. It has become separated from its original email, and we are not sure who the artist is. Artists should always sign their work - it's good publicity! We are posting it in hopes that someone will claim it so we can put a name with the picture. The person who drew the one at left must remember this cute little SLASH with his guitar. Thanks, and we hope to have the artist's name soon. If it is yours, send us some mail:

Webmaster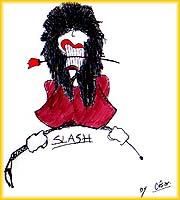 Trivia question: where does SLASH have this tattoo? On his upper right arm, of course. It was SLASH's first tat. Cesar sent this great drawing in to us. SLASH says the model was someone his family knew. Great drawing, Cesar! Crack the whip, SLASH!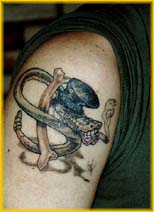 Alex sent in a picture of a tattoo on his upper arm. Isn't this a beauty! SLASH would love it. Alex lives in Germany and is going to see SLASH at the Cologne show. He hopes to have a chance to show it to SLASH in person. Thanks, Alex!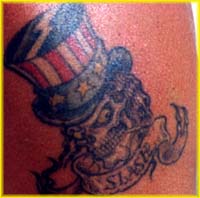 Stephane is a SLASH fan from France. How much does he like SLASH? A lot! Enough to get this special SLASH tat! He had it done in 1994, and Stephane says he loves it! A skull with a top hat and SLASH's name - pretty cool! Thanks, Stephane!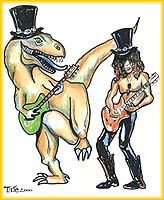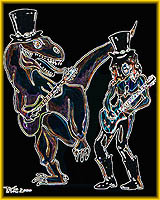 Here's SLASH jamming with one of his beloved dinosaurs! We don't know anyone as into these extinct creatures as the very non-extinct SLASH! Anita drew these especially for SLASH. She and her sister, Michelle, went to the Roxy warmup show to deliver it, but they didn't get a chance to talk to him. Maybe next time. In the meantime, the pics are right here for SLASH to check out, but he says he is a dinosaur about computers. Maybe if his monitor were T-Rex shaped? Thanks, Anita and Michelle!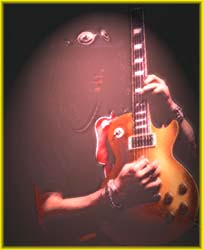 Blake Weaver sent in this really interesting SLASH portrait. This one is unique! Blake had to do an art project on black paper, and he chose our SLASH to be his model. Blake says this is an extremely hard artistic medium, and "I think I got away with it ok". More than OK, Blake. This is so cool! Thank you for sharing it with us.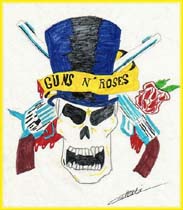 A loyal French fan, Lisa-Marie, was checking out the drawings and saw you could send one in. She sent us a drawing done by her brother, Jean-Marc (love these French names!), when he was just 10 years old. Showing some real talent, Jean-Marc. Jean-Marc is now 15, and he's still a big SLASH fan. Maybe he will send us a SLASH pic someday! Thank you, Jean-Marc (and thanks to big sister Lisa-Marie)!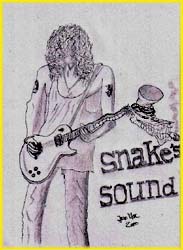 Jean-Marc decided to draw something more recent for us! Here is a current picture, and he really has SLASH down pat. Those long, thin, spider-legs are just right along with that baggy tank top. And how do you like that cool Snake logo? Thanks a lot, Jean-Marc!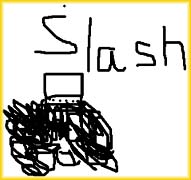 Lina from Estonia sent a picture of SLASH as drawn by her eight year old brother, Pablito. Hey, this is pretty good for a young boy! You knew it was the SLASHer, didn't you? SLASH is always glad to have young artists as fans. They grow up to be young guys who come to concerts and remember everything they see! Thanks, Pablito and Lina!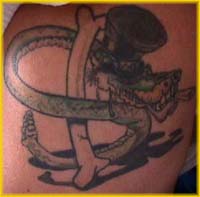 Here's some more wearable SLASH art! This cool tattoo might become universal among SLASH fans. No one's volunteered to get the new logo of the the distorted faces! Personally, we have always preferred the snake. And this is a great job. This one is from Rafael in Brazil. He says he is a big SLASH and GNR fan. This cool tat is on his back. Thanks for sending it in!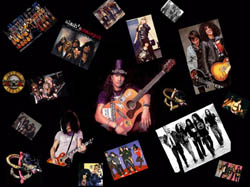 Maurock from Argentina made this great looking SLASH wallpaper! Little bits of SLASH all over your desktop! If you want this wallpaper, click on the thumbnail here. The larger desktop size will appear on your screen. At this point, do a right click and click Save Image As (name). For example, Slashpaper. You will need to tell it where to save the image and remember where! For example, you might put it in winnt with the rest of the wallpaper (for NT users). Go back to your own desktop. Right click on the desktop and click on properties. You want the BACKGROUND tab and WALLPAPER is on the right partway down. Click BROWSE and find the directory where you stored the big picture (unless you were clever and put it in the directory with the other wallpapers in which case it will already be there when you Browse). Click the name of the big picture (e.g. Slashpaper) and that will add it to your list of Wallpapers. Change the radio button to CENTER. Click OK and it should be your wallpaper. To reset, go to Control Panel, then Display, find the other wallpaper, click Tile. That's IT! Sounds more complicated than it is. Thanks, Maurock!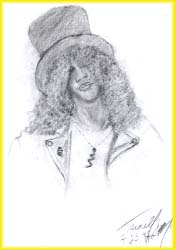 Ternell is a huge SLASH fan, and she did this drawing just for us. Doesn't he look great in his leather jacket with all that curly hair. We've seen many photos where he holds his head in just that way with that expression on his face. That necklace with the brown snake also makes regular appearances. Thank you, Ternell!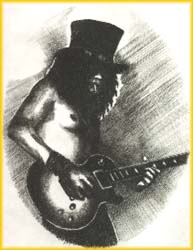 Adele sent us a kind of artwork we haven't seen here before. And doesn't shirtless SLASH look great! Adele said she loves SLASH so much that she decided to have him as a subject for one of her art pieces. This is a picture of an ink print Adele made from engraving into a piece of plexiglass. There are two detailed drawings of the face and hand, so you can see up close. Adele, these are just great. SLASH will be pleased to see these here in his gallery! Thank you!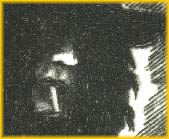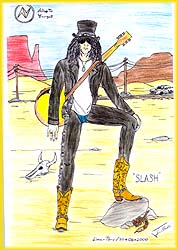 Vanessa lives in Peru and is a really big SLASH fan. We saw some drawings her brother had done, and we asked if he could be persuaded to draw SLASH for the SLASH page. Turns out he likes SLASH, too, and he gave us this nice sketch of Our Hero who appears to be in the desert! Should have drawn a bottle of Jack in the sand till help arrives! Thanks very much for this terrific picture.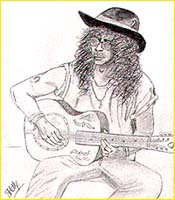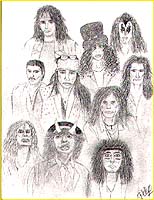 Sharon sent in these two pencil drawings. The one of SLASH is super with the everpresent sunglasses and hat. In this one you can see the details she puts into her drawings. The second is a group drawing. These are artists that Sharon likes well enough to take the time to draw them. Can you identify each one? SLASH is there of course along with his buddies, Joe and Steven from Aerosmith. Looks like Gene Simmons in the back with Alice Cooper. Thanks, Sharon!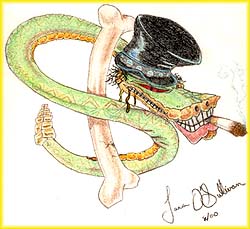 Just in time for Snakepit's new album, Tara sent in a drawing of the Snakepit logo. This is just great!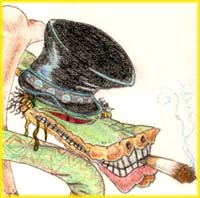 Tara also sent the picture at right to show the detail of her drawing. Snake looks good, and so does the 'pit! Thanks, Tara!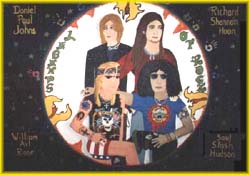 Nadine sent us a picture of her 9' x 12' painting called Rock Legends. It features Daniel Johns, Shannon Hoon, SLASH and Axl Rose. This may be the only way we see SLASH and Axl sitting together for awhile!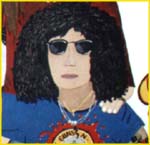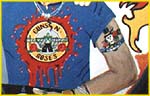 Nadine also sent two smaller photos of SLASH to show the detail in the painting. Thanks, Nadine! This must have taken quite awhile. We're pleased to have a copy right here.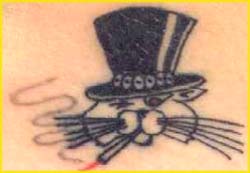 SLASH says some of the biggest rock fans are in South America. Paola is from Argentina, and she's a big SLASH and rock fan. She recently got a tattoo. It's just like SLASH's tat and it's in the same place as SLASH's, on the tummy! Cool! Thanks, Paola!




Rocco sent us a picture of his great new SLASH tattoo. This is the kind we really like! Featuring SLASH exclusively. Rocco promises to send us a larger picture so for the time being we have this small one. It looks great, Rocco, and thank you!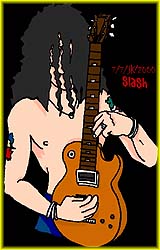 Here's a really different, colorful SLASH picture. We think it's great! John and a friend are total SLASH and GNR fanatics. So, one day John drew this super picture for his friend and decided to share it with the SLASH page. Thanks, John, and we sure would like to be your friend!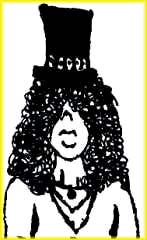 Ashley did this little cartoon picture of SLASH for no real reason. Got The Slasher on her mind, no doubt! Ashley says she's 16 years old, and SLASH and Duff are some of her favorite rockers. You have great taste, Ashley! Thank you for the SLASH cartoon.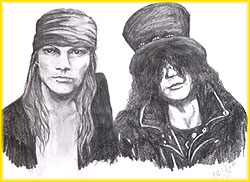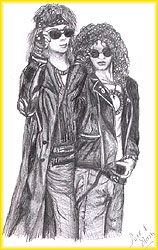 Emily sent us two great drawings. There's SLASH and Axl in more congenial days! SLASH and Duff are shown as the young guys we remember from Appetite days. Emily has promised to send some of SLASH by himself. These are great. It's nice to see some of SLASH with his old bandmates. Thanks, Emily!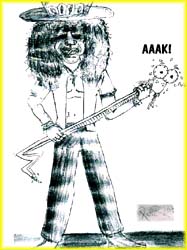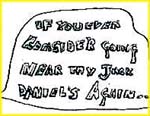 Phoenix Rock from the UK sent us a funny SLASH drawing. Here's SLASH yelling at his snake not to go near his Jack Daniel's again! The snake looks like he got the message! When it comes to his Jack, SLASH doesn't seem to want to share with anyone! So bring your own drink over if you are going to talk to SLASH. And by the way, Phoenix Rock wants SLASH to be sure to hit England on the tour.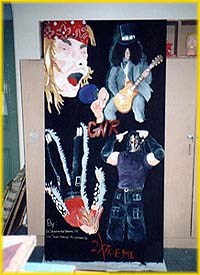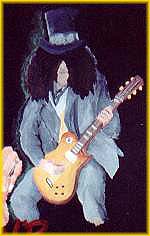 The picture at left must take some kind of record! It is 10 feet tall and 4 feet wide. At right is the SLASH part of the painting. Truly amazing. Colin and Colin (both with great red hair, artistic ability and a shared first name) did this over Easter vacation for their May graduation. SLASH and Axl are from the Live Era album. And who are those guys at the bottom? Oh they're more of Colin and Colin's heroes, the Hardy Boyz wrestlers. We wonder how the two Colins will divide it up! Let's see, we'll take SLASH.... Thanks to Colin (Wheatley-Dude) and Colin (Snake McVenom) for sharing this.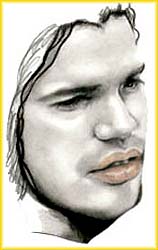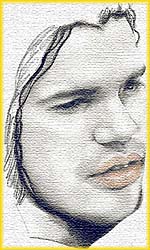 Here are three very interesting pieces of artwork created by laure@greatguitar.net. Aren't they great? The first one looks like SLASH is breaking through the drawing paper. His lips are the color focus here, and it's just a beautiful piece. Next, we have one that is like a blue negative of the first. A haunting picture of Slash; it makes you think of him in the evening, concentrating and getting ready for a show. Finally, we love this one that looks like SLASH on canvas. These are really different! Laure wants you to know her as laure@greatguitar.net and is interested in discussing her techniques with other artists. Thanks, Laure!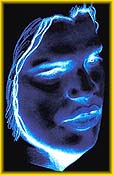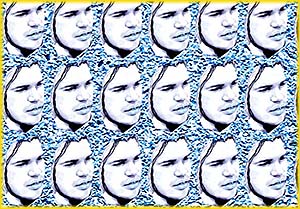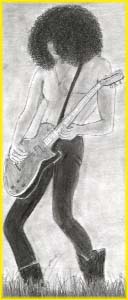 Scratchcat is a big SLASH fan and here are the drawings to prove it! These take a long time to do if you really want them to look like SLASH. The one at left is a particular favorite with SLASH on the job playing his guitar in a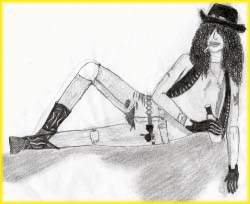 cool field. We especially like the detail on the hands and chest. The drawing at right has SLASH relaxing with a cigarette and a favorite drink. We like that cowboy hat of his and the torn jeans. Thanks, Scratchcat!



How about this handsome guy? That's SLASH looking very well dressed on his way to a gig. Tara is a big fan of SLASH, and she is the artist of this beautiful drawing. Tara says she was in her room listening to Jizz Da Pit when she got a mental image of SLASH. We've all had some pleasant times like those! Tara put her image to work and started drawing SLASH...all from memory! She said she had a lot of fun with this, and she hopes you'll like it. We do! Thanks, Tara!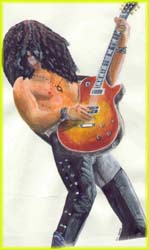 This cool SLASH drawing comes to us from two French fans, Vincent Munier and Christophe Kempf. Vincent sketched SLASH, and Christophe added the great coloring. This looks almost like a photograph! We especially like the coloring in the Les Paul and in that mop of curly hair. Thanks, guys, and we hope SLASH will be rocking in France very soon.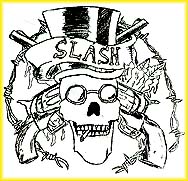 This black and white sketch was done by Markus from Vienna, Austria. With the cigarette, shades, and top hat, there's almost no need for Markus to label this skull "SLASH". It's great, Markus, thanks!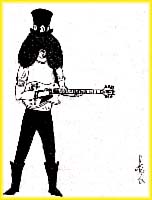 We particularly like SLASH's fluffy hair in this one! Joe says he was bored in class and sketched SLASH for the Fan Page. SLASH looks very cool with his guitar and the conches on his top hat. Must be playing live...we can't see his eyes! Thanks, Joe!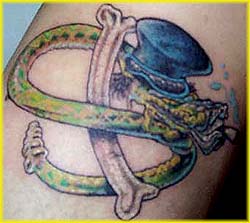 Max met up with SLASH in a Las Vegas casino a few months back. They had a fairly long talk, and Max says SLASH is just a super guy, easy to talk to, and a lot of fun. Max wanted to do something that would show how much he likes and respects SLASH and his music. What better way than to get that Snakepit logo tattoed for life on your arm?! If he sees you anywhere, SLASH will know you are a big fan. Thanks, Max!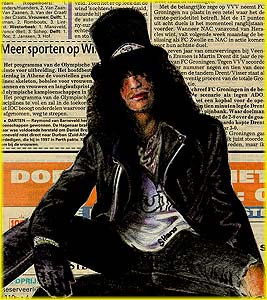 This is such a realistic picture of SLASH, that at first we thought someone was sending along a magazine picture. This wonderful, lifelike drawing of SLASH (with the newspaper behind him) is titled "SLASH On The News". Is that clever, or what?! Shane made this drawing for us to thank us for the SLASH page and especially the news on SLASH. Shane, you are some terrific artist, and a very, very clever one, too. Shane has been kind enough to say he will send us the original. You're a good man, Shane! Thanks so very much.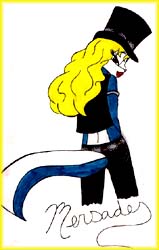 Here's one of the coolest tats we've seen. Mersades designed and sketched this herself. It's a little bit of SLASH and a little bit of Mersades. Don't you love the expression on the cat and the beautiful blue color? Note that the cat is wearing a top hat in tribute to our favorite guitarist. Look closely and you see the cat is wearing SLASH-type clothing. We like this one a lot. Mersades is about to get this tattoo done, and she promises to send a picture of the completed tat to us. Thanks, Mersades!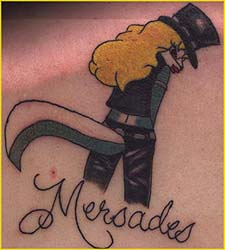 And here is Mersades' latest tattoo which is also a little bit SLASH and a little bit Mersades. Very nice! The picture was taken just two days after the tattoo was completed, so her skin is still a little red here. If you've never had a tattoo, Mersades says the tattoo peels like a sunburn and gets itchy. Oh. Well, we'll let Mersades get all our tattoos! She and SLASH are very brave.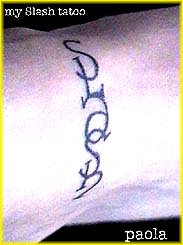 How much do YOU like SLASH? Enough to have his NAME tattooed on your body?! These great linked letters adorn an Argentinian fan, Paola. Is she a hardcore fan or what? We think SLASH would be pleased, and hopefully Paola can show him herself on the Snakepit tour this year. Thanks, Paola, for sending a picture of your very snazzy tat.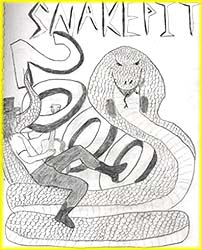 Holly sent this up to date drawing of Snakepit 2000. Here's another of SLASH's fans who was drawing in class! We're not sure what the Snakepit has to do with Organic Chemistry, but we're pleased to show Holly's drawing here anyway. Holly is at WVU hoping to see the band soon. Thanks, Holly!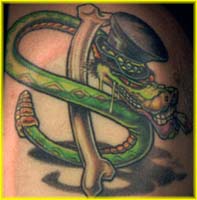 SLASH is a big fan of a form of wearable art - the tattoo! You've seen the Snakepit logo tat on SLASH's left shoulder. Markus Pfister is a big SLASH and Snakepit fan from Austria and this is HIS tattoo. All of us should have one of these! If you're not that brave, get over to Austria and see Markus's or take a look at SLASH's at a show. We think SLASH would be very pleased with this fan tribute. Thanks, Markus, for sending us this photo!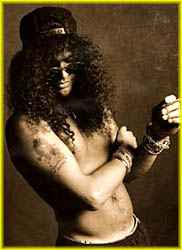 Eric Draven created a wonderful screensaver for SLASH, and you can have a copy for your very own Windows PC! It's full of great pictures, quotations from The Man, and music from Snakepit '95. You'll just love it. Looking at those big pictures and reading the quotations is great...you'll definitely enjoy it! All you do is click on the SLASH picture below, and it will be downloaded and saved. Put it in C:\Temp. Then, doubleclick on it. It has its own installer that is so easy to use. And then you select the Slash Screensaver in Display in Control Panel. It's great! Eric, thanks so much for doing this one for SLASH!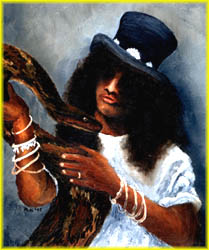 We think SLASH would like this oil painting! He's playing with one of his slithery pets. SLASH has always loved reptiles, and it looks like this one might be going to get a kiss! Or is Slash just playing a snake game? This is a beautiful painting from Mike; one any fan would love to have it in his home. Thanks, Mike.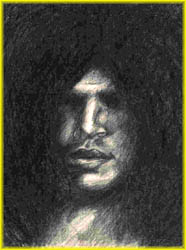 Aaron Sickler sent in this drawing of SLASH. This drawing shows SLASH in a more serious, darker way. We like this one not only for its shading and contrasts but for the overall mood. We don't often see SLASH like this onstage, but he does have introspective and pensive times as we all do. Thanks, Aaron, for showing us another side of SLASH.



Stephane Coltel is a French fan of SLASH's. France is famous for its art and artists, and Stephanie is showing us how they do it! Thank you, Stephane!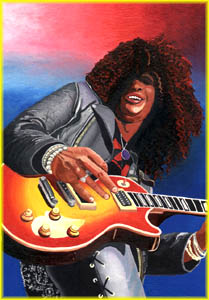 Stephane Coltel is a French fan of SLASH's. France is famous for its art and artists, and Stephanie is showing us how they do it! Look at these two paintings...they are absolutely stunning. The one on the left is our man SLASH in a familiar position. Look at the attention to detail and the wonderful colors.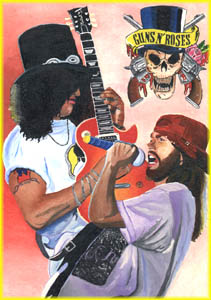 At right is a picture from the past that might trigger some fond memories. Axl and SLASH onstage together. Check that logo in the upper right corner! Thank you, Stephane. We wish we owned the originals!



Look at this artwork! Done by Shaun Futter, a mega-fan, these are two large paintings and one drawing of SLASH in Guns N'Roses. These are truly impressive works of art.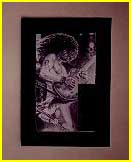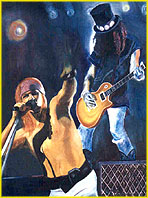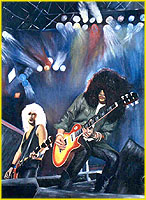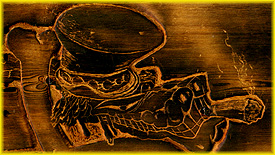 And Shaun has also done some artwork in another medium. This is a wooden rectangular block in which he has painstakingly cut and marked the wood so that the wonderful Snakepit logo stands out. Isn't this something?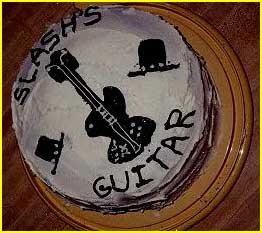 Here's an edible drawing done by Wendy to celebrate the arrival of SLASH's guitar at her house. Wendy's mom bought the guitar, and there was a small party for the new resident. SLASH couldn't make it, but his guitar made several new friends!







Oliver drew the picture above for the SLASH fan gallery! Isn't this guitar a wonder? Nonz is a big SLASH fan. At top right is her sketch of our favorite curly haired rocker! And the little SLASH drawing bottom right is by Hannah.



A lot of fans are tired of waiting for SLASH to select a Snakepit singer and get his band going! They want to see him fast! Some are sending their own demo tapes. And one young fan did a cartoon - SLASH trying to select a singer. He's not lucky when he's there OR not there. Let's hope he gets lucky soon. And, thanks, Wendy!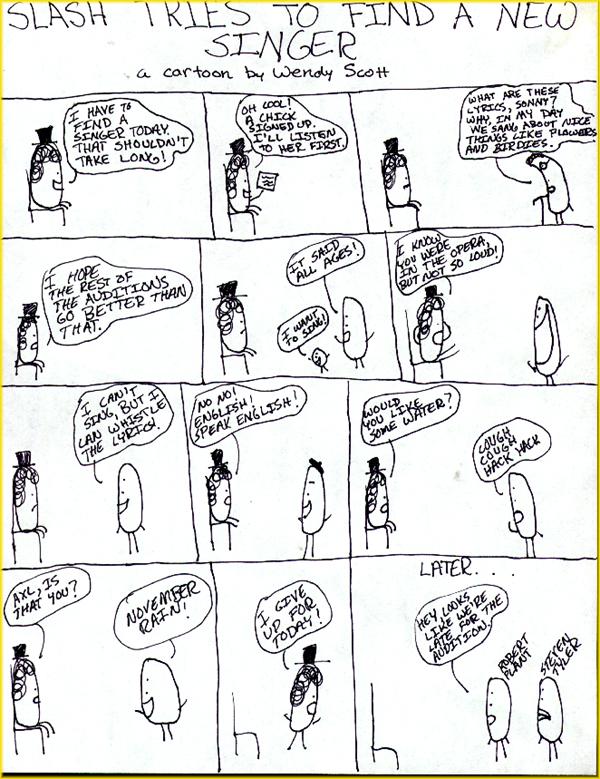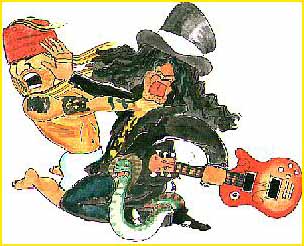 Axl and SLASH are having a few problems seeing eye to eye now. Felipe Schneider from Brazil has his own ideas about how those meetings went when Our Hero and frontman Axl Rose tried to reconcile their musical differences!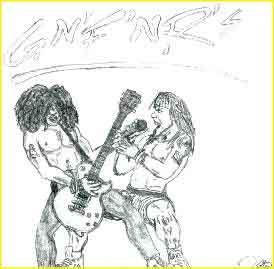 Kolton did this great sketch of SLASH and Axl in happier days. The man who wrote the music and the man who wrote the lyrics would take the stage rocking. No other members of GNR put out the effort onstage that these two did. We're all hoping for a reunion!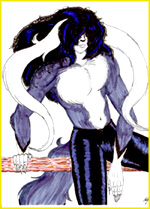 This is a beautiful drawing by Izzy-chan. It's pen and marker anime anthropomorph on bristol stock. Doesn't SLASH look sexy and wonderful here? Izzy-chan will have more band members on her page soon, and it will be great to see her impressions of Axl and the rest of the gang.





SLASH PEN AND INK DRAWING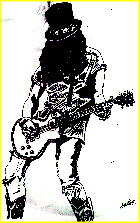 Hector E. Giron did a meticulous job of creating our man, SLASH, with pen and ink. Look at the detail here! The necklace, the lettering on the tshirt, the ripped jeans, and the boots - these recreate SLASH onstage looking down at his guitar. SLASH has been asked how he can see with all that hair in his face. He says he can see his guitar when he looks down, and that's enough! Thanks, Hector! SLASH would be very pleased.





SLASH PENCIL DRAWING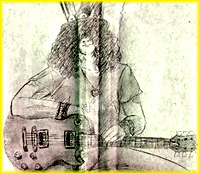 Hector sent another of his great drawings to the SLASH page. This was done entirely in pencil. Very delicate and meticulous work. SLASH's guitar looks super....and so does our man, SLASH. Thanks again, Hector! Send more!




SLASH Drawing From A French Fan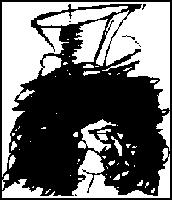 This is a drawing of SLASH done by Nico. Nico says he was in math or history class when he became inspired to draw SLASH. SLASH didn't seem to enjoy his classes much either and spent a lot of time in the bleachers playing his guitar. Could we have another budding SLASH here? Thanks Nico!





Outstanding SLASH Drawing!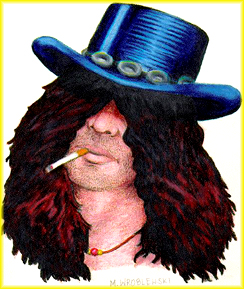 Here is a beautiful drawing of our man, SLASH, by a big fan of his, Marcin Wroblewski! Look at that shading on SLASH's hair and hat. This is a really professional drawing, and we're proud to have it on the SLASH page. One thing, Marcin, where are his eyes?! You say you have never seen them? Join the club!





Norwegian SLASH Drawings!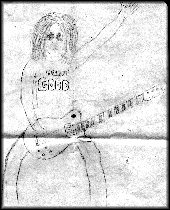 A Scandinavian SLASH fan, Mari Ann Soerheim, did two great drawings of SLASH for us. The one on the right was drawn after Mari Ann saw the "November Rain" video. Imagine a piano underneath SLASH! Everyone's favorite memory from that video. The one on the left is the first drawing Mari Ann attempted. She'd been watching some videos of SLASH and Axl Rose, and decided to try to draw what she had seen. And we're glad she did. Thanks very much, Mari Ann! And keep us posted on the Scandinavian SLASH news!




Dutch SLASH Drawings!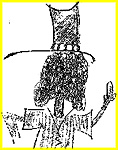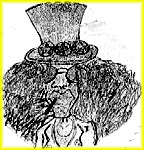 A big SLASH fan from Holland, Thomas drew these two pictures of SLASH several years apart. The one at the left was drawn TEN years ago! Talk about your longterm fan! The one at the right was drawn a couple of years ago. Thomas had to draw a picture of his idol as a school project; and you can see that SLASH withstood the test of time! Anybody beat that time for being a SLASH fan? SLASH visits Holland on tours, promotions, and special events. Thomas, we expect full reports!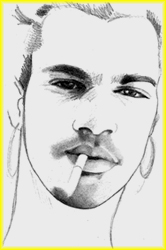 Laure send this drawing of SLASH from Los Angeles. Living in SLASH's hometown, she has been lucky enough to see our guy many times when he has just dropped in to a club for some jamming. Laure says that SLASH is much different than some of the rumors that circulate about him. Times she's seen him, SLASH seemed shy and quiet. She says he doesn't drink much and will sometimes turn down drinks people buy for him. He also doesn't go after the women. Seems when he is out at a club playing guitar and relaxing at the bar, he's living his private life which seems to be a whole lot more normal and subdued than we are led to believe. Her drawing of SLASH seems to reflect that - a quiet, intelligent guy. Thanks, Laure, for the drawing and the report on SLASH!










SLASH CARICATURE FROM AUSTRALIA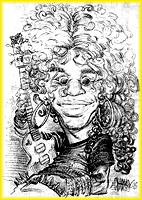 Here's a caricature of SLASH contributed by Nick from Australia. Nick found this in his local newspaper recently. Looks like the cartoonist has Our Man taking a break and smiling at us. SLASH has a TON of hair, and it looks like the artist decided to really emphasize that! And how about those shades? SLASH never seems to remove them anymore. Thanks, Nick!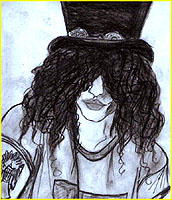 Dea did a sketch of SLASH when he was first starting out. Doesn't she make him look young here? This looks like when he posed for that Wasted Youth tshirt picture. Some of us feel we have grown up right alongside SLASH! Thanks, Dea, for reminding us of those wilder days with SLASH.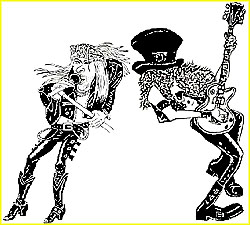 Here's a wishful thinking drawing by Chappie! He's remembering back to the days when we had the Gunners together with Axl and SLASH onstage putting on a show to remember. Chappie sends his drawing to us all the way from South Africa! We start to think "reunion tour" when we see drawings like this one. Thanks, Chappie!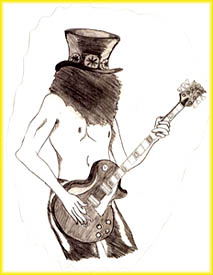 Chappie's sent us another drawing, and this time we see SLASH by himself. This is a wonderfully detailed drawing. There must be a heavy wind blowing all that hair over SLASH's face. We'd know him anywhere! Thanks, Chappie; and we'll be looking for another when you have the time and inspiration!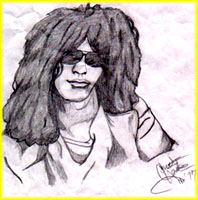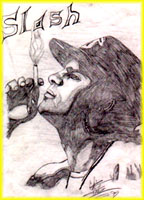 Look at that good lookin' SLASH in these two drawings from Mersades. We've looked at them a lot, and we still can't figure out which we like best. Mersades has been drawing for 8 years, and it shows. She would like to meet SLASH after a show someday and get a chance to tell him hello. How about posing for a quick sketch, SLASH? Thanks, Mersades!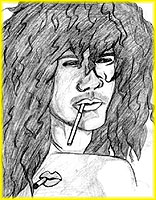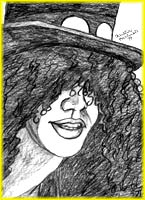 We liked Mersades drawings so much, we persuaded her to do another! Here's Slash showing off his right shoulder tattoo. Thanks again, Mersades! And now she has sent another! Mersades could someday be the official SLASH artist! This is a very cool picture, and we are happy to display a quartet of SLASH pictures.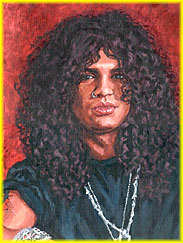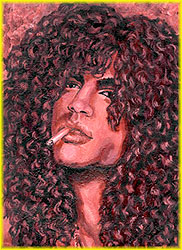 These magnificent paintings were created just for the SLASH page! Aren't these wonderful likenesses of SLASH? They capture that cool SLASH look and also show the really nice person underneath. A gentle, cool look at our favorite guitarist. The one at the right seems to be that young artist while the one at the left seems to be the man that sweet young guy has grown into. A SLASH fan named Blondie did this for us to share with all of you. Thanks, Blondie!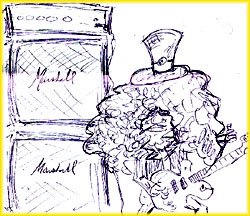 We have a weakness for SLASH caricatures. Here's one drawn by our friend Kirk Thomas. Kirk is a big SLASH fan who has even bought SLASH a drink or two at some shows. Kirk is one of our good friends with a great sense of humor! Kirk has been promising to send us this drawing for quite awhile, and we're glad to have it. Thanks, Kirk!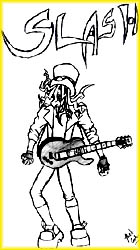 Chyld tells us that a story will be coming for the SLASH Fiction section. In the meantime we have brother Nick's drawing of SLASH. A talented family! We especially like SLASH's hair here, and he is so thin. Some people thought SLASH looked heavier at NetAid; now we can just show him Nick's picture! Thanks Nick! And we look forward to Chyld's story.


SLASH ANIMATED CURSOR!
Ray made a great animated cursor of our man SLASH puffing on his cigarette. This is a good one to use for BUSY.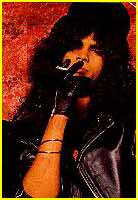 Right-click on the picture of Slash smoking (below) to take away this animated gif. Set it up as the BUSY choice, and you can watch SLASH smoke his way through those boring system delays.


Click on SLASH smoking in the shower!: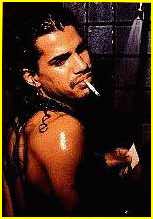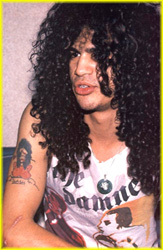 Ray was on a business trip in L.A. and went to see some places that SLASH mentions as favorites. One of these is the famous Rainbow where SLASH often stops for drinks and dinner. In fact, SLASH has his own table there! If you stop in, you can see his picture on the wall by his table. There are tshirts for sale to commemorate your visit to this SLASH hangout. Click on the Rainbow's sign below to bring up a map of the Rainbow's interior where you'll be able to look around and check out some great pictures of the place. Thanks, Ray, for the photography and the cool map! Now...next time let's see one of SLASH's house!




Click on the Rainbow photo!: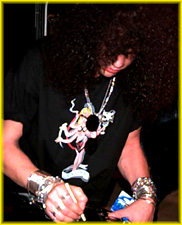 Linda made a crossword puzzle for SLASH fans using SLASH trivia! Think you know all about the man? Try some of these questions on for size. Linda promises to put new ones here periodically. If you want to fill it in, print off a copy on your printer. The solution isn't posted, but you won't need one, will you? A new puzzle will be posted here periodically, so stop back and check this out again!



Now to get started, click on the picture below of SLASH trying to remember all these facts, too! Use your browser's back arrow to return right here.


And here's a previous SLASH puzzle!




And here's another:





DRAW SLASH!
Here's a funny cartoon about drawing your own SLASH!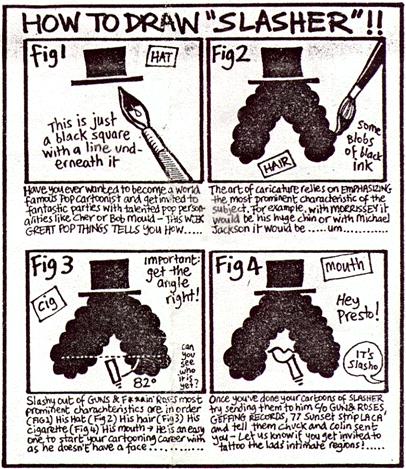 To Return to the SLASH's Official Fan Site's Main Menu, Click on the jacket autographed (and caricature drawn) by SLASH: