This is a posed photo of the original band. The original band members were: SLASH, lead guitar; Axl Rose, lead vocals; Duff McKagan, bass; Izzy Stradlin, rhythm guitar; Steven Adler, drums. In the photograph at right: the hardworking band that once called themselves family.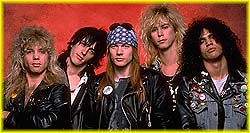 Left: When they first began. SLASH's best friend in the band was Steven Adler. They had gone to school together and Steven's instrumenents and albums got SLASH really interested in music. The two formed several bands together before GNR; the best known is Road Crew. Steven, SLASH and Izzy became heavy drug users while Duff abused alcohol. Axl got the band to clean up by threatening to dissolve GNR. Everyone straightened out except Steven. Steven continued to play erratically. It was a hard time for SLASH when Steven's performance became steadily worse, and he had to be fired. Steven retaliated by suing the band for his share of the "Appetite for Destruction" record sales. The GNR original "family" was no more.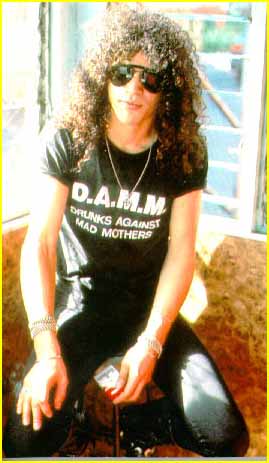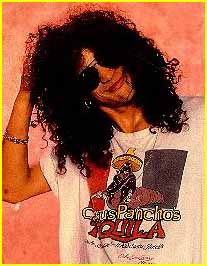 These are some pictures of SLASH when Guns N'Roses was just starting to make it big. He was in his early twenties at this time but looks younger with that sweet smile and those gentle, laughing eyes. Fighting his own demons of drugs and alcohol didn't take away his professionalism or his soft expression. SLASH has been off drugs for 8 years now, and his improved composing and playing are the result.

| | |
| --- | --- |
| | These three pictures show the image SLASH had when Guns N'Roses began. He played the part of the drunken, wasted young man living on the streets. |
| | Some parts of this were true. SLASH lived the decadent rock lifestyle but not at the expense of being a dependable musician. No matter what state he was in the night before, SLASH showed up on time for rehearsals and gigs. |
| | He takes much better care of his health in his mid-thirties. SLASH was married to Renee Suran, and he became a one-woman man. When that marriage ended in divorce, SLASH eventually married Perla Ferrar. They are expecting their first child in the fall of 2002. Days of living on the streets or in ratholes in L.A. are a thing of the past. SLASH lives very comfortably, but his street smarts haven't deserted him. It seems he can go anywhere and fit in. It's nice to have these cute pictures to remember that younger, wilder SLASH. |

To Return to IT'S FIVE O'CLOCK's Main Menu, Click on this early SLASH photo: