Want to know what makes the SLASH sound unique? Check out the man himself, the equipment he uses, and his influences. SLASH's playing has its roots in the blues-based, hard rock and heavy metal styles of the mid-70's. He says he has countless influences but will name Led Zep's Jimmy Page, the Rolling Stones' Mick Taylor, Eddie Van Halen and his hero, Jeff Beck. About the amazing Jeff Beck, SLASH says, "It's a lot easier to appreciate Jeff Beck if you're a guitar player. He just has such natural control over the instrument. It's the ability to make it do something that you've never heard anybody else do. Blow by Blow is the album I had when I was a kid. He would go from love songs to a really blistering, hard-rock, heavy-sounding guitar without ever going over the top."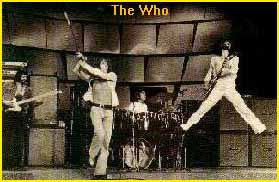 When he was getting into guitar, SLASH had a lot of favorite bands! Among them are Aerosmith, Cheap Trick, Black Sabbath, The Who, Ted Nugent. SLASH's favorite albums were Aerosmith's Rocks, Cheap Trick's Live at Budokan, and UFO's Strangers in the Night.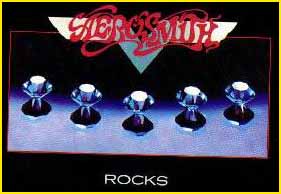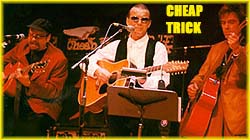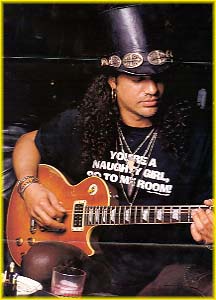 SLASH is entirely self taught! He learned to play guitar by listening to records and trying to mimic what he heard. He would play as much as 12 hours a day, and one of the first songs he learned was Deep Purple's "Smoke on the Water". He spent a lot of time playing along with Jeff Beck's records, too. For a very short time he took lessons from guitarist Robert Wollan; but he didn't want to learn the traditional way of playing scales and simple tunes, SLASH wanted to play the intro to "Smoke on the Water"! As his playing improved, he became interested in speed-metal and punk.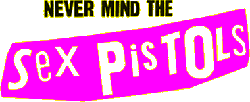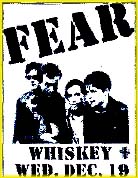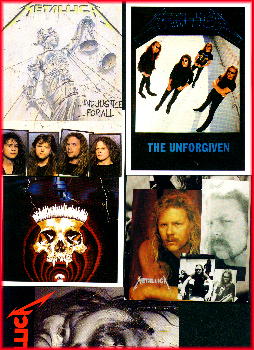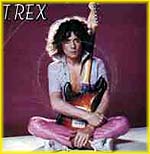 Groups like Metallica, Fear and the Sex Pistols were his listening/playing bands. You can really hear that punk influence in Guns N'Roses' The Spaghetti Incident?, a project largely directed and produced by SLASH. Each band member selected songs for the group to cover on TSI?. SLASH's choices were Fear's "I Don't Care About You", T.Rex's "Buick MacKane" (SLASH on vocals), and Nazareth's "Hair of the Dog".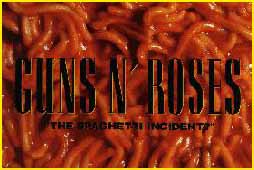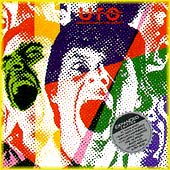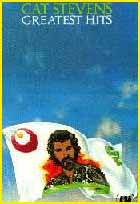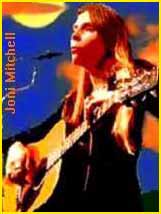 SLASH is a musician who likes all kinds of music. He enjoys Cat Stevens and Joni Mitchell, and these influences are reflected in some of Guns N'Roses' more melodic, sensitive songs like "Sweet Child O'Mine" which was primarily written by SLASH. As most musicians do, SLASH likes classical music, particularly that of composer Erik Satie.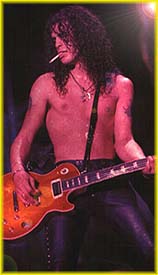 SLASH's playing style is based around the blues and harmonic minor scales. He plays with strong, melodic sensibilities. He relies on pentatonic minor scales played in "blues box" positions for solos and and sometimes uses the Aeolian and Dorian modes, the Mixolydian scale and pentatonic major scale.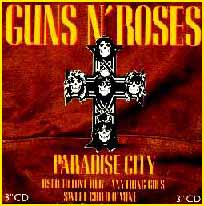 SLASH often plays pedal-steel bends and uses the pentatonic major scale to create leads that have a country sound. You can hear this in "Paradise City" and "Coma". When playing rhythm, SLASH relies on power chords (a 2-note chord played at an interval of a fifth), riffs played on the lower strings, or arpeggiated figures. And he makes it look so easy!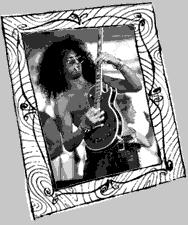 SLASH's playing techniques are like those of the late '70's. He uses a wide, fast vibrato technique. Using mainly his left hand for speed, SLASH uses pull-offs and hammer-ons to sound notes. His right hand does muting, and you will see him rest his hand on the bridge to make notes sound more percussive. This technique is used for rhythm and lead playing. A good example of this is the very distinctive "Welcome to the Jungle" intro.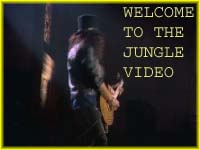 SLASH's pick is held between his index finger and thumb, and he sometimes plucks strings with his free fingers. Tonal variations are created by changing pickup selections while he plays.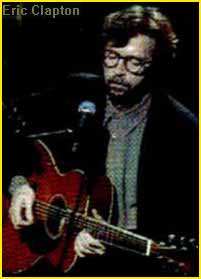 One of SLASH's favorite settings for lead is the neck pickup with tone control rolled back. This is also known as "woman tone" and is a favorite of Eric Clapton, too. SLASH also likes to use feedback to sustain notes on solos and intros.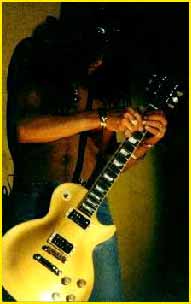 Most everyone seems interested in the hardware SLASH uses - what guitars does he have, what strings does he use, and what about picks and amps and effects? Just to show you that you don't have to have a $3,000 guitar to get started, SLASH started out with a one string acoustic. His first electric was a copy of a Gibson Explorer. Later guitars included a Memphis Les Paul copy, a B.C. Rich Mockingbird, a B.C. Rich Warlock, a Fender Stratocaster, a Jackson Firebird copy and a Charvel. Sadly, almost all of these early SLASH guitars were sold to support his former drug habit.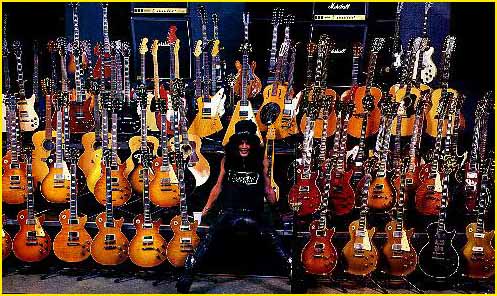 SLASH!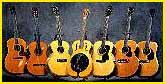 Everyone knows SLASH favors the Gibson Les Paul guitar, so you might be surprised to see the assortment in his collection of 100+ guitars. There are Guild Acoustics, B.C.Rich electrics, and more Gibsons than you can count!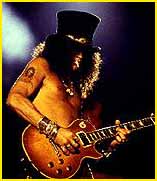 SLASH owns several late-50's Les Paul Standards. Once, a treasured Standard that originally belonged to Aerosmith's Joe Perry came into SLASH's hands. Joe had had his favorite guitar taken by his ex-wife or stolen (depending on which story you read), and a dealer eventually got hold of it and offered it to SLASH. SLASH snapped it up as it symolized all those wonderful Aero and rock shows that were his influences. Joe pleaded with SLASH to have it returned, but SLASH didn't - until Joe's 50th birthday when SLASH presented it as his gift to Joe! a '59 Les Paul copy, a '56 Les Paul gold top, a '69 Les Paul custom, and several new Les Pauls that he plays on stage. There are also a '59 Gibson Flying V, a '58 Gibson Explorer, two Ernie Ball/Music Man Silhouettes, a '52 Fendor Telecastor, a '65 Fender Stratocaster, both a '63 and a '65 Gibson Melody Maker, a 60's Gibson SG, and a Fender 6 string bass all of which are used for recording. Slash plays slide on a Travis Bean electric. His acoustics include a Guild 12 string, a Gibson J-100, a Martin D-28 acoustic, a Ramirez classical and a Dobro. There is also the wonderful Gibson SLASH Signature Les Paul Classic model with the Snakepit insignia. Most of SLASH's guitars are kept entirely stock.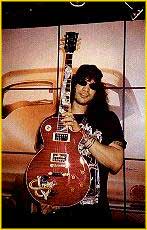 Here's some additional information on the SLASH signature guitar. The original red signature with the mother-of-pearl snake on the neck and painted snake logo was made by the Gibson Customshop. The Gibson Customshop Slash Model Les Pauls were made from 1996 to 1998. There were a total of 73 made; 75 If you count the 2 Slash owns. The man who did the Snakepit carving on the top said that he is not doing any more. This guitar retailed for around $8,000. They can be purchased from dealers at prices higher than the original or as low as from $4,800 to $5,500. It pays to be a cautious shopper. With the end of manufacture byGibson CustomShop, Gibson Epiphone brought out a similar but much less expensive "copy". The guitar is also that beautiful red, but the snake logo is a sticker rather than paint. The mother-of-pearl snake on the neck is missing. There is just a white marking going up the neck. Still, it is a fine guitar with great sound to it. SLASH had to pass judgment on it, and he thinks the Epiphone is a good guitar.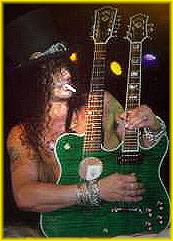 At the SLASH's Snakepit 1999 pre-album shows, SLASH started showing off his newest signature guitar. This beautiful double neck was designed by SLASH and manufactured by Guild. The Crossroads Double Neck changes from a wailing six-string to a mellow Guild 12-string with the flip of a mini-switch. The body is carved from a solid mahogany block with an acoustic chamber under the 12-string side. This chamber has a traditional rosewood bridge for a true acoustic 12-string sound. The body of the electric side is solid and sports SLASH's Seymour Duncan pickups. It is then coated with a laminated flame maple top and finished in black, red, green, white or antique burst. It is now available in a solid top AAA maple version. An absolutely stunning guitar to see and hear. SLASH has the transparent green model, and he has dubbed his newest signature guitar "Godzilla"!

SLASH selects from all these his main performance guitar. It is the '87 Gibson Les Paul standard. He often uses a B.C. Rich Mockingbird on stage, too. SLASH now tunes all his guitars to standard A-440.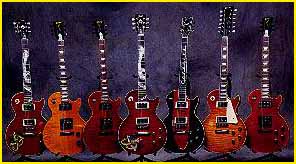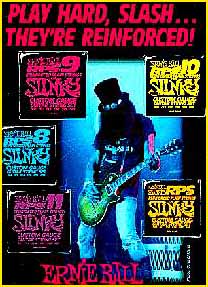 As for strings, SLASH uses Ernie Ball Slinky R.P.S. strings of gauge 11-48. He likes to play with the heaviest picks he can find and prefers purple Dunlop Tortex 1.14 mm picks. Most all of his live guitars are equipped with Seymour Duncan Alnico II pro humbuckers. His guitar straps are custom made.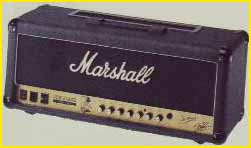 SLASH is known for Gibson guitars and Marshall amps. Just as there is a Gibson signature guitar for SLASH, there is also a SLASH signature amp. At the end of 1998, the SLASH signature guitar was selling from $1800 to $3500 (case included), and the SLASH amp for under $900 (includes "snakeskin" cover). The SLASH amp was only manufactured in 1996, so it is not always easy to locate. For live appearances, the JCM SLASH Marshalls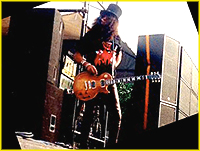 are used for a dirty sound. For the dirty tone, the SLASH recommended settings are: Presence: 7, Bass: 7, Mid: 4.5, Treble: 7, Output Master: 6, Lead Master: 10, Input Gain: 6.5. The JCM SLASH Marshalls are used for a clean sound, too, when modified with KT88 output tubes. The SLASH Marshall should be tuned this way for the clean tone (SLASH recommendations): Presence: 0, Bass: 9, Mid: 3, Treble: 5 1/2, Output Master: 10, Lead Master: 0, Input Gain: 4. The 2555 Silver Jubilee at 50 watts is used for the Heil Talk box. All tubes are groove tubes.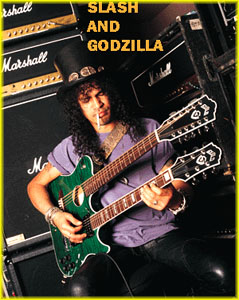 Some more amp information: In 1987 the Silver Jubilee was issued as the 2555 model for that year only. In 1988 the 2555 model was issued in black only for just that year and then discontinued. In 1998 Marshall issued the JCM SLASH. It is an exact reproduction of the 2555 model. This was a limited run. SLASH uses groove tubes, E34Ls output tubes, and GT12AX7 for pre-amp (also known as ECC83), preferably #5 value output tubes. With limited production of these amps, availability is only through the used market. (Interested guitarists should contact Guitar Center for a computerized list of all their stores.)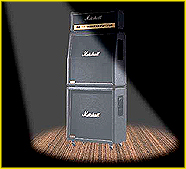 SLASH has a unique playing style that is reflected in his live setup. He uses 4 Marshall 4 x 12 cabinets, 2 straight cabs stacked on top of 2 straights, and all are loaded with 70 watt Marshall/Celestion Vintage 30 speakers. The two top cabs are driven by two separate JCM SLASH signature amps dedicated to his clean sound. Similarly, the two bottom cabs are driven by a a pair of SLASH signature heads set for his distorted rhythm/lead tones. SLASH has a fifth 2555 solely for use with a Heil Talkbox (see below).




The studio amps are: Marshall 2555 with EL34 output tubes and the Marshall JCM 800 (modified) with 6550 output tubes. The signal is split with Bob Bradshaw custom splitter system. A little more on the SLASH signature amp: It is the first Marshall signature amp for any artist. The amp is based on the amp SLASH has sworn by since day one, the Jubilee 2555 head of 1987. Many great artists, including Hendrix, have sworn by Marshalls, but something unique about SLASH's playing style led the company to recognize him above other guitarists. Marshall has described SLASH as having a "...highly emotive yet fiery style, [that is] in many ways timeless". They recognize SLASH's style as having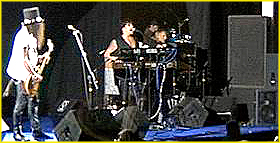 a retro 60s and 70s influence but always in a thoroughly modern style. The signature amp is a handwired all valve amp which marries the legendary roar of the 800 Marshall series power stage with a highly versatile pre-amp that that boasted a footswitchable "LeadMaster" control which effectively makes the 2555 a two channel head. By increasing the preamps gain when activated, this feature allows the user to switch back and forth lead and rhythm at the touch of a foot. The amp's versatility is enhanced by a Series effect loop and a push/pull function on the input gain control which, when pulled out, injects a subtle but effective distorted edge to the amp's rhythm tone. A high output (100 watts)/low output (50 watts) switch adds even further to the amp's flexibility and already wide tonal palette.



SLASH has two B.C.Rich signature guitars, too. This famous red Mockingbird is featured in some Guns N'Roses videos (You Could Be Mine), a UK poster, and was used onstage.

It's a beauty, and it is the Mockingbird SL model. It retails for about $1800; but if you shop around, you might get one closer to $1000 with case. The second is the SLP which is basically the same guitar with a flamed maple top and selling for a little over $2000. B.C.Rich has all kinds of options, so if you check out their website, you can start with the SLASH signature guitar and add all kinds of things to get it the way you want. Epiphone was putting out a scaled down model of the SLASH signature Les Paul. These go for around $700 or $800. One difference is that the snake is not in mother of pearl here. Epiphone uses paint to help get that big price tag down.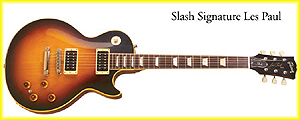 At the NAMM 2004 Winter show, Gibson announced eight new signature guitars, and SLASH is one of the eight. Some of the others were Jimmy Page, Zakk Wylde, Dimebag Darrell. This new SLASH signature guitar is quite different from his first just in appearance. The first, the Snakepit sig guitar, was a bright red with mother of pearl inlay (see above). This second sig is a plain tobacco sunburst. Instead of focusing on appearance, SLASH has gone for a focus on making the guitar a real workhouse. Quoting the Gibson site:

Slash, whose new, stripped down signature Les Paul focuses on utility (with blendable Duncan Alnico Pro IIs and a Fishman Powerbridge for acoustic tones) instead of aesthetic elegance. These features allow the guitar to be acoustic/classical. The new Slash Signature model focuses on utility over elegance. The plain maple top and Custom Authentic finish combine with Duncan Alnico Pro II humbuckers and a Fishman Powerbridge (which can be used by itself or blended with the Duncans) to create an instrument that covers all the tonal bases. For information on the Fishman Powerbridge, go to fishman.com. Here are some details from the Gibson site:

Body:
Top wood: Carved maple
Back wood: Solid mahogany
Binding: Single-ply cream on top
Available left-handed: No
Finish Colors: Custom Authentic Dark Tobacco Sunburst


Neck:
Neck construction: 1-piece mahogany with long neck tenon
Fingerboard wood: 22 fret rosewood
Inlays: Acrylic trapezoid
Binding: Single-ply cream
Profile: Slash custom
Scale length/Nut width: 24 3/4"; 1 11/16"
Strings: Brite wires .010-.046

Electronics & Hardware:
Pickups: Seymour Duncan Alnico Pro II humbuckers, Fishman Powerbridge
Controls: 2 volume, 2 tone, 3-way switch, 3-way mini-toggle for Fishman
Hardware color: Aged nickel
Bridge/Tailpiece: TOM with Fishman/Stopbar
Tuner style: Vintage tulip

Collateral: Custom Shopcase, Certificate of Authenticity, Custom Care Kit All specs are subject to change without notice.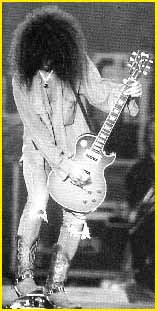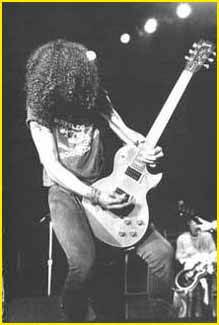 SLASH uses some effects when playing live. On stage he uses a M.X.R.10 Band E.Q for lead boost and feedback enhancement. When you see SLASH using the Wah-Wah pedal, he is using a Dunlop Rackmount Wah Wah system. He also uses a Heil Talkbox, and Boss DD-3 Digital Delay. SLASH also uses the DBX compressor and Yamaha SPX 900 for clean sound processing. He favors the Nady 950-GT Wireless System. All signals go through the Bob Bradshaw Custom Splitter System.



Many thanks to Adam Day, SLASH's Guitar Tech, for his assistance!

SLASH ON PLAYING GUITAR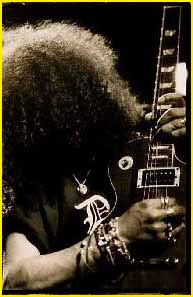 "I just think of a particular type of guitar that will work for the song and grab whatever happens to be in the front of storage. I try to make any guitar do what I want it to do."
Guitar Player, 1/94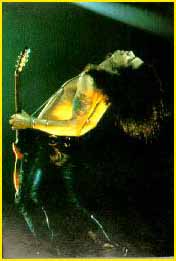 "My basic roots come from a certain hard rock background."
Guitar Player, 1/94





OTHER ARTISTS: ABOUT SLASH...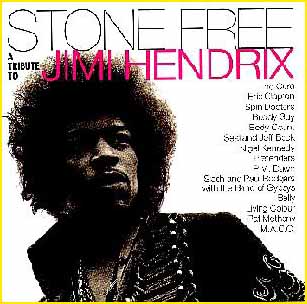 Eddie Kramer, working with SLASH on Stone Free: A Tribute to Jimi Hendrix:

"SLASH is completely the opposite of what I thought he'd be. He's very focused and together."
Guitar Player, 12/93



Paul Rodgers, working with SLASH on Muddy Water Blues: A Tribute to Muddy Waters:

"He was suggested to me and I asked 'Does SLASH play the blues?' I listened to some of his things and realized he's a good player."
Guitar Player, 5/93





ENDORSEMENTS

SLASH swears by gear from certain manufacturers. If you want to sound like SLASH, you might want to investigate this equipment. Here is a list of equipment SLASH uses and manufacturers that SLASH endorses. Their logos or banners are displayed here. Click on any of these, and you'll be at the home page of one of these fine companies.


| | |
| --- | --- |
| MANUFACTURER | EQUIPMENT |
| Gibson Musical Instruments | Guitars (including SLASH signature) |
| Guild Guitars | Guitars (including SLASH signature doubleneck) |
| Monster Cable Products, Inc. | High performance audio cables |
| Ernie Ball | Strings |
| Marshall Amplification | Amps (including SLASH signature amp) |
| Seymour Duncan | Pickups |
| Jim Dunlop USA | Picks and Wah Pedal |




These manufacturers would be delighted to have you visit their sites. Click any logo to visit one of these SLASH-endorsed sites!







To Return to the SLASH Official Fan Site's Main Menu, CLICK ON THE PICTURE OF LES PAUL BELOW: