(Updated January 2006)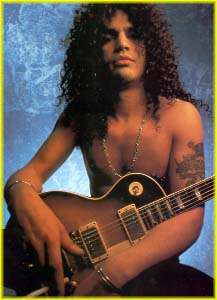 If you play guitar, this section has been set aside for you. Here we have guitar and guitar band music from SLASH's fans. Each fan is supplying the music on his or her own site, and there are links here so you can move quickly from one to another. If you'd like to contribute a clip of your music, just put it up on a web site. Free sites are readily available on the web. Then send the url, the name you'd like to have used here, and a few words about what people will hear at your site. Email
webmaster@snakepit.org
(Updated October 2005)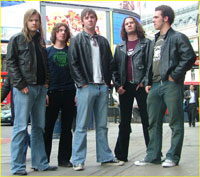 Red Top Matches Red Top

Matches formed in January 2002 in Bristol UK and have been storming the local rock scene ever since. They play a tight blend of hard, sleazy rock and have a release planned for the end of 2005. Click on the band photo to download one of their songs. Rock on, guys!



This is Dirty Vendetta and they play Rock 'N'F'Roll. They are based in England, Brighton, and have been around a couple of years. Their influences are GNR, Motley Crue, L.A. Guns, Velvet Revolver and have the same attitude as these bands. They just want to get out there and play real Rock N'Roll. Their link is here and they have another to where you can hear the band. That's at: Play It Fuckin' Loud!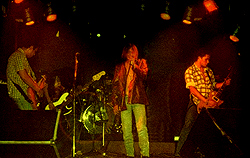 Beto sent in his band information from Argentina. He says he's a huge SLASH fan and plays lead guitar in a GNR cover band called COMA. They have a great web site and although it's not in English, it's pretty easy to figure out which section you are in. Rock on!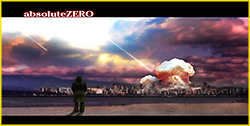 Absolute Zero is a Canadian rock band located in Ontario. The band's 5 members were signed February 2003. They've won some prizes and they have a clip on their site you can listen to. They are releasing a CD at their April 17, 2004 show so pick it up then. The artwork here is from the demo CD. Band members are Ryan Vandrie on vocals and guitar, Pat Arteaga on lead guitar, Killian Thomson on bass, Kris Williams on drums. Best of luck, guys!




is the homepage for singer songwriters Mary Heather Herron and David Bain. They are currently in the completion stages for David's debut CD Timeless Soul. The first single from the CD has been released and the completed CD will be available in the summer of 2004. "Spaceship Dreams" is a track that is streaming on the web site, and you are invited to come over and listen and leave comments. David says GNR had a big influence on him, so this is definitely one to visit.


is a new band fronted by R.G. Kooper. The band is in Austria, and the band playing style fits in the "good old 80s sound style". R.G. has been in many bands over the years, and this one he gave his name to. If you click on the picture, you can read the News. And if you click here, you'll be taking the direct link to the band's live video which features one song from their support act show for L.A. Guns a month ago!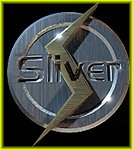 Sliver is a "small Niagara Falls, Ontario garage band" that's making great progress in their area. The band is influenced by SLASH and GNR. There's Chris and Matt on lead and rhythm guitars, Eric on bass, Andrew on drums and Pat on vocals. Go over and listen to this young band! They ought to be ready soon to break out of that garage and do some gigs. Best of luck, guys!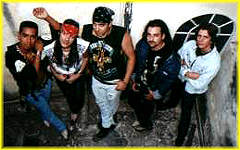 How do you like tribute bands? There's a great one in Argentina for Guns N'Roses. It's called Mendigos Del Paraiso, and they are a hard rocking band. There web site is really a good one with sections on band history, mp3 files, a place for the fan club, photographs and more. Stop in and see their and look out for them in Argentina!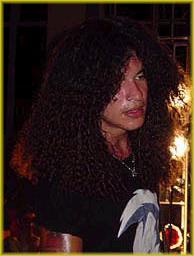 This is the web site of a special friend of ours, Eduardo Mota who is called "the SLASH clone". Eduardo came to our attention when the GNR fan club people in South America put on a convention. The entertainment was provided by cover bands and Eduardo with the SLASH in them. Not only does he really resemble SLASH but he strives to sound just like him also. Eduardo has devoted his time and life to SLASH. Visit his web site and see for yourself. He's a great guy and a devoted fan. We're happy to know him.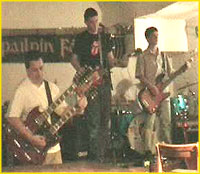 The Project was formed in 2003 when lead singer/bass player Brian O'Connell teamed up with guitarist Brian Gabriel to form the basis for the band. Andrew Tuite and John McCarthy are on board with drums and guitars. This Irish band is jamming in Cork and doing gigs there. See them at Make Music in Cork. They plan to have an EP out by Christmas. Due to some members leaving, there are openings for a drummer and bassist. Contact the band through their web site, but first stop and listen to their great music!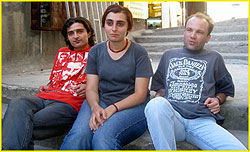 Here's a great rock band from Turkey called Orion. They have their own web site and play their own music. Yildirim Erdemli started playing in bands in 1993. He and Baris Dincer got together in 1995 and played together till 1998. Erdemli went into the service; but when he came out in 2003, Erdemli made the decision to form a new band with Baris Dincer and Kubra Ozcelik. Kubra is the drummer for Orion. In April 2003 Baturay Efes joined the band as lead guitarist. The band began to play under the name Orion in May 2003. The web site is in English and Turkish, and you can see photos and so on. You can find a video of Baturay playing "Blues Jam" on his personal site at Blues Jam.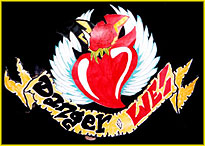 Dangerlies is a hard rock band formed in 2001 in the city of Genoa, Italy. These guys are a great Italian Guns N'Roses tribute band, and they also write their own songs (coming soon to download from their site). Dangerlies is: Cloud on lead guitar (the "SLASH" of the group), Waster on rhythm guitar, Dave is lead vocals, Spino "Chips" McKallan on drums and Ewein on bass. Check out their site for the complete bio, some photos, gig dates, discography. The downloads are coming! The site is in Italian, but it's easy to figure out the menu!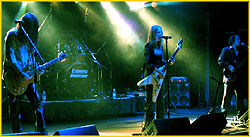 The Australian band Smother has been together since 1997, playing headlining gigs and touring for the first time in '97. In Melbourne, after their 3 year tour, the band focused on songwriting and recording. They've released a single, "Falling" and a self-titled EP. Band members are Mel Green (vocals, guitar), Brad Cook (guitar, backing vocals), Dean Parkinson (bass, backing vocals), Sash (drums, percussion). With a shared love for the music of the 60's and 70's, along with the hard driven rock of today, Smother blends powerful vocals, dynamic drumming and solid bass grooves, with Brad's intense guitar bringing a unique flavor to their sound through Eastern tunings and a love of exotic instruments. On their site, you'll find Smother's music, photos, bio, news, etc. Tours are listed, and they'd love to see you at one of their great shows!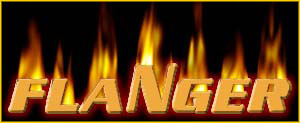 Simon from Flanger tells us that he is the biggest SLASH fan he knows, and the lead vocalist from Flanger is the biggest GNR fan he knows! They sound like good people! They had a little bad luck when Duff's European Loaded tour was cancelled (he was busy with creating Velvet Revolver), but they'll be out there again soon. The band was founded in 1994, and they cite as influences: Metallica, GNR, 70's rock and modern electronic music. Their 1996 and 1998 CDs are sold out, and they came out with another in 2002. There are four song clips on their site...be sure to listen to them. This is a very exciting band, and if you live in Germany or can get there to see them, it'll be well worth the trip!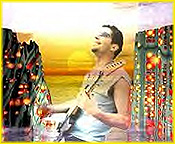 Eden Falling is a female-fronted, mainstream, original, modern hard rock band. They put on a charismatic, energetic live show that excites the crowd, gets them up and jumping around, and moves them throughmany emotions throughout the show. The result is always an entertained audience that is having fun! In just five months, this group has opened for Veruca Salt, headlined several large local concerts, drawing large large audiences, and they have just released their 5 EP, Servants of the Groove! Check them out at www.edenfalling.com or just click on the picture at left. Thanks!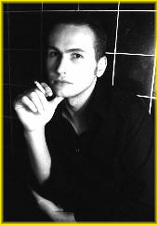 Based on the structure and sensibility of classic singer/songwriters, CONNY CONRAD fuses diverse musical styles with the energy of rock. The lyrics deal with the basic subject of the duality of human nature, while the bottom line of the music has written things you can do on guitar all over. Conny names The Doors, Jimi Hendrix and Guns N' Roses as his major influences, so the free download section of his website (incl. demos, alternate takes and live performances) might be something for you. Stay up to date with the latest news and tour dates, check out the lyrics and get to know the man behind in an intresting biography. On www.conny-conrad.com, there's a lot going on.




Blackfly comes from northern England near Manchester. They're mostly a classic rock band influenced by Led Zeppelin, the Stones, Guns N'Roses and Aerosmith. (Sounds like SLASH's influences!) Their bassist is seriously into funk, so there are some interesting results! If you go over to their website, there are photos, news, a bio and Blackfly music to listen to. They say their sound has changed over the four years since they put their audio files out there. They've got gigs coming up, and they really would like you to come out and have a listen. If there are any bands out there that would like to play some gigs, let them know!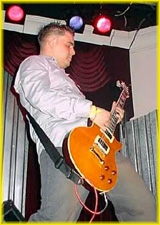 Steve Gallo counts SLASH as a big influence on his guitar playing. He says the first time he heard SCOM, he had to pick up a guitar and learn that song's first lick. Steve's in a Staten Island-based band called FeniXDowN, a hard rocking band. The band started in 1998 with Steve on lead guitar and Tony Hanson on rhythm. Matt Barone's on bass and Matt Koval's on drums. Kate Farley is on violin and backing vocals. Come over to the FeniXDowN site and hear their music, get a free CD, join the street team and learn more about this cool band!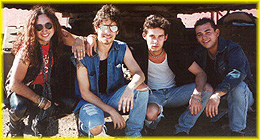 Here's a cool band from Argentina called Heart Disease. They have a great web site for you to visit. It is in Spanish and English, too. Always a plus for those of us who are linguistically challenged! Lots of photos, a news section, an interesting bio and MP3s to tune in to. Band members are: Dimi Ross, lead vocalist (ex-Louder), Matt Hustler, guitarist, Diego, bassist, Gus Weasel, drums. The band plays Guns N'Roses and other covers, and also plays their own music. This band could be a winner!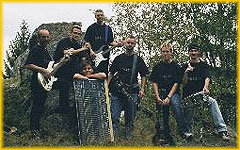 Looking for a cool European band? This is S*M*A*S*H, a German rockband. They say that they play "the old (good) stuff". They cover Bob Dylan, Metallica and Guns N'Roses! This is a big seven piece band, so if you get out to see them, you know you are going to hear some complete sounds. Melanie fronts the band, Stefan is on guitar with Sven and Alexander. Horst is the bass man. Lucas is the drummer and Matthias is lead vocalist. If you can coordinate this many musicians, you'll provide some great competition. S*M*A*S*H has that sewed up. Head over to their web site; it's in German, but music is a universal language. You can figure out the menu items easily. And German readers, make sure you look for the band!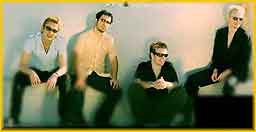 Solorcade has been called one of the most talented bands to hit the music scene in a long time. Like many bands before them, including GNR, they got together in Los Angeles. In early 2001, drummer Heath Cooley found guitarist Pomilla there, and that became the nucleus of Solorcade. Bassist John Hill came next. The trio were putting music together and along came their outstanding vocalist, Paul Van. This is a band you need to see! Pomilla credits SLASH for his start in music and his continuing inspiration. We think SLASH would be pleased. There's a web site where you can go and find out about the band and where they are playing. Tony wrote to let us know the band has signed a deal and is on tour. Solarcade guitarist Pomilla has since endorsed the same BC Rich Mockingbird that SLASH still plays all because of the influence. A CD release party is on the way so be sure to check that out. And give a listen to some Solarcade music. Best of luck, guys! Thanks, Tony for sending an update!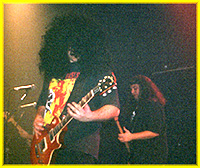 Appetite for Destruction is a NY-based GNR tribute band. The guys have been together about 4 years. They've been doing gigs around New York and knocking the crowds dead. Apppetite for Destruction has a growing fan base, and you're welcome at their web site anytime. There are pictures, MP3's, show schedules, bios and just a whole lot of other things we music fans like to see. They say their Axl Rose is really good but this shot of "SLASH" looks pretty good, too! Go over and visit and tell the guys what you think! A little serpentine, guys!



If you need help getting signed or getting a record deal, the people at Taxi can help you out. They are an A&R company working with unsigned bands, artists and songwriters to get record deals, publishing deals and placement in films and TV shows. If you need help taking the next step, contact: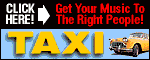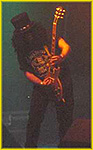 Here's a really cool Guns N'Roses tribute band from the UK. The band is called Bad Obsession, and they have a great web site to share with you. There's music (three GNR tracks), photos, gig schedule, news, gear information and more. They have a busy gig schedule, so get out to see them soon. Tell them the SLASH page sent you...tell that to the "SLASH" band member. Doesn't he look like SLASH, down to the same tshirt. Very cool band. Visit Bad Obsession NOW!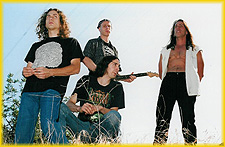 City Monk is in their first year as an L.A. band. They have a regular midnight gig at the Cat Club on the Sunset Strip. Remember when GNR played there? This is one of SLASH's hangouts; but Chris, their guitar player, says they haven't run into SLASH just yet. Chris claims SLASH as one of his biggest influences. The band's style is like that of SLASH's Snakepit, GNR, Led Zep, Metallica and some pop. City Monk does original songs as well as covers from SLASH's Snakepit and GNR. When you get to their site, you'll find some band photographs and information, music to listen to, lyrics for their songs, gig schedule and contact information. If you are out in L.A. on a Monday night, don't sit in your room watching Monday Night Football...get out and ROCK with City Monk at the Cat Club!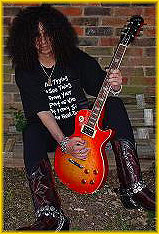 Hallion is a UK band that is just starting out. They are all massive GNR and SLASH fans. Lead Guitarist Dane says he is probably the biggest SLASH fan...that's Dane in the picture! The band is influenced by SLASH's guitar playing and all around coolness. Dane tried to get a band photo, but he never could get all the members in the same room at the same time. Sounds familiar! Good luck to Hallion!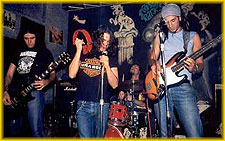 When you get to this band's site, type the bandname Gasoleo in the search block at the upper right of your screen. Gasoleo is a rock and roll band from Spain! Their site is in Spanish, but the universal music language helps you move around easily. There are songs to listen to, and there's a place to leave comments as well. There are a few pictures to look at, and the guys are deep into their stage performance. Stop over and have a look and listen!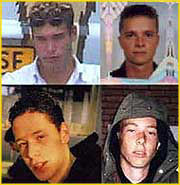 Road Crew is from around the city of Leiden the Netherlands. They are big fans of Guns, Slash and SLASH's Snakepit. Road Crew is a hardrock n' roll band - the kind SLASH likes! The band is: Dave, Chris, Bas and Gabor; and all are around the age of 18. They've been together since 2001, so they have a good sound together. They play Guns N'Roses, Aerosmith and AC/DC. Most of their own songs are written in that cool style. Go to their site and there is some music to hear, lots of pictures and news.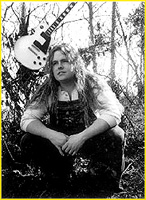 The Joe Davis Band is a hard rocking band out of Kannapolis NC. The first record was called Joe Davis "You Can't Stop Me" and Joe is the creator of the infamous Dale Earnhardt tribute song, titled "The Only True Hero". JDB is in the studio cutting a brand new record. Check them out and stay glued for show dates.



Mizkarrage of Justice is a UK rock band in the style of Guns N'Roses and Snakepit. The band is a solid four piece after a brief experiment with five. They have an EP out now containing some favorite Mizkarrage songs. The band members are Starkey on lead vocals and guitar, Bev on guitars and vocals (Bev has also done a solo project in keeping with all guitar players!), Slinn is on bass and Sam is on drums. The site has a really unusual and cool background, and a visit is recommended. If you are in the UK and see them listed for a gig, check them out!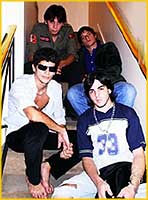 These four cool guys from Argentina are members of the K.A.F.C. band. K.A.F.C. stands for Keep Away From Children! The band members are Tomas Borda, Miguel Piran, Maximiliano Sucksdorf and Mariano Ledo. They got together in 2001 and have been together ever since. If you go to their web site, you can see pictures of the band, read their bio and listen to some of their rocking music. The song that's out there now is "La Noche (en vivo)", a 3:03 original track. Note that professional looking skin on the Win amp. Leave a message for the band to tell them you visited! K.A.F.C. is a band that loves SLASH, and it's our pleasure to share their site link with you.




Pogephant is a UK-based band that has recently launched a website. At this site, you'll find videos, music, pictures, bio, gig dates, news, a discussion forum and much more. Pogephant's lead guitarist, Adam Connell, is heavily influenced by SLASH. He says that if it weren't for SLASH, he probably would not be playing the guitar now! Check out this great band at their website, and then head out to see them at a gig!



Here's a band that REALLY looks familiar! This is Perfect Roses out of Quebec, Canada. Obviously, they are a GNR tribute band...and isn't "SLASH" the little cutie here! Dead ringer! Perfect Roses look like GNR and aim for the sound of the original band. They've been together a couple of years now. If you go to their web site, it's conveniently in both English and French.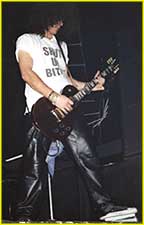 There are pictures of the band (with a couple of GNR thrown in!), MP3's, videos, news and more. We especially enjoyed the music and the band pictures! Perfect Roses has nice looking young guys in it, and it really makes you long for 1989! So you could see our fave guy SLASH, we've included an extra picture of "SLASH" onstage. How about an autograph?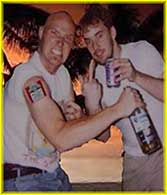 Milesingle hails from Memphis TN, and they are big fans of 80s metal in general and GNR in particular. They try to incorporate a large variety of sounds into their music (some seriously, some not). The core of their sound is based on GNR, Kiss, Motley Crue and related bands. You might find some of their songs and song titles offensive, but they say it's all in fun. SLASH is a particular hero, and SLASH's energy fuels their guitar-driven rock. Milesingle has been together for 10 years! And they say they are here to stay. Check out their website (with parental advisory stickers to send you young'ns back here) and see what they are all about.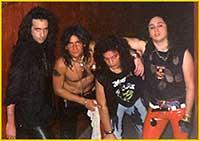 Louder is a glam rock band that hails from Argentina. The four guys are Marcelo Viera, Fer Rowell, Dimi Ross and Maury G. At a rock festival, Louder shared the gig with Gilby Clarke's band and L.A. Guns. Steven Adler was also there! There are some cool pictures on the site from that event. There's a nice MP3 section on Louder's site where you can hear them play their own music as well as Motley Crue Covers. Good luck, Louder!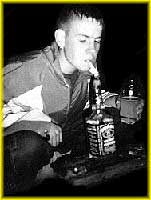 Raw Deal is a new rock and roll band influenced by Guns N'Roses, SLASH's Snakepit (strongly), AC/DC and Buckcherry. Check them out at their website to learn more. If you like good, true, rock music, you'll want to hear them and see them! And check out the "Join Us" section of their website. If you live in the Teeside area in the UK and are looking for a band, check out this section for sure. Right now they have Polo on lead vocals, Ratty on lead guitar and Rayna on drums. A bass and a rhythm guitarist would be most welcome if Raw Deal is your kind of rock band!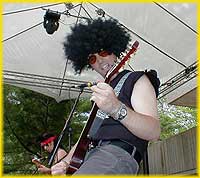 Is that SLASH? Nope, it's Gerard from Mr. Brownstone: The Ultimate Guns N'Roses Tribute Band! GNR live performances come back to life - at least in the northeast - with this band. Mr. Brownstone dresses like the GNR band, and they play all the songs you love but thought were gone forever outside of your CDs. There's Gerard as SLASH (our favorite, of course), Sean as Axl Rose, Joe as Izzy Stradlin, Drew as Duff McKagan and Mac who does double duty as Steven Adler/ Matt Sorum. Mr. Brownstone formed in the fall of 2000, and the guys are all music students! Their goal is to bring GNR's songs back to life with a precision and intensity you don't often see with tribute bands. The guys are planning to put a video on their site soon, so check back for that. Till then, Welcome to the Jungle!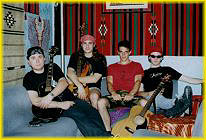 Bubblegum Kiss is a power-pop party rock 'n' roll band from Rome, Italy. They began in '97 as Shampoo's Loverz covering acts like Poison and Faster Pussycat. Then they started writing songs different from the old style. They developed a more personal style and turned this into their first demo CD. It's called "Welcome To The Lollypop City", has 5 tracks and was recorded in the summer of 2001. At the Bubblegum Kiss web site are some audio clips from the demo. At this time, the band is sceduled to play several live shows in some clubs. They are also writing music for a second self-produced release. Bubblegum Kiss is: Robby Sinz on vocals and acoustic guitars, Sicksexx on electric guitar, Rob 'n' Roll on bass and backing vocals, and Fede on drums. Check out their cool website now; and if you are in Italy, watch out for Bubblegum Kiss!



Chauncey Archer has a one-man band named Quiet. Despite the band name, guess who is one of Chauncey's main influences? The loud one himself, SLASH! Be sure to get over and see the Quiet site. It even looks peaceful there. Chauncey tells how he gotten to a solo act after being in bands for awhile. No wonder SLASH is doing a solo project too. There's a discography with music you can listen to, a way to contact Chauncey and some really nice thank you's. His most recent album is "Desert Escape". We think you will like the tracks here. If you've ever been ready to dump your band and go it alone, you might want to visit Quiet. Chauncey's done a lot...all by himself.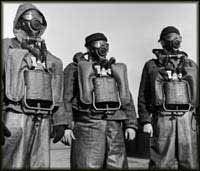 Harm's Way calls themselves "rock and roll farmers" that hate today's music and have locked themselves in a barn to make a rock cd! The CD has received some airplay on KNAC, an online station. If you'd like to give Harm's Way a listen, they have 3 tracks on their site; and if you like them, you can sign up for their fan club! The guys really are funny, but they play some hot rock and some cool guitar solos. SLASH would like this rock band!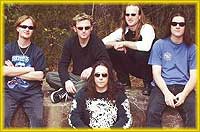 Acetone calls themselves the only REAL rock band left in the southern hemisphere. They've toured with The Screaming Jets and have been together for almost 3 years slogging through pubs, bars, nightclubs and all sorts of venues. They nearly signed with Silverchair's label, and they are continuing work on getting signed. Making music, though, is their top priority. Acetone has some great music at their site along with a discography, bio and other information. What AC/DC started down under, Acetone is determined to carry on with: ROCK!



The Napoleon Blown Aparts are the kind of new band SLASH would enjoy, and so will you! This is a U.S. band that is recording, performing and touring.! The band is on their second release, Saturday Night which they describe as a true guitar rock record. The Napoleon Blown Aparts also feature pounding drums and strong vocals. Lead singer Ajax displays angst, anger and rage - a strong singer and performer. The Napoleon Blown Aparts have toured with headliners Kiss, Weezer, Bad Religion, Ted Nugent, Skid Row, Blink 182 and more. These guys are really on their way. Check them out at their cool website and watch for them on tour!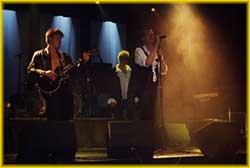 Crawling Back is a GNR, SLASH's Snakepit cover band! If you're in The Netherlands and vicinity, you can rush right out and hear them. If not, you might want to go to their website and hear some MP3s that will sound very familiar. Lead singer is Ger Burger, second singer is Marien Van Der Meer, Drummer is Hans Spring In't Veld, Bassist is Ronald Van Dien and Guitarist is SLASH's big fan, Len Ruygrok. The guys have been together 3 years but have many years of experience. Crawling Back usually plays at large rock parties or as a supporting act. You can find them in the neighborhood of The Hague and also on the web! Check them out - good guys with a great sound, Crawling Back!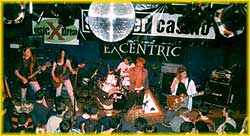 Excentric is a melodic hard rock band from Switzerland. The five band members are all around 21, but they have already found a slot in the local music scene of Basle. Even if you aren't a hard rock fan, you've got to love them live! The band puts on a great show. There's Raff Martin on drums, Reto "Pivi" Pieren on bass, Marco Gyger and Boris Gisler on guitars. James Prayer's one-of-a-kind vocals complete Excentric's incredible sound. The Excentric website is German at this time (English coming), but there are pictures to look at and music to listen to right now! Check them out today and on your next trip to Switzerland!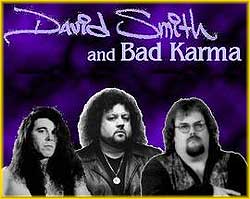 This band is David Smith and Bad Karma. SLASH knows these guys! They opened for SLASH's Snakepit at Northern Lights in New York on 6/15/2001. They also loaned Snakepit some equipment when their equipment truck didn't make it to the show! John Dodge of David Smith and Bad Karma was kind enough to get in touch and offer photos of the show. Thank you for helping SLASH and us! John also gave us the site address for David Smith and Bad Karma. You will find so much music there if you go to there mp3 area! There are pictures, member bios and club dates. Tear up those earplugs, head over to the band's site and crank the volume up! These guys rock and roll!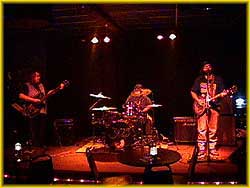 3825 is a "power trio" that has been together since 1988. 13 years! Their original music should appeal to SLASH fans since it is heavy blues based rock with a groove. Sounds like Blues Ball! Sign these guys up. Tony of 3825 got to meet SLASH and the 'pit at an instore in New York recently. SLASH signed Tony's 1975 Les Paul Standard as well as a mint, sealed, original cover copy of Appetite for Destruction. 3825 has a website you should take a look at and listen to. It features soundclips, photos and some very interesting band news! Thanks!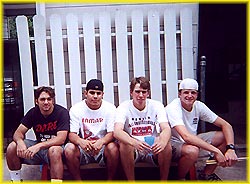 Day Old Donuts is a 4 piece band out of Austin, Texas. The members are in high school and say they might not play like SLASH, but they sure try to rock like him! The band has a website where you can go and check out some photos, song lyrics, song reviews. There's a link there to go to an mp3 site and hear them play. Best of luck, Donuts!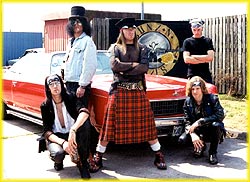 A quick glance at the photo at left, and you might think the original GNR band is getting back together! This is a UK Guns N'Roses tribute band that goes by Gunz n' Rozes. Gunz n' Rozes tribute band was formed in 1998 and spent a year in rehearsal before going out on the road. The singer, Garry Crowley, was on "Stars in Their Eyes" a few years ago, and that's how he became known to the band and joined up. This band has worked constantly over the last few years gigging all over the U.K., and now have a very good following. Gunz n' Rozes expanded into Europe recently, gigging in Holland and Ireland. Take a minute and see their website. You'll find all the band information you need. There is music coming back very soon on their home page.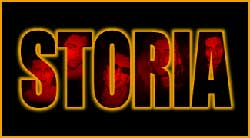 SEMTEX-H is an Italian hard rock band. Both guitar players in SEMTEX-H are big fans of SLASH! They met SLASH after the Milan show in December 2000 at the venue Alcatraz. They had a chance to talk to The Man and take some pictures that are now hanging up in the Alcatraz bar! The band consists of vocalist Angie D. from Toronto, Canada, lead guitarist Walter from Rome, Italy, drummer - percussionist Andrea from Cagliari, Italy, guitarist Peppi from Torino, Italy and bass guitarist Augusto from Roma, Italy. The band is doing a lot of Italian gigs, and they invite you to check out their web site so you can see them and know what the band is about. They hope to see SLASH at a show someday, and they send a big Ciao to him!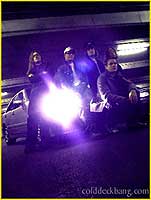 Cold Deck Bang is based in Norway and Sweden. They are a hard hitting rock band influenced by Guns N'Roses, Soundgarden and others. Cold Deck Bang has been heavily into gigging. They've kept their web site cool and up to date which brought them international attention. Radio airplay has followed in the U.S., Canada and Europe. The band is very receptive to your feedback. They find that they appeal to fans of Slayer, Slipknot and Deftones as well as fans of GNR, Aerosmith and Tool. Cold Deck Bang has the determination, hard work and dedication to make it big. Listen to their music and let them know what you think. Good luck, guys!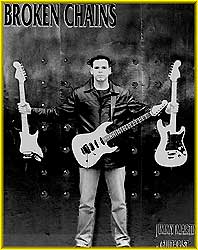 Jimmy Martin is in a Long Island, NY-based heavy metal band called Broken Chains. The band is influenced by 80s metal with a raw sound reminiscent of Motley Crue, Ozzy and Dokken. The band members grew up together and graduated around the 88-89 time period. Jimmy says they have an eight track, self-titled CD with more on the way this year. They are a fun, party, in-your-face band without attitude - just with a real love of music! Jimmy's first guitar was an '86 Les Paul. Who inspired him? SLASH! Sounds great! Check their site for the music and more.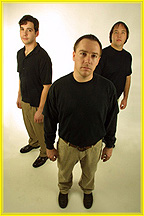 Liquid 6ix is a band out of Columbus, GA. They characterize the band as an emotional, high energy, original rock band with an eclectic blend of cover tunes. Albe is on lead vocals and guitar, and he names SLASH and GNR as big influences for him. Also in Liquid6ix is bass player Richard Hodges and drummer Larry Laska. Liquid6ix is currently touring in support of their debut release, Out of the Gate and Running, on Raspberry Moon Records. Check out their site, and you'll find some cool MP3s to listen to as well as biographical information, pictures, show dates and merchandise! There's a place to mail the band, too, so if you and your band are still just playing in the garage, send Liquid6ix some mail and get some pointers!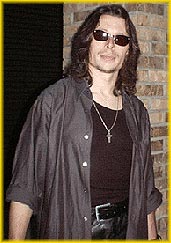 "The House of Faustian-X: The Official Doc Spagna Website" is the name of this cool music site. Doc Spagna is the man in charge, and he'd like to invite you over for a visit. Aside from the great music and an absolute ton of information, Doc has some wildly funny graphics and photos! Here's what Doc has to say about his music, his new band and his site: "I practiced with my new band for the first time this Tuesday, and I have a gig the 31st and have already started lining up other places to play. I think this band is really gonna kick some ass because the drummer's into classic rock, the rhythm guitarist is into ACDC, Aerosmith, etc., and the bass player is a hardcore blues man. Oh, I just got an email from a college radio station in WA state that wants to review and air Usual Haunts and Mouth Full of Razorblades. Tre cool. Also, I finally got my bio page up on my website. It has the whole story of how I got into music and became a guitarist and everything. You can get to it from the welcome page." And we want to be sure to add that Doc's CD was reviewed in The Global Muse where they said, "Doc Spagna is a heavy rock instrumental guitarist wiith an infectious full blown need to shred. The music on this album is complete fret burning power." Congrats, Doc! There are some cool music clips here, and we think you will enjoy a visit to Doc's site. He's a super guy and really into his music. Best of luck, Doc!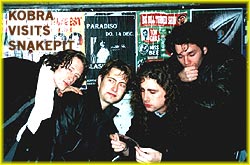 KOBRA is a hot rockband from Amsterdam, The Netherlands. With Jizz on lead guitar, Rockey on bass and vocals, Badeyes playin' the rhythm guitar and, last but not least, Stix smashin' the drums, they perform rock 'n roll like never before. KOBRA has been together since May 2000, and in January 2001 they brought out there own album, called "Daddy's Home"! KOBRA is deeply influenced by Slash (and his Snakepit of course) and like to play, next to their own rockin' songs, covers from Slash's Snakepit (like "Ain't Life Grand" and "Been There Lately") and some old GNR-stuff (like "Mr. Brownstone" and "Sweet Child O' Mine ). Please visit KOBRA's site, and "rock with us through all the fuckin' shit"!



Jeff Best is fronting a UK based band under his name and can lay claim to being influenced by the sounds and style of Mr. Saul "SLASH" Hudson in the early days! The style comes through in most tracks, and there are currently four tracks available at the Jeff Best website in streaming audio. The band is preparing for their first real studio time and soon after will be hitting the road to spread the word.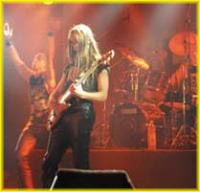 Dust N'Bones is a rockin' band out of Vienna, Austria. There are 5 band members who know how to rock and roll! Their live gigs are full of energy and great performances. Dust N'Bones released their debut EP this year, Furry Tales. Johnny Roxx (great name) says that the band are all huge fans of SLASH and his breathtaking guitar playing. Dust N'Bones said it would be an honor to have a link on SLASH's Official Fan Page. Check out their site! Best of luck, guys!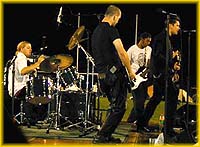 Zuzu Pedal is a Washington State band. If you're in the Pullman, WA area, you may have seen them! Mike Walpole plays lead guitar and says the band is basically a rock group with a little punk influence thrown in for good measure. SLASH was one of Mike's biggest influences when he first started playing. He took a break from SLASH for awhile to listen to other styles but has recently returned to the GNR albums for a new burst of inspiration! (Good move, Mike!). Zuzu Pedal has their debut album out now. It's called Fast, Cheap, and Easy. Did SLASH make up that title? They have a beautiful, professional site with lots of music, information and pictures. Enjoy!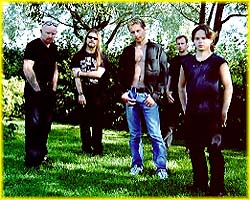 aura.K got together in March 2000, winter time still in Kuopio, Finland. But this band is HOT! We heard from Jani who plays guitar and does vocals with aura.K, and he says the band's roots are in 80's hard/heavy rock and has influences such as Pearl Jam and Smashing Pumpkins. Jani says that he has been influenced by SLASH in his own guitar playing. If you visit their web site, you'll find MP3 samples, photos and other information about aura.K. They're great! Thanks, Jani!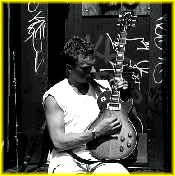 Sinners' Inn is a Danish rockband; and the guitarist, Trolle, is a longtime Slash fan. The track on their home page was recorded in a couple of hours on a nice Saturday afternoon. Trolle had a hangover when doin' the solo...not recommended, he adds! Thanks, Trolle!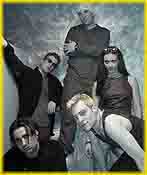 Greg sent us information on his dynamite band, Simulcast. Recently they opened for Gilby Clarke in NYC. Right now they are playing the Limelight, a hot club in New York. Greg says that SLASH is his main influence followed by Jimmy Page. We like you more and more, Greg! And to top it off, the band's song, "Infected", was a winner this year in the John Lennon Songwriting Contest. On their web site are pictures, lyrics, MP3's and Live MP3's. Why not go over and have a listen? Then go see them live!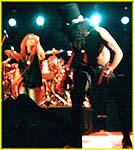 Lourenco has a band called Facecovered, and he says his lead guitarist, Rui Andrade, is like having SLASH in his band! Does Rui wear a top hat? Lourenco says this guy will blow you away, and he has a site where you can listen to this outstanding young guitarist play "What Do You Want To Be" from the Snakepit 95 album, It's Five O'Clock Somewhere, "Nightrain" and "Welcome to the Jungle". Rui says his biggest (and maybe only) influence is SLASH! Rui, he's all you need! Rock on! Click the picture at left of SLASH with Snakepit 95 to listen to some really good guitar work. Note that there are other recordings at this site, but the above three are Rui's.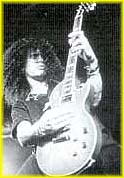 Joe has been playing guitar for 6 years now. He says he is self-taught and can't read music. He loves to plays SLASH's music, and he has some wav files on his site for you to listen to. So just click on SLASH at left, and have a listen!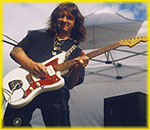 Olli and his band e.d.e.n are from Dusseldorf, Germany! They recorded six songs at Gilby Clarke's Redrum Studio in the summer of 1998. This year, e.d.e.n toured with Gilby, Snakepit's Johnny G., and Eric Skodis through Germany and the Netherlands. At the end of the year, they plan to come to LA for a few months and play a lot of gigs there. So look out for e.d.e.n! Olli describes their sound as good old guitar-rock-music! They have some music, pics, bio, videos on their web site. So click on Olli at left, and go hear some e.d.e.n!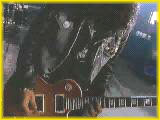 Lyndsay (named after the famous Lindsay Buckingham) has been playing guitar for 10 years. He says SLASH is the reason he started playing, and he still enjoys SLASH's music today. He sent us a sample of his playing, a wonderful version of "Sweet Child O' Mine". SLASH would be proud! Click on SLASH in the SCOM video to hear Lyndsay rock!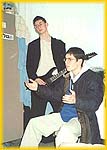 If you click on the picture at the left, you'll be at the web site of a new band called Divine Providence started by Jonah. The band's influences are heavily 80's, but what makes it really interesting is that it is also a Jewish band. The combo is new and exciting. Jonah it the lead guitarist and vocalist and says he's been heavily influenced by SLASH's style. You can listen to a couple of GNR songs there as played by Divine Providence. Thanks, Jonah!


To Return to the SLASH's Official Fan Site's Main Menu, Click on the SLASH relaxing with his guitar.