One of my dreams was to own one of Slash's guitars. Two problems with buying a guitar like this from a dealer are the expense and authenticity. Certificates of authenticity are printed wholesale; so unless you can persuade Slash himself to verify the guitar was his, you take an expensive chance. Like most people, I had pretty much given up on my dream. But in California, things were happening ...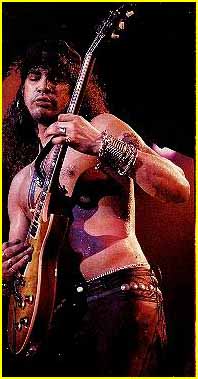 A little background...

SLASH is a lifetime animal lover and generously donated one of his guitars to WILD ABOUT CATS, one of his favorite non-profit animal foundations. The guitar was to be sold, and all proceeds would benefit this organization.
Despite his busy schedule, SLASH makes time to learn about all kinds of animals - slithery and furry! He is concerned about the plight of homeless and mistreated wild felines in captivity. SLASH supports the work of WILD ABOUT CATS, which provides homes for these big cats. WILD ABOUT CATS has an educational and attractive website, and they can tell you more about themselves:


CLICK ON THE WILD ABOUT CATS LOGO for more information on their mission and activities. (Also, they sell some great merchandise like mousepads and t-shirts there!)



The Director of Wild About Cats posted a message in some of the newsgroups about selling SLASH's guitar, and of course I was interested!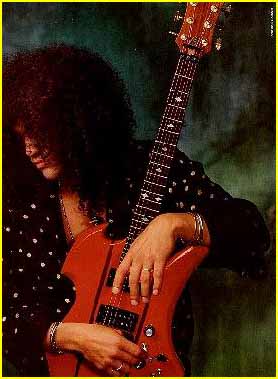 We exchanged some mail, and I found out that the Director also happened to know SLASH! I thought hard about buying the guitar. This would definitely be an authentic SLASH guitar and the purchase price would benefit animals, not just a dealer. To make a long story short, I bought the guitar that used to live with SLASH in California! It's now living with me in Pittsburgh where it makes my heart stop whenever I look at it. I am grateful to Wild About Cats and to SLASH for giving me a chance to own the guitar I never dreamed I could have.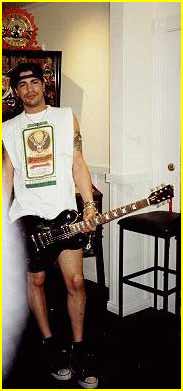 Here is a picture of SLASH with his/my guitar. So I never have to wonder if SLASH ever really held it! Isn't it gorgeous?? And SLASH is pretty gorgeous himself!
The guitar is a Les Paul Studio Model, and if I can just learn to play, it will be great to practice "November Rain" or "Welcome to the Jungle" on SLASH's Les Paul!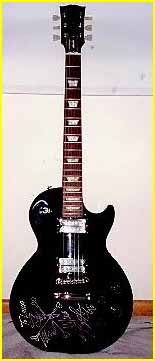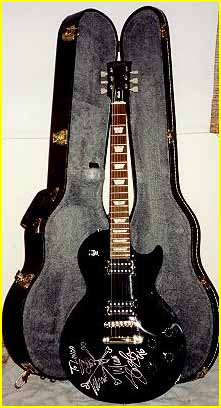 Here's SLASH's guitar in my home getting its picture taken for about the 100th time - and there's no official photographer required!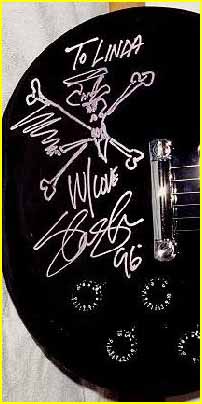 I was thrilled to learn that SLASH would autograph the guitar for me. I suggested something for him to write, but he chose to write something on his own which makes it even more special to me. What SLASH wrote and drew can be seen in the picture at the left. I wanted to share this fantastic time in my life with SLASH's other fans. As you know, he plays a rocking guitar and is one of the coolest people on earth! Now you know he is also an animal lover and an extremely generous man.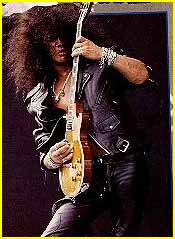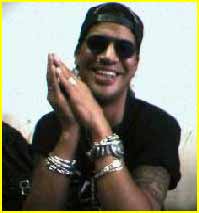 SLASH, thanks from all your fans for the music!



And a special thanks from ME for your beautiful guitar.