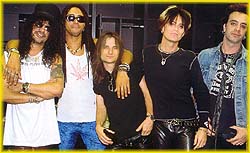 SLASH gave his permission to put up two clips from Ain't Life Grand. The new one is almost two minutes from "Just Like Anything". Lots of SLASH guitar in these two minutes, and the song just rocks. The other clip is "Been There Lately" which has been here awhile, but it's always worth another listen!


SLASH requested that since the album is not out yet, only clips be used from the tracks.

Thomas sent us two radio stations where requests can be sent from the net. Try requesting "Been There Lately" at www.waaf.com in Boston and www.rock101wgir.com.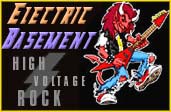 Also on the net is a good review of Ain't Life Grand at www.electricbasement.com. There are also two tracks there: "Been There Lately" and "The Alien". The Alien is the only track whose lyrics will appear in the cd booklet. Look here for the interview:

Electric Basement Review!

and then look for menu item "Listening Bar" to hear the tracks. Thanks, Kevin, for sending this in!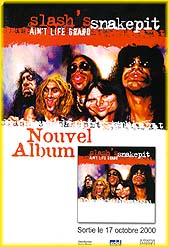 This review is from Clint who finally recovered enough from Snakepit to send his show review in! Clint was at the San Jose show and was in the fifth row. He thought the new songs came off really well and that the crowd was receptive to Snakepit. Clint says he liked Rod the first time he saw him and still enjoys his stage presence and singing. Clint said some fans are complaining about his lyrics, but Clint feels that this is a band to have a good time with and not to hear about world problems. True! Rock on, Snakepit and thanks, Clint!

Just a reminder that there is an all text version of Current Events. If you have a slower modem and/or no interest in pictures, this could be the format for you. It comes out once a week on Saturday night. Subscriptions and unsubs are handled by you. If you want to try it, here's what you do. Go to www.onelist.com, search for group named Slashnews. Register and subscribe. Any problems with that, let us know. Thanks!

News Reported: 10/01/00


We have some more dates for the tour schedule. These are for Japan and the Far East. UK!! Please note that you are scheduled to have SLASH December 1 - 6!! Your voices were heard! You have no dates that are certain yet, but the 'pit is coming. As of today, these are all that are definite. These come from SLASH's management:



  Tour Schedule - SLASH's Snakepit
Fri., Oct. 13           Hard Rock	         Mexico City, Mexico
Sat., Oct. 14           Hard Rock	         Guadalajara, Mexico
Thu., Oct  19           Phoenix Theatre      Petaluma, CA
Fri., Oct. 20, 9pm      Maritime Hall        San Francisco CA Ages 18+
Sat., Oct. 21, 9pm	Palookaville         Santa Cruz CA    Ages 21+
Mon., Oct. 23		SLASH does Rockline! (national radio show)
                          (Live in Studio)
Nov.  2 - 7             Far East
Nov.  4                 National Dr.Sun Yat-sen
                          Memorial Hall      Taipei, Taiwan
Nov. 10                 Zepp Hall            Tokyo, Japan
Nov. 11                 Bay Hall             Yokahama, Japan
Nov. 13                 Mother Hall          Osaka, Japan
Nov. 14                 Diamond Hall         Nagoya, Japan
Nov. 16                 Zepp Fukuoka         Fukuoka, Japan
Nov. 18                 Guam
Nov. 21 - 29            New Zealand/Australia
Note: Nov.29            Sony PlayStation 2 Kickoff
Dec. 1 - 6              UK
Dec. 7                  Denmark
Dec. 8 - 9              Sweden
Dec. 11                 Denmark
Dec. 13                 Berlin
Dec. 15                 Ludwigshafen
Dec. 16                 Stuttgart
Dec. 18                 Cologne
Dec. 19                 Munich
Dec. 20                 Nuremburg
Dec. 21                 Milan
Jan. 15 - ?             South America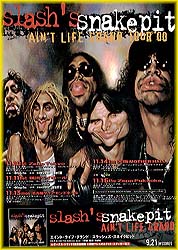 Anytime you need to check the tour schedule, you can go to www.snakepit.org, scroll down to Main Menu and click on Tour Schedule (second row, first button). Speaking of the tour, we've added several pictures to the Tour Photos. More have come in to be added, too! The Japanese venues are all standing, club venues. No theaters or halls, so it's a good time to get up close to the band!

The rest of the page is having items added now that the band is not on tour. You might check Fan Music for new bands, Fan Drawings for new renderings of SLASH, and the Reviews are all up to date with your complete, unedited reviews of the tour. SLASH's calendar is being updated with tour and other information. It's a good time to send things in. SLASH called and said he will go over the 106 fan questions this weekend and sort out the ones he will be able to answer. We'll post them here and in their section of the page



Speaking of SLASH, have you noticed he's getting his official page now? It was on the web for awhile but was taken down for additional work. From what SLASH says, it will be really something when complete! The url is www.slashssnakepit.com for you to bookmark. Personally, we liked the huge snake with the ring in the right nostril, so we hope he'll be around somewhere. The people building the site for SLASH seem like a good group.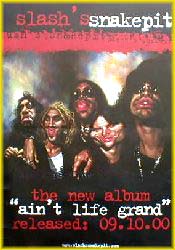 Janet sent a note that there is a place on the net where you can buy a SLASH's Snakepit Ain't Life Grand poster for those who didn't get a chance to visit the Snakepit van during the tour. The band seems to be just about out of these posters. The company is PushPosters in the UK, and they also sell the GNR 2001 calendar. PushPosters says that the promo poster is part of a one-off print run never to be repeated, so when these sell out, they are gone forever. If you want one, here's where to order one:


Ain't Life Grand Poster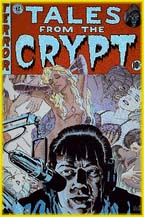 Not long ago, we asked you to vote for the SLASH episode of Tales From the Crypt as the one you liked best. The episode is "In The Groove", and it won! This means it will appear during the SciFi channel's marathon. Mindy and Mark let us know that this episode will be on Thursday, Oct. 5 at 9pm. If you haven't taped it or seen it yet, check it out! This is a small item in SLASH history, but it's great! Thanks to everyone who voted!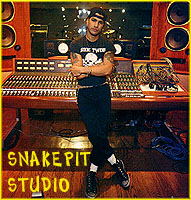 Last summer, SLASH had an MTV crew at his house filming for an episode of MTV Cribs. Once they were there, SLASH didn't want them filming all over his home. He quickly got them down to the Snakepit studio. They were more interested in nosing into each room and having SLASH say...this is my lamp, this is my TV, etc. NOT cool! After a lot of negotiations, he mostly has them filming the studio. Meanwhile, SLASH does not live in this house anyway! But MTV Cribs lives on. They had an episode on September 28 which did not have the SLASH film on. The episodes seem to cover several stars. Their site ad says not to miss the debut on October 5 at 10 pm (ET/PT), 9pm CT. They don't explicitly say who will be on but the pictures indicate this is not the SLASH episode. We need to keep an eye on this site for SLASH. They say they will update with pictures and so on. It is at www.mtv.com, click on SHOWS, then on MTV Cribs. Let us know if you see when SLASH will be on. Thanks!


News Reported: 09/30/00


If you saw the Sony Playstation kickoff on the tour schedule, we have some information that Ray found for us. Gamers know that the Sony Playstation 2 will be released in the US this month with later dates in the fall for Europe and the rest of the world (Japan had it first). SLASH will be in Australia Nov. 29 (Playstation 2 released there and New Zealand Nov.30), and he will be part of the massive media blitz Sony is planning for Playstation 2. As soon as we know what he's doing (is it playing along with the rock band game?), we'll let you know. If you'd like more information on Sony's announcement and distribution:


Playstation 2 Kickoff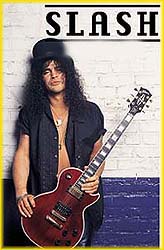 Ian got a message from Scott at Total Guitar magazine after SLASH was interviewed. Scott reported that SLASH was very nice and talkative and talked for 50 minutes (instead of the promised 30 minutes). The current plan is to have SLASH on the cover of the issue out on Nov.22. Look for that one! Scott will tab some GNR and Snakepit music if licenses permit. Thanks, Ian!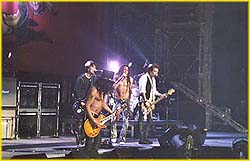 Have you taken time to make a call to your radio station requesting a Snakepit song? Mark in Boston did! He called WAAF 107.3 and talked to the dj, Mistress Carrie. Mark told her that SLASH is god and the new album is out October 10. Mistress Carrie said they'd play it, and SLASH and the boys got some new listeners and more support in Boston. Thanks, Mark! (and thanks to Mistress Carrie)

If you'd like to call some cool rock stations, here are some more 800 numbers for you. Teresa says this station has always supported GNR:


WJJR Orlando, FL 888-978-1011


Thanks, Teresa! Natalia sent a couple from New York. First the flagship station for the Howard Stern show:


92.3 KROCK (WXRK) New York 888-923-KROCK


This is the New York station where SLASH did an interview when he came in for the MSG show. It's the Tourbus station with Eddie Trunk. SLASH liked these people a lot.


WNEW New York 877-692-1027


Saturday night is the big rock night then. You can listen live on the net at www.thetourbus.com. Thanks, Natalia!

News Reported: 09/28/00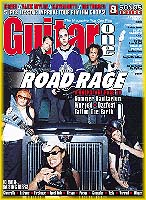 Want to win some great SLASH stuff? How about a Les Paul signed by SLASH and an amp to go with it? If that doesn't make your "November Rain" sound better, nothing will! And that's just the Grand Prize. The First Prize winner and 10 runner-ups will receive a framed SLASH poster signed by the band and a copy of the new album, Ain't Life Grand! Entering is easy, and there are two ways to put your name in: get the new November edition of Guitar One which has an entry form in the book. (Note the issue pictured here is the October issue). You can also enter through their web site, www.guitaronemag.com starting October 1. If you are mailing, entries should be postmarked by October 31. Total Grand Prize value is $4,448. It would be great if the SLASH fans here picked up ALL the prizes. Make sure we know if you win anything at all. We'll see you at www.guitaronemag.com! Thanks to George in Richmond, VA who let us know about this awesome contest.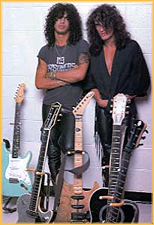 SLASH gives away his autographs, pictures, guitars (charity). He's a really nice, generous person. There's a big rockstar out there who was thrilled by SLASH's generosity...and timing. Joe Perry of Aerosmith recently turned 50, and there was a surprise party for him. What do you think SLASH gave him? Joe got his prized 1957 Les Paul that he used to own in the 70s back from its former owner, SLASH. Joe said that a ton of people had owned it after his ex-wife carried it off when they separated. SLASH owned it for 10 years! Joe was always trying to get it back from SLASH, but SLASH wouldn't part with it because of its history. SLASH always said this guitar had that early rock sound he loved. And when SLASH gave him this gift, Joe tried it out by playing "Walk This Way" on it. SLASH loved it. If you'd like to read more about the party, there's a short article based on the Boston Herald coverage at:


Happy Birthday, Joe!





Here's your chance to help SLASH and show everyone what terrific fans he has. VH1 has a new show coming up called "My Music Awards". Fans can vote on all kinds of categories: Song Of The Year, Must-Have album, Coolest Fan Website, Man of the Year, etc. How about going over to VH1 and writing SLASH and Snakepit in wherever you can?! It would be great to see SLASH rock the awards! Many thanks to Yasser and Gunner who let us know about this. If you want to do this now:

Vote For SLASH!



Last but not least, we have two more 800 numbers you can dial and redial asking the station to play "Been There Lately". Yet another chance to help SLASH's Snakepit. Our leader says it's now or never, so let's get dialing!


KLOS Los Angeles: 1-800-575-KLOS

KSJO San Jose CA: 1-800-575-KSJO

94.9 Zeta in Miami: 1-800-749-9490

Many thanks to Clint who sent in San Jose and JMarles who sent in Miami!

News Reported: 09/26/00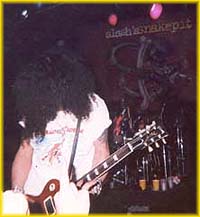 If you're ready to help Snakepit along, start calling radio stations and asking for "Been There Lately". If you don't have a good rock station where you are, call KLOS in Los Angeles which has a net broadcast as well as a radio broadcast. And an 800 number! Reach KLOS at 1-800-955-KLOS. SLASH says they need lots of requests to get airplay, so let's go! Anymore 800 numbers? We'll publicize them if you send them in to:

Radio Station Calls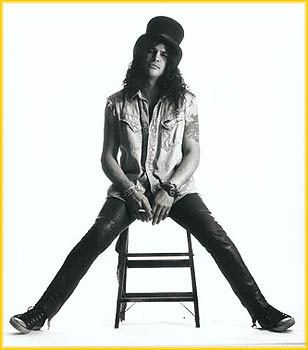 October 2-10 are rehearsals for Snakepit. SLASH has been working hard since he came home on the touring details, and he's ready to jam. He asked about the show reviews and the songs mentioned most.He also asked for the fan questions to be sent to him right away. We have 100, so that should keep him busy. When the answers come in, we'll start posting them. Thanks to everyone who submitted questions for SLASH!

There are a couple of items that have been patiently waiting for the tour information to quiet down. About the 2001 GNR calendar, we had suggested www.pushposter.com, a UK company. Maria tells me that US customers might want to try www.wynnco.com. Maria has bought from them before and so have we, and they are a very reliable company. The new calendar is just super with so many Slash pictures. Put Slash up at work and annoy your boss. Once, we had a run-in with the Board where we work. They wanted Slash down. Freedom of Speech! On behalf of all of us, the union filed a grievance. Slash continues to be displayed!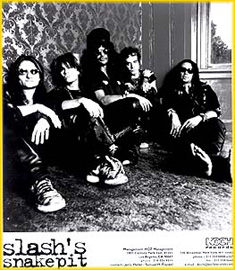 Chris was at a Kenny Wayne Shepherd concert this month, and at the end they handed out promos with different bands on it. SLASH's Snakepit was on it! Never turn down free CDs! SLASH might be there. Chris said that "Been There Lately" was on it, and he liked it. It sounded different than the live version. Tetsuya is from Japan, and he's a huge SLASH fan that will probably attend all the Snakepit shows there! The Japanese magazines have such wonderful photos, and there are three out now with exclusive SLASH interviews. These are: Young Guitar, Burrn! and Metallion. Tetsuya also passed along that the Japanese edition of Ain't Life Grand came out on September 20. It includes a three-way sleeve, lyrics, liner notes and photo sticker of SLASH. Selected record stores are giving away the Japanese promo poster with the purchase of the Snakepit CD. By the way, we asked SLASH if we would get lyrics on the CD booklet, and the answer was just for one song, "The Alien". He said this is so we could have the fun of working them out ourselves. So, get busy on that! He did say he would send them to us, and if he does send them, we'll print them on the page so you can check your guesses.



News Reported: 09/24/00


Thanks to SLASH and his manager, Jerry Heller, for providing us with a fresh tour schedule. For dates in the near future, there are venues and cities listed. As the dates get further out, there may be just a country or city listed. This is the information we have right now. Mr. Heller thought he might have some more updates sometime next week. Meanwhile, if you are in California or Mexico, we have your dates firmly in hand. Tickets are on sale now for many of these, so don't wait too long.



                    Tour Schedule - SLASH's Snakepit
Fri., Oct. 13           Hard Rock	Mexico City, Mexico
Sat., Oct. 14           Hard Rock	Guadalajara, Mexico
Thu., Oct  19           Phoenix Theatre Petaluma, CA
Fri., Oct. 20, 9pm      Maritime Hall   San Francisco CA Ages 18+
Sat., Oct. 21, 9pm	Palookaville    Santa Cruz CA    Ages 21+
Mon., Oct. 23		SLASH does Rockline!
Nov. 2 - 7              Far East
Nov. 11 - 16            Japan
Nov. 18                 Guam
Nov. 21 - 29            New Zealand/Australia
Note: Nov.29            Sony PlayStation Kickoff
Dec. 7                  Denmark
Dec. 8 - 9              Sweden
Dec. 11                 Denmark
Dec. 13                 Berlin
Dec. 15                 Ludwigshafen
Dec. 16                 Stuttgart
Dec. 18                 Cologne
Dec. 19                 Munich
Dec. 20                 Nuremburg
Dec. 21                 Milan
Jan. 15 - ?             South America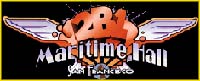 There are lots of dates up there now...lots of international touring. SLASH will be out of the country for quite awhile. We're counting on the international fans to take care of SLASH and the band and eventually send them home!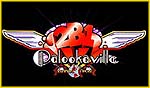 If the album sales go well, SLASH will continue to tour in the US and Canada. The album is doing really well internationally with radio play. SLASH will appear on the cover of Brazil's Rolling Stone very soon. Hopefully you'll send us copies of that and all the other magazine photos and interviews plus your pictures for the Tour Photos, and lots of reviews for the Review section.

SLASH'S BACK !!




To get you in the mood for the shows, here are a couple of reviews. Peter went to the final show at Oakland. He says the show rocked! He managed to sneak up to the front row but some Hell's Angels came in and wanted their seats back. Peter says nearly getting your butt kicked was worth it; Snakepit has the fattest sound. 30 minutes wasn't enough; AC/DC should have opened for Snakepit! Thanks, Peter!

Clint lives in the Bay Area (think he'll be at the San Francisco show?) and went to the San Jose and the Oakland Shows. San Jose first: Clint was able to get up close to the stage for the whole show. Snakepit rocked! It was amazing to see SLASH live in a big arena. Rod had a great stage presence. Clint wore his Baked Potato (club where SLASH often jams with Teddy Zigzag and Johnny G) shirt, and Johnny G noticed it. SLASH broke a string during "Mr.Brownstone" but finished perfectly anyway. The only negative thing was the sound; the lyrics weren't loud enough and neither was SLASH. Many people were pleasantly surprised by Snakepit.

This is Clint's take on the Oakland show. Same setlist, and the band rocked again! SLASH wore blue jeans with leather chaps. "Mr. Brownstone" was dedicated to AC/DC for having Snakepit on the tour. The sound could have been a lot better. The crowd was enthusiastic, and it was just an excellent show. Later, SLASH and the band met fans out by the bus. SLASH was nice and accommodating to everyone. Everyone went home happy thanks to SLASH. Thanks, Clint!

News Reported: 09/22/00


The tour ended for Snakepit last night in Oakland CA. After a short break, they will be . Although SLASH has not passed along any dates, venues are posting dates for Snakepit. Let's hope we hear soon on these as tickets for these go on sale soon. We've seen Hollywood, Santa Cruz and San Francisco shows advertised on web sites, and we hope to have confirmation on these very soon. As to where they are going next, we can only speculate. SLASH did mention that Mexico and Japan were firm, so perhaps Mexico will see the 'pit next.


Something more definite now - some reviews! Karen went to the San Jose show. She said it was incredible seeing AC/DC, but she was more moved by seeing SLASH. It's been a 10 year wait for her! SLASH was unbelievable, and the band was fabulous! They played loud and hard, but Karen wished they had played longer. She'd like to see them headlining, and she's anxious to get the new album. Karen bought a tshirt and got some of those free postcards outside. Karen says her hat is off to the man in the top hat. Thanks, Karen.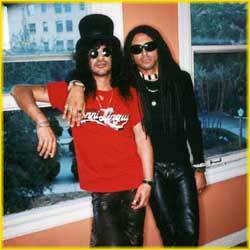 Scott was also at San Jose. Despite his age (15), Scott considers himself to be the biggest fan of SLASH/GNR alive! When SLASH broke into "Mr. Brownstone", Scott literally cried. And seeing SLASH leave caused another tear. It was really an emotional time for him. Scott says, "a half-hour WAS NOT ENOUGH". In spite of everything, SLASH did the greatest performance Scott has ever seen. He's seen a lot of rock shows like Motley Crue, Anthrax, Megadeth, and SLASH electrified him more. The show was awesome! Thanks, Scott!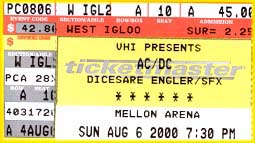 Shane was at the final show, Oakland. SLASH kicked ass! The band was great! Rod wore shimmering velvet pants. SLASH was in jeans with leather over them, a bandanna hanging from his back pocket and a shirt which came off halfway through the set. SLASH wore his top hat, but it fell off during "Mr. Brownstone". During the show, SLASH ran around doing his signature moves, and Rod got the crowd into things. SLASH talked a few times and dedicated "Mr. Brownstone" to AC/DC for having them on the tour. The sound wasn't too bad; SLASH was a little drowned out, and the lyrics were a bit muffled. It was awesome. Shane got a tshirt, and his girlfriend bought the Snakepit thong panties for which he thanks SLASH! Thanks, Shane!

Some other Snakepit news... Caroline is a freelance writer who interviewed Johnny G. for Bass Player magazine. She said Johnny is very cool. He is really into Phil Lynott of Thin Lizzy and Bob Marley. The article should appear in the magazine's October or November issue in their BassNotes section. Caroline says Johnny is an excellent bassist and loves working with SLASH and Snakepit. Caroline points out that Johnny's playing in "Shine" are awesome. Thanks, Caroline. We'll look for your writeup!

Our good friend Maria in NYC reports that station KNAC played "Mean Bone" recently! The only track we've heard is "Been There Lately", but NYC is always on the cutting edge. This album wait is still so long! Thanks, Maria, for the news from NYC.

News Reported: 09/21/00


Tonight is the last night of the tour with AC/DC, and the show is in Oakland CA. The guys are coming back home then for a well deserved break. October 3 they'll get back together and start rehearsals on a full set. This would include all the songs from Ain't Life Grand. It will also include some GNR songs and songs from Snakepit '95 which they can mix into the set. Rehearsals are Oct. 3 - 10. October 10 is the album release date, so you can look for something happening around then. It hasn't been announced whether the band will do some rehearsal shows in California before diving into their own first headlining tour. We think it's likely there will be warmups. We've gotten some information on these from fans, but SLASH asked again that we post only information from the band management. And he just isn't ready to pass it along now.



There is a wonderful article on SLASH in the November issue of Guitar World. The column is called "60 Minutes: The Hour of Music That Rocks My World". This is such a great article! SLASH comments on all his choices, and they are really worth reading. Here are the choices he gave, and we'll leave it to you to find the magazine and read his comments:

"Bring It On Home" by Led Zep, Led Zeppelin II
"Round and Round" by Aerosmith, Toys In The Attic
"Elephant Talk" by King Crimson, Discipline
"Machine Gun" by Jimi Hendrix, Live at the Fillmore East
"You Really Got Me"/"Eruption" by Van Halen, Van Halen
"Free Man In Paris" by Joni Mitchell, Court and Spark
"She's A Woman" by Jeff Beck, Blow by Blow
"Midnight Rambler" by The Rolling Stones, Get Yer Ya-Ya's OuNNNt
"Kids" by UFO, Strangers in the Night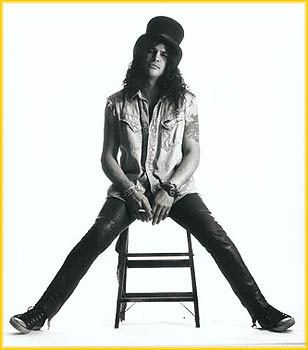 Just a reminder that we'd like to get the current batch of fan questions on its way to SLASH before he leaves. If you have anything to ask SLASH, other than personal questions, send them to:

SLASH Questions

It's also a good time to get fan mail on its way. He can pick up what's come in before going away again.


News Reported: 09/20/00


Tonight is the San Jose show. With only two to go, Snakepit is going to put everything into these last two shows. If you're going, you should see a good one..or two. Tomorrow night is the last show. It's in Oakland, and tradionally SLASH really pours it on for the last show. Don't forget to take pictures and send us some reviews.

We talked to SLASH last night where he called from a hotel in San Diego. The most burning issue right now is what does the tour schedule look like. SLASH says he doesn't have it yet. AC/DC have asked Snakepit to continue on their tour with them. SLASH's original plan was that the band would now be out headlining in smaller venues but with longer sets and contact with the SLASH/Snakepit fans. A third possiblity is to tour on their own for awhile, and then hook up with AC/DC later. Until he chooses which way to go, the tour schedule is up in the air. He says he has to decide soon as there are just 2 more shows! Then, he says, they are going to rehearse the songs on the album that didn't get played on this tour. So rather than taking a vacation, Snakepit will be very busy. SLASH promised to let us know as soon as he does.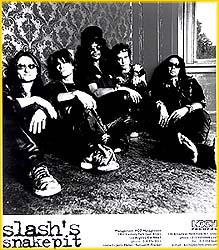 We have two new reviews. Ravi sent one on the San Bernardino show. The setlist was: Life's Sweet Drug, Been There Lately, Just Like Anything, Mean Bone, Shine, Mr. Brownstone, Speed Parade. The show started a little late, but the set was pretty good, and they ran through it quickly, about 35 minutes. SLASH wore his top hat, leather pants and a tshirt. Rod took off his shirt...it was 108 degrees there! SLASH played well as usual and the songs rocked. Ravi liked Speed Parade, Life's Sweet Drug, Shine and Mr. Brownstone. SLASH did a solo section in Mean Bone and Mr. Brownstone. He did some jumps but not the running he usually does. Keri was pretty good, but Ravi still prefers Ryan. Keri did have a lot of energy during the show. Matt was also very good and fits the band perfectly. The drum volume could have been turned down. Ravi was impressed with Johnny G who had a lot of energy and even sang with Rod. Rod did well, and Ravi thinks he's improved since the pre-album tour. The sound was loud, but sometimes the drums drowned out SLASH and the vocals. Ravi thinks AC/DC couldn't have found a better band to open! Thanks, Ravi!

Here's Steve's report:
9/16/00- Blockbuster Pavilion, California Great Concert! I got there early, so we had time to walk around and buy t shirts,and as I looked around I could see that everyone was definitely on a different planet! We bought 100 dollars worth of food(haha), and the second SLASH came on, my eyes couldn't leave the stage! He was awesome! The sound quality definitely could have been better, but being the fan I am, I didn't care! They stayed on for about 35 minutes, and they played Shine, Been There Lately, Mr. Brownstone, etc... AC/DC was also amazing, Angus Young's performance was dazzling!
A show not to be missed!!
Steve Ornest. Thanks, Steve! --------------------



Glitter sent some wonderful news from Argentina! The "Been There Lately" single is #18 in the Rock and Pop ranking at "R & P" radio FM in Argentina!! WOW! And it's still unreleased!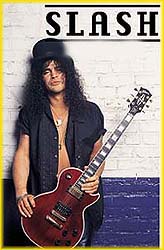 Tommy let us know that the latest issue of the best selling German guitar player magazine, Gitarre & Bass contains a 4 page interview with SLASH! SLASH talks about GNR, Snakepit and many other things. Tommy says the interview is very good. You might check out the site although it is in German, of course. There are a couple of SLASH pictures and a synopsis of the article. Thanks, Tommy!


Gitarre & Bass



Nadine lives in France, and she spotted SLASH in the French magazine Guitar & Bass. The interview is short, but a cool interview of the past with GNR and the present with Snakepit. Nadine says SLASH is very cool! So if you can read French, pick this one up. Thanks, Nadine.

News Reported: 09/19/00


Tomorrow in San Jose, Snakepit does their next to last show. 09/20 is the final show in Oakland CA. There are more shows coming up! Whether they are opening for AC/DC or headlining their own shows, we don't know yet. If you're in California, here's a chance to see the guys before they had back to Los Angeles!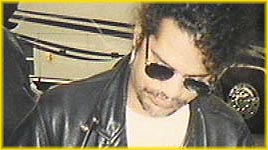 We have some reviews from recent shows. First is San Bernardino CA, and Brandon says the show kicked ass. The big Snakepit banner was up, the lights went down, and the audience was screaming and cheering. Brandon says Rod has a stage presence like you wouldn't believe and knows how to work a crowd. "Life's Sweet Drug" opened the show followed by "Ain't Life Grand". "Mean Bone" and "Speed Parade" were in there, too. Before Snakepit played "Mr.Brownstone", SLASH dedicated the song to Keri and Johnny! The audience went crazy. The sound was LOUD, and SLASH looked happy as he worked the stage. Keri was awesome, and Johnny was really cool. Rod wore a black shirt (this came off) and silvery pants. Johnny looked like he borrowed his outfit from Duff! It was a patched vest and black pants. Keri wore Chuck Taylor's with a faded navy blue shirt and black leather pants. SLASH wore a black shirt with a weird design and brown leather pants. Rod moves like Steven Tyler, and his voice is amazing. The sound was not that good - the drums were loud and clear as were the bass and rhythm guitars. Rod's voice was too loud and SLASH's guitar was too low. SLASH has a great rockin' band. They are the best rock band Brandon's seen since GNR. And the tshirts are cool too! Thanks, Brandon.

Raul sent in a review from San Bernardino. He thought it was awesome. Snakepit is so good live. SLASH and Rod kicked ass displaying energy and enthusiasm. The set was: Life's Sweet Drug, Been There Lately, Just Like Anything, Shine, Mean Bone, Mr. Brownstone, Speed Parade. Raul thought Keri was a pleasant surprise. He's very energetic and provides a wonderful rhythm to back up SLASH. Johnny was so into it, and Matt's drumming was perfect. The sound was again a problem. You couldn't really hear SLASH's leads. The songs are amazing. He can't wait for the album. Raul bought the Ain't Life Grand tshirt. There were two new items for sale: a Snakepit baseball and Snakepit panties with SLASH's Snakepit "Ain't Life Grand" on the front with an arrow pointing down. (Did SLASH design these?!) Raul was satisfied with the show, and he wants the club tour to start! That way Snakepit will have a solidly positive audience, and the sound should be better. Thanks, Raul.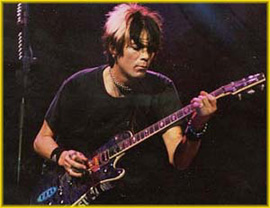 Mersades was at the Las Vegas show. This is the first time she saw SLASH live! She and her friend had great seats at the end of the runway. When the first chord was played, Mersades was on her feet. At one point, SLASH yelled into the mic, "This band f*cking rocks"! They did "Mr.Brownstone" and ended with "Speed Parade" and brought down the house. Only one other person stood, though many of the rest were headbanging. She and her friend left at the end of the Snakepit set! They went to the tour buses. Eventually they found a group of 30 fans. Johnny and Rod were really cool and had their pictures taken. Then, Mersades lined up to meet...SLASH! He was totally awesome, smiling and joking with everyone. She got to talk to SLASH for about 5 minutes! Mersades says about SLASH, "he is totally kewl and such a sweetheart"! Pictures were taken, and SLASH really seemed to enjoy being with the fans. After seeing Snakepit, Mersades says she has no regrets about not seeing GNR. Snakepit is super cool, and they appreciate their fans! Thanks, Mersades!

Rhonda and her husband were at the Biloxi MS show, and they traveled 7 hours to get there! Rhonda says it was a dream come true to see SLASH in person. They had great seats and enjoyed the show. When Snakepit went offstage, they tried to find the tour buses. Rhonda really wanted to meet SLASH but the buses were blocked in. She did see the cool Snakepit van, and she got stickers and postcards. Then they all took off for Texas. It was a great experience except for not meeting SLASH and the fact that none of her pictures turned out. Rhonda says they will definitely go to another Snakepit show and "SLASH is the greatest"!!!!! Thanks, Rhonda!

Some of these fans were kind enough to send along their photos. We'll get them on the Tour Photos section right away. About 20 more were added today. Go to WWW.Snakepit.Org, scroll down to Main Menu, and click on Tour Photos. You'll be at the thumbnail index. We also trimmed down some of the massive pictures to a faster-to-load size. We hope you enjoy them!

The Guns N'Roses 2001 calendar is out now. It is so cool because SLASH has the majority of the months hands down! Way to go, SLASHer! We ordered ours from the UK company PushPosters on the web, www.pushposters.com, but they will probably be available in any number of stores soon. We thought you might want to see a small version of the giant picture with each month. There is just one photo we have not seen before, and it's cool:

News Reported: 09/18/00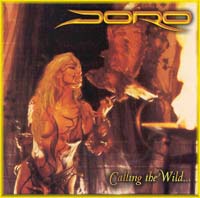 Doro Pesch's new album is Calling The Wild, and SLASH makes a guest appearance on Track 11, "Now or Never". Doro was born in Germany and did most of her work there with bands like Snakebite and Warlock. She is now doing a solo. In this album she calls upon old and new friends like SLASH, Lemmy, Al Pitrelli, Bob Kulick to give the album some real guitar passion. Doro is called "The Metal Queen", and most of her fan sites are in Germany. Now she has moved to New York City and is looking to make a presence here in the States. She is signed to Koch Records! We have a clip from "Now or Never" here. The entire song is not presented due to copyright restrictions, but SLASH's entire solo is here along with a good-sized part featuring Doro. Doro Wails! Calling the Wild is available at all record stores and on the web:


SLASH Solo on "Now or Never"





Tonight is the first California show of the tour. San Bernardino is the place to be tonight. Tomorrow night, Snakepit plays San Diego. On 9/19 is San Jose, and the final show is 9/20 in Oakland. California has four shows, and we hope all the Snakepit fans will get to all four! Hopefully, SLASH will be there to say hello after the show. Get your picture taken with SLASH or any of the band, and send it along. Tour Photos is huge but can always use more.



R. White sent us a review from Minneapolis. This review appeared in Star Tribune written by Vickie Casey, a critic for the paper. She had a compliment for Snakepit. She says that "the new group that boasts the name of the former Guns N'Roses axman, likes to slay the audience with lightning-fast fretwork and a multitude of intricate notes". So far, so good! Ms. Casey goes after Rod, saying he couldn't support the material - not enough depth. She writes that SLASH says he auditioned 200 vocalists before enlisting Rod, and maybe 201 would have been the lucky number. Ouch. It strikes us that we read the same criticism of Eric Dover in '95. While SLASH has years of intensive stage experience before huge crowds, most of the band does not. The album sound shows what can be done in the studio, and it's wonderful. The live shows will get better and better with improved sound and more experience. We love you, Rod! We think he's just right.



News Reported: 09/16/00


The last three shows are coming up. First is San Bernardino on 9/16, then San Jose on 9/19 and Oakland on 9/20. It appears the Sacramento show is cancelled. By now SLASH must know what Snakepit is doing next. We'll get an update from SLASH as soon as he lets us know. Keri Kelli says they most likely will hold a CD release party with KLOS, Los Angeles, on October 11. We'll get SLASH to confirm that also.



The Tour Photos section is ready for visitors. There is now a link to Tour Photos from the Main Menu. There are over 100 photos for you to look at. There is a thumbnail size and the original size (some are quite large). It's great to see those of you we have come to know - and with SLASH, too! Everyone looks happy in these pictures! Send new ones if you have them. We'd be pleased to see you up on the page, too.

Another reminder: we're getting together a new set of fan questions for SLASH. Send each question separately to webmaster@snakepit.org. Thanks!


There are a couple of SLASH mentions in Metal Edge. They say that Ain't Life Grand is postponed till October 10. This must be for some hermits somewhere. They also mentioned that Keri Kelli is in Snakepit. His old guitarist job with Ratt has been filled by John Corabi. Corabi is still in Union but had some time on his hands to help out old friends.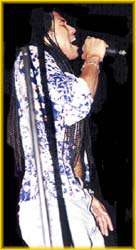 Reviews have come in from Phoenix and Las Vegas. Ezra was at the Phoenix show, and it kicked ass like the San Antonio show. Ezra's seen SLASH FIVE times! About 11:15 the band came out and visited with about 30 fans. They shook hands and signed autographs for about half an hour. Ezra says, "They're all great". Thanks, Ezra. James thought the show was "f*cking incredible", but he didn't like the tshirt prices! And the cheapest ticket was $45, but he managed to sneak down to a lower section. When he saw SLASH, he forgot about prices! SLASH had on a green tshirt, black leather pants, a pair of sneakers, and his top hat. James wasn't sure what he would think of Rod as he is partial to Axl Rose, but he was pleasantly surprised. During the set, SLASH jumped off the stage and did a solo behind the barricade. James zoomed up and watched...he was a foot away. James was surprised that SLASH was so short (he's 5'9" but he seems taller in photos). When they played "Mr. Brownstone", the audience stood up for the rest of the set. It was James' first time to see SLASH live, and he hopes to see him again. AC/DC kicked hell, too, and James calls this the best show he has ever been to! Thanks, James!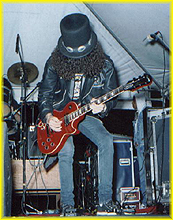 Chuck was at the Las Vegas show, and when he pulled in the Snakepit van was already there handing out posters and postcards. About "Been There Lately", Chuck thinks "this is the most kick ass song to come out in a while". SLASH came to the microphone only to introduce "Mr.Brownstone". SLASH said something like..."If you are familiar with this song, that's cool, but if you don't know it, GET A LIFE!" They ended with "Mean Bone" which started mellow but became one of the rockingest, most memorable songs of the evening. Chuck went to buy a tshirt, and all the Larges were sold out! At another stand he found one that said "Ain't Life Grand" on the back. The first stand's shirts had "Slash's Back". Chuck bought a shirt and went to wait for the tourbus. He had to leave and missed seeing them. Chuck, like all of us, is praying for a club tour and he thanks all these great guys for the great night" SLASH, Keri, Rod, Johnny and Matt! Thanks, Chuck!

News Reported: 09/15/00


Tonight is the Las Vegas show at the Thomas-Mack Center. SLASH is a frequent visitor to Las Vegas. He plays the pinball machines and occasionally, the slots. Over the years many fans have spotted SLASH in Vegas...usually well after midnight. Vegas never sleeps, and this is SLASH's kind of place! There is no show tomorrow, so you might see our favorite musician playing pinball. On 9/17 comes a show that was added, San Diego. This leg is nearly ended. You have to get to California to see them open in the US. They'll be gone quite awhile very soon. SLASH says they have to do some rehearsals in order to play a full set. We wonder where that will be held since Billy Bob Thornton is now the proud owner of the Snakepit studio.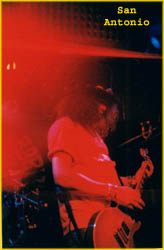 Curtis sent a review of the San Antonio show. He said the set was excellent but short at just 37 minutes. The show was held in the Alamodome, and Chris said the sound was unbelievably good! He also said that AC/DC's sound paled in comparison. The house came alive when Snakepit played "Mr. Brownstone". Chris has met SLASH in Texas several times, but not at this show. Chris has been there for the Snakepit 95 tour, Blues Ball, and the pre-album tour in 99. The promo van was there, and the guys in it assured Chris that Snakepit will tour theater sized venues after the AC/DC tour. This will give fans a chance to meet the band!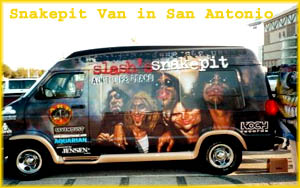 Tour Photos! We put out a lot of the tour photos that many of you were kind enough to send in. One thing that seems to be missing is copies of tickets, and we'd love to have them. If you have any pictures to share, we'd be glad to have them. If you have any with you or frin them, please specify if you want names included or not. The "scrapbook" is not complete...if you hold the cursor over a picture it should give you a caption, but more than half still say the file name. All thumbnails have correct captions. We decided to put out what we had and keep working on it. And we'd like to have more. Thanks to everyone that sent in something. Here's how you get there: go to www.snakepit.org, scroll down to Main Menu, click on Snakepit 1999-2000 in the top row. Scroll down to the menu and click Tour Photos. That's it! Here's a direct link if you want to see them right now:



Tour Photos

News Reported: 09/14/00


There are some good reports on the San Antonio show last night. The band has tomorrow off to get to Phoenix AZ and get set up. Phoenix is the home of Alice Cooper's rockin' restaurant. We wonder if any of the guys will stop in for a drink. Then it's on to the big Las Vegas show and then to Snakepit's home in California. Remember to look for that Snakepit van and get some of those free stickers, postcards and posters!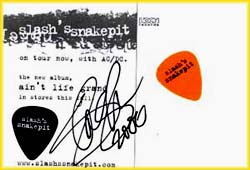 Mike from Austin sent us a review on the San Antonio show. The band started right on time at 7:30 and played for 40 minutes. They opened again with "Life's Sweet Drug" followed by "Been There Lately". "Mr. Brownstone" was the GNR cover, and they also played "Shine" and "Speed Parade". The rest of the songs Mike couldn't recognize. Mike tells us that the opening bands are often not allowed to be as loud as the headlining band, and they are not allowed to utilize the entire P.A. He thinks that is what is happening here with Snakepit. Being an opening band means this is standard, but we are not used to seeing it with SLASH. Mike said that he could hear everyone including Keri Kelli who had a good tone and plays great! Keri uses GMP Guitars which he endorses. SLASH played really well. Mike says he has seen SLASH live many times, and he was playing very well last night. The audience was very receptive and went wild for "Mr. Brownstone". Mike has a complaint unrelated to the show. He really liked "99 Times" and "Rusted Heroes" during the pre-album tour. Although "99 Times" was really cool, it is not on the album. "Rusted Heroes" is only on the Japanese release. Mike would really like to hear these again. (We personally loved the cover of the Temptations' "Papa Was A Rolling Stone". SLASH said it was boring when they recorded it, so it was dropped. We'd like to hear that one live again.) Finishing up...Mike thought AC/DC was incredible! The entire show was great! Thanks, Mike for your review!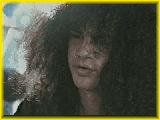 If you go to Koch Records German site, you can now hear a nearly 25 minute interview with SLASH. There's nothing really new here, but it does go over a lot of past history. There are clips on why GNR broke up, how SLASH learned guitar, SLASH on touring, SLASH on guest appearances and so on. The sound was not clear, but you may have better luck. It was nice to hear that soft-spoken voice with nothing bleeped out! The site is:


Koch German Site

Go to the news (SLASH picture).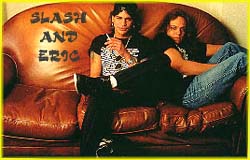 We haven't forgotten Snakepit 95's singer, Eric Dover. Tobbe sent us a note on what Eric is doing: "Eric Dover is working on a new solo record(he may put out some songs on www.mp3.com in the future). There is a record called "Eric Dover BC", but I'm not sure if it's going to be released(I will get it next week anyway). The record contains early material from around 1990. I have heard that it will sound like a mix of Jellyfish, Black Crowes and Imperial Drag. There is an mp3 of a song called "Tonight" by Eric that can be downloaded at this adress:


Eric's Song


Search for "Eric Dover". Or if you search by letter, use "E". Thanks, Tobbe, for bringing us up to date!

News Reported: 09/12/00


Today SLASH said the shows in Biloxi and Houston were really cool. They traveled to San Antonio last night, and it looks they will go on any minute now. He promised they'd do a really cool show tonight, too. SLASH says that when they started and had done 6 or 7 shows, he couldn't believe that was all they had done. But now that it's almost over, it's hard to believe they have done 20-some! They are having a great time thanks to the fans who are out in force. When they see the place really packed when they come on, they just do more and more. So get yourself and your friends there early. You help make the show better and better! They are off tomorrow as they head into Phoenix. There are tons of rock fans in Phoenix! Please don't forget to send us your reviews and comments. Copies of your photos would be great, too.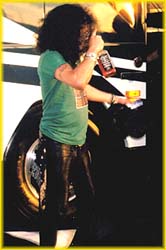 Annie sent us her review on the August 19 show in Virginia. She said they were late and missed the first song. They ran to their seats, and her first impression was the huge Snakepit banner with Rod out there wailing. She thought Rod looked great and had a lot of energy. SLASH was looking good, too, in his jeans and Hard Rock shirt (which came right off). Rod wore just his velvet pants. Most people were sitting except for Annie and her friend and a few other who randomly stood and went wild! Many, many people had on the Snakepit tshirt. Annie had the time of her life especially watching Rod with his hand down his pants and humping the floor. We gotta get his girlfriend back in town! AC/DC was super, too, especially Angus who is so great and had so much energy. Summary in Annie's words: "I loved it!!!!!!". Thanks, Annie!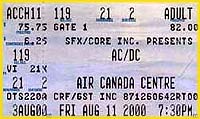 Some fans are finding tickets a little pricey for the show. They really want to see Snakepit, but because it is AC/DC headlining, tickets are a little steep. How about 2 free tickets and backstage passes? If you can get to San Bernardino for the show on 9/16, why not try for the ticket drawing that radio station KLOS is having? We don't know if Snakepit will be at the barbecue, but the tickets are the main thing and you can go in and see them free if you win them. If you do, let us know! Here's some information from the web site, www.955klos.com.


AC/DC Backstage BBQ Anyone?!


As you've been hearing on 95.5 KLOS, AC/DC and special guest Slash's Snakepit will be playing at the Blockbuster Pavilion on September 16, 2000. We'll be giving away tickets to this show up until the day before the show, but it's not just tickets that you'll walk away with! No, no, no...you'll also win passes to the Backstage Barbecue where food and drinks will be served before the show, and you'll also receive two KLOS/AC/DC commemorative T-Shirts! You can't beat that for a night at a concert, can you? Oh, but YES you can! One of you lucky winners that comes to the BBQ will get the Grand Prize: A chance to meet and greet AC/DC!



SLASH says he'd be happy to answer more fan questions! The ones he has already answered are stored away under "SLASH Answers Your Questions" on the Main Menu. If you didn't get an answer last time, try again. If you have more than one question to submit, you're more likely to get an answer if you make them separate submissions. You can ask about Snakepit or any of SLASH's previous bands. You can ask things about music, guitar, future plans. Just about anything is ok except questions about SLASH's personal life. Those will not be forwarded. Hunt around through the website to find the answer to those burning personal questions on SLASH. When you have one or more ready to go, email:


Webmaster@Snakepit.org

Get them in as fast as you can! Thanks.

News Reported: 09/11/00


Last night the 'pit rocked Biloxi MS and are on their way now to San Antonio TX. Just 7 shows to go on this leg of the tour: Phoenix, Las Vegas, San Bernardino, San Jose, Oakland and Sacramento. Road Trip!

There's been some confusion over the next shows on the tour schedule. A schedule appears on the Koch German site, but SLASH has not decided yet where they are going. So just hold on till we get the official schedule from SLASH before you book trips and buy tickets. We spoke to SLASH's tour manager who promises a longer schedule this week. And SLASH says these countries are firm: Mexico and Japan. There should also be some shows in California. In these places it looks like the band will be headlining not opening for anyone.

They say the part just before and after Japan are uncertain just now. Thanks, Larry (SLASH's Tour Manager) for the quick response!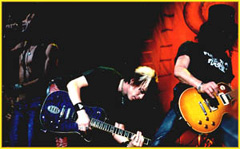 Elizabeth sent a review for last night's show in MS. She said it was awesome, and the band played 40 minutes. SLASH wore his top hat, a black shirt, jeans with black leather chaps, and those cool converse sneakers. After about 3 songs, the shirt and chaps came off. Rod was also in a black shirt which came off quickly. He was wearing those beautiful velvet pants. Elizabeth had to stand on her chair to get a good look. SLASH was mostly on the sides of the stage with Rod working the whole stage. Elizabeth says she is partial to Axl, but Rod surprised her - he is really very good. The crowd reaction to the band was great! Everyone loved "Mr. Brownstone" - that being the only song anyone knew. The stage was kind of sad next to AC/DC's, but they didn't need fancy lights or smoke. The big Snakepit sign hid the giant Angus figure. She didn't see them after the show as there was no access to the buses at this venue. People were handing out Snakepit stickers and postcards. (Fans at the earlier shows missed out on this! Maybe SLASH can mail some here and we can send them out?) Thanks, Elizabeth!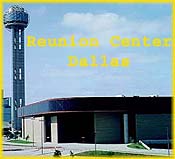 Paul sends us a review on Dallas. He flew from Daytona Beach just to see the top hatted one. This has to be the record! Best comment we've seen on SLASH is from Paul: "SLASH to say the least is the coolest motherf*cker on earth!" We think SLASH would like that. Paul stood through the entire set and saw that SLASH was wearing that great tshirt that says, "You're a naughty girl. Go to my room!" Courtesy of Koch, he got a poster and postcard. He liked all their songs and can die happy having seen his hero! Not yet, Paul, make a will leaving the Koch stuff to us! Thanks, Paul!

Linda caught two Snakepit shows, the Atlanta and Houston ones. She says that in Atlanta no one seemed to know who the band was (this explains the lack of reviews...get these people on the net!) But by the time "Mr. Brownstone" was played, the audience seemed to have warmed up a bit. She and her friend were up front and got to see SLASH's "warm and wonderful smile up close and personal".

In Houston, Linda says the crowd was more into the band. SLASH looked tired. (perk up, SLASH!) But tired or not, SLASH gave 100% as did all the guys in the band. They were 9 rows back but SLASH was "sexy - even from a distance"! Both shows were about 40 minutes long, and the sound wasn't that great at either show. Linda says that if you have a chance to see them, get out there and see them play! The band is high energy, play their hearts out and put on a great show. Thanks, Linda!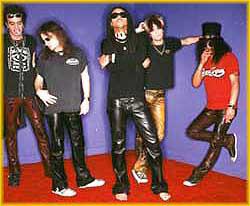 A special thanks to Yasser who found an interview with SLASH for us on the net. It's great with some pictures, too. He talks about his guest appearances, the Snakepit 95 beginning, the collapse of GNR and reunion possibilities, plus Snakepit 2000. It's a nice interview! Here's a link to the Metal-is site. Look for the Snakepit picture on the right:

SLASH Interview With Metal-is





News Reported: 09/10/00


The band left Texas and arrived in Biloxi MS for the show tonight. We hope you Texans will do a few more interviews! And we're looking forward to the ones from Biloxi, too. The band now says, "Oh! We forgot San Antonio" and heads back into Texas for another show Monday night. Not many shows left. 13 days to go on this leg. Get out and see them now! And don't forget if you get any pictures of the band onstage or offstage with you, we are getting the scrapbook together. It should appear sometime this week. Right now we have over 100 pictures, but it would be great to have more. Email for more details:

Snakepit Webmaster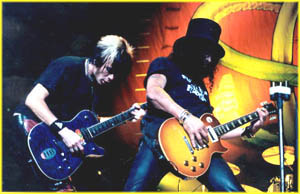 We have one review from Houston to pass along; this makes Dallas the only city on the entire tour with no notes on their show. Come on, Big D! We're grateful to Ed for sending us his thoughts on the Houston show. Ed says that AC/DC were awesome, and Snakepit was cool, too, but there was not enough SLASH! (Is there ever enough?) Ed said that SLASH looked SAD! SLASH, cheer up! We have an audience full of fans who would gladly party you into a great mood. Ed said he saw GNR in the same building in 1991, and he thinks it's time that GNR got back together. Thanks, Ed, and we'll try to check up on SLASH. We know that when he is concentrating, he doesn't smile or make eye contact as he is too into playing. Let's hope that's all it is. What about other fans from Houston?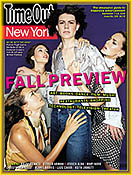 The "Fall Preview" issue of Time Out New York had a really positive review of Ain't Life Grand. They say:

"If this hot and funky rock is what SLASH has been keeping under his hat while we all waited to see if Axl would get his shit together, then we wish he would've dropped it on us ages ago! It stands up to the best GNR gave us (and as with GNR, there are just a couple of misteps)." If you see any magazine or newspaper reviews, please send them in. Lisa tells us that in Friday's USA Today, SLASH got a mention and so did the new album. No review, but still, a nice mention! Thanks, Lisa.

Slash says that the new album will also be out in vinyl. Only the cassettes and CDs are ready with the vinyl coming along soon. That's why it is not ready for pre-ordering. He says the vinyl will be sold in the States as well as other countries. In 95 the Snakepit album was also on vinyl but was a UK only item.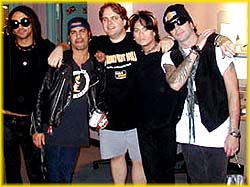 SLASH and the guys appeared on The Tourbus for an interview a couple of weeks ago. The guys hung out and talked and chose songs for the show. The Tourbus is a rock station for the internet out of NYC. They promised to have the interview available, but it still is listed as forthcoming. They did have a nice picture of the band. Where's Matt? And why is SLASH leaning?!

News Reported: 09/09/00


The show at Dallas will be starting very soon. The band is pumped for this one. Tomorrow night they play Houston, Texas. The tour is going strong but ends in a matter of 15 days. Be sure you get out and see them. SLASH says we were lucky to see him at the beginning when they were taking baby steps. Now they are very polished and tight. Would be nice to see both!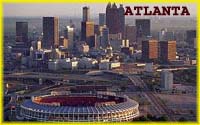 Yes! We got a review from Atlanta. Illusion1982 says the show was awesome. They had a hazardous trip from central Alabama when the transmission caught on fire, but they made it to the show. SLASH and the boys looked great, sounded ok, and acted great. SLASH was not loud enough; it was hard to hear him in detail. AC/DC was great! Best $60 he's spent since STP. Thanks!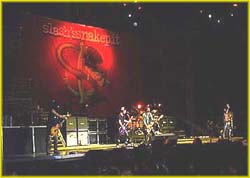 Caton is a friend of Keri Kelli's, and he reviewed the St. Louis show. He drove 8 hours (a record here) to get to the show, and it was well worth it. When he arrived in town, he gave Keri a call, and they checked out some rock stores, but they didn't have much there. They did get a few CDs and went back to the hotel to meet a friend. Jamie Rowe, former lead singer of Guardian, was meeting them. They went out for dinner and drinks. Keri had to go back to the hotel for the show. The band opened with "LSD". Rod came running out like a mad man, and Keri was his usual energized self. The show was incredible! Rod had the crowd in his hand by the middle of the set. The place exploded at "Mr. Brownstone". The new tunes were great, and Matt and Johnny seemed to be having a great time. Caton hung around backstage with Keri, and then they went to watch AC/DC. Caton thanks Keri for hanging with him and setting him up for the show. Keri's a great guitarist and a great addition to Snakepit. Thanks, Caton!

Janet sent in two Snakepit mentions. Radio station WKHY in Lafayette IN played "Been There Lately" on the day of the Indiana show. They made favorable comments on SLASH's Snakepit and the new songs. Janet also heard "Been There Lately" on Q95 in Indianapolis. The dj gave the album release date as October 10. Time to request "Been There Lately" from your local stations!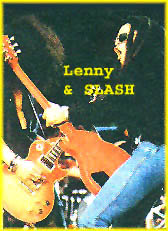 Lenny Kravitz appeared recently on VH1 Live. He was answering questions from a studio audience. Someone asked how it was playing with Slash and was he the best guitar player you've ever collaborated with. Lenny diplomatically dodged the second half of the question. He did say that is was a great time playing with SLASH. The two went to high school together and always wanted to do something together. They recorded "Fields of Joy" and "Always On The Run" at 8 am (not prime rocker time). The interviewer suggested maybe they had been up all night. Lenny snickered and said, "Maybe!" Thanks to Brad for sending that in.

Just to keep things rolling on this "Welcome to the Jungle" thread, Joey says he was watching the Miss Teen USA Pageant, and right after the swimsuit competition, they played a variation/ripoff of "Welcome to the Jungle". It wasn't SLASH playing, but it rocked, and it's always good to hear a GNR song. Thanks, Joey!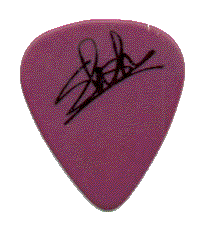 Fan mail story! Craig wrote to SLASH and requested a guitar pick and sent the IRC. Nothing came. We suggested writing again and explain to SLASH Craig never received anything. He'd just about given up, but the letter finally came. He sent Craig NINE picks! And Craig asked SLASH where he gets those hilarious tshirts. SLASH replied, "To answer your question, I don't know where I get all the tshirts from. I bum them off people somehow!? Anyway heres some picks. Enjoy!! SLASH". So now we all know where he gets them. If he likes yours, he manages to trade or look sad, and people just hand them over! Thanks, Craig!

News Reported: 09/06/00


Last night was the St.Louis show, and we didn't get a single review from there. Atlanta still hasn't come through. Are these people on the net? Tomorrow night is for all those Dallas fans who came out to the clubs in 95 and for Blues Ball. Let us know how the guys did! Dallas is an important city for the band. Should be a great show!

We're still hoping for a club tour at some point. SLASH said when they headline we'll hear 3 GNR songs, 3 Snakepit 95 songs and the rest will be from the new album. A full length show!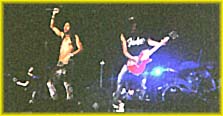 These reviews are all from Kansas City. Karen said she had terrible seats but an incredible time. Everyone around her was so pumped for SLASH! SLASH played the beginning of "Mr. Brownstone" over and over, and it was terrific! EVERYONE was on their feet! Most of the audience was there for AC/DC, and Karen was thrilled to see all the enthusiasm for SLASH. She hopes the tour will result in selling tons of copies of Ain't Life Grand. Our Man sounded fabulous and looked great, too. Karen, a true fan, drove 3 hours to get there, had awful seats, paid for the hotel, dragged a friend along so she wouldn't have to make that long drive alone, missed AC/DC to get back to her friend and drove back next morning - all for 45 minutes of Snakepit. And how does Karen feel about that? "It was so worth it. I would do it again in a second." Thanks, Karen! That ought to give the boys a boost!

Justin was moved to send in his review when he read Damian's last night that was less than positive. Justin said that SLASH and Rod f*cking rocked. The sound was bad with SLASH's guitar not loud enough over the band. Just his presence made up for it! Every song rocked, and it was one of the best concerts Justin has ever seen. The music and the energy were wonderful. Justin plans to get TWO copies of the album and see Snakepit as many times as he can in the future. And AC/DC was alright, too! Thanks, Justin!

Damian has decided to take another pass at his review. We definitely think his sore foot influenced him. Damian says he's sorry if anyone's feelings were hurt. (After working with Axl, we think SLASH has the skin of a rhino) He says that the sound is really what made the band so terrible to him. He says he can't tell really how they played because of the sound. (When will this EVER be fixed?) Damian really wants to meet SLASH and thank him for the autographed picture he sent him awhile back. SLASH is the reason Damian picked up a guitar after 14 years of piano and violin, and he'd like to tell SLASH someday what an inspiration he has been to him. (We think you just did!) Thanks, Damian, and don't worry...we want honest opinions here! Take care of that foot. And thanks for writing again.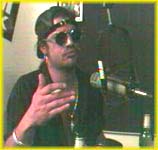 Phoenix Rock tells us that thre was a good program on August 26 on UK television. They had an evening of programs dedicated to the life of excess. "Hellraisers" was followed by "The Real Keith Moon" and finally a program called "Rock Babylon" which featured SLASH talking about sex, drugs and rock and roll. Watch for reruns! Thanks, Phoenix!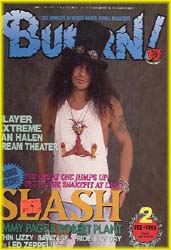 The latest issue of the Japanese magazine Burrn! features a SLASH interview, review and advertisement of the new album. A special issue of Burrn! called Metallion is due out this month featuring a SLASH interview. The rock magazines are covering SLASH and the band closely in anticipation of their coming to Japan soon. These aren't easy or inexpensive magazines to get in the States, but the pictures are always fantastic. The articles are in Japanese, but the magazines always seem to be well worth the price.

News Reported: 09/06/00


Tonight is the St.Louis MO show, and in 2 days on September 7, it is BIG D! This should be another big show for SLASH's Snakepit. Get out there, Dallas! It's great when Snakepit can see the seats full when they come out. Give SLASH and the band a warm Texas welcome.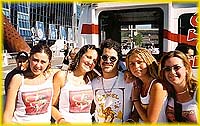 In going over some of the reviews, SLASH wanted to comment on problems with meeting him after the show. The deal is the same as always. After the Snakepit show, he and the band go to the dressing room to relax by themselves. Then, they meet those with backstage passes in the backstage area. This is while AC/DC are still doing their show. When everyone backstage has been acknowledged and talked to, the band hustles off to their bus. There, they hang out mostly by themselves. But at this point and later, fans can come around if you can get access to the bus. If the bus is parked inside in a secure area and there is no access, there is nothing SLASH can do. He can't come and find fans, and they can't find him. He says he tries very hard to make arrangements and be friendly and accessible. Sometimes it just doesn't work out the way we want. SLASH felt the criticism was a little harsh, but now that everyone knows he is trying very hard to see them, we should be a bit more understanding. You can be sad about not seeing him, but don't be upset with him or the band. You know SLASH wants to meet you all! And with his availability, it is just a matter of time. We've waited 7 years to meet him. The wait was well worth it!



Janet sent us a note that on Wed., Sept. 6 at 11:30am EST, VH1 will re-air the "Sound Affects" show that features SLASH. He talks about his Aerosmith inspiration to start playing guitar. SLASH also talks about an early girlfriend named Lori and about GNR opening for Aerosmith. Should be a winner! Thanks, Janet!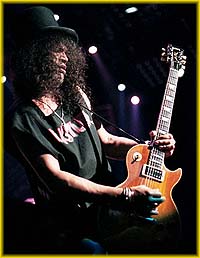 If you haven't visited the Rolling Stone site lately at www.rollingstone.com, get over there and see the great pictures of Snakepit (just Rod and SLASH) and AC/DC. They have a super note under the picture on the News page. They are gorgeous pictures! Thanks to SlickMojo who made sure we saw these.



x-factor sent a short note form launch.com. It says SLASH was mesmerized when AC/DC singer Brian Johnson greeted Snakepit during the tour kickoff. Says SLASH, "He came into our dressing room the night of the first show. I had my pants halfway up when he came in". You can always count on SLASH to give you these great mental pictures! Thanks!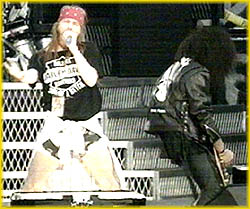 Here's an animated story found by SlickMojo that is absolutely hilarious. You know how you have heard different stories about why SLASH left GNR? Some strange mind came up with a new one! And it is so funny, we wanted to share it with all of you:


Why SLASH Left GNR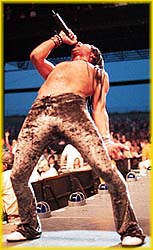 There's a Snakepit review from Kansas City, and we have to warn the hardcore fans that this is not a good one. Maybe go look at that funny animation again. Damian went with good feelings because he had never seen SLASH live before, and he is Damian's number one guitar guy. The sound was atrocious! Damian says he has never heard worse sound for a show in his life. (SLASH, stop reading this!) Rod seemed a little off this night. Both Rod and SLASH made (don't say it!) mistakes during the show. Johnny, Keri and Matt were better than Rod and SLASH that night. Now that the band is in tatters, Damien does want to say some nice things (YEA!). Rod is a better singer than Eric Dover and has a great set of pipes. Even though Damien didn't like SLASH's performance, he is the main reason Damien picked up a guitar. He's a wonderful guy. He once sent him his band's second demo CD, and he took time to send back an autographed photo. (That's our guy!) Damien didn't get to see SLASH after the show (see opening paragraph above). And Damien ends by saying he will go and see SLASH if they come through Kansas City again, and he'll buy the new album. Damian made an effort to get to the show having had foot surgery two days before. Maybe your foot was really bothering you? That bad sound can make a sore foot worse. Thanks, Damian! At least you came and are coming again! SLASH'll getcha next time!

News Reported: 09/05/00


Snakepit is in Kansas City tonight, and there are some really strong fans out there! Fans are even coming in on crutches. Go, 'pit! Tomorrow's Labor Day in the US, and SLASH and the band are off, too. Maybe they will hang out in Kansas City for awhile or move on to St. Louis early. Look for that blue van with the Snakepit picture! The picture seems to be the new Snakepit logo. Has the famous snake retired? And it really is too bad that Keri is not on the logo!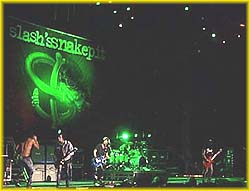 Tonight we have a Minneapolis review and two from Chicago. Taffer23 reports that Minneapolis was a kick ass show. He had a good view of the band. Snakepit songs were great and so was "Mr. Brownstone". Rod sounds a little like Axl when he sings, but Taffer23 says...it was good anyway! He can't wait for Ain't Life Grand to come out and expects it to be a kick ass record. Thank you, Taffer23!

Jason was at the Chicago show, and he absolutely loved Snakepit! Jason was lucky enough to have front row seats. He said that he and his friend were the only ones standing in their sections. Keri and Johnny came over to rock out with them! Keri threw him a pick! Seeing SLASH only a few feet away was unbelievable. They didn't get to talk to the band after the show as the tourbus immediately left, but they are hoping for another chance on a club tour. Jason, what a great evening! Thanks!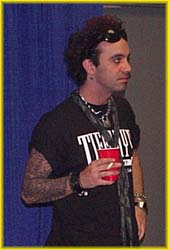 Jay drove 3 hours to Chicago close for Snakepit! SLASH amazed him even more than he thought he would. He was completely entranced by SLASH the whole time. The sound was not great; Jason couldn't make out what Rod was saying; but SLASH's solos were awesome. He went to the gate after the show, and SLASH's bus driver said he would get his many items autographed. And he did. Jason wants to thank SLASH and plans to send a thank you to the fan mail. He says he can't wait for the album, and "Mean Bone" was awesome. Thanks to SLASH from Jason, and thanks to Jason from us!


Jason mentioned the fan mail, and last night SLASH's manager was in L.A. on business and was picking up a box of fan mail to take back to SLASH. So the new system seems to be working although, of course, it will take longer since SLASH is on tour. Still, if you want to write him, or thank him, or ask for an autograph, go for it! SLASH wants to hear from you! If you haven't written before, please go to Main Menu, click on Write To SLASH, and read some of the tips there. If you are an old hand at this, we'll remind you that the new address is:



SLASH
c/o Susan Blond, Inc.
14542 Ventura Blvd., Suite 210
Sherman Oaks, CA 91403



We just have two SLASH/fan questions left. We'll see if SLASH can do some more while on tour.


Question from Jordan: What goes through your head right before you walk on stage in front of thousands of people?

SLASH replies: I am not conscious of thinking anything in particular. I am full of nervous energy.



Question from Ray: What was the first gig you ever played where you got paid...real money? Do you remember any of the songs?

SLASH replies: I was with Hollywood Rose, and we played at Madame Wong's in L.A.


News Reported: 09/03/00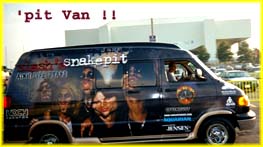 Tonight we spoke to SLASH's manager. Sam says the tour is really going well. Right now they have a van with the Snakepit band picture on it traveling around with them. The van will be used as a listening station where fans can come in and listen to the new single (at least). They'll have posters, stickers and other things to give away along with a cassette of Been There Lately. That has already started, so look for the dark blue van with the band pictures. Check it out, hear the music and collect those Snakepit souvenirs! SLASH has some cool ideas.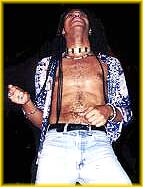 We asked Sam to get us the phone number of radio stations, so we can call in and request Been There Lately. We have quite a few numbers ourselves, and we're hoping to get more, national and international. Not every station has the promotional CD yet, but we can help them get one!

SLASH says that he has not come up with anything final on the October schedule. September is pretty well set with the addition of Sacramento on 9/22 with AC/DC. Slash's team is working up a schedule that will be available sometime this month. When it is, we will post it right here. If you wonder who it is that has the absolute final say on where Snakepit goes and when, that's SLASH. He knows all the cool places to go!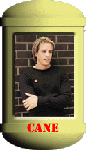 Snakepit is getting good publicity. Did you catch The Rock Show last night? SLASH was on in a taped segment talking about AC/DC and the tour and the album. VH1 showed some video clips from Snakepit shows. All the Snakepit shows are being videotaped, and at the end of the tour, a "Been There Lately" video can be made which can be shown on any and all stations!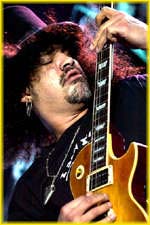 This picture of SLASH was on the Pollstar site yesterday. This is SLASH at the Atlanta show. Sometimes the site showed a picture of Angus Young, but if you came back, you'd see SLASH! Thanks, Vinnie for finding that! By the way, Angus/SLASH aren't there anymore!

For those who keep track of these things, the Japanese release of Ain't Life Grand will have catalog number: VICP-61160.

News Reported: 09/02/00


Snakepit is off tonight, on the move from Illinois to Minnesota. Minneapolis may be cold in the winter, but it's hot when SLASH is in town! Take your friends out to see SLASH! Tomorrow they will be in Kansas City where all the crazy little women are...take them to see SLASH and they're yours. Still no word on subsequent tour schedules.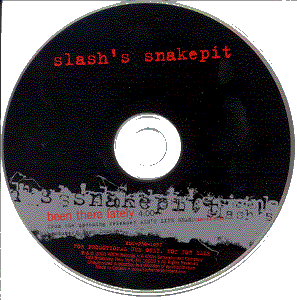 The first single off Ain't Life Grand is "Been There Lately" which should be out sometime this month. SLASH agreed that the song could appear here, but only clips, not the full song. The song is 4 minutes long, and we have 3:06 here with the second verse completely excised. Check this out: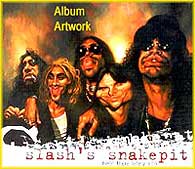 We have some news on the Japanese release of Ain't Life Grand which goes on sale 9/21/2000. The same 12 tracks will be on the Japanese and other releases, but the Japanese release has two bonus tracks: "Rusted Heroes" and "Something About Your Love". The import can be ordered through (at least) Amazon.com at just under $40. Those two tracks are definitely of interest! Note that Japanese fans will be lucky enough to have the album prior to the band playing there in November.


Reviews coming in today are from the Chicago and the Milwaukee shows. Kathy wrote about the Chicago show where she started out with a lawn seat but sneaked up closer. The set was about 35 minutes long. After 3 or 4 songs, SLASH did his much appreciated stripping off of his shirt. Kathy says SLASH is the awesome performer he always has been. The audience wasn't too into it till they played "Mr.Brownstone". She felt the guys were impressive live and put on a good show. Thanks, Kathy!

Jason was also at Chicago. He bought the tickets when Snakepit was announced as the opening act. Jason says the show was great! They started on time and played 40 minutes. He liked "Speed Parade", "Mean Bone" and "Shine" best with "Speed Parade" being the favorite. He says it was cool to see the "Mr.Brownstone" cover as he had missed the GNR shows. It was a great show, and everyone should get out there because it's really worth the money to see these two awesome bands. Thanks, Jason!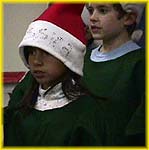 Jecca and Wayne came on a charitable mission to get SLASH and AC/DC to sign items for the Christmas Is For Kids charity. Where they were told to wait, they could only hear but not see the band. It was sheer torture not to see SLASH perform. Jecca only saw him walk off the stage. They did see SLASH doing an interview with someone in Japan over the phone. They met up with SLASH's bodyguard who let them in to see SLASH. They asked him to sign some caps like the ones he wears. SLASH asked if he could have one! He said that when his house was robbed, all of his hats were taken except two. So they found one in his size, and he was happy. (Now you know what to get him for Christmas!) The charity, as one of its good deeds, brings teachers in to teach homeless kids music. SLASH nodded and said it helped him, too. SLASH went off to watch the AC/DC show. His bodyguard said no one would bother SLASH because he blends right into the audience. (Is there anyone else he could not fool?!). Thanks, Jecca!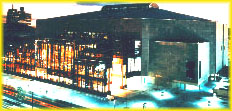 Kate drove 5 hours to see SLASH's Snakepit at the Milwaukee show. She gives the show an A+! SLASH was in top form and sounded amazing. Rod is the most energetic front man Kate has seen in a long time. They played about 40 minutes. When the opening drum beat of "Mr.Brownstone" started, the crowd went wild! The sound was not good. It was really distorted, and she couldn't hear Rod or SLASH. SLASH was much better than she imagined and well worth the long road trip. The only disappointing thing was that they didn't see SLASH after the show for an autograph. Thanks, Kate!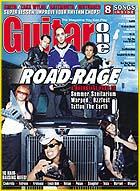 Have a look at Guitar One's October issue. Fozzy tells us that there is a full page ad with the distorted picture of the band promoting Ain't Life Grand. At the bottom it has Koch Records saying, "SLASH's Snakepit-the new album, Ain't Life Grand in stores everywhere October 10th!" Thanks, Fozzy!

News Reported: 09/01/00


SLASH is on VH1 at midnight doing an interview and with footage of the AC/DC Tour!! TUNE IN! about the tour! Tune in!! Tonight Snakepit plays Tinley Park in Illinois. Last time SLASH was here, he played with Cheap Trick, one of his favorite bands. Tomorrow is an off day followed by a big show in Minneapolis. While sound problems continue, the band otherwise seems to be sounding better and better. The only disappointments are the set is too short, and SLASH is not available for autographs and pictures after the show. Watch for him during the day...you just might spot him roaming around your town.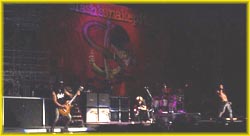 Dave sent us a review on the Cincinnati show. He says SLASH rocked just as expected. Snakepit played 6 songs, all from the forthcoming album, and covered "Mr. Brownstone". SLASH was dancing and jumping all around, all over. He even jumped down into the audience twice for awesome solos! David said the sound could have been mixed better, but the new songs and "Mr. Brownstone" sounded great. Dave says he can't wait for Ain't Life Grand, and he has promised to send pictures for the scrapbook which is underway. Thanks so much, Dave!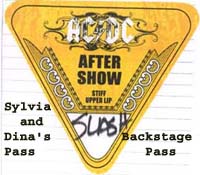 Michael was at the Indianapolis show. This was his first rock concert! And who better to show you how to rock than SLASH? He said he liked all the songs, especially "Mr. Brownstone" and "Speed Parade". Michael says the bass was up a little too much, and the guitars could have been up a little more. He said he didn't get to meet Slash because he had left, but he did manage to get some from AC/DC. A successful evening! Thank you, Michael!



If you live in New Jersey or New York and like rock music, you've heard of Saturday Night Rock on WNEW 102.7. This past Saturday, SLASH's Snakepit was a guest! They hung around live in the studio for a couple of hours, took live phone calls, and playing tracks from Ain't Life Grand. Total insanity reigned in the studio and outside WNEW's Manhattan studios. SLASH signed autographs and posed with fans for pictures. SLASH did his usual amount of smoking, drinking and cursing on the air! He answered some questions such as what is the favorite song you've written ("Paradise City"), how are you and Gilby getting along (SLASH no longer speaks to Gilby), which artist do you most want to record with (Stevie Wonder), did you know James Lomenzo was from White Lion when you hired him for Snakepit '95 (no, SLASH was not a fan of pop metal bands). The band grabbed a stack of SNR tshirts and fled into the night where they hung out with fans in a courtyard. What a super interview! There was much more, of course. Aside from Ain't Life Grand tracks, SLASH made some requests: UFO's "Mother Mary" (live), Aerosmith's "Combination" and Cheap Trick's: "Elo Kiddies" (live). That's SLASH all right... requests for UFO, Cheap Trick and Aerosmith! The dj, Ed, says that within a week (should be this Saturday or so) there will be pictures and interview clips on both www.wnew.com and www.eddietrunk.com. So check those out!



To USA fans, Happy Labor Day, Monday September 4. The rest of the world should see improved response times. On 9/4, even SLASH has a day off. The SLASH page will report through Sunday and take a day off then too.

Happy Labor Day, SLASH!




News Reported: 08/31/00


Tonight the band is in Milwaukee WI with AC/DC. 8/31: Tinley Park IL. 9/2: Minneapolis MN. SLASH and the band really appreciate seeing you hardcore fans, so get out there! And don't forget to send a review - what they played, wore, what the sound was like, if you met them, etc. The band needs to see your area's support if you are looking for a club show! Tonight's news is that we should have the Pacific Rim Tour schedule in a couple of days. This will be the confirmed schedule from SLASH and company. We'll publish it just as soon as it gets here. SLASH said the reason

he didn't send it sooner was they were trying to work out a way to connect up with AC/DC somewhere in Europe and finish that leg of their tour with them. We've been telling you in Europe that Snakepit will not tour with AC/DC there. But the bands have had such a great time together, they are looking for ways to continue. We don't know which countries are included just yet. The band leaves for Australia on 11/8 for a tour of about 3 weeks. We're just not sure when they will get back with AC/DC. We'll keep you posted with information straight from SLASH and his management.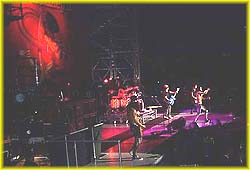 Just one review tonight, and this one is from last night's show in Cincinnati OH. Brian says Snakepit appeared on time. SLASH had on his purple leathers, red Chuck Taylor shoes, and the Snakepit tshirt that they are selling at all the venues! Rod was in orange velvet pants and a white tank top. Keri and Johnny wore leather pants and black tshirts. As usual, Matt was behind the drums. What are you wearing, Matt?! SLASH did "Been There Lately" on his knees, Rod sang the theme to WKRP in Cincinnati. SLASH talked, but it was very hard to u d him. then did "Mr. Brownstone", and the place erupted. SLASH tried to say something at the end, but the mike was turned down and everybody missed it. (Could we PLEASE fix the sound!) Brian thought the songs were good, and the album will be hot. The mix seemed to start out fine, but by the middle of the set it was getting difficult to decipher vocals and guitars. Keri told Brian after the show that Snakepit doesn't get to do soundcheck. Setting up AC/DC's stage takes so long there is no time left. Keri also said they are negotiating for 10 more minutes of their set. Brian said the band was tight and watching SLASH run around reminds you of the GNR days. He got to hang out with the band members (minus SLASH) after the show in their bus. Brian got to talk to each guy a long time and really enjoyed it. SLASH was not on the bus even when it left. We assume SLASH and his girlfriend were flying. Thanks, Brian!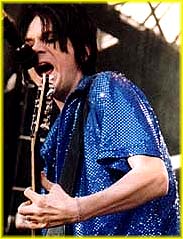 Several people have reported that they wrote to Keri Kelli and got replies! Keri is a super nice guy, and the responses we've seen bear that out. Here is a Q&A:
Question: I'm George Lopez from Holland, I have heard some sound samples of Snakepit 2000, and I LIKE IT!! Slash's website says that you are now the permanent snakepit guitarist...how did you experience that thought? Aren't you worried that this email address will be spammed bigtime, now that it's on the net?

Keri Replies: hello holland hope all is well all is great in da pit!!!! im very happy to be here. all guys are bros. weve known each other for a few years now so i just slide right in. we hope to get over to you here soon possibly with ac dc . i have some filters to stop the mail i don't even own a computer but try to get to one about once a week.i got about 150 (emails) just since the 23rd . anyway talk to you later kk
If you have a question or message, write to Keri at this address:

kerikelli@hotmail.com



We'll follow up Keri's question with a couple put to SLASH by fans:


Question from Zou in China: When you are in the recording studio and ready to record, how can you keep the feeling as usual or do you just have a new feeling? When you are first in the studio, how do you feel?

SLASH replies: When you first walk in, it takes awhile to get in the mood and get comfortable with the other players. So you talk or fool around, but at a certain time, you get it and just start playing.
Thanks, SLASH and Zou!




Uros from Slovenia asks: How many GNR and Snakepit pinball machines were made and are they all over the world or in other countries?

SLASH replies: There were 550 GNR pinball machines made. As for Snakepit, I am not sure of that number, but it was also a limited amount. The machines were sold to distributors who then sold them to individuals or companies. By now many have been sold again, so they could be anywhere in the world.
Thanks, SLASH and Uros!

News Reported: 08/30/00


The guys have three big shows in a row starting with tonight's gig in Cincinnati OH. 8/30 has them in Milwaukee WI followed by Tinley Park IL on 8/31. Good reviews in a minute!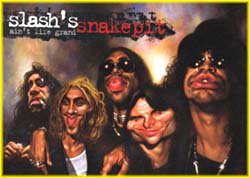 Time to pre-order Ain't Life Grand! Two of our favorite stores on the web have the Snakepit album ready for pre-orders, www.cdnow.com and www.knac.com. Price is the same at each, $13.99 plus shipping. CDNOW also has the cassette tape format at a little over $10. While KNAC does it only in CD, there are some great advantages to shopping there. They have autographed posters of the artwork FREE with your preorder while supplies last. And while you're there, you can enter the contest to win a pair of tickets to one of the remaining Snakepit/AC/DC shows beginning with Milwaukee WI. Transportation, etc. is at your own expense. CDNOW has one day delivery at additional cost while KNAC offers a priority delivery with number of days not quoted. Other deals are no doubt around. Let's get those albums preordered now! SLASH says he'll tour "as long as the album has legs", so we want to get the sales up high to keep him out there.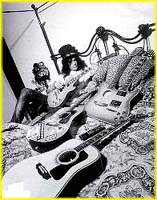 On a SLASH personal note, we mentioned that SLASH sold his mansion before touring started. The buyers were that interesting acting couple Billy Bob Thornton and Angelina Jolie. Dave James from England sent us an article from the British TV listings magazine, TV Times. It says Thornton/Jolie slapped down 2.5m pounds to buy SLASH's eight bedroom house in Beverly Hills. It was the first house they looked at, and they loved it. The sound studio that SLASH built and where Snakepit rehearsed and recorded will be used by Billy Bob. Angelina loved the kitchen in the bedroom. They may put in a velcro wall so they can throw each other up against it. Somehow the whole place seemed a lot cooler with SLASH and the snakes. Don't worry! SLASH is not homeless! He and his girlfriend are in a cool place in the LA area. Thanks, Dave!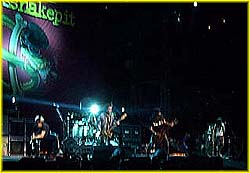 Some Indiana reviews: Chad is from Kentucky and drove over 200 miles to Indianapolis to see SLASH's Snakepit. He said it was worth every mile. The mixing problem was still there, but the energy was unreal. Chad singles out Keri and Rod for special praise. This is great; Chad says he's a huge GNR fan, but after the show last night, he can't remember the GNR singer's name...Axl something? And SLASH is the greatest guitarist alive! Chad's looking forward to a club tour...thanks, Chad!

Larry also caught the Indy show and "was knocked off my ass"! It was the first time he'd heard of the band! Welcome to the 'pit, Larry! Larry would like to get a copy of the set list. If anyone has one, let us know. Vocals were hard to understand, but he still was blown out of his seat. SLASH is "f*cking awesome" and Rod is "amazing".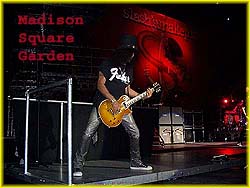 Our very good pal, Maria in NYC, went over to MSG to see SLASH. Totally awesome is her quick review. She says SLASH is in shape and wore his top hat, black Fender tshirt and leather pants. Rod was pronounced "gorgeous". He said New Yorkers are cool, their bars stay open all night, they get the best drugs and they are "badass motherf*ckers"! The Garden went wild at that. Maria said that "Mr. Brownstone" was done with total respect by Rod and the band. They didn't try to be GNR. SLASH mentioned the album comes out Oct. 10. They only played for 35 minutes, all songs from the album except "Mr. Brownstone". The big disappointment was waiting for SLASH 2 1/2 hours before the show and a half hour after, and he never came out. SLASH went into the Garden in a white limo and never came out. Maria says she is going to sleep at the box office when tickets for the club tour come out. Thanks, Maria, and next time they come to NYC, we hope to be there. We understand that one reason SLASH didn't come out at the end was that Steven Tyler and Jack Douglas came backstage and hung out with the band. Douglas, as you know, produced Ain't Life Grand. Prior to that, he produced for Aerosmith and is currently working with that band. Steven was dressed in a beautiful velvet suit and looked great!



Some SLASH/fan questions:
Question from Jeff of Portland OR: My question is regarding the GNR pinball machine. There are several GNR songs on there; however, there are other songs on there that are not on any GNR album. For example, the "SLASH solo guitar feature" or the song played on the "extra ball feature". Did you actually record these songs for the pinball machine? I've also heard that there are other unreleased tracks on the machine. Is this true?

SLASH replies: There are eight different original GNR recordings which were taken off the masters. An unreleased song is "Ain't Goin' Down" with no lyrics. If you see the Viper pinball game which I also did the music for, you'll find "Speed Parade" there. It's the sound the car makes.
Thanks, SLASH and Jeff!



Question: I think there's a dispute over which ernie balls you use. A book, Legends of Guitar says you use 10s standard gauge strings. On this site it says you use 11s ernie balls. When I ask my music store what is standard gauge, they say there is no standard gauge. Could you please specify what gauge strings you really use?

I use 11-46 ernie ball strings. (webmaster will correct the site).
Thanks, SLASH!

News Reported: 08/29/00


Tonight there are reviews from NYC/NJ and two from Indianapolis. The guys have the night off and are on their way to Cincinnati OH for the show tomorrow. If you've had a chance to visit Koch's Germany page for Snakepit, they have a schedule up for the Pacific Rim Tour. We're waiting for SLASH to confirm this before we put it up. One of their past schedules had the band in Germany when they were in Canada, so we just want to be sure we put up the correct one. If the schedule is correct, the band is playing some interesting countries: Indonesia, Malaysia, etc. Interestingly, Singapore is not on the Koch list, and Slash mentioned them specifically so we'll check that out. One cool thing on their site is what they call a "card" although you can't send it from there or put text on it. Still it's kind of a neat thing to download and keep yourself. George clued us in on this new e-card...thanks, George. The website is at www.slash-snakepit.com.



Did you ever see SLASH in Tales From The Crypt? The episode was "In The Groove", and SLASH was great. Help get it aired again! Chris tells us that if you go to:


Vote For "In The Groove"


you can vote for your favorite episode. On Sept.20 the SciFi network will show the 6 episodes with the most votes. Vote for SLASH!

Snakepit was in Wilkes Barre PA a week ago. Mike tells us that his favorite radio station there has been playing a ton of Snakepit songs! They are getting requested especially "Been There Lately"! That must have been some show!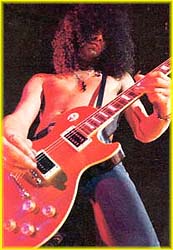 The Indianapolis reviews are interesting. Laurence said the show was pretty good, but once again the sound mix wasn't great. Rod's vocals couldn't be understood, and SLASH wasn't loud enough. But the show rocked! Snakepit played 35 minutes. Laurence came close to meeting SLASH by hanging out on the ramp for tour buses. A small green car came out and got stuck in traffic. A fan ran over, and it was SLASH! Laurence said he spent too much time thinking what to say, and the little car with SLASH, Rod, a driver, and either Keri or Johnny G sped away. Next time, Laurence, yell, "SLASH, can I buy you a Jack and coke?"!

Ryan was also at the Indianapolis show. He says SLASH and Snakepit kicked ass SLASH style! He got the new tshirt, and reports that the band covered "Mr. Brownstone" as well as playing a good assortment of the album songs. The show started right on time and ran for 40 minutes. Ryan's only complaint was the sound system which had a lot of distortion and reverb. You could hardly make out the vocals. But SLASH kicked ass, and Ryan says, "SLASH is the best f*ckin' guitarist rockin' right now". Rod referred to SLASH as the maestro of guitar. AC/DC fans enjoyed the show, but they miss the old GNR days and are reserving judgment till the album is out. Thanks, Ryan, and as you say, "it's finally happening".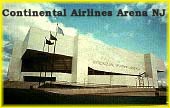 Rob sent us information on two shows, the NJ and the NYC shows. Rob said he was wasted by the time the NJ show started. But he sobered up some and got to see the show. Rob works at Trump Records and already has the album! He says that when they were at the Garden, he made eye contact with SLASH. SLASH saw Rob and his friend standing during a solo and made a face at them! Rob says he's been near SLASH and met him in '97, but the NYC/MSG show was a highlight of his life! Thanks, Rob!

News Reported: 08/28/00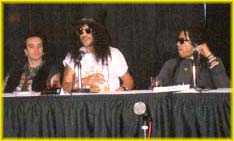 Did you hear The TourBus interview with SLASH on Saturday, 8/26? It was online, and we have a copy here for you if you'd like to check it out. The interview starts out with Rod and Johnny G. SLASH talks hoarsely when he comes in later. For copyright reasons, the full songs have been snipped from the interview. You can hear it on the Online Interviews and Chats section under Snakepit 1999-2000, or hear it now:

TourBus Interview



Tonight the 'pit has finished their show at Indianapolis and are getting ready to leave for Cincinnati OH. They hope to see a lot of fans there on 8/29. On 8/30 they will appear in Milwaukee. They are all over the US map. It's not too late to get tickets! Now, more reviews: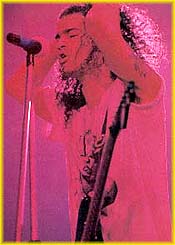 Tommy and his fiance hit the Wilkes Barre show. It's pretty cool because they live in NYC, but by the time Snakepit was announced as opening act there, all the good seats were gone. So they decided: ROAD TRIP! These are two dedicated SLASH fans. The seats were great, and they buzzed out after seeing Snakepit. Wonder how many of us did that?! Tommy says the show was great, and SLASH can really move. Tommy was feeling a little sad about Axl not being up there with SLASH. The end of an era. But he said that Rod was great and thinks they can sell in the US with enough touring and will sell better in the rest of the world. They didn't get to meet SLASH as Security was very strict. Tommy said the best two in the band are SLASH and Matt Laug, the drummer. Tommy promises to send some pictures he took from his great seats. He really wishes he could have gotten his guitar signed and taken a picture of SLASH. Thanks, Tommy!

Let's get back to NYC. Diana says Snakepit rocked Manhattan! She couldn't believe how great the band is. Rod connects with the audience and makes you feel like you are on stage, too. Keri Kelli was a special surprise, playing crouched way down with one foot sticking out. He looked, Diane says, "like a sexy spider"! Matt was great to watch with his long hair flying like crazy. Johnny G. was outfitted in full punk glory. Our "precious SLASH" had Diane nearly crying with joy - seeing him on his knees, leaning back, playing his guitar. During "Mean Bone" SLASH and Rod were inches apart. Everyone was up for "Mr. Brownstone". So don't miss this show! Thanks, Diana!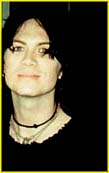 Our friend Cheryl got to the MSG Snakepit show but missed the first two tunes. She liked the songs; very heavy. SLASH stayed to the side, but he did come up to the mic to say hey. The place went wild for "Mr. Brownstone". Thanks, Cheryl!

Kris was also at MSG. He thought SLASH rocked, but he didn't think much of Rod's voice. He liked "Mr.Brownstone" as he's a big GNR fan, and he would have liked it better if Rod wasn't so loud. (again...mix problems) He really did enjoy SLASH's performance. Thanks, Kris!

Steven made it to MSG also - wearing his Live Era tshirt and wishing there were more GNR and Snakepit shirts around. SLASH and the boys went on at 8 sharp, and the Garden was pretty well packed. The sound was loud and not too clear, but the guys rocked. The band had tons of energy, and he loved seeing a rock band kick ass. SLASH hasn't missed a beat. Steven says SLASH is truly outstanding; a joy to listen to and watch. They played about 40 minutes. Rod announced that the new album comes out October 10. Thanks, Steven!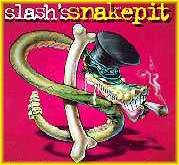 Chris walked into MSG and saw that big Snakepit banner hanging there and thought...this is great! He's been waiting to see SLASH live again for a long time. Chris caught SLASH's Blues Ball in '97. Steven's seats were up near the top, but he had binoculars and watched the set through them. The sound was distorted, and it was hard to make out what Rod was saying. SLASH could hardly be heard, but just watching him was pretty cool. Chris said he wishes more Slash and GNR fans would have showed up in support of Snakepit, but the opening band was not promoted in any way. Everyone went wild for "Mr. Brownstone", and it confirmed to anyone still guessing that the top hatted one was really SLASH. Chris says he can't wait for them to headline and wishes them the best of luck. Thanks, Chris!

To all who have sent reviews, we are a little behind moving your full text reviews to the Review page. Bear with us. While the band is on tour, it's busy here too, but we are trying hard to catch up!

News Reported: 08/27/00


Been lonely in the big city? There was no need for Snakepit to feel that way last night! By the number of reviews we got on the NYC/MSG show, they had a lot of big fans out! That means a lot to them...seeing your seats filled and hearing that applause. Indianapolis should give them a good reception tomorrow night. Rock 'em out, SLASH!

We have reviews going back to Wilkes Barre for which we're greatful. The only city we didn't hear from was Atlanta. It's not too late! And if you want the gang to think you want a club show, let's get with it! There are some here from Jersey and the mountain from MSG. Don't forget, the full text of each review will be on the Review section in the next day or two. There's now a shortcut there on the second screen by the picture of SLASH in silhouette.

How about Wilkes Barre PA? Mike says the show completely rocked, and the new songs blew him away. Snakepit covered "Mr. Brownstone" introduced by SLASH as, "I know you f*ckers know this song. This is something of Appetite back in the GNR days"! Our leader speaks! Yes! AC/DC was good, but Snakepit was something Mike says he will never forget. Thanks, Mike!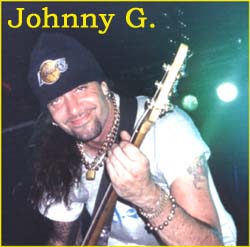 Lola used her vacation to follow AC/DC with a friend. They started in VA to check out Snakepit. She thought the music was great,and the songs were phenomenal. She singled out Johnny G. for special praise as "one of the best bassists I have ever heard". The next stop was Wilkes Barre PA to see the boys rock the arena. Her favorite song is "Been There Lately". Johnny again gets high marks. Yoh, Johnny G, you made a big fan here! Then they were off to New Jersey and New York. Lola loves Snakepit! She's a big fan of the band and Johnny G. Thanks, Lola, what a great vacation!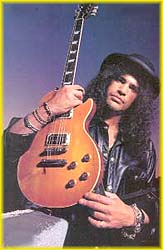 Moving on to New Jersey, Hulubuloo said this first Snakepit show was incredible. She was in the front row and could see the big banner and all the guys very clearly. The whole band is so tight; they could have been together forever. Keri and Johnny looked like cool rock and roll stars, and their skills were very impressive. Matt is totally killer on drums and "pounded the hell out of Brownstone". Rod is awesome with energy off the charts. His voice is superb, and he puts on a great show. SLASH is superlative! He saw that Hulubuloo got a guitar pick from the show. They did not get to meet SLASH after the show, but she knows he saw her screaming "I love you" and saw that she got a guitar pick. Thanks!

Alla was seeing SLASH live for the first time from row 2. Seeing that big Snakepit manner made it all become real. SLASH wore tight jeans, black tshirt, purple converse sneakers and his top hat. Rod had on silver suede pants. Johnny wore what looked like leather pants, shirt and vest, and a tie. Keri was in leather pants and carried a beautiful blue sparking guitar. The band went from one song to the next very quickly. Alla liked them all. Rod ran around with great stage presence. Alla loves his voice. The sound was strange again, and they played about half an hour. Thanks, Alla!

Now the big show, New York. We have ten or so reviews here, so rather than shorten them up too much, we'll run half today and half tomorrow. The first review we got was from Tony who says Snakepit played about 35 minutes. The 'pit was louder than AC/DC (SLASH's motto: Play It F*ckin' Loud"!), but the mix really was not great. Rod's voice was too loud, and the guitars seemed to be fighting each other. Tony is a huge fan but found the songs to be mediocre except for "Speed Parade". The 'pit rushed through the songs possibly to showcase the forthcoming album. SLASH was looking great with great stage presence. Tony would like to see them at a smaller venue. Thanks!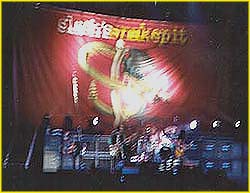 Max said the sound was pretty good last night. Rod was amazing with Matt right on the money, Johnny Blackout did his thing as it should be done, Keri sounded great! SLASH...does he need to tell you how SLASH was? SLASH was cool as a cucumber when he went off. Max didn't wait for AC/DC (neither did we). He worked with Snakepit 95, so SLASH spotted him, stuck out his tongue, and had a funny picture taken! SLASH is always so full of life and presence. Thanks, Max! We'd love to see those photos - especially the tongue!

Ingrid went to her second Snakepit show. She said SLASH sounded great with little distortion. The guys kicked ass! Ingrid can't get enough of AC/DC and Snakepit. She didn't get a chance to meet him, and she's hoping for a chance during the club tour. She wishes SLASH a great tour and says that NYC/NJ loves him. Thanks, Ingrid!

Mike says that the MSG show was the greatest show he ever went to. SLASH was great. Snakepit played "Shine" and "Mr.Brownstone" which got everyone on their feet. Mike can't wait for the new album, and he hopes that SLASH will be back in NYC soon. SLASH used his signature Snakepit guitar. Mike wants to thank SLASH because he really only went to see Snakepit, but he also got AC/CD! Mike scored a Snakepit tshirt knowing SLASH Rulessssss.

Waseem says the band was awesome. The band finished on a wild note with "Mr. Brownstone", and there were a lot of people in by then to cheer them on. Waseem promises some photos! We're going to get them out on the page as soon as we have a few more. Don't forget to scan your ticket, flyer, whatever!


By the way, Keri Kelli's bio has been updated....under Snakepit 1999-2000, click on The Band to see the bios. Keri gave us additional information. We were impressed with his background. He really is a cool guy.

News Reported: 08/25/00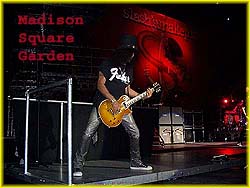 Last night was the great show in New Jersey, and shortly the band will take the stage for the Madison Square Garden show. Indianapolis IN is next on August 27. Road Trip!



Did you see SLASH on the Jon Stewart show? Jeans, tshirt, bandana tied to his back pocket, top hat, sneakers. He's great just to look at. He and Jon had a short interview on the tour, the album, and some funny stuff. Stewart implied SLASH was high, but we can tell you he was drug-free. SLASH looked tired and thinner, but no matter what, he still gives a great interview. The show repeats quite often. Try Friday at 7pm or Monday at 10am.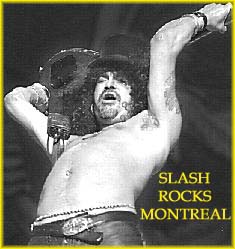 We got another interview from Philly. Greg says the Snakepit show was one of the best he has ever been to. SLASH went on at 8pm, and they rocked! He only knew the title for "Shine" and "Mr. Brownstone", When "Mr. Brownstone" was played, the place erupted. People were standing and singing along. SLASH wore a top hat, black pants, and a black shirt. The shirt only made it through two songs. The sound wasn't the best, but the boys rocked. SLASH wasn't heavily promoted so a lot of latecomers looked surprised to see him there. One kid asked, "why is this guy trying to be like SLASH?" Then someone turned around and said, "That is SLASH, you idiot"! Rod was good on Mr. Brownstone, but Axl's better. (Greg, get in the 'pit!) Rod mooned the audience. Greg wishes like many of us that SLASH would have played a song with AC/DC like "Whole Lotta Rosie". He can't wait for SLASH to come back and to buy the album. He wants to tell SLASH, "Hurry back here!!!!!" Thanks, Greg!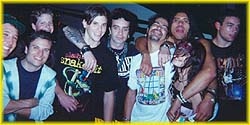 Here are the big New Jersey reviews. First up is Nielsen who mailed his in at 5 minutes past midnight. He and SLASH never sleep! He went to the show really just to meet SLASH, not caring about the other band members. And he didn't know anything about Snakepit. When they went into their first song, Nielsen was totally hooked. SLASH wore a black tshirt with a face on it, black jeans, purple converse shoes with black laces, and the top hat. They had awesome stage presence, and Rod was very energetic. They played "Mr. Brownstone", and the audience sang along. Nielsen says that he was standing on his chair with his lighter on! After the set, he spent his food money on a Snakepit tshirt. SLASH, we think you've made a convert! Thanks, Nielsen. Now get some rest.



Ingrid was also at the New Jersey show. Her three word review: SLASH kicked ass!!!!! Her only complaint is that there was a lot of distortion, so SLASH didn't sound as clear as he usually does. SLASH was great and so was the rest of the band. Ingrid is also going to MSG and hopes to meet SLASH there. Thanks, Ingrid.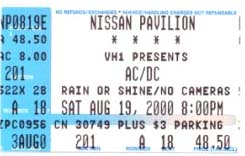 Our last review on the New Jersey show is from Gary. Gary says that SLASH wore all black while Rod wore really cool black/silver velvet pants, no shirt. He thinks the rest of the band may have been in black also. Snakepit put on about a 40 minute absolutely wild hard rock and roll show. Rod's voice was mixed too loud to even understand the words, but the band still sounds incredible. Matt Laug is very impressive. Johnny G was great live - he has so much style in his performance. SLASH shook the walls with loud, hard as hell, razor edged riffs. What makes SLASH the best is his style. No one makes it look as good as SLASH does! SLASH did killer solos. Rod Jackson is a brilliant showman. He's got great stage moves and crazy antics. Snakepit delivered a great set. If you've seen them this summer, you know what he means. If not, you have to get out there and see this heavy rock and roll wrecking crew. Gary can't wait for the album and the next tour and hopes it will be an all ages club! Thanks, Gary! What a great review!


Don't forget! Tomorrow night at 8 pm tune into www.thetourbus.com and hear SLASH live! They aren't really sure of the time he will be on, so settle down in front of your pc with a Jack and coke and wait for The Man.



Here are a couple of SLASH questions from fans:
Question from Brian: What is the most memorable moment of your career? What games do you like to play in Las Vegas?

SLASH replies: I like to have memorable moments every day. As for Vegas, I like play pinball and shoot pool. Once in a while I play the slots.



Question from Robb: Who now owns the rights to Uzi Suicide? If you still have something to do with it, would you ever release a Snakepit album on it? Have you ever thought of doing your own label?

SLASH replies: Uzi Suicide is a dead issue. It no longer exists. It never was a real record label. Before I found Koch, I thought of doing my own label, but it is a lot of work putting a management and distribution and publicity team yourself. Koch has great people in those positions already which allows me to concentrate more on music. Thanks, Brian, Robb and SLASH!

News Reported: 08/25/00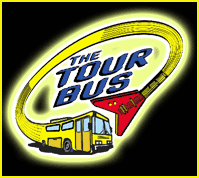 The big announcement tonight is that SLASH will do a live interview this Saturday, August 26 on The Tour Bus. The show is syndicated on WDHA, WRAT, WYBB, WFXH and WBVD. It is also on www.TheTourBus.com, so you can get a live audio feed right at your PC! The show begins at 8pm, but they aren't really sure when SLASH will arrive (we are familiar with that), so tune in for some good music till SLASH makes the scene! SLASH has been piling up the interviews while he is in the New York area including VH1, getmusic.com, and (sound broke up here) AP. We're not sure of that last one. If anyone hears more on when these will be aired, please let us know. Thanks.



The tour information is a little buried in the SLASH page, so we've put a direct link to it on the home page. At www.snakepit.org, go down to the next screen, at the right is a shortcut to the tour information. Speaking of the tour, tonight is the East Rutherford NJ show followed by the MSG/NYC show. A big one for Snakepit! Then they'll move on to the heartland of Indiana.

SLASH sighting: Dean tells us he was in Philly when his cabdriver got lost and had to stop for directions in the inner city. He looked out the window and there were two big guys on a stoop talking with a smaller guy with a beautiful girl on his lap. He said it was SLASH! You never know where you'll see him.



Marina and Lisa live in Italy, and they are huge SLASH fans. They wanted us to know about an Italian magazine called Hard that has some SLASH mentions. The article is about a future GNR reunion, a report of what Axl once said about the GNR splitup, information on SLASH and his new album and band. There was a picture of SLASH in that leopard hat with sunglasses and a red shirt playing acoustic. Italian fans should try to find this one.

Some SLASH Q&A's:


Question from Roberto Haddad of Brazil : Have you (SLASH's Snakepit) received any invitations to come to Rock in Rio III? Would you come if invited? And finally, would you come for a reunion of GNR?

SLASH replies: We have not been invited, but we would come if asked. Rock in Rio was one of the best gigs I ever played with Guns. I would come for a reunion of GNR if it were the original band.



Question from Ashish of Austin, Texas: I read an interview with you in the April edition of Guitar One magazine. In it you mentioned that Zakk Wylde had tried out for GNR but it just didn't work out. Are the two of you still good friends? Do you possibly see some sort of collaboration in the future with him? Both of you are awesome guitarists, and it would be a pleasure to hear you jam together. Thanks very much!

SLASH replies: We were good friends once. I haven't seen or talked to Zakk in a long time. I don't really see a collaboration because it would just be too much guitar. Both of us play strong lead guitar, and we could overwhelm anyone else in the band.
Thanks, SLASH, Roberto and Ashish!

News Reported: 08/24/00


SLASH says that the Pacific Rim tour will lead off with Australia followed by Japan. The rest has not been settled yet. About that tour after AC/DC, it may be just a few gigs. AC/DC is adding shows, and Snakepit will be part of that. SLASH mentioned Meadowlands in NJ or NY, but so far this is not listed by AC/DC, so we have to wait for additional information. The band needs rehearsal time for a full set on the Pacific Rim Tour and any gigs they do, so that has to be put in the schedule. Everything is fluid on that tour between AC/DC and Australia. Stay tuned. SLASH's voice is a little rusty, and he's tired, but he's having a great time. He says that if the show is good; that's all he needs! Get out there and support Snakepit!

Tonight's an off night for Snakepit. Tomorrow evening they'll be in East Rutherford NJ. That's 8/24. Without a break, they go for the big show at Madison Square Garden in New York City on 8/25. This is SLASH's second time to play MSG. It's the ultimate East Coast gig. Keep those reviews coming! Today we heard from Snakepit's drummer, Matt Laug, and the band does read what you say!


The big news tonight is that SLASH will appear on The Jon Stewart Show at 11pm Eastern/Pacific. Great! We've heard rumors of a goatee that we need to check out. And we want to see what Stewart will ask. SLASH and Jon have been friends for years. SLASH says he's not on too long as there are a lot of guests. Check it out! If you miss it tonight, the show airs again on 8/24 at 7pm and 11pm and probably many other times. The channel is Comedy Central. Thanks, Tiffany, for letting us know.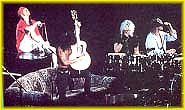 Previously, we mentioned SLASH as a choice on "Who Wants to be a Millionaire". Kathleen wrote and said the game is on the net. The SLASH question there is: Who was the lead guitarist for Guns N'Roses?! Thanks, Kathleen.

A couple of football teams are using GNR songs during their games. Chris wrote that "Welcome to the Jungle" is the theme of the Jim Rome Show, a nationally syndicated sports talk radio show based in Los Angeles. The show is referred to as "the jungle". Rome said that the show was using the song without permission, and they had to pay to continue using the song after they were sued. Hey, welcome to the jungle, Jim!



Let's catch up on a couple more SLASH/fan questions:
Question from Michael Alkire in Portland, Oregon: SLASH, for a guitar player who has been influenced greatly by your playing style, what tips do you have on getting better at the guitar? How much time do you spend a day writing? How long did it take you to feel like you were good? How do you play so fast? What one thing helped you the most in becoming a better guitar player?

SLASH replies: I work all the time at the guitar. I play a lot not just when I am out working onstage or in the studio, but I also play a lot at home. I always have a guitar nearby. Sometimes I play while I am watching tv. I go out and jam with a band whenever I can. I'm always working, always writing music. I play while I'm writing. I play when I'm not. You get better and faster.

Thanks, Michael and SLASH!



Question from Nathan: Hello, SLASH! When touring with GNR on the big Illusions tour, was there any one gig that really stood out in your mind as being "the ultimate gig" where all the band members were feeding off each other especially well? Also, what part of the tour did you favor the most? I know you probably dug them all but there was the 1993 leg where you toured arenas and had the acoustic set and also in 1992 with Metallica and stadiums, then there was 1991 with openers Skid Row. Thanks, SLASH.

SLASH replies: I couldn't pick out the best gig. Rock in Rio and Madison Square Garden (for the first time) were among the best gigs we did. The audiences were amazing! And the band feeds off the audience reactions. The shows where we did the acoustic set were my least favorite ones. They slowed down the show so much and were too choreographed with the sofa and pizza. I like the show to just build and build, not to slow down for long periods of time.

Thanks, SLASH and Nathan!

News Reported: 08/23/00


More news on the Pacific Rim Tour. The band leaves November 8. They will play Japan, Singapore, Korea, New Zealand and Australia. The tour will be 3 weeks long. So all the fans in that part of the globe...GET READY CAUSE HERE THEY COME!

The AC/DC tour ends for SLASH's Snakepit on September 20. They leave for the Far East on November 8. They have a couple weeks between these arrivals and departures, but they won't be coming home to check the roses. They are coming out again! This time it will be for a theater tour in the United States. One date that is a strong possibility is Nashville. They played at a theater there during the pre-album tour. Lots of rock-hungry fans in the capitol of Country. As more information comes along, we'll have it here and on the World Tour section (under Snakepit 1999-2000 in Main Menu). Rock on, guys!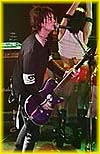 This great, good looking guy is Keri Kelli, newest addition to Snakepit. Keri replaces his buddy Ryan Roxie. SLASH asked Keri to jam with him when Snakepit was in need of a guitar player. Ryan Roxie formerly held that slot but has decided to continue with his many other band interests. What SLASH has always wanted was a permanent band where the members thought o the 'pit as their home band. In talking to Keri, we found that he was feeling all that and more about the Snakepit band. So, Keri and SLASH are the permanent guitar players in Snakepit. For those of you wheard Kei on the AC/DC tour, you know he's great at fitting right in with SLASH and the rest of the band. Prior to this, Keri's home band was Warrant, a well known and respected rock band. He played with Ratt on tour and was in Dad's Porno Mag as a side project. We've got more details on Keri, and we'll pass them on in the future. He's a really nice guy, energetic and a lot of fun. He talked about a party for AC/DC recently where the only ones left at 3 am were SLASH, his bodyguard, his girlfriend and Keri! Take care of that headache, Keri! Keri says he will take questions directly. If you have a welcome message for Keri or a question for him, here is his email address:

kerikelli@hotmail.com

Thanks, Keri, for the information. Remember this piece of SLASH advice and the fans will love you: Play it f*ckin' LOUD!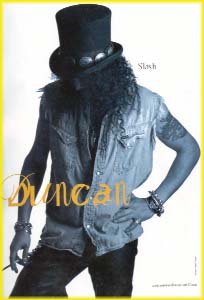 Speaking of that cool and terrific looking SLASH, check out the ad in the October issue of Guitar. We've compressed it here, but it is a full page picture. The ad is for Seymour Duncan, the company that makes SLASH's pickups. If you haven't seen one before, we've got a picture of one here for you to check out. SLASH uses Alnico II Pro Humbuckers.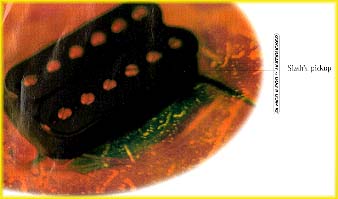 We've got more reviews for you. Tonight the band plays Wilkes Barre PA. Then they travel to East Rutherford NJ for the 8/24 show. Still time to get tickets! We have a report on the Philly concert from Ronnie who gave the boys an 8 out of 10 because he didn't know the songs. Hang on, Ronnie, the album is coming for sure. The set was 35 minutes long, but the band was awesome. Ronnie thinks Rod is a better singer than Eric Dover, but he thinks Rod imitates Axl's moves too much. (as long as he doesn't change clothes every 5 min., we are ok with Rod!). SLASH was all over the stage and pointed to Ronnie in his GNR shirt. Snakepit played "Mr. Brownstone" which was great, but he still likes Axl better. (Get in the 'pit, Ronnie!). Thanks, Ronnie!



Going back to Bristow VA, we've got a couple more reviews. Chris and his wife drove 5 hours to the show, not to see AC/DC but to see Chris's guitar-idol SLASH. It cost Chris $250 for two 10th row seats, so he had a lot invested in this show. And was it worth it? You bet! Chris says it was worth every minute, mile and dollar! The band led off with "Life's Sweetest Drug" which really rocks. The sound mix was good although SLASH could have been louder, but, as Chris says...who doesn't want to hear SLASH as loud as possible? They loved seeing SLASH live. After seeing Rod perform, Chris says he had one question...Axl WHO?? Chris rated Rod as up there with Steven Tyler in energy and stage presence with a voice almost every lead vocalist would envy. Chris said he used to wish for a GNR reunion, and now all he wants is to see the 'pit live again. SLASH played some great solos, and after the show, Chris FINALLY got to meet SLASH. He said SLASH was very cool but looked so tired. He took time to sign their tickets and take pictures with them. Surprisingly, SLASH and Chris were the same height at 5'9" (isn't it funny how we all think of him as extremely tall?) Rod and Johnny also posed for pictures and did autographs. Thanks, Chris, for that wonderful story!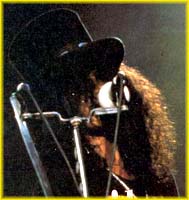 Deanna and Bob Piviroff sent a detailed and very interesting review on the Bristow VA show. Be sure to read the rest in the Reviews section in a day or two. These two are big fans and noticed everything. They said SLASH wore jeans, a black tshirt which he took off, and the famous top hat. They say SLASH looked great! He was thin, loose, wiry and relaxed. Rod mentioned that he was from Richmond VA. SLASH did some feedback by holding the guitar up to the speakers. There were a lot of classic SLASH moves...twirling in a cirle while stomping his foot, running from one end of the stage to the other. "Mr. Brownstone" was the only GNR song. They felt the Snakepit version was even better than the GNR version. SLASH went to the mic at the end and gave the album name and release date, but it was very difficult to hear him. The Piviroffs left immediately after Snakepit's set! They got to meet SLASH before the show. SLASH was friendly, laid back and quiet. He had a new goatee that makes him look older. They prefer the clean shaven SLASH best. SLASH said he was tired, but he signed autographs. They have met SLASH many times over the years, and he did recognize them. Thanks for that review!



Finally, we have one from Ian on the Boston show. He thinks that all the reviews so far understate SLASH. He says SLASH is phenomenal, and the whole band rules! SLASH has been an inspiration to Ian who also has a band. People that see him say he has SLASH style. He says his band is doing unbelievably well, and he says thank you to SLASH. He'd really like to open for SLASH's club shows. His review summary: Snakepit came out. I was in awe. Thanks, Ian. Coming from a fellow musician, those compliments mean a lot.

News Reported: 08/22/00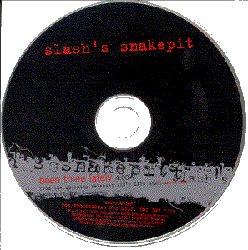 Olivia, Naughtycop34, Rohith and Mike were all at the Bristow, VA show on 8/19. Mike said the show really rocked, and SLASH was at the top of his game. He especially liked "Been There Lately" and "Shine" and can't wait for the new album. "Mr. Brownstone" really got the audience's attention. The new band is great, but the sound wasn't. SLASH was hard to hear, and Mike wished he'd done more soloing. The show kicked ass! Rohith said the show was unbelievable. People who only came for AC/DC were pleasantly surprised by Snakepit's performance. When Matt Laug pounded out the opening beat to "Mr. Brownstone", everyone went crazy. Rod Jackson was suberb, versatile too. Snakepit only played about 30 min., and Rohith didn't get a chance to see SLASH after the show. Naughtycop34 said he didn't know what to expect although he knew SLASH was awesome. Since he hadn't heard anything recently, he was skeptical. But when SLASH's Snakepit took the stage, they rocked the house! He didn't think anyone was really expecting that! Naughtycop34 is looking forward to the new album! Olivia said the sound wasn't good, but she went to hear the new music and came away hungry for that new album. She really liked "Mean Bone". Rod is a much better vocalist than Eric Dover was. SLASH looked hot in blue jeans, sneakers and top hat. Olivia was able to see that new cat tat. Rod was in brown velvet, very tight pants with shoes. Olivia pronounced him..."extremely hot looking". Keri, Johnny and Matt were superb. She thought that Keri really moves around the stage a lot and does an excellent job with backup vocals. Crowd response: a lot of people thought it would be a GNR cover band and complained till "Mr. Brownstone" was played. Overall, the crowd was polite, and Snakepit got a lot of applause. Thanks to all of you for your reviews.

We've gotten one review of the Philly show last night. Jro2003 says that SLASH rocked! It was a great show, and the rest of the band was really good, too. Once again, "Mr. Brownstone" was a highlight, and he liked "Shine" really well, too. Jro2003 says he didn't have great seats and couldn't understand the song titles or lyrics really well, but Snakepit put on a great show! Thanks!

Tomorrow night, 8/22, the band is in Wilkes Barre, PA. And after that we go to some huge shows, NJ on 8/24 and then the ultimate, Madison Square Garden on 8/24! We have some huge SLASH's Snakepit fans going to these shows. Snakepit will blow them out the doors! Whole audience sitting outside on the sidewalk! Rock and roll, guys!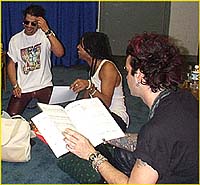 Here's some great fan information. SLASH has set up a way to receive and answer your fan mail while he's on tour. We have a new address for you to use. Please check over the "Write To SLASH" hints. These are found under the Write to Fan button on the Main Menu (www.snakepit.org, scroll down to Main Menu). We won't repeat those here, but in order to have this be a non-frustrating experience, check out the tips before you mail your entire band to SLASH! Here's that address for those who are experienced SLASH writers:



SLASH
c/o Susan Blond, Inc.
14542 Ventura Blvd., Suite 210
Sherman Oaks, CA 91403





We just got word that the Japan tour will begin November 8. As soon as we get the cities/venues/dates information, we'll post it here. The AC/DC tour ends 9/20, so the guys get a couple weeks off before Japan.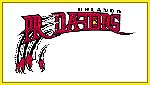 Teresa wrote to tell us that the Orlando Predators football team also uses "Welcome to the Jungle" as their song. And all fans wear black to the games!



One small SLASH mention! Brian reports that SLASH was a possible answer on "Who Wants To Be A Millionaire" last night.
Q.: Which one of these does not play lead guitar?
Answer selection: Eddie Von Halen, SLASH, The Edge or Gene Simmons.
The contestant took The Edge. Whoa! Bad answer. Everyone knows the great Kiss-er plays bass. You never know where SLASH will pop up.



News Reported: 08/21/00


The Boston show was great! Today we spoke to SLASH as he was getting ready to leave for Bristow VA which is tonight followed by Philly on 8/20. Lots of traveling. SLASH said that the Japanese tour will follow this tour with AC/DC (ends 9/20 in the States). The Japanese tour will be shows and promotional interviews. Tokyo and Osaka will most likely get shows. More will no doubt be scheduled! Get ready, Japan, you're next!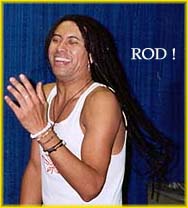 Getting back to Boston, Glitter from Argentina came a long way to see Snakepit! Glitter is a big fan of Ryan Roxie and would really have liked to seen him up there onstage. She met Matt Laug who she thought was just really a great guy and drummer. Rod has a great voice and is a great frontman. The show was awesome and also the songs. Glitter can't wait to have the new album. Johnny G is one of her favorites, and she was so glad to meet him again. Glitter says she met "the GOD OF THE GUITARS", SLASH! She pronounced SLASH as very cool in Johnny's BLACKOUT tshirt. She's been a fan for 9 years and is finally meeting SLASH. Two things were missing from the show, she felt...Ryan and some songs from It's Five O'Clock Somewhere.

Clint sent a note in on the Pittsburgh show saying the audience didn't give the band the attention they deserved. Clint thought the band rocked! Most people were there to see AC/DC and were restless waiting for them to come on. That's often the case with the opening band. Clint thought it was an awesome show and hopes to see SLASH again.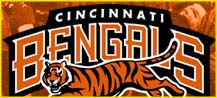 Yesterday we mentioned that the Kansas City Chiefs were using "Sweet Child O' Mine". We also got word from BMS5065 that in Cincinnati they have been using "Welcome to the Jungle" as the opening song before the kickoff of each Bengals game since 1988. They also refer to the stadium as The Jungle. Thanks!



Simrin from the UK tells us that this month's issue of Total Guitar, the best selling guitar magazine in Europe, has an article on SLASH inside the front cover. The article mentions Ain't Life Grand, the current tour and SLASH's appearance on Rod Stewart's forthcoming album. Simrin says the editor seemed excited about an album that has a close relationship to GNR. They have high expectations of the new album. Look for the cover with Page and the Black Crowes.



Another Slash/fan Q&A:
Question from Josh of Alberta, CA: I noticed back in GNR when you did a solo you would hit an open string every now and then for a split second that makes a really cool sound you have to really listen for. I have never seen any other guitar player do this, and I was wondering how you came up with it and why you do it.

SLASH's Reply: I don't really recall this. It might have been something spontaneous I used because it sounded cool. Or it just might have been a mistake here and there. Thanks Josh and SLASH!

News Reported: 08/19/00




Tomorrow night is the Bristow VA show for Snakepit! That's 8/19, and the 8/20 show is in Philly. Still time to get tickets, dress up like a snake and be at the show.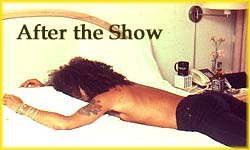 XMCDoobiesx reported on the Boston show. He says it was the best f*ckin' show he's ever been to! SLASH rocked the place. Snakepit was about half an hour late, but they played for 40 minutes. It was phenomenal! The sound wasn't as good as it could be, but just seeing SLASH in person is awesome. He had balcony seats but moved up front to be closer. SLASH was 5 feet from him!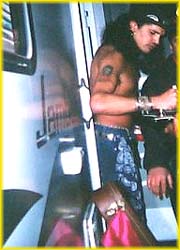 Maria did something different at the Atlanta show. Instead of going to the show, she was dedicated to meeting SLASH and getting an autograph. She spent 2 hours wandering around and decided to sit down and wait for the buses and trailers to show up. Just as she was giving up, she saw the SLASH bus which went to the Ritz Carlton hotel (pretty snazzy, SLASH!). The whole band got off the bus, and a couple of people went right over so she joined them. Maria got an autograph on her jeans to match the one SLASH signed in 95. After three shows, Maria finally caught up to SLASH and got her autograph. It seems if you're willing to put a lot of time into it, you can find him and say hello! Thanks, Maria!



Back to some regular SLASH items: Kathleen sent us a note that the Kansas City Chiefs have adopted "Sweet Child O'Mine" as the song played when they come out on the football field. Go, Chiefs!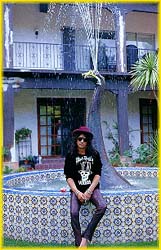 Risa had this information from the LA Times. SLASH has sold his beautiful house for almost $4 million to Billy Bob Thorton and Angelina Jolie. SLASH sold the house before he went on tour as it would be vacant for a couple years till he gets back. The strange thing was that the Times referred to SLASH as a 35 year old British rock star. Hello? We don't recall giving him away!


Another SLASH/fan Q&A:
Question from Alex Silady of Australia: I read in an interview awhile back that SLASH put down solos for a couple of Axl's new songs before he left the band. Is this true?

SLASH replies: No, that isn't true. There were some rehearsals of new material that I was there for, but I didn't contribute any solos.
Thanks, Alex and SLASH!

News Reported: 08/18/00




Tonight Snakepit appears in Atlanta GA. Next show is 8/19/00 at Bristow VA. We hope to hear from some of you who went!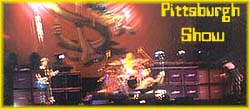 We have a review from the Quebec City show. Mario went not knowing anything about Snakepit's music. He was pleasantly surprised, but he did say that the sound quality was bad. Mario felt the time given to Snakepit wasn't enough to show their real potential. He praised SLASH for his energy and said that a whole show is needed to show the Quebecan public that SLASH is not only the former lead guitarist for GNR. Thanks, Mario! Welcome to SLASH's Snakepit!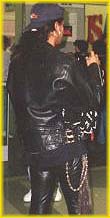 You don't always have to be at the venue to see SLASH! Denis tells us that a friend was working at a coffeehouse in Ottawa when AC/DC walked in. He got to serve them and was given a $20 tip. Denis's friend got 5 feet from SLASH but didn't get to say hello. SLASH was playing his old Gibson Les Paul at the table. Denis is hoping they will come again on their next tour. Keep your eyes open if they are in your town! Thanks, Denis!

Let's take another SLASH fan question!



Question from Christina: Have you ever considered a girl in your band whether as a vocalist or on an instrument? If you didn't have the Snakepit band now, and you met a girl who played great, would you have her in your band?
SLASH replies: No, I wouldn't. I've been in bands with female artists, and there can be so many problems. The band should bond as a unit; but inevitably someone in the band starts going out with the girl, and someone else is jealous. The band starts to split apart. Examples are Fleetwood Mac and No Doubt. It makes everything more cohesive if the band is all guys.
Thanks, Christina and SLASH!

News Reported: 08/17/00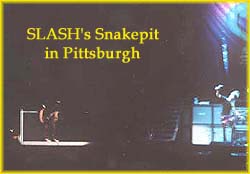 Tomorrow night, 8/17, it's back to the US for Snakepit. They are playing Atlanta GA. When you read the following reviews, well, you gotta be there! Don't forget reviews, Atlanta! If anyone can send scans of their pictures (on or offstage), their tickets, flyers, anything, let us know. If you don't have a scanner, we can scan for you and return your items safely to you! For pictures, please include the show you went to and your name or userid if you want it to appear. Anonymous is cool! We have so many people asking for photos of the band and SLASH!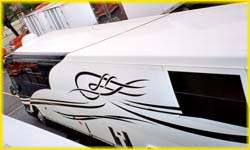 Two of our Canadian friends, Dina and Sylvia know what this picture is! It's the Snakepit tour bus. These two fans got to go into the bus and talk to Adam Day, SLASH's guitar tech, and a couple of other guys in the Snakepit group. Adam Day is one of the nicest guys you can meet. Larry, the tour manager, saw the girls and let them have some time checking out Snakepit's home away from home. Dina and Sylvia and two friends were wearing snakeskin print pants and Snakepit tanktops they made using the cover of the old album! And they had a special SLASH cheer. They got backstage passes! And they did get to meet SLASH and talk to him and the other guys! This was, as they said, "...a dream come true". Amazing how one man and one band can spread so much happiness. For more on Dina's and Sylvia's day, check the Reviews section. It's under Snakepit 1999-2000 on the Main Menu.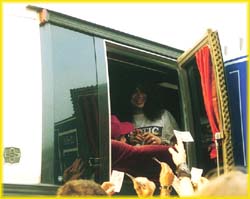 Moving on to Montreal, Karolyne also went with other fans. They met Keri Kelli right away. They bought tshirts, but said the venue wasn't full till AC/DC took the stage. Still, a lot of Snakepit shirts were seen in the audience. Karolyne said Rod was great and wore blue velvet pants. SLASH was in his leather pants and top hat. It was hard to hear him over guitars and drums. She liked the show although she couldn't catch all the lyrics and didn't know song titles. They waited for SLASH to come out, but the bus pulled right out. The venue manager then called the cops to get them to leave! Are these dedicated fans or what? They were all let down not to get to see SLASH but hope he will be back there on a club tour. Thanks, Karolyne!

Alan sent us a note on the Montreal show, too. He says SLASH's guitar sounded great! SLASH came out with his top hat and no shirt. Cool, SLASH! The songs were great, and "Mr. Brownstone" was pretty cool. Alan says he can hardly wait for the new album, and he thinks Snakepit was the perfect band to open for AC/DC. Too bad Snakepit only played a half hour. And AC/DC rocked! Thanks, Alan.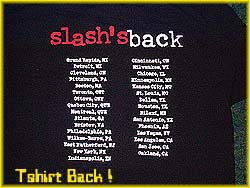 Marc was also at Montreal and says it was the greatest night of his life! SLASH switched between his Les Paul and the Snakepit signature guitar. Rod was in top form, singing his heart out, and loving every minute of it. Rod used the stage well moving from one end to another. Matt, Johnny G and Keri were at their best, too. You could feel the energy from the whole band. Marc's one complaint is that you could not hear SLASH very well but other than that, the show was excellent. Thanks, Marc!

Montreal was Rat's second show, and he was with Karolyne's group. He says the show was awesome. People went crazy for "Mr. Brownstone". Even the beer selling guys were dancing in the aisles and playing air guitar! Rod is just great connecting with the crowd. SLASH moved around the stage a lot; it was extremely rock and roll! After the show, they ran into SLASH, his girlfriend and his bodyguard. Rat yelled at them and took their pictures. The parking employees would not let them near the bus, and they had to watch it pull out. Rat says SLASH had 2 awesome shows that he'll never forget. The crowd seemed to like SLASH a lot and bought tshirts, too! Thanks, Rat!

News Reported: 08/16/00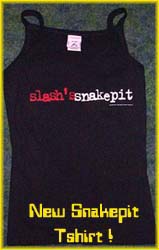 Yasser was at the Toronto show, and the best thing was that after years of waiting, he met SLASH, shook his hand three times and got a picture of the two of them. He got to meet the band who he said were f*ckin' friendly! After the show he met SLASH and Angus Young! Both shows rocked. He also talked to Rod and Johnny G. (who was instrumental in getting SLASH to sign autographs. Thanks, Johnny!). Keri Kelli was really nice and talked awhile, too. Yasser was wearing his top hat and Snakepit tshirt, and the band was joking that SLASH's brother was there. Yasser sounds like he had a great time! At the end of the evening Yasser met Matt Laug who talked to him for about 10 minutes. (Matt is super easy to talk to). Angus Young came out and did autographs. Yasser said SLASH is playing better than ever and can't wait for the new album. This was pretty cool: Yasser says, "I finally got to see my idol play in front of me, and it was something I have waited for all my life." The band played "It's So Easy" at the second Toronto show, and Yasser feels that Axl is not even being missed because Rod can sing. He's hoping the band will turn up at a club show soon as he wants to get his guitar signed. We do, too! Yasser's feelings echo ours..."truly the greatest day of my life". Thanks, Yasser and SLASH and Rod, Matt, Keri, and Johnny G. You're the best!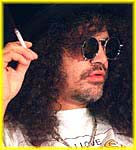 Nicolas Duval-Mace was at the Quebec City show. He says SLASH looks the same as in GNR days except for the recent addition of a short beard. Onstage he wore his hair down, no top hat (!!), black leather pants and a green shirt which he soon discarded. Nicolas says the gig was great! It was his the new Snakepit. SLASH was running around the stage playing great riffs. Rod's voice was great! Nicolas wished that SLASH would talk more. The high point was "Mr. Brownstone"; the audience went crazy! The Snakepit banner looked super onstage...it's huge and looks like the 95 album cover without that album title on it. Nicolas thanks SLASH for a great performance! Thanks to you, too, Nicolas, for telling us about the show.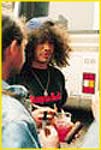 Rat went to both the Montreal and Quebec City shows. He'll send us more details on the gigs, but this note is about meeting SLASH. At the tour bus Rat met up with other fans. He had met the band (minus SLASH) earlier. SLASH was in the tour bus; and when he came out, he signed autographs. Rat was also able to get a few pics snapped off which he promises to share. He was even able to get a SLASH stage-used pick when the stage was cleaned after the show. SLASH left early and did not sign autographs. This may have had something to do with his beautiful girlfriend who was visiting! First things first, guys! Thanks, Rat!

Tonight is the Montreal show. Then we finally retrieve SLASH from Canada. The next show is in Atlanta GA on 8/17 at the Phillips Arena. With all these great reviews, don't you want to get out and hear Snakepit and meet the band? Tell SLASH & Co. we said hi.

News Reported: 08/15/00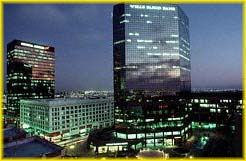 If you're from San Diego, CA, Wake Up, Time To Play! San Diego's been added to the Snakepit/AC/DC tour schedule. The date is 9/17/00 at 7:30 pm. The venue is San Diego Sports Arena. Tickets $20-$45, so the price is right. Tickets are on sale right now. If you buy online, the current best seats available are VIP tickets down front! Go!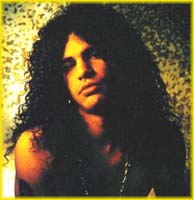 Tonight's the Quebec City show, and tomorrow it's Montreal. We hope you Canadian fans will get with it and send in some reviews for the band, SLASH and fans to check out. Use the address near the top of this page. We have two interview reports to pass along now. Susan from West Palm Beach was listening to WPBZ 103.1 on Wednesday, August 9, and guess who the phone-in guest was? SLASH! You get SLASH coming out of your radio, you're lucky to make it to your next appointment on time! (Personally we come to a sudden and full stop wherever we are.) The dj asked SLASH if he had a trailer just for hair products since he has such killer hair! SLASH laughed and said no. The dj then asked SLASH if he had been asked to endorse hair care products, and he asked SLASH to do a slogan for them pretending to be a Revlon spokesman. SLASH laughed but didn't do it. He did say that people were always asking him to endorse the craziest things. He couldn't believe it sometimes! Great story, Susan! Too funny!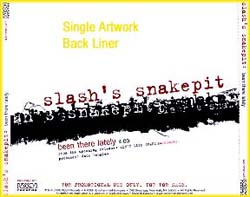 One of our best buddies is Elena in Canada. Elena got to attend the Toronto press conference with her editor. Elena says by the time that SLASH and the ENTIRE band walked in, she was shaking. Her editor had NO questions of her own, so she let this major SLASH fan ask questions. Elena then asked the first question, the last question, and nearly every other question as no one there knew what she did about SLASH and his band. Is this a dream come true or what? If you think Elena had competition, here was a question from a magazine staffer to SLASH, "If you were a pizza, what kind would you be?" SLASH passed on that one. No un-cool questions, please! Questions from MuchMusic and other places were dropping like flies as the band and SLASH seemed puzzled by the weirdness of what they were hearing. Elena saved SLASH and the band with a barrage of interesting, knowledgeable questions! Elena asked about the band line-up and how permanent it is. SLASH replied it was a permanent band. He was asked about the SLASH in SLASH's Snakepit, and he gave the explanation of a girl band that was using Snakepit first. SLASH says the statute of limitations runs out soon, and the band will be Snakepit. Elena asked whose album he would like to guest on, and SLASH replied, "Stevie Wonder". She asked him if he had nightmares about Axl, and he said (as the whole band laughed), "Yes, I have this recurring dream. Axl is late for a show, and we play AC/DC songs". She asked the band why they were in this band, and they replied that it was because of Blues Ball that some of them got involved with SLASH and liked working with him.

Elena also said that SLASH mentioned this fan site! And then she got to meet the band and talk to them. And SLASH of course. And she got to give him a giant hug and get her picture taken with him. Thanks, Elena for that cool story!

News Reported: 08/14/00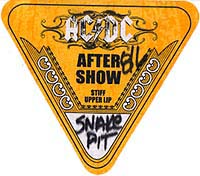 We took last night off to rest our fingers, but SLASH's Snakepit rested NOTHING! Last night was the Ottawa show. We spoke to SLASH afterward. He sounded tired, his voice was raspy but he is so happy to be onstage with his band entertaining his fans. Keep sending those reviews! They really are getting through to SLASH. You want him back for a club tour? How about letting us know! SLASH, Pittsburgh wants you back for as long as you can stay! By the way, the two pictures you see here are from going backstage to see SLASH. Thanks again, SLASH! You're the best. The whole band was so friendly! SLASH's manager, tour manager, guitar tech and even his (scary) bodyguard were wonderful. Hi, guys! You're all the best! Tonight is an off night for the band. Tomorrow is a big show in Quebec. We've heard from several people on their plans to see Snakepit and trying to see the guys after the show! Should be a good SLASH's Snakepit crowd out for this one! Send those reviews! And if anyone takes pictures during or after the show...we'd like to set up a photo scrapbook on the page for all your pictures. Scan them in...as many as you want and send them along. We want proof that you met SLASH! We want to see the stage you saw. We'll start it off with a few we took in the next few days. Send them to webmaster@snakepit.org. Thanks!

Now that they know they're loved, let's check out these reviews. We had one from Toronto and one for Ottawa. Wake up, Ottawa! We need a few more from you! Go back to Toronto for a minute. Tom let us know that SLASH was on the Toronto TV station Much Music for a brief appearance the afternoon of the show. The first thing SLASH did was light up a cigarette. SLASH says he is having a good time on the tour (you already guessed that, didn't you?) and a very good time doing what he is doing with Snakepit. The inevitable question about a GNR reunion was asked, and SLASH replied that there would never be a Guns reunion. SLASH said the downfall of Guns is one of the few regrets of his life, but he is very happy with Snakepit. The Paradise City video was played then because they didn't have a Snakepit video yet. (But one is coming next month!)

Death's Servant was at the Toronto show. Summary: the show KICKED ASS! The band was energetic even though half the seats were empty. He's hoping to see SLASH on the next tour at clubs. He said all he did see was worth the cash, even if the money Snakepit deserves went to AC/DC. Thanks!



On to Ottawa, Canada. ASH sent a review of last night's show. He said that in two words IT ROCKED! The sound was good, not great, but neither was AC/DC's. The light show was impressive, and the crowd was fairly supportive. SLASH played two guitars, his signature Snakepit and one of his Les Paul standards. The only complaint from ASH was SLASH's Snakepit did not get enough stage time. He also hopes to see SLASH on that club tour real soon. We want to see Snakepit longer and louder! Thanks, Ash!


Another SLASH site on the net! Max found SLASH's new website on Koch Records' German homepage. And he also found SLASH's Snakepit's site. We saw one of these (Snakepit) but the site is either hard to reach or not up all the time as we have been unsuccessful accessing it most of the time. Maybe it is under construction. Here is the Koch url. This is their German homepage:
http://www.kochrecords.de/kochrecords/kochrecords.html
and here is the Snakepit site
http://www.slash-snakepit.com
Max says the Snakepit page is very cool with some Snakepit music. The news section there says the album is due out in Germany on October 9. US releases are Tuesday; European on Monday. US gets it October 10.

We'll finish up with another fan/SLASH question/answer.



Question 8 from Antony Symonds: I am in a rock band that's been going for a year and a half. Currently, we are having an argument about how important vocals are in a song. Do you think vocals are important or should vocals be secondary to the guitar? I always try to put really good lyrics over the top of it to add extra dimensions. The other guitarist disagrees. He writes his songs but puts hardly any lyrics over the song which is consequently very flat.

SLASH replies: Each guitarist has to do what works for himself as an individual. I write mostly music. Othertimes, I put in lyrics. It's a very individual and individual song process.

News Reported: 08/13/00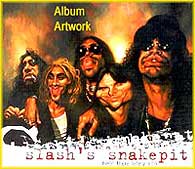 We've got three fan reviews on last night's show in Toronto. Thanks! As you know, the first single off Ain't Life Grand is going to be "Been There Lately". The promo single is just coming out and should be ready very soon for the radio stations. At left is the artwork from the single. It was drawn by the Rolling Stone artist whose work you have no doubt seen there. This picture appears on the tshirts. The tour dates are on the back. It says SLASH's Back! at the top. We'll put up more in the days to come.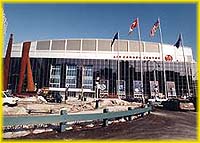 Our friend Yurich was at Toronto, and he loved it. Seeing his idol, SLASH, for the first time was almost too exciting. SLASH wore brown leather pants, a white tshirt and his top hat. Yurich was surprised at how tall Rod is. Keri is using GMP guitars. Everyone played proficiently, and they played for 30 min. He said that half or more of the audience knew the lyrics to "Mr. Brownstone", and Yurich liked the way Rod sang it live better than Axl. He just couldn't keep still and was happy to get up when everyone stood for Brownstone. His one criticism is the one we have all made: SLASH is mixed too soft. It's my understanding that this is based on the mix that AC/DC wants for themselves, so it may never be right for us. AC/DC was outstanding. Thanks, Yurich!

Brandon was also at the show; and when he got in the door at home, he sent us his thoughts on the evening. He said SLASH kicked serious ass! Brandon has always been a big GNR fan and says it's natural to continue supporting SLASH in Snakepit. The band did really well, and Brandon hopes they will be around again. Next time he wants them to be the "BIG" band so SLASH can play longer and do encores....because you can never get enough of SLASH. Amen to that!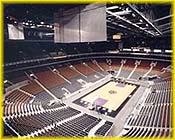 You've got to go to the Reviews section (click Snakepit 1999-2000 on the Main Menu, scroll down and click Reviews) and read Matt Ross's whole review. You feel like you are right there, and he caught a lot of details. Matt saw SLASH as they came in from backstage. He had on red high tops and what seemed to be an XXL tshirt. SLASH played his Les Paul Standard and his custom Snakepit Les Paul. Matt's drums and the guitars filled the arena. The first song, "Sweetest Drug" (?) absolutely ruled! You could see how happy SLASH was to be back onstage. He ran back and forth, wailing away, staying in perfect sync with the band. Rod made some jokes and decided to go topless. The audience was going ballistic. When SLASH changed guitars, he started flipping/spinning the guitar with one hand! Go, SLASH! When "Mr. Brownstone" was played, the audience hit the roof. SLASH sounded exactly like the old GNR days, and Rod did an incredibly accurate impression of Axl. SLASH did a blazing solo, and the guys finished off with one more song. Matt says it was a fantastic opening - one of the coolest 40 minutes in his life. Thank you, Matt! And thank you for the two pictures of the Air Canada Center seen above.

News Reported: 08/11/00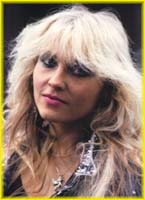 Today we have some new information on a SLASH guest appearance and two more show reviews! The metalqueen at left is Doro Pesch, and SLASH is making a guest appearance on her forthcoming album Calling The Wild. The album will be released September 12 by Koch Records (get that connection?), and it is available for pre-orders right now on the net CD stores. Dreamer sent us a note that Doro was interviewed on the net a few days ago. The interview is at Metal Meltdown. Doro talks about the artist appearances on her album including SLASH, Al Pitrelli and Eric Singer. While you are waiting for Ain't Life Grand, you can check out Doro and SLASH!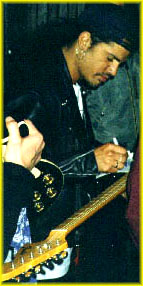 We got a review from Maria Vayner from Georgia on the Pittsburgh show. Maria wasn't pleased with her evening. She said her tickets were too expensive and not very good. The expense was for seeing AC/DC, and she really only came to see SLASH. Maria said everything SLASH did was great, but she wasn't as happy with Rod. When SLASH left the stage, she went outside and waited in the rain 4 hours for SLASH to come out, and he never did. (SLASH had fans come into the trailer to sign autographs later as it poured in Pittsburgh all night). Maria said she had a better experience 5 years ago with Snakpit 95. Don't forget! This is an arena tour, and it's hard to get next to the guys at a large venue. We don't think AC/DC ever signs autographs anywhere. Soon there will be a club tour, and it should be easier to talk to SLASH.

A Boston review comes from Jeff who says "it kicked ass"! Jeff was so close he could have touched SLASH (this is an excellent seat!), and he says it is the best show he has ever seen even if it was only 30 min. long. A highpoint was "Mr. Brownstone". Jeff was asking about tshirts. There are no tshirts for sale here right now, but the venues are all selling 2 versions: one with a distorted band picture, dates on back and the other a small woman's, tank-type top. Each is $32. We bought one of each and will try to get them out on the page asap. Snakepit was only allotted space for two items at the merchandise stands. C'mon, Angus, we need more space! Thanks, Jeff and Maria!



Let's take another SLASH question today! The guys are playing Toronto this evening with tomorrow off as they move to Ottawa for the show on the 12th. Keep those reviews coming!

Question: Rumor has it that Suns is re-uniting with the original lineup that was on the Appetite for Destruction album. Is this true? And if so, are we going to have official reports of this, a new album, and all of you back on stage together again?

SLASH replies: Guns N'Roses has ended. The rumors you hear about the band getting back together are just rumors. There is no official truth to a new GNR album being made. While some of us are willing to get back together for a show or short tour, not all of us are. So it won't happen without all of us. Even a show does not look very likely right now.

News Reported: 08/10/00


Wendy found a SLASH mention in the August 31 issue of Rolling Stone. It's an article on the AC/DC tour, and it says this about SLASH's Snakepit:

"Helping AC/DC to heap on the heaviness will be SLASH and his band, SLASH's Snakepit, who will open each show. 'I'm really f*cking just happy to be on the same stage with those guys,' says SLASH. 'I've been listening to AC/DC since I was thirteen, and we used to cover 'Whole Lotta Rosie' in Guns N'Roses.' And what does Young think of SLASH? 'I've never met him before,' he says of the ex-Guns N'Roses guitarist. 'Is he a big fellow? I'm pretty little, so I'll have to wear my stilts.' "

Angus hadn't met SLASH either! Well, stop in his trailer and get acquainted. And you won't need stilts!


The Boston show was last night, and the band is off today moving to Toronto. They play the Air Canada Centre August 10! Get out there and give the band a Canadian welcome. And here are excerpts from the Boston reviews. The full text is on the Reviews section under Snakepit 1999-2000 (on Main Menu):

Dan said the show was good with Snakepit playing about 40 min. The band played the new songs from their album, and Dan liked "Shine" best. SLASH was on the radio there and lost his voice which he blamed on a lot of partying! AC/DC rocked for two hours and didn't stop. Thanks, Dan. That's a point to stress..this tour is about the new album. If they cover one GNR song, that may be it. SLASH was planning to do a show (not opening) with 3 GNR covers, 3 Snakepit 95 covers and the rest from the new album. Hopefully, we will see that show when he finishes opening for AC/DC.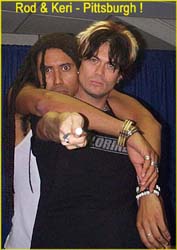 Chris sent a high voltage report! He had an excellent time meeting the guys as well as seeing the show. Snakepit played about 33 min. They rushed from song to song to get as many in as possible. Rod introduced everyone with SLASH getting a big cheer. The biggest responses were for "Mr. Brownstone" and "Mean Bone". Chris really liked "Mean Bone", "Shine" and "Been There Lately". Rod moves around the stage really well. The 'pit is a powerful band and you can hear the blues in some songs. Chris can't wait for the club tour. He got to meet SLASH and Rod and say hello to some of the other guys. He and Rod discussed the songs on the album which Rod seemed to enjoy. SLASH is #1 on Chris's list with Rod at #2! Thanks, Chris!

News Reported: 08/09/00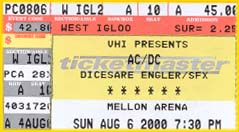 If you're going to one of this tour's shows, we wanted to let you in on how the SLASH meeting with fans went in Pittsburgh. This is probably similar to what you'll find. Snakepit plays about 40 minutes, and they go off backstage to unwind and cleanup a little. If there are people with passes (in Pittsburgh these were primarily label and media people), the guys come out and chat with them and generally horse around! Around 9:30 SLASH got ready to leave. He went to his bus. His security guy let one fan at a time in to see SLASH (some other band members were there, too). Each person had a chance to talk a little and get an autograph! To find the bus, look around the venue for all the trailers. The buses were inside that grouping in Pittsburgh. There were 3 buses, one for Snakepit and two for AC/DC. The two buses were big, silver, identical. SLASH's bus was very cool - cream colored with dark writing. Hope this helps you find the band. SLASH says he really likes seeing the people he entertained after his show, so don't hesitate to come over.



We have more reviews for you. Since we have quite a few, we'll just quote briefly and put the entire review in Reviews (under Snakepit 1999-2000 in the Main Menu). Thanks to everyone who has sent one in, and please keep sending them! Don't forget tonight's show is in Boston, MA at Fleet Center. Then the band heads for Canada for four shows beginning with Toronto on August 10.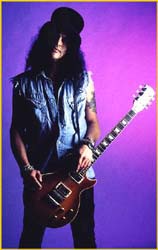 Keith sent in a review for the Detroit show. Keith said his family got great seats from the VH1 ticket sale and were right by the soundboard. Keith said Rod's voice was awesome, and SLASH was great! The guys came back to the soundboard to watch AC/DC, and Keith was able to attract their attention. They got waves and winks in return. His young son was at his very first concert, and Snakepit and AC/DC made another young fan. Bringing him up right, Keith!



Detroitrockcity0 sent a report from, where else? Cleveland! He said that SLASH was very good, but he was annoyed that SLASH was never in the spotlight. He played a really good set and had a lot of energy, but it took the "Mr. Brownstone" cover before everyone got up. He also wished that SLASH would say something. The only reason he came was to see SLASH, but SLASH was silent. All in all, it was an amazing show, and no one should miss it. NOTE: We asked Slash about the spotlight, and he said the lighting man never could seem to find him. He said he doesn't really like to talk onstage and doesn't if someone else will do it. Rod seems to be the spokesman. We asked SLASH to try to say a few words to the audience. We noticed in Pittsburgh that he said a few sentences! Come on, SLASH, we want a funny monologue!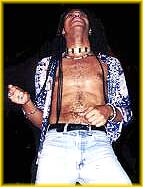 Brian Simer reviewed Cleveland. SLASH did a 2pm interview at 100.7 WMMS. Brian said that SLASH talked about his early influences, the new album, his artistic side, the new album and the show. "Shine" and "Been There Lately" were played on the radio. Snakepit began with the seats less than half full. SLASH wore his top hat, a black shirt, purple leather pants and converses. Rod Jackson seemed happy and energized. SLASH did some great solos on "Been There Lately" while Matt Laug's drumming was very impressive. Brian has a well thought out review of the different songs and band members. Be sure to check this out in the Reviews section.



Two more Pittsburgh interviews from Laura and Brandon Tolley. Laura said that seeing SLASH live was great. A lot different from seeing a picture! He really had 3 dimensions and can MOVE! She just loved seeing the SLASH trademark hair and hat, and Snakepit sounded great. The band was really together and sounded very professional. She didn't get a chance to meet them in person, but we think she will have the chance someday. Brandon says his favorite song is "Been There Lately" (ours, too). SLASH did some soloing, and there was an enormous crowd reaction to "Mr. Brownstone". It made Brandon wish for that GNR reunion we keep hearing about.

Thanks to all who took time to write and send in their comments. Much appreciated!

News Reported: 08/08/00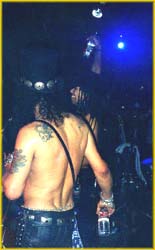 Last night Snakepit left by tour bus from Pittsburgh's Mellon Arena heading toward Fleet Center in Boston. Pittsburgh's weather was severe thunderstorms and hard rains till just about the time the fans were arriving. The weather cleared till the middle of the night when those thunderstorms started again. We think Pittsburgh was saying goodbye to SLASH and the boys! Don't forget! The Boston show is tomorrow night, Tuesday, August 8! Wish we could see them again!

We have reviews from the Detroit, Cleveland and Pittsburgh shows. We'll take excerpts for the reviews, and you will find the complete reviews in the Review section under Snakepit 1999-2000 on the Main Menu. Some things you've mentioned are very helpful. SLASH has tried to correct mixing and sound problems. This isn't always possible because Snakepit is not getting many soundchecks. AC/DC truly has a monster stage show that takes a very long time to set up, so Snakepit has to go on without a soundcheck. We told SLASH to play louder! He says he is, but their sound is at the mercy of the mixing desk. Patience! Our guy will be out on his own very soon.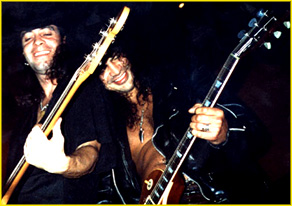 Our friend Dori talked about the Detroit show. Just seeing that huge SLASH's Snakepit tapestry hanging on stage was thrilling! Then, out they came...SLASH was into the black colors of his wardrobe and wearing his top hat. Dori says the show was great! The band boomed, and the audience roared! A direct quote, "SLASH was nothing but perfect"! We love to hear that! Dori thought the band worked well together, and everyone was right in step with each other...amazing since it was just the second show. Dori would love to see another show, but one in a more intimate setting where you can get up close to the band. She says she'd go to see this show again, too!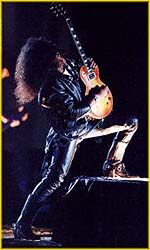 The third show was in Detroit MI, and Eric gave us a report on that one. Snakepit played 40 minutes as the opening band and did 6 or 7 songs from the new album. The fans were really supportive of them especially when they played "Mr. Brownstone". Eric said that "seeing SLASH live was just so awesome", and he only wished he could have met his favorite guitarist in person. SLASH was all over the stage, running and doing his famous "circledance". Rod Jacksons's vocals were a little raspy but good. He said AC/DC just about blew the house down. It sounds like both bands were right on it! Thanks, Eric.


Last night was the incredible Pittsburgh show. Dan was at the show and gave us a late night report! He says he was totally blown away. SLASH has some great riffs in his new songs and played terrific lead guitar. "Mr. Brownstone" was outstanding. Dan said he went to the show to see SLASH and felt he could have left with Snakepit, or they could have played all night. Dan has nothing but good things to say about the show and reminded the guys to visit the east more often.

Last night we were at the Pittsburgh show and were lucky enough to have a chance to meet Snakepit, its management, and that wonderful SLASH. First we saw the show which we watched standing because we cannot sit down if SLASH is onstage. Today we have black and blue hands from clapping so hard. The band is very tight, very professional. If there are mistakes, we don't hear them. SLASH whirled and ran across the stage using those moves that make you gasp. Matt Laug pounds those drums like there is no tomorrow and seems to smile the entire time. Johnny G looks like the old pro that he is. He and SLASH have played together a long time. Our new guitarist, Keri Kelli is so good...don't think of him ever as a second choice. Fantastic, and he and SLASH play really well together. He has a beautiful blue, sparkly guitar. We were told the make, but we've forgotten. And then, our man Rod. Well, if this isn't one of the handsomest vocalists we've seen, we don't know who is. Those dreads down to his waist, and the way he moves onstage... Well, Rod is going to win a lot of hearts up there. And he can sing! His voice seemed a little raspy, but when we talked to the guys, they all sounded a little raspy. Rod's vocals are just right for the kind of songs he's singing. What a smashing entertainer he is.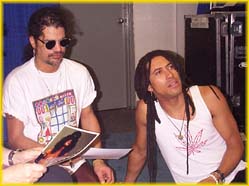 After the show we got to meet all these people, see them close up and talk to them. Everyone in the band is so friendly, and they all seemed to be having the time of their lives. We've never seen so many smiles in one little room. They all know about the SLASH page, and they know about you...all their fans who come here for information. They hope to see you all really soon. If you expect SLASH to be the big rock star type, he isn't. He is so much fun. He listens and looks at you when you talk. He answers and buzzes around the room making sure everyone gets a chance to say hello. When he needs a rest from visitors, he collapses with his band on the floor or on a couch. They really seem close to each other. SLASH is a darling; very considerate; and one of the nicest guys we've met. Anyone who's met him says this, but we wanted to add our thoughts. If you're backing this guy, you picked a winner!



Just to top things off, here is the sixth question SLASH answered for one of his fans:

Question from William Kim: What's up, SLASH? I was wondering what is your opinion abuot the whole Napster vs. Metallica situation. As an artist, do you feel that the public is stealing music from the artists or is music finally brought back to the people?

SLASH replies: Napster is what everyone is asking about. First, bootlegging shows is cool. With Napster, some controls are needed or the artist and the record label lose all control of the music. The technology is new and to an extent it is good. Artists and labels have to make sure that what happened with MTV doesn't happen again. When MTV started showing music videos, artists and labels didn't really understand what would happen in the future. There were no negotiations. As a result, the artists get nothing when their videos are shown. Radio has to pay for its use of the music, but MTV pays nothing. I think we have to be careful that this situation does not happen again.
Thanks, SLASH and William - a very timely questions and thoughtful answer.

News Reported: 08/07/00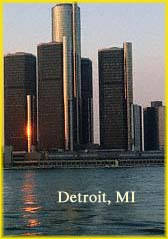 Last night, August 3, SLASH's Snakepit did their second show of this tour at the Palace in Detroit MI. We have a fan review for you on that, but first, don't forget that SLASH and the boys will play tonight in Cleveland OH at the Gund Arena in Cleveland OH. Sunday they will show up in Pittsburgh PA for a much anticipated show at the Mellon (Civic)Arena. It looks like Ticketmaster and the promoters are doing what they usually do with seats. As the time draws closer, and seats get really bad, they will suddenly throw a whole lot more seats into the pot. These are usually above average to great seats. So have a look at Ticketmaster before you buy from a scalper. It appears that right now nearly every venue has some seats available again.



Kevin sent us a review of the Detroit concert which will be reprinted in its entirety in the Reviews section (under SLASH's Snakepit 1999-2000). Overall, he thought Snakepit was very good! "Shine" is an excellent song, and Kevin thought it was the best of their limited set. "Mr. Brownstone" was the GNR cover at this show. Rod Jackson, lead vocalist, has stage movements that are a cross between David Lee Roth and Axl Rose (this we definitely want to see!). Kevin thought Rod's voice was consistent, strong and somewhat raspy. SLASH didn't have many solos which Kevin found disappointing. Hey, we are here for SLASH! The mixing left something to be desired when the drums were louder than SLASH! SLASH, play it f*ckin' LOUD! Kevin is anxious to get the new album, and he said they got a decent audience reaction. And about that great band that selected Snakepit to open for them, Kevin says that AC/DC were in one word...AMAZING! Thanks, Kevin!



Question from Minnesotoa: SLASH, which do you prefer - playing in a large stadium back in the Guns days or playing int the club circuit with the Snakepit?

SLASH replies: Both playing stadiums and playing clubs and everything in between! It makes touring fun when you do different kinds of venues. You can reach more people that way, too, since people will sometimes never go to a club or will never go to a stadium.
Thanks, SLASH and Minnesotoa!

News Reported: 08/04/00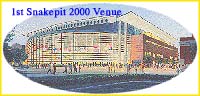 The first show in Grand Rapids MI is over, and it was a great one! We have a couple of reports here...one from Matt and one from SLASH! SLASH said everything went really well. They had to get used to the large stage and be careful not to fall off thinking it was larger than it was! He said he was very nervous. His worries went up in smoke! Whatever slight problems there were, Rod was able to cover them. Thanks, Rod! SLASH said Rod sounded just great, and the audience was very receptive. One of his worries was that there would be just a few people watching the opening band, but he said it was crowded, and the audience clapped and cheered after every song they did. Snakepit played about 40 minutes. We asked what Snakepit did then, and he said they went to the soundboard and watched AC/DC's show which was really great. A great rock and roll show! SLASH sounded great and was wound up like a top even today. It's been a long time coming, but now they are out there! Make sure you get to see them.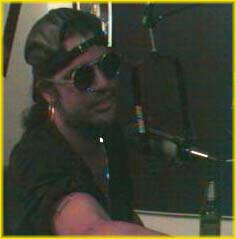 We got our first review. Matt of Grand Rapids sent us a very excited and enthusiastic one. Yesterday, Matt told us that their local station, WKLQ, was interviewing SLASH and AC/DC. WKLQ is also on the net as WKLQ.com. The interview was 3 - 5 pm, and unfortunately we received the notice too late to attend or to let you know. We'll try to be more heads up in the future. SLASH did say he would combine the promo tour with the concerts, so please watch for this on your local radio stations when they come to town.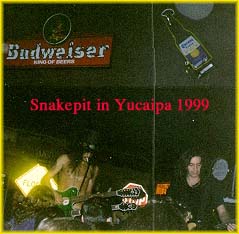 About the show, we'll let Matt tell you himself below. Don't forget that all the reviews will be posted in the Reviews area of the Snakepit 1999-2000 Section (off the Main Menu...first row, third column). Here's Matt:
" I just got back from the show!!!!!! It was awesome. Snakepit Totally Rocked!!! Their new songs are great!! We got to meet Slash!!!! We met him on the way into soundcheck. He was very nice. He signed my guitar and a cd for me. I must say that he is a little smaller than I imagined. I didn't write down a setlist but i know that they played these songs definitely- Ain't Life Grand, Shine, and they also played It's So Easy!!!! Slash sounded great...He was wearing a black T shirt, some purple converse shoes and leather pants. I purchased a shirt for $32....It's pretty cool....It has cartoon drawn characters of the band on the front and has the cities from the tour on the back...Only two shirts were available for Snakepit...The interview was also pretty good...It was on at about 2:30 eastern time...He discussed everything from his childhood influences all the way to his current favorites...They also played three songs from the forthcoming Snakepit CD. All in all, I must say I had a wonderful day!!!
Thanks much
Matt

Ain't Life Grand!!!!!!!

Think Matt is a happy guy?! Hopefully we have SLASH fans at all the shows. Speaking of which, Matt in Canada tells us that the August 10 show is SOLD OUT! Seats for August 11 there are still available. To buy Canadian venue tickets, check out www.ticketmaster.ca. Edward in Sacremento CA let us know that Ticketmaster is not handling the Oakland CA tickets. These are being distributed by bass-tix.com, and you can buy them online. Rod sent us a list of Canadian dates. We do have these but did not know the status of ticket sales. Thanks, Rod, Matt and Edward for the ticket information. Next show is tomorrow night, August 3, Detroit MI at the Palace. The show is SOLD OUT. If you need tickets, check www.ebay.com. Maybe you can be a last minute bidder. Look in your local paper for some of the ticket dealers handling these. Get out there and say hi to SLASH!

Before we let you go, how about a fan question/SLASH answer to calm you down?


Question: Paul Modaley or Merseyside, England writes, "I am a very big fan of your playing; you play with passion, and you are a very proficient player. When I write music for my band, I am often left confused about how I should do it. I am an isolationist at heart. Do you think it is better to play with the others straight away? Can you read music?"

SLASH replies: No, I can't read music. I play by ear. I try to make what I hear (sometimes just in my head) come out my hands into the guitar. When I write music, I usually write on my own at least to start. Then, I bring it to one or more of the band depending on what I need to hear...percussion, more guitars, bass. Then we jam on it. When we have something that's good, we take it to the whole band, and we just jam on it and jam on it until it's either great or put aside. This is what works for me. Everyone has his own style, though.

Thank you, Paul and SLASH!

News Reported: 07/31/00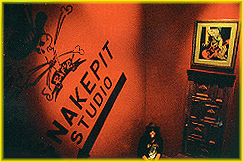 This is the entrance to the Snakepit Studio in SLASH's house. This is the most used room in the place according to SLASH. Now the band and SLASH are gone, and this room goes unused. Tonight is opening night for SLASH's Snakepit as they open for AC/DC on Tuesday, August 1 in Grand Rapids, MI. The show is a sellout! Right now the band is there rehearsing and getting set up. SLASH left Sunday from Los Angeles and was looking forward to meeting AC/DC. The shows are sold out until August 6 in Pittsburgh PA which is down to obstructed view seats. Good luck, Snakepit!



Before he left, SLASH managed to work in some answers to fan questions. It looks like he answered over 20 of the questions sent in. Let's check these out:


Question: David asked if SLASH would ever consider doing a guest guitarist spot on Chinese Democracy (the new GNR album) in much the same way that Jimmy Page and Brian May have.
SLASH Replies: I doubt it. (tension and not having a clear picture of the overall kind of music the band is working in. Snakepit is busy right now.)



Question: I've been wanting to go to one of your concerts, but most that have been in my area, (southern California), seem to be in 21 or over places when I call about tickets. Will you be playing in any 18 and over or all ages places this next time you start touring?
SLASH Replies: The AC/DC shows are All Ages. When Snakepit tours again after the international tour, the shows will be in all kinds of venues. We aim for All Ages but often those venues are taken or the promotor has things set up in another club with admission restrictions.



Question: Do you have a schedule for the tour and if not will Columbia SC be on there?
SLASH Replies: The tour schedule for Snakepit opening for AC/DC is available. It can be found on this site in the Snakepit 1999-2000 Section off the Main Menu. You can also check www.ticketmaster.com and AC/DC's official site. Georgia and Virginia are the only states on AC/DC's tour that are in the South. The Snakepit tour later in the year has not yet been completely set up so the tour schedule is not yet available.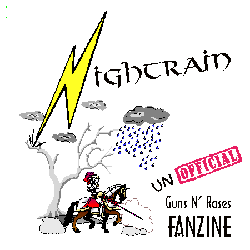 The third issue of the UK-based GNR fanzine Nightrain is out! Ian and Kim sent us a copy, and this is a good one. The fanzine is packed with articles on Gunners past and present. There's information on how to contact other fans and some of the band. It's a very exciting publication to read - makes you realize how many of us there really are! Why not buy a copy today (cost covers just the mailing and materials)? Want to order or need more information? We have a link for you here:

Nightrain Fanzine




News Reported: 07/31/00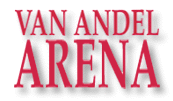 SLASH'S SNAKEPIT WORLD TOUR STARTS TUESDAY, AUGUST 1 AT VAN ANDEL ARENA IN GRAND RAPIDS, MICHIGAN! Michigan, are you ready for this! You must be, it's SOLD OUT! All the Slash fans better get there early, grab a seat and give SLASH and the boys a lot of support. Screaming and yelling is absolutely encouraged! Don't forget those signs! Don't forget anything! We're expecting reviews!

Here's a couple things we all want to know. We didn't get a chance to confirm either of these with SLASH: when is SLASH available for greeting fans...after Snakepit or after AC/DC? Does he play with AC/DC at all? What was the merchandise like?! Send these answers asap because there is another show 2 days later.

Fans have written about ticket availability. We found this information on Ticketmaster online. Oh, and we learned that Ticketmaster online (www.ticketmaster.com) is not handling the Canadian shows or the Las Vegas show. Here's the availability:
8/1 Grand Rapids, MI Van Andel Arena....sold out
8/3 Auburn Hills, MI Palace.....sold out
8/4 Cleveland, OH Gund....sold out
8/6 Pittsburgh, PA Civic (Mellon) Arena....obstructed view
8/8 Boston, MA Fleet Center...sold out
8/19 Bristow, VA Nissan....Good seats
8/20 Philly, PA First Union....sold out
8/22 Wilkes Barre, PA First Union Civic .....Good seats
8/24 E. Rutherford, NJ Continental Airlines....Good seats
8/25 NYC MSG.....obstructed view
8/27 Indianapolis IN...Conseco....Good seats
8/29 Cincinnati OH Firstar....Fair seats
8/30 Milwaukee WI Bradley...Upper level
8/31 Tinley Park, IL New World Music....Lawn seats
9/2 Minneapolis, MN Target Center....Sold out
9/3 Kansas City, MO Kemper Arena...Limited View
9/5 St. Louis, MO Kiel Center.....Good seats
9/7 Dallas, TX Reunion Arena....Lower level seats
9/8 Houston, TX Compaq....Average seats
9/11 San Antonio, TX Alamo Dome....Remaining seats are not very good
9/13 Phoenix, AZ America West...Average seats
9/16 Devore, CA Blockbuster....Lawn seats
9/19 San Jose, CA San Jose Arena....Side stage seats
9/20 Oakland, CA Oakland Arena.....not listed (too early or not sold by Ticketmaster)




***** Another show has been added! This is on September 9 in Biloxi, MS at the Mississippi Coast Coliseum. Tickets are on sale now and second level seats are available. Even sold out venues are still possibilities. The various online auctions have tickets onsale right now.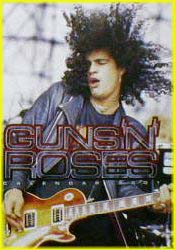 There's almost too much excitement over the tour to hit other happenings, but here's an interesting one. The GNR calendar for 2001 can be bought right now on the net at www.pushposters.com. Pushposters are located in the UK and are a very reliable company. Whoever makes these calendars never gives up on the old bands.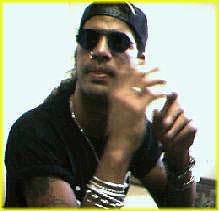 Did you catch the interview with SLASH last week on Soundbreak.com? SLASH gave some fairly long answers to many of the questions fans have asked about the GNR split, the move to Koch records and others. We have clips from the interview right here for you! Some of these are lengthy (even SLASH says...to make a short story long), but they really provide a lot of insight into different SLASH issues. This interview will also be put in the Interviews section under the Snakepit 1999-2000 section so you can come back and check it out whenever you want!

News Reported: 07/29/00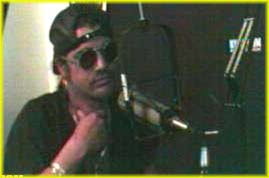 If you went to Guitar.Com's chat with SLASH, you were one of many who were disappointed. The night before, SLASH indicated that he would have to reschedule. He wanted another band rehearsal as the equipment was leaving for the tour the night of the 26th. So he did cancel, but they couldn't reschedule on a day before SLASH leaves for the tour. As you know, the first show is August 1. So, we'll have to hope for another time. The evening appearance at Soundbreak.Com did take place. This was also to be a chat/interview. At one point there were over 60 people in the chat room making it very difficult to keep up with what was going on there. However, they did provide a live video stream, and the dj interviewed SLASH. As far as we in the chat room could tell, very few if any questions from there were relayed to SLASH. SLASH talked about the demise of GNR, the tour, his new band, his new album and so on. He even got some birthday gifts from the Soundbreak staff. SLASH was not as relaxed as he appeared at the KNAC show. He seemed to move restlessly and to be not as cheerful. We thought Soundbreak could have done a much better job. Best thing: live video feed. Worst thing: ignoring fans' questions. Thanks, SLASH, for appearing! If you'd read the chat room comments you would have seen some really nice fan remarks!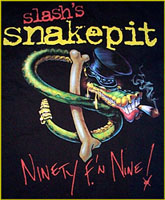 Several people have asked about Snakepit merchandise and wondering if it will be sold at the AC/DC concert (or the Snakepit concerts featuring AC/DC as we like to say!). SLASH said they will have merchandise there, but only about four items will be available. They are not quite geared up for this, but they are going with four items rather than none! That's OK! At right is the tshirt from the pre-album tour, and it's very cool. The new things will be, too! What is the total for one of each item, SLASH?



As you know, SLASH has signed with Koch Records. While he is with the domestic company, there is the original Koch International which has a real presence in Europe. On the Koch International web site in Germany, they continue to advertise that SLASH will appear at Kopkomm (a festival) in Cologne, Germany, on August 17. The AC/DC schedule lists the bands in Canada just before and after that, so we checked this out with SLASH. He has never heard of this engagement, and no one has ever mentioned it to him. He says he will be with Snakepit and AC/DC in Canada at that time. If you're in Germany, that's the official word. Hopefully, they have other great acts at Kopkomm. SLASH said he will be over to see you soon. Hang on!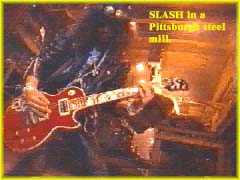 Last night again, SLASH said the first single from Ain't Life Grand will be "Been There Lately". A video will be made at one of the shows! SLASH always likes those band videos instead of the ridiculous "story" videos. Maybe you'll be in the audience. We're not sure which show it will be although one possibility is Pittsburgh. The Pittsburgh fans are really hopeful that there's will be the one!

News Reported: 07/27/00


TWO SLASH net appearances tomorrow, Wednesday, July 26. Adam let us know that SLASH will be doing a chat at 3:30 pm PT! The event appears to be sponsored by Guitar.Com, but it will take place at the Yahoo Celebrity Chat Room. You need to be registered at Yahoo to join the chat. Go to www.guitar.com and look for the picture of SLASH at the left on the first page. Click on the word SLASH, and you will go automatically to Yahoo. They open the room 1/2 hour before the chat begins. It is a moderated chat in that SLASH does not see the questions and remarks from people in the room. He sees what the moderator selects to give him. No doubt this moderator will be from Guitar.Com. We don't know how long the chat will last. The celebrity chats are archived in a few weeks and are available on the Yahoo Celebrity Page. Hope to see and hear you at the chat!



And don't forget SLASH's other appearance which we told you about before. He'll be interviewed on the net radio station, soundbreak.com. You need to be registered there. This appearance will be Wednesday, July 26 at 6:30 pm PT. They have a studio cam so you'll be able to see SLASh, too.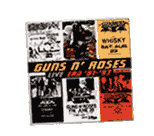 A lot of fans are looking for GNR merchandise from the original band, and there is a place on the web where you can get a limited selection. This site is associated with GNR. Three items relate to Live Era: a tshirt, a jacket, the CD. There's also, for some strange reason, GNR Lies. The page says they will have bandanas, earrings, signed vinyl and tour books in the future. Prices are steep but if you want a Live Era shirt, this is the place to go. It's at:

www.gunsnrosesdirect.com

News Reported: 07/25/00


If you go over to Amazon.com, you'll find that you can order an import copy of Ain't Life Grand right now. It says the album ships in one or two weeks. This is not a pre-order from the description. It is an import selling for just about $40. The description also says Extra Tracks! We don't know for sure, but we think this must be an import from Japan. So, we ordered it not wanting to wait till October 10! CDNOW also has it at a bit more money.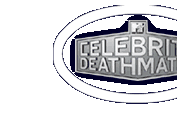 One last word on Celebrity Deathmatch: the Axl/Slash fight will eventually be archived on the MTV site but not anytime really soon. In the meantime you can catch most of it at this site (and thanks to Christian for letting us know):


Note: Click "Other Media" at left when you get there.

We have our summary of SLASH's appearance on KNAC last week. It was a good interview of about 2 hours with some songs thrown in. We did not include the songs as that is a copyright violation. But there is a summary and some SLASH audio! These are going to be installed on the page in a permanent place under SLASH's Snakepit 1999-2000, but we don't have that just yet. For now, it will be right here.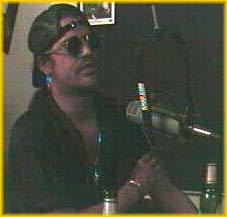 News Reported: 07/23/00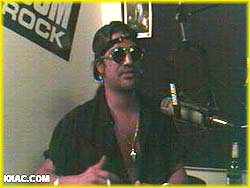 Did you see and hear SLASH on KNAC last night? He was great and did a two hour interview. If you missed it, there's another net "radio" show coming up with our favorite guest, SLASH. It will be on Wednesday, July 26, at 6 pm Pacific Time. We're not sure how long he will be on. The station this time will be soundbreak.com. Soundbreak says their mission is: To inspire audiences to discover new music and to make Soundbreak.com a vital part of their daily lives. They're on the right track with SLASH as a guest. See you there! And many thanks to Jarmo who sent us the information.



We're still trying to find out when AC/DC and SLASH will be on the syndicated Mancow show out of Chicago. Bruce tells us he thinks it will be August 31 as that is the day they have their show in that city. Keep listening so we can get the time and date for sure. Thanks, Bruce!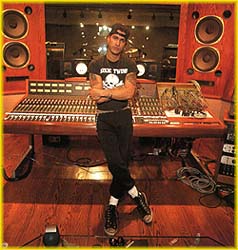 SLASH says that he will be on an MTV show in August. The show is called Cribs or M-Cribs; he wasn't quite sure. The idea is that MTV sends a crew to a rocker's house, and they go all through it showing the house and belongings. SLASH said one of the guys from Korn did this. SLASH negotiated with MTV hard on this one as he didn't want to walk around saying...this is where I sleep and this is my lamp. Not cool. He told them they could do what they wanted, but he'd be in the studio downstairs. And then he gave them a list of places they could not go in the house. It turns out he will take them directly to his studio, and the show will film there. SLASH has sold this house anyway, so it isn't too exciting to see the rest of it. Watch for that one in August. Let us know if you see a date on it. Thanks!

We'll have a complete report and some audio clips from that KNAC interview last night. We expect to have something in a couple of days. The SLASH page did get mentioned...by SLASH! He knows we're out there. His comment about the bathroom is funny. Now if we could just get someone to follow him around that closely, we'd have the information:

SLASH Comments on the SLASH Page

News Reported: 07/21/00

Clear your calendar for tomorrow night! SLASH will be on radio station KNAC in Los Angeles. KNAC broadcasts over the internet, so you can tune in even if you're far away. SLASH is scheduled for 6:30 Pacific Time. KNAC says SLASH is visiting before heading out on tour with AC/DC for a much anticipated tour. They say that SLASH is more about rock than blues now and is returning to the roots that made him a guitar god. Can our guy wail or what? The web site is at www.knac.com, so get over there and check the audio lists to be sure your software is ready to go. Thanks to Jan from Holland for the information, and thanks to KNAC for some help and information. See you all tomorrow at KNAC!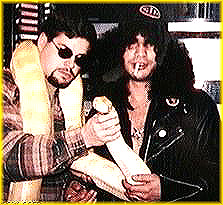 There's another radio interview coming up although we don't have the date yet. Krishna tells us that SLASH will be on the Mancow show with AC/DC in the near future. Krishna missed just when this would be, so if anyone hears, please pass the information on. Krishna says Mancow is based in Chicago (Q101), but his show is syndicated all over the US, and you can get it on the internet. Thanks, Krishna!

A UK publication, Classic Rock did an interview with Steven Adler. It's interesting to GNR fans and a little sad, too. SLASH gets some mentions here as he and Steven were friends from high school. The interview covers Steven's drug abuse, the health problems he had, and the damage done. Steven still thinks of himself as a rock and roller and thinks the original band will get together some day. To check out this article, only slightly abbreviated from the original, click on Steven below. Thanks to Kim and Chris.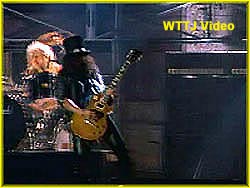 News Reported: 07/19/00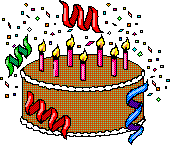 July 23 is SLASH's 35th birthday! We've made a birthday section just for him. You'll see some graphics and hear SLASH play "Happy Birthday" a little unsuccessfully! In typical calm SLASH fashion, he lets you know what he thinks about playing this tune! If you'd like to send SLASH a birthday card and/or a gift, you know where to send it! And if you have forgotten, here's the address:


SLASH

P.O. Box 1016

Beverly Hills, CA

90213-1016 USA


The birthday section is found off the Main Page, but if you'd like to go now and have a look and listen, just click on the birthday greetings below:



SLASH did an interview this past Friday on KLOS 95.5 Los Angeles. He was on about an hour and a half. Clement managed to catch the whole show. We were able to capture a good portion of it on tape here on the East Coast. What you're reading is a mixture. First, SLASH was sometimes hard to hear with his softer voice. We wondered why they didn't turn up his mike. In true SLASH fashion, he got bleeped many times. Once the dj asked him why he was so jingly (the bracelet problem). He was introduced as a gentleman and nice guy, very polite. That sounds like the SLASH we know. They played the intro riff to Welcome..., and the dj said...here's the man that made that sound! SLASH mentioned that he has to play a lot. He says after 2 weeks he is afraid he will forget how to play. We don't think so! The first song played from the album was "Been There Lately" which really rocks. Rod is really something else...his voice is so strong and non-screechy! Very masculine, down home voice. An excellent singer who doesn't take an extra breath. The music rocked, and when it was over, we were bouncing off the walls! We have to mention SLASH's solos...just fantastic, and he adds that extra punch that pushes the record over the top. SLASH said that on tour they will play one, maybe two GNR songs, "Mr. Brownstone" and/or "It's So Easy". At one time he told us that they would play 3 Snakepit I songs, too, but that was awhile ago. Most of their set will be the new album. They took questions which were really lame for the most part. Any of the 100 we sent to SLASH were better than these. SLASH's girlfriend called in! She has a lovely, sexy voice and called SLASH... Hey, baby! No wonder SLASH is living the monogamous life these days. SLASH talked a lot about his experiences playing with other artists, recording and just jamming at a club. SLASH has a lot of interesting stories to tell. Clement caught the other two songs, "Mean Bone" and "Shine". We have been hearing about "Shine" from SLASH for a long time. It will be interesting to see if it is a single. Chris reported that on "Mean Bone" there is a woman talking at the beginning, and we figure this is the woman rapper that they hired for one song. Her name is Raya Beam. The song is about a woman that takes all of a guy's money.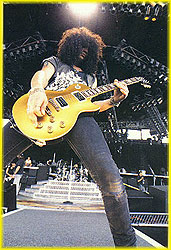 Some notes about the tour. We've been told that there has been a second show added in Toronto on August 11 at Air Canada Centre. Sounds like this tour is going to be a good one if they are already adding second nights. Hopefully, we'll have someone out there at every show, and we really would appreciate your reviews. They can be short or long. We'll provide some editing for spelling/grammar but will print them for the most part as we receive them. We'll have a special place for them. So don't forget to take a pencil and paper and jot down the setlist and what it was like! Tell us what SLASH wore and what the band was like onstage. Did you like the music? How did SLASH sound? Did you get to see him after the show? All those things are very interesting to the rest of us as well as to SLASH who will also get a copy!

News Reported: 07/17/00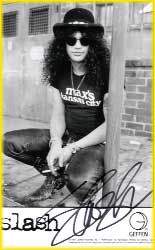 Our SLASH page contest is over! This time we didn't have so many correct entries, but we still had to do a drawing. Our two winners are Tiffany and Tiago. We'll have another one soon, and here are the questions/answers from this contest:
1. Latest mod rocker that SLASH guested with. Album not released. Name the artist on whose album SLASH will appear. Rod Stewart
2. Current SLASH's Snakepit band member who recently appeared on stage with Axl Rose. Johnny G.
3. SLASH's Blues Ball vocalist. Teddy Zigzag
4. Name these 3 Snakepit drummers: '95 recording band, '95 touring band, 99-00 recording (and we hope someday soon) touring band. Matt Sorum, Brian Tichy, Matt Laug
5. Among others, SLASH's mom designed stage clothing for this androgynous UK artist. David Bowie
6. Name two artists (or acts) that SLASH played with at the Paris Pay Per View. GNR doesn't count on this one! Aerosmith, Lenny Kravitz
7. LA club where SLASH has his own table! Rainbow
8. Company that makes SLASH's guitar picks. Jim Dunlop USA
9. On the tribute to Alice Cooper, "Humanatary Stew", SLASH played on which song? No More Mr. Nice Guy
10. A year ago, Graham Bonnet released an album that SLASH guested on. Name the Beatles song that SLASH covered. Oh! Darling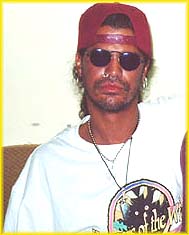 Did anyone manage to tape SLASH on 95.5 KLOS last evening, the Jim Ladd Show? Technical difficulties here meant we didn't get to hear the show. Also we'd love to make some SLASH excerpts and put them out for everyone to hear. Three Snakepit songs were played off the new album, and it would be super to hear them. SLASH said today that he was nervous doing the interview because this is a really big radio station, and Jim Ladd is someone he has listened to his whole life. So, he forgot to mention the album name and the band name! Interesting that SLASH still can get nervous. Anyway he said they spent most of the time harking back to the old days and music. We'd love to hear it. If you have a copy you'd like to donate/trade/sell send an email to:


webmaster@snakepit.org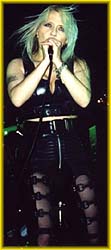 Kim from the UK is one of our best sources. She gave us some new information on Doro Pesch. Remember, Doro is the European metal queen who recently signed with Koch Records and is looking to build a US fan base, too. SLASH appears on her new album which is due out September 12. The album title is Calling the Wild. If you like to hear SLASH working with other artists, you'll want to get your order in for this one. Thanks, Kim!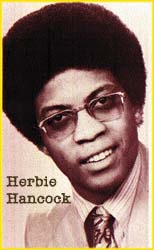 Brian was reading one of the rock news sites, and there was an article about SLASH's Snakepit opening for AC/DC. The one new, interesting fact they gave was that SLASH recently jammed with Herbie Hancock in L.A. Don't know Herbie Hancock? He's a famous jazz pianist. As a composer Hancock cracked the pop market with the funky gospel tune "Watermelon Man," which percussionist Mongo Santamaria made a hit. Making both ground-breaking jazz and popular hits is a knack he has maintained throughout his career. Did anyone happen to see SLASH play with Hancock? Thanks, Brian!

News Reported: 07/15/00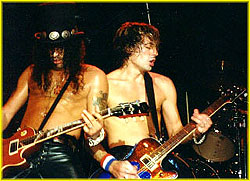 It's official! SLASH's Snakepit will open for AC/DC on the North American leg of their tour! This is our big chance to get out there, see the boys LIVE and show them our support. AC/DC is a rockin' band in their own right so you get two amazing rock bands for the price of one. AC/DC is touring in support of their album Stiff Upper Lip, and of course SLASH's Snakepit is touring in support of Ain't Life Grand. Here's the schedule from the Elektra AC/DC site. The list will also be posted on the Snakepit 1999-2000 section of this page. Tickets are still available but going fast:


DATE
                                        CITY
                                                            VENUE
08/01/2000
                                  Grand Rapids MI      Van Andel Arena
08/03/2000
                                  Detroit MI           Palace
08/04/2000
                                  Cleveland OH         Gund Arena
08/06/2000
                                  Pittsburgh PA        Mellon Arena
08/08/2000
                                  Boston MA            FleetCenter
08/10/2000
                                  Toronto ON           Air Canada 
                                                       Centre
08/12/2000
                                  Ottowa ON            Correl Centre
08/14/2000
                                  Quebec City QC       Colisee Pepsi 
                                                       Arena
08/15/2000
                                  Montreal QC          Molson Centre
08/17/2000
                                  Atlanta GA           Phillips Arena
08/19/2000
                                  Bristow VA           Nissan Pavilion
                                                       at Stone Ridge
                                                   
08/20/2000
                                  Philadelphia PA      First Union 
                                                       Center
08/22/2000
                                  Wilkes Barre PA      First Union 
                                                       Arena
08/24/2000
                                  East Rutherford NJ   Continental 
                                                       Airlines Arena
08/25/2000
                                  New York NY          Madison Sq. 
                                                       Garden Arena
08/27/2000
                                  Indianapolis IN      Conseco 
                                                       Fieldhouse
08/29/2000
                                  Cincinnati OH        Firstar Center
08/30/2000
                                  Milwaukee WI         Bradley Center
08/31/2000
                                  Tinley Park IL       World Music 
                                                       Theater
09/02/2000
                                  Minneapolis MN       Target Center
09/03/2000
                                  Kansas City MO       Kemper Arena
09/05/2000
                                  St. Louis MO         Kiel Center
09/07/2000
                                  Dallas TX            Reunion Arena
09/08/2000
                                  Houston TX           Compaq Center
09/09/2000
                                  Biloxi MS            Mississippi Coast
                                                       Coliseum
09/11/2000
                                  San Antonio TX       Alamodome
09/13/2000
                                  Phoenix AZ           America West 
                                                       Arena

09/14/2000
                                  Las Vegas NV         Thomas-Mack 
                                                       Center
09/16/2000
                                  San Bernardino CA    Blockbuster 
                                                       Pavilion
09/19/2000
                                  San Jose CA          San Jose Arena
09/20/2000
                                  Oakland CA           Coliseum

SLASH says a few more shows may be added to the tour, but they will fall
between the dates given here...nothing before August 1 and none after
September 20. Right now, Snakepit is doing the North American leg of the
tour only.  SLASH will send word if that changes.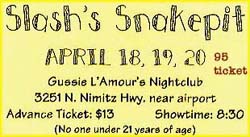 As for passes and free tickets, SLASH says that won't be happening on the AC/DC tour. It is their tour, and they want a "no comp" tour. This means no free tickets, no passes to dressing rooms. SLASH says he'll still try to meet with fans by the tour buses after the show.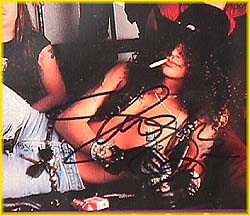 Very important news on the fan mail. SLASH has been so busy that mail is piling up. He apologizes if you have been waiting awhile. He intends to finish off this mail as soon as possible. Please do not use the post office box for mail after July 23. Get whatever you want to send in the mail before then and make the 23rd your last date. The fan mail box will CLOSE July 27! SLASH's birthday is July 23, so get those cards and gifts in the mail as soon as possible! SLASH says some other arrangements will be made for fan mail in the future.



Chris sent us a translastion of the German Koch Records site. We verified with SLASH that he has signed for 5 more albums over the life of the contract. Great! The site said the album will be released in early September. SLASH says the actual date is October 10. On September 26 a single will be released! There will also be a video, but SLASH was not sure if it would be released on the 26th or another date. At least we have the 26th to look forward to. The album is going to follow the tour, so we expect a lot of bootleg recordings to be floating around. Be advised that the artists and venues do not permit taping or photographs. You can snap a few SLASH and Snakepit photos in the parking lot. This is the time to bring that big poster or your guitar! Get ready! Here they come!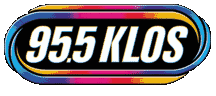 Clement sent us some great news! If you haven't heard SLASH for a long time, you can hear him tomorrow (Friday 14)! It was advertised that SLASH will be in the studio for an interview on the "Jim Ladd Show" this Friday night on 95.5 KLOS in Los Angeles/Southern Cal. Clement only caught the last half of the announcement, but he thinks this show usually runs from about 9:30pm til midnight. We suspect the time is Pacific Time. Catch a nap in the afternoon if you are on the East Coast or Europe. Try logging onto www.955KLOS.com to listen live....

News Reported: 07/13/00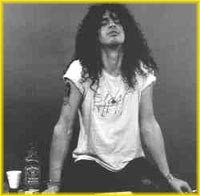 Fans have been sending in some Ain't Life Grand mentions, but these are mentions other than by or about SLASH. How really strange that if you look up Ain't Life Grand, you come across mention after mention of sites with that name. Some are music with albums and tracks by that name. Some are truly bizarre. Her's what we turned up: Zakk Wylde has a track out on his new album called Ain't Life Grand. Widespread Panic has a very popular track with the same name. These singers do some track called Ain't Life Grand: John Coltrane, Joyce Cooling, Florida Slim and the Hurricanes! We found two sites where both are dealers in dog sales. There's a "wholesome" web ring with the same name, Warren Bernhard is a jazz pianist with the same album title. Of course there are many SLASH sites and web rings, but there is also Black Oak Arkansas's album with the same title. There is one disgusting site that consists of Nazi photos, the ninth comedy album by Tim Sample of Maine, and there's a letter to the editor of Southern Florida University that has that title. Frankly we're surprised!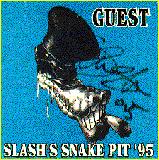 Many of you have asked if SLASH will provide backstage passes for the shows. What do you think? Since he says he will meet fans after the show, is there a need for passes? If you think so, what is the need? Is it fair to other fans who are waiting outside while you chat with SLASH? If SLASH gives out passes, should just one be given to a fan or should all his friends get in, too? What about a contest? If you have any idea, let us know. SLASH hasn't made up his mind yet. We tend to lean away from these so that SLASH has time to spend with a lot of fans not just 3 or 4, but we'd be glad to hear what you think.

Chris sent us a translation of a postings on the German Koch Records site, www.kochrecords.com. Keep in mind that SLASH has not verified this, but we thought the number of records was so interesting, we wanted you to have it right away. We'll check with SLASH, so think of this as unconfirmed but from a good source: Here is a translation of the article from kochrecords.com (thanks, Chris):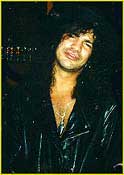 The American Rock Guitarist Slash will make the next 5 albums with Koch Records. Slash wrote a contract in New York with Koch Entertainment which sees a long relationship. The President of Koch Entertainment, Bob Frank says " We are unbelievably proud to be working with with a legend such as Slash in the future." Also Slash commented that the deal was satisfying. "It is good to work with people, that want exactly what I want, good music to bring forth"(probably not what he said but that's the translation) Slash will tour with his band in August and on the 17th he will attend Popkomm live. That from Billboard, (sourcing billboard) new work from the top American guitarists, will be released beginning in early September in German stores.

News Reported: 07/11/00


Slickmojo sent some information on an MTV program with a brief SLASH mention. It's called MTV Bloopers and the SLASH section is about his appearance of MTV's Loveline.The show was a good one! Slickmojo says there is a good segment on Lars Ulrich, too, on the Bloopers program. If anyone finds out when that repeats, please let us know.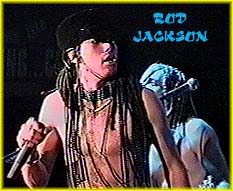 You can tell interest in Snakepit is heating up! Not only are we seeing SLASH, but other band members too. Rebecca let us know that Rod Jackson's name has been in Kerrang! and mentioned in Metal Sludge. Rebecca is hoping to see the band soon on their tour. Thanks, Rebecca.



We've heard a lot of arguments about which guitarist performs "Somewhere Over the Rainbow". By sheer volume, Steve Vai competes with Chris Impellitteri. Hendrix recorded the track, but Vai did not as far as we can tell. Impellitteri recorded it in 1988. We've had a chance to hear that track, and we think Impellitaeri is the one on the MP3. This MP3 is listed as being by SLASH, but SLASH claims it is not him.

News Reported: 07/09/00


MTV Celebrity Deathmatch is over, and SLASH WON! There was a tremendous and sometimes gory battle between Axl Rose and SLASH, but in the end, Our Hero won. It wasn't easy. SLASH's hair caused tremendous problems for him when he couldn't see where he was going. Bullets fired at Axl zoomed by the red-haired clay figure as he did his famous "serpentine" from Welcome to the Jungle. Near the end, Axl looked like he had done in SLASH for good when he cut SLASH's hair and made omelets from our favorite guitar's brains. (gag). But SLASH rallied and cut Axl into paper dolls. SLASH was declared the winner as he was still alive! Whew, a tough match. If you didn't catch it, it will be repeated this weekend! Watch for it on MTV at 5:30 pm ET on Saturday, July 8. It repeats again on Sunday, July 9 at 7:30 pm ET. This is one to tape. For those who have asked, we don't know the European schedule. If anyone there gets the dates/times, please let us know, and we'll post them. The battle will be shown on the MTV web site, but it is not showing yet, so we'll watch for that one and post it for sure. Congratulations to the curly haired one! You had him all the way!



Here's one more set of top hats. These are from a New Orleans company with a web site, and the Mad Hatter model is under $100. Except for the missing silver conchas, this looks very much like a SLASH "topper".


Shushan's

Keep in mind this is not where SLASH buys his hats; that's somewhere in L.A.



Max sent us information from what he called the German web page of Koch Records. Keep in mind that we can't read other languages to verify or question what's there. Max reports that the site says SLASH has contracted for 5 albums with Koch. They also say Ain't Life Grand will be out in early September. We have never heard SLASH mention a certain number of albums, but we will certainly ask. Koch here said early September. SLASH said...just say September! We have no certain date ourselves. Then they said SLASH was going on a long tour in August, and that is certainly true. They claim SLASH will appear at Popkomm (we don't know what this is but suspect it could be a festival) on August 17! If SLASH is opening for AC/DC, there are shows on the 15th and 19th, so it will be a lightning trip! We'll check this out with SLASH before we all move to Germany! Thanks, Max! If you're an international reader, would you please check your Yahoo language area for Koch Records and SLASH? Thanks!

News Reported: 07/07/00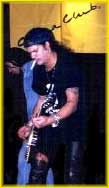 Yesterday SLASH got away from the July 4 fireworks and talked about what's happening with Snakepit. While the album date is announced as September 26 on several sites, SLASH still prefers we think of it as in September at this time. The album could be released in certain places first (promotional considerations) which could mean you might be able to buy yours later. When he has the exact schedule, he'll let us know.



About Johnny G.'s name...mostly he goes by Johnny. Johnny G. and Johnny Blackout seem to be more nicknames within the band. The bass player is definitely Johnny Griparic. You saw him in Blues Ball and in the Snakepit pre-album tour. Same guy! We're wondering what nicknames SLASH might answer to in the band!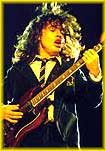 AC/DC has not settled on their opening band for the North American leg of their tour. Snakepit is definitely being considered. SLASH says they will go if the offer is made, and he's really psyched for a chance to get on the road and play again. He should have the information soon and promises to keep us posted. He says he goes to see AC/DC a lot. They put on a good show, and the music is real rock and roll. Get your tickets today, and let's hope for an added bonus of Snakepit.



In the past, SLASH spoke of a promotional tour where he would go from city to city doing interviews with the press, radio and TV. If Snakepit tours with AC/DC, SLASH will do promotions while he's on the road with them; and if the tour doesn't happen, SLASH will do the promo tour at that time. Whether that is alone or with some/all of the band is undecided.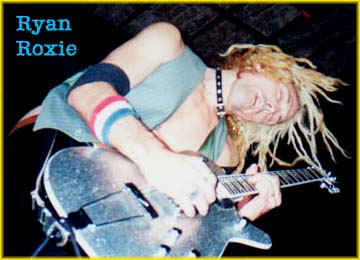 Snakepit is charging ahead with rehearsals. SLASH says that Ryan Roxie was not fired from the band. As you know, Ryan has been touring with Gilby Clarke and now with Alice Cooper in Europe. If Snakepit gets rolling with AC/DC, they have to have another guitarist; and Keri Kelli will fill that position. Ryan's position is there; but if the band leaves on tour, they have to have someone in his slot. SLASH hasn't fired anyone, but he has to have that second guitar player.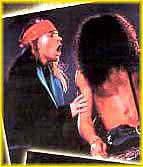 A reminder again that MTV will air Celebrity Deathmatch this evening at 10 pm ET. Clay figures of SLASH and Axl Rose will battle it out. Go, SLASH!

Finally, a reminder that our latest contest is still on. Two winners receive autographed photos of SLASH. Answer all the questions correctly, and you get a chance at the drawing! For more information and the contest questions, scroll down to June 26 (search on "contest" works, too). The contest ends Friday, July 14.

News Reported: 07/05/00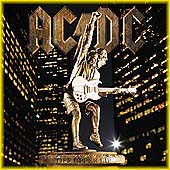 Although we haven't heard from SLASH on whether Snakepit will open for AC/DC on the North American leg of their tour, tickets for the shows are going fast. If you like AC/DC, get a ticket now before they are all gone. If you're only coming for Snakepit, that's a problem. Why not take a chance, and then sell the ticket if Snakepit doesn't open? Any time you can see a rock and roll concert these days,though, you really ought to go!


If you go to see AC/DC, how about wearing a top hat? Awhile ago we printed information from Rattus on where to get an elegant black top hat. The price tag was over $100, so our pal Maria went on the web in search of a cheaper hat. There's a black rubber one and a Lincoln permafelt for sale at Star Design Costumes. Prices are $25 and $8 respectively. Just right for throwing in the air at the end of the Snakepit set. Maria says this one is more Slash's speed as it is in Hollywood and is called Retail Slut. A great looking top hat here goes for $68, and there is even a great derby like one we've all seen Slash wear.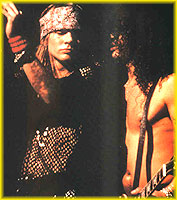 We've been told by SlickMojo that this is the card for Celebrity Deathmatch this Thursday, July 6 on MTV at 10 pm ET: Heather Locklear vs Pamela Anderson Lee, Axl Rose vs SLASH, Jeff Gordon vs. Dale Earnhardt. So this might be the night to watch! The show repeats Sat., July 8 at 5:30 pm ET and Sun., July 9 at 7:30 pm. If it isn't on, there's always next Thursday, and the next, and the next.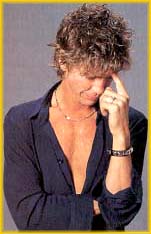 A short update on an old bandmate and friend of SLASH. Duff McKagan will be on the forthcoming President's (formerly Presidents of the United States) album, Freaked Out and Small. Duff appears on the track "I'm Mad". Our information is from Jeff who also let us know that the album is on the Musicblitz label and that the Presidents are from Seattle which is probably how they hooked up with Duff. Thanks, Jeff!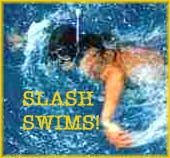 The questions for SLASH have been sent. If you have any new ones, please hold onto them in case there is a next time. He's starting to get very busy now! Also, we will be on vacation for a week or so beginning July 5. We'll attempt to give some updates anyway. Any sightings, send them in, please! While we are on the beach, we hope you'll be sending in some SLASH news. Thanks!

News Reported: 07/03/00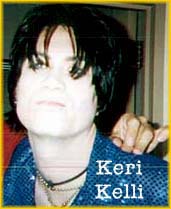 With several sites reporting this Snakepit item, we'll pass it along, too. However, we have not heard from SLASH on this yet. If you noticed when SLASH did his interview, he named the band members, and Ryan Roxie was conspicuously absent. Ryan has been out of town touring with Gilby Clarke and Alice Cooper for some time. Whether that meant SLASH had to get a new man, we can't say. Snakepit rehearsed many times without Ryan, but SLASH indicated that did not affect the band's rehearsal. Amazingly enough, Ryan's replacement is Keri Kelli. Kelli is from Dad's Porno Mag along with Roxie. Kelli has also played with Warrant, Ratt, Rubber, Newlydeads and others. Questions as to whether the album will be re-recorded or if new artwork is needed have not been answered at this time. We don't see SLASH allowing this to delay the album further, and we'll find out the other questions soon.

One last item here - about Johnny Griparic or Johnny G. SLASH gave his name as Johnny Blackout in a recent interview, but it's still the Johnny that we're used to seeing on Snakepit's bass guitar.

News Reported: 07/01/00