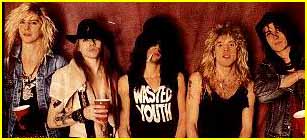 The original Guns N'Roses is pictured at left: Duff McKagan on bass, Axl Rose on lead vocals, SLASH on lead guitar, Steven Adler on drums, and Izzy Stradlin on rhythm guitar. When Appetite for Destruction hit the charts, the group's success was no longer in question, but problems cropped up with individual members. And when a musician can no longer work within the group, they leave or are asked to leave so that the group can continue.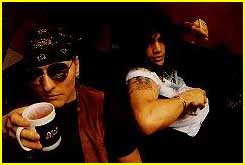 The first Gunner to leave was Steven Adler. He was fired for his continuing drug problems. Steven was replaced by Matt Sorum pictured at right with SLASH. Next to go was Izzy Stradlin. Izzy resigned during the Use Your Illusions Tour citing problems with touring, working with Axl, and the difficulty of continuing to stay off drugs in this stressful environment.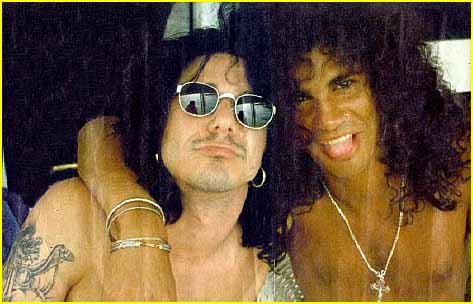 Gilby Clarke, pictured at left with SLASH, was hired to replace Izzy not realizing that he too would be leaving the band in a short while. When the band started to plan for the new album, Gilby was an outspoken critic of Axl's choice of musical direction. Gilby soon found himself fired from the band he had done such a good job for on the tour. Just as Steven Adler sued the band for a portion of the Appetite for Destruction profits, so Gilby Clarke sued the band for capitalizing on his name and image on the Illusions tour and The Spaghetti Incident? promotion.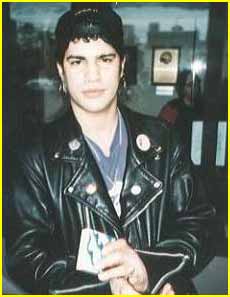 At the end of October 1996 SLASH resigned from Guns N'Roses. SLASH's patience in dealing with Axl Rose's delays on producing a new album was reaching an end. He continued to try to work with the band whenever Axl wanted, but meetings and rehearsals turned up nothing except for an inability for the two to work together. While SLASH chose to remain quiet except for the wish to work with Axl again if they could settle their disagreements, Axl declared that he could not work with SLASH because Slash wanted to produce another rock album while he, Rose, wanted a new direction for the band. Given the choice between producing an album in a format he did not believe in and leaving to take up other work as a musician, Slash resigned from Guns N'Roses. Worldwide, fans expressed shock and disbelief, anger and disillusion. It remains to be seen what the most recent incarnation of Guns can do.




To Return to SLASH's Official Fan Site's Main Menu, Click on This Guns N'Roses Promo Ashtray: