WHAT FANS HAVE BEEN WAITING FOR...
SLASH & The Ex-Gunners


(Updated May 2010)



When Snakepit came off the last Snakepit tour, there were plans to make another album and tour again. However, SLASH had had enough. In the January 2002 of Classic Rock (UK) magazine, SLASH explained why Snakepit was finished: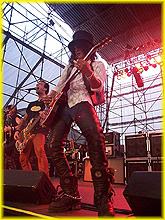 "You can't reinvent the start of Snakepit. That was my little thing, and it was a blast, seeing all those guys kind of doing it for the first time, but I was kind of carrying everybody (in Snakepit) through that." SLASH also said that for the first time he felt equipped to move forward and do a record on his own. While his other records were done on a whim, this album would have more music in it similar to when SLASH records for other artists. Lots of different styles and guests. In an interview with Acoustic Guitar, SLASH said he would be exploring musical influences and styles such as Asian, Chinese, Indian and African. He didn't want to do anything with too much baggage.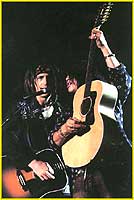 So, Snakepit ended, and SLASH started working on a solo album with musical influences from many other countries. The album was to have guests, but at this point SLASH was "just piecing little parts together". A key event that occurred around this time had to do with Izzy Stradlin. Izzy had just completed an album called On Down The Road, and Duff had played bass on that one. SLASH stays in touch with Izzy, and the talk got around to an album that Izzy was doing and both SLASH and Duff could guest on it. And so they did. In January 2002, SLASH and Duff appeared on an MTV interview talking about the album with Izzy. SLASH said fans would recognize the songs as Izzy's and as Izzy and SLASH's. SLASH and Izzy wrote 5 songs. At that time the songs needed some tweaking and background vocals. Duff laid down the bass track, and of course Izzy did lead vocals and rhythm guitar. The album had no release date or title at this time. A year later, the album still has not been released. At the end of the interview, SLASH and Duff said they did not rule out future work together...and they were so right!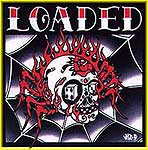 At this point in time, early 2002, Duff was fronting the band called Loaded. As might be expected, Loaded has a definite punk feel to it. Performances were in the Seattle, Los Angeles areas with an occasional short trip outside. Loaded did make it to Japan, and they had a European tour scheduled. This tour would not come to pass.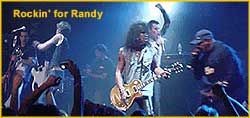 Over time, the idea for a Duff/Matt/SLASH project came about as the three put more time into jamming and even writing some songs. Soon it became apparent that this was more than just three musicians having some fun together. Another key time in the growth of The Project (so christened at this site because Duff/SLASH/Matt project was too long to type) was the Randy Castillo Benefit. Randy was a drummer who died of cancer, and the benefit was raising money for his family. One of the acts that night was Duff/SLASH/Matt joined by two guys from Buckcherry where the act was promptly christened Buck N'Roses or Cherry Roses. SLASH and the ex-Gunners were now actively looking for a lead vocalist for their Project. Assumptions were made that this would be Buckcherry's Josh Todd, but Duff put out a statement that Josh didn't quite fit with the band.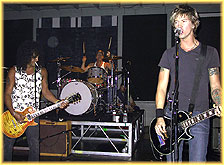 Around August 2002, Classic Rock published an interview with Duff. In the past the three Project members said the Project was low priority. They would work on it whenever time permitted. Now things had changed. Duff said the Project was "the main priority" and was a serious project for all of them. The band was actively auditioning singers. Also in August, SLASH performed at the San Diego Street Scene where he took time to talk about the new band. He said the band was still nameless (hence "The Project"). "If I had a name, I'd tell you", said SLASH. SLASH did name the second guitarist, Dave Kushner from Loaded. He said they were looking for a rock and roll vocalist...one like Billy Idol when he goes ballistic. SLASH said this would be the "baddest f*cking be-all, end-all rock & roll band". An album is now due out in 2004, and there will be a tour.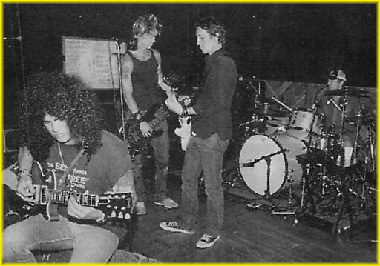 In October 2002 there was another key item. Izzy was definitely working with the band! This according to Duff. It's unclear whether Izzy will be behind the scenes or part of the performing band. Izzy doesn't care for touring. Duff also said the band had 36 songs ready to go, and they still had not named a singer but were close. Kelly Shaefer of Neurotica was a front runner at this point and continued to be one.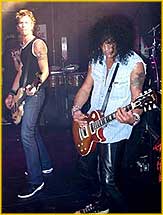 Duff, Matt and SLASH made some appearances with Camp Freddy (fronted by Billy Morrison), a cover band that has lots of guest artists. They listened to about 500 demo tapes and kept working on the songs. As time moved on, there were said to be three front runners... these were Sebastian Bach, Kelly Shaefer and Travis Meeks (Days of the New). However, other singers were still getting a chance to be heard and possibly try out writing lyrics and singing some of the band's songs. SLASH said he was taking his time. He said in the past he had been so impatient to get going, but this time he was moving slowly.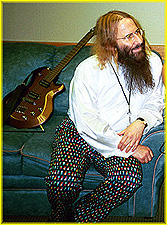 One thing SLASH did was hiring the A&R man, John Kalodner! This is a big-time name in the music world. Kalodner is probably best known for his work with Aerosmith. You may remember him from the video for "Dude: Look Like a Lady" when Kalodner appeared in a bridal gown! He's also worked with Sammy Hagar, Journey, Joe Satriani, Steve Vai, Iron Maiden, Bon Jovi, Warrant and many more.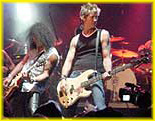 At the end of 2002, The Project was now Duff/Matt/SLASH/Izzy/Dave. They had about 40 songs ready to go. They auditioned singers and were getting close to a selection. John Kalodner was working with them. What remains was getting that singer in, getting all the lyrics done and the music finalized, selecting 12 or so songs for the album, and recording them. In the business area, the band needed to find a label (SLASH quit with Koch) and hire a manager, publicist and tour manager. When the album is turned over, they will plan out the tour. There's a lot of work ahead, and we hope to keep you informed of the happenings in the days to come.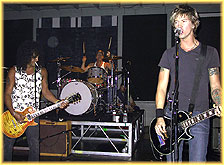 It's now spring of 2003, and The Project makes definite progress. SLASH says they have 40 songs written, and it sounds like he is having a great time using his musical creativity to build up an original songbook for tours. He and Duff and Matt spend a great deal of time rehearsing in the North Hollywood studio that has become like a second home. SLASH told Rolling Stone that Dave Kushner (ex-Loaded) is a full band member. Izzy just is not interested in getting tied up for the whole publicity/touring extravaganza. Izzy has been in on the writing of many songs and has rehearsed with the band, so we hope he will pop up here and there during the tours.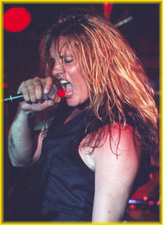 What's on everyone's mind now is the selection of the lead vocalist. The number of demo submissions is over 600 now. Likely vocalists are given auditions at the studio. They've auditioned Sebastian Bach (ex-Skid Row), Scott Weiland of Stone Temple Pilots, Josh Todd (ex-Buckcherry), Kelly Shaefer (ex-Neurotica), Travis Meeks (Days of the New), etc. At least 100 known and unknown singers have come in for a live audition. At one time the front runners were Sebastian Bach and Josh Todd. Josh is now out of the running. Right now Scott Weiland and Sebastian Bach seem to be leading the pack.


The Project was asked to contribute a song to the soundtrack of the movie The Italian Job, and they did Pink Floyd's classic "Money". Teddy ZigZag Andreadis was brought in to do the keyboards, and Scott Weiland did the vocals. The Italian Job is a remake of the 1969 British caper comedy with the setting moved to LA. Director F. Gary Gray and actors Mark Wahlberg, Edward Norton, Charlize Theron and Jason Statham have completed their parts with release set for May 30 and the World Premiere tentatively set to take place May 11 as part of the Tribeca Film Festival. The soundtrack will be out May 26. Recently we learned that there may be no soundtrack album for this movie. The only opportunity to hear The Project's "Money" will be at the movies.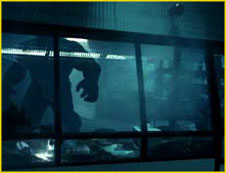 The Project brought in some studio execs and had them listen to the many songs they have put together. These are execs who select bands to do soundtracks. The band received many offers through 2004. An upcoming one is for the movie The Hulk. The Project wrote an original song "Set Me Free". At first, the soundtrack was just be the movie score, but it's been announced that "Set Me Free" will be on the soundtrack as the only vocals track. You can hear a bit of "Set Me Free" if you go to The Hulk's official site, www.thehulk.com. Trailers 1 and 2 have a bit on there. At the movies and on the soundtrack are the places to hear more. The song was performed by SLASH, Duff, Matt, Dave and sung by Scott Weiland.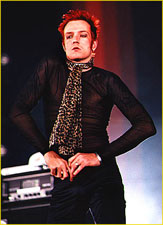 Scott Weiland announced to Rolling Stone that he had signed a contract and was in the band. He also gave away the band name as Reloaded. The next day a spokesperson for SLASH said that no contract had been drawn up or signed. Weiland was still not a permanent member of the band. As for Reloaded, the band met and decided they would go by their individual names for the two soundtrack songs. Note that for typing purposes, we will refer to the band as The Project.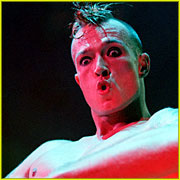 In May 2003, Scott Weiland was arrested on drug possession charges after police stopped his car for driving without lights and spotted drug paraphernalia on the seat. A search turned up cocaine and heroin. Weiland was released on $25,000 bond. At his arraignment on June 2, 2003, Weiland pleaded guilty to two charges of drug possession. At this time he was put into drug rehab. Weiland says he has bipolar disorder (manic depression) for which he takes no meds because he feels it flattens his personality. Friends say that Weiland is deep into his addiction. He has been released to rehab twice before when picked up by the police for drug possession. The District Attorney's office doubts that he will escape jail time on this latest bust. Problems with Scott came frequently when he was arrested for DUI and smashed into a van. The court sentenced him to lockdown rehab. When he applied to leave to make the video for a single of the album, the judge first turned him down, but later gave permission with a lot of conditions attached.



Despite his legal and drug problems, Scott Weiland became the official vocalist for the band on June 5, 2003. After listening to over 600 demos, personally auditioning singers such as Sebastian Bach, Travis Meeks (Days of the New), Beth Hart, Todd Kearns, Shawn Albro, Neurotica's Kelly Shaefer, Buckcherry's Josh Todd and more, SLASH announced his final choice. Fans wondered what will happen if Weiland is convicted of two counts of drug possession and goes to jail for a year. No word on that as yet. The band name, Reloaded, was announced by Weiland before the final decision was named. The band name is officially Velvet Revolver. SLASH contributed Revolver, and Scott added Velvet. They are ready to roll! SLASH says they'll be in the studio in September 2003 and will release an album in early 2004. Some shows are on tap for summer 2003, but the tour schedule is not available as yet. The band signed with RCA which uses BMG for distribution.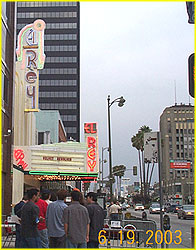 SLASH and other Velvet Revolver members announced their support of Scott in his legal problems. Duff said this is something they have all been through, and SLASH added that the band is clean now. Their first public appearance was June 19, 2003 at the El Rey in LA. It was a private show for some SLASH fan club members, radio show giveaway winners, media and friends and relatives of the band. Fans lined up starting at 4 pm for doors opening at 9pm. The lines went up and down the block, and it was great to see all the GNR and Snakepit t-shirts. A security guard said it was not 100% sure that all these people would get in. They were lining up for 5 hours for a CHANCE to get in! The band did a press conference first, the fans poured in and Velvet Revolver rocked the house. Some t-shirts were given out, the fans applauded madly, Scott did some stage dives and sang into his trademark megaphone.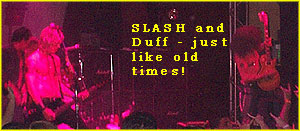 SLASH played ferociously and showed off a new B.C. Rich black guitar. Duff smiled and Matt pounded a terrific groove with Dave adding to the killer sound. It was a night when nothing seemed to go wrong, and 5 world class musicians met some of their public. The setlist was: "Bodies" (Sex Pistols), "Set Me Free", "Sex Type Thing" (STP), "It's So Easy (GNR) and "Slither" (their new one). Velvet Revolver will release the single "Slither" off the new album which is named Contraband. "Slither" was produced by legendary producer Bob Ezrin. "Slither" will also get a video. The album release date is June 8. SLASH and Duff have just concluded a worldwide promotional tour.



Tours will be planned and the schedule released as available. There will be some shows (and what SLASH called surprise gigs) in the LA area this summer. And there will be a tour after they get Scott out of rehab. Velvet Revolver ("Revolver" from SLASH, "Velvet" from Scott) is determined to bring back rock and roll!


That's the history of SLASH's newest band, Velvet Revolver. Nearly every day there is some news of the band. Check the NEWS section of this site for news on everything SLASH - Velvet Revolver, SLASH's solo work, current and old bandmates. The remaining parts of this Velvet Revolver section give tour information, a discography, band members bios - for those wanting just summary information. If you want the day to day Velvet Revolver news, check NEWS (www.snakepit.org, scroll down to Fan Menu, click "News").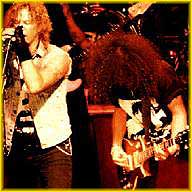 We are always interested in pictures you have for the photo album and for this section. We need lots and lots of pictures, advertisements, flyers, etc. Anything you send will be helpful! You can reach us at: webmaster@snakepit.org. Any articles or interviews about Velvet Revolver would be useful to all the fans. Send those along to webmaster@snakepit.org also. Many thanks!

Back to Velvet Revolver Menu


SLASH - Lead Guitar
Duff McKagan - Bass
Matt Sorum - Drums
Dave Kushner - Guitars
Scott Weiland - Lead Vocals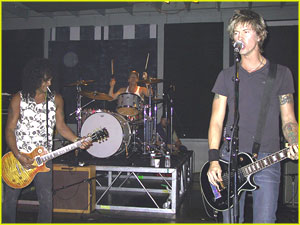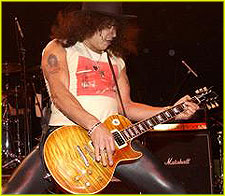 SLASH!
Lead guitarist SLASH is known all over the world. He comes to this new band with years upon years of experience. He has been in bands his whole career, and the monster of them all was Guns N'Roses. After leaving GNR, SLASH was invited to headline a blues festival in Budapest. He rounded up some of his musician friends to form SLASH's Blues Ball which then did a tour playing blues cover songs. Next stop was SLASH's Snakepit in 1995. This band released It's Five O'Clock Somewhere and toured five countries. The album went platinum world wide. SLASH then did more of his famous guest appearances on albums, but he couldn't seem to wait to have a new band. SLASH's Snakepit came out in 1999 and toured by themselves in clubs and opened for the spectacular AC/DC. The band released Ain't Life Grand. SLASH had planned to do a different kind of album, but he started playing with Matt, Duff and Izzy...and the latest SLASH band was born.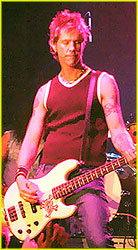 DUFF MCKAGAN!
Bassist Duff McKagen is best known for his eight years with Guns N'Roses. Duff's real name is Michael, and he was born and raised in Seattle, WA. At 19, Duff headed for L.A. and played in almost 30 bands! SLASH put an ad in a paper for a bassist, and Duff hooked up with SLASH and Steven first, then GNR. Duff's lived the rocker life of excess in GNR and was addicted to drugs and alcohol. In 1993, he released his solo album, Believe In Me. A year later, GNR broke up, and Duff went to the hospital for pancreatitis. Duff sobered up, became a father and was concentrating on his solo career. In 1999, he released Beautiful Disease. Duff hooked up with Matt Sorum, Steve Jones and John Taylor in the supergroup Neurotic Outsiders. Then came his band Loaded which has released a couple of CDs and did some touring. SLASH recruited Duff for jamming sessions which grew into The Project.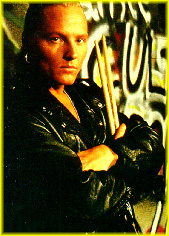 MATT SORUM!
Matt Sorum came to the rock world's attention in his 80's stint with The Cult, a multi-platinum selling British band. SLASH needed a drummer for GNR after Steven Adler was fired. He found himself at a Cult show one night, and he was immediately taken with the drummer, Matt Sorum. Matt was hired by GNR, and he was in the band till the final breakup. Matt went back with The Cult, but when SLASH called with an invitation to join the ex-Gunners, he couldn't resist. Matt's now the official drummer for The Project. He has other interests, and in '97 he formed Orange Curtain Productions where he has collaborated with Cypress Hill, Poe, Beth Hart and others. Matt's music can be found on 30 million copies of records sold, film and TV shows. In '98 Matt enlisted SLASH and Duff to promote the film Soundman that he did for the Slamdance Film Festival. He has worked on many films since then.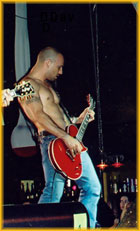 DAVE KUSHNER!
Dave Kushner is the second guitarist backing up SLASH. Dave hails from California - L.A. to be exact. In fact, Dave went to high school with SLASH! In the past Dave has been a strong session guitarist. He's played with Wasted Youth, Danzig, Infectious Grooves and Dave Navarro's band. His last stint was in Duff's band, Loaded. So he knows both SLASH and Duff very well and fits right into Velvet Revolver. Slash and Scott say that Dave brings some unique qualities to the table. He's been involved in the most current types of music, and this shows in his sound. This gives Velvet Revolver a really up to date vibe, and he's a valuable addition to the band.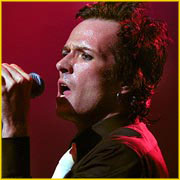 SCOTT WEILAND!
Scott Weiland, best known as lead vocalist for Stone Temple Pilots, hails from Ohio and at 36 is two years younger than SLASH. His real name is Scott Kent, and he has a son from a former marriage. After living in Cleveland, Scott came to California at 15 and immersed himself in the Orange County punk scene. In 1987 Weiland founded the band Mighty Joe Young with guitarist Robert DeLeo. Later rechristened Stone Temple Pilots, the group became one of the biggest acts of the mid-1990s, following the lead of artists like Nirvana and Pearl Jam to top the charts with their angst-ridden hard rock sound. However, their success did not come without a price, and following the group's second LP, 1994's Purple, it was revealed that Weiland had become a heroin addict. Sessions of rehab and jail time followed this, but somehow STP made three multi-platinum albums. Scott is a very talented musician and singer whose work is astounding even while on drugs. Scott says that he is manic-depressive but refuses to take psychiatric medication saying it leaves him feeling flat. SLASH says a lot of people would be freaked out by Scott's addiction, but the GNR experience makes the band more tolerant and helpful to someone trying to leave the drug world behind. Scott then set out to do a solo album. This album, 12 Bar Blues, released in 1998, was a huge critical success. Weiland was personally responsible for much of the album's endlessly inventive music-a uncommon melange of rock, pop, dance, Bossa Nova, and all points in-between and beyond-playing, among other instruments, beat box, guitars, piano, vibraphone, and percussion. Scott was with Velvet Revolver till he was fired in April 2008. SLASH said the 5 years of VR were the toughest he's spent because of Weiland and the "joke management". SLASH further explained that "the band is all about its fans and its music and Scott Weiland isn't committed to either... his increasingly erratic onstage behavior and personal problems have forced us to move on." As of summer 2010, the band has yet to find a replacement frontman. SLASH is touring on his solo album, SLASH, and Duff has joined up with Jane's Addiction replacing Dave Navarro. SLASH says the band is on hiatus, and the band will get together in the fall after the tour to look for a new vocalist.

Band management has come out with an official biography for the band which touches on how the band came to be as well as the band members. Click here to read this official bio.

Back to Velvet Revolver Menu.




To Return to the SLASH Official Fan Site's Main Menu,
Click on SLASH and Duff at an interview: