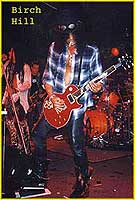 SLASH is a serious musician, and there's a lot of serious information about him on this site. At the end of the day, SLASH likes to have some fun, and you should, too! If you're in a boring class or having a bad day, try out these great SLASH puzzles. All of them are from pictures shot by fans during the SLASH's Snakepit tour. The music is from Ain't Life Grand and is the studio version or Live. There are 8 puzzles each with about 36 pieces...not too hard. Click OPEN to start up each one. There are lots of toolbars and help files available. Click one and enjoy it and the music listed beside the venue name!


Show at Birch Hill, NJ "Ain't Life Grand"
Snakepit at Buffalo, NY festival "Been There Lately"
SLASH's Guitars at Cleveland, OH show "Mean Bone"
Snakepit at NAMM "Speed Parade" (Live)
SLASH at Columbus, OH show "Serial Killer" (Live)
SLASH at NAMM "Truth"
Snakepit on Tour "Landslide" (Live)
SLASH Split "Moment"



To Return to the SLASH Official Fan Site's Main Menu, Click on this rare photo of SLASH's face!: