SLASH !
SLASH's Official Fan Site
SLASH Relaxing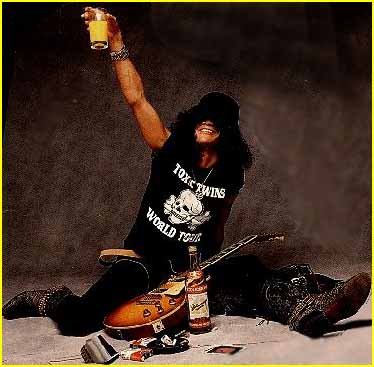 Welcome to SLASH's house! Cheers! Of course, he has his guitar ready to play! What would you like to hear?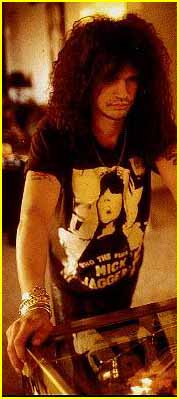 And here's our favorite lead guitarist with the Guns N'Roses pinball game. SLASH worked with designers to create this terrific game that Guns N'Roses fans will particularly enjoy. All the music is by GN'R - like "Welcome to the Jungle". SLASH took the songs off the original tapes. The object of the game is to get the entire GN'R band out on stage together so the concert can begin. Is this a real life scenario or what?!?

SLASH also worked on the SEGA Viper pinball game, and he was planning to do one for SLASH's Snakepit but the pinball company he liked to work with was sold to another company. The old pinball days seem to be gone, but SLASH loves to collect and play those old games.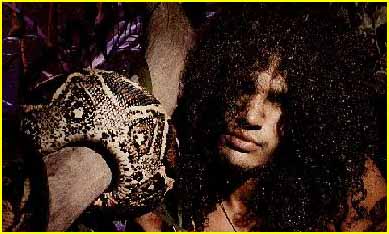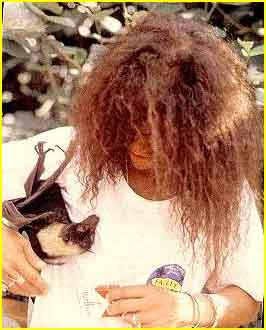 SLASH and some animal friends! Most of us know SLASH owns snakes, but he also has a couple cats. He also has been a dog owner! These guys know a soft touch when they see one!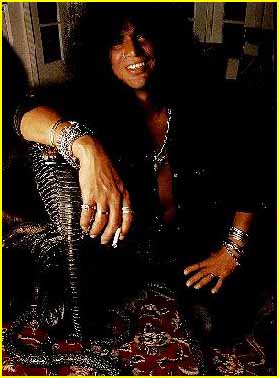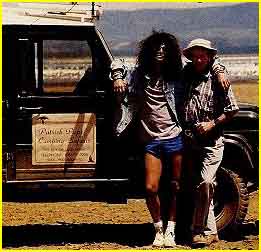 At left, SLASH on a photographic safari in Africa. It's a long way from the clubs in Los Angeles!



SLASH's former home - the dark interior suits a hard rock guitarist. This home was destroyed in an earthquake. Notice at left the beautiful leather jacket with SLASH's left arm tattoo design in full color on the back. Hard to keep a low profile in this one. SLASH doesn't seem to mind being recognized by fans or the press as long as his friends and family are not involved.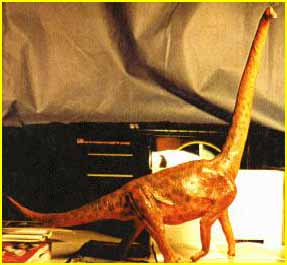 SLASH has always loved dinosaurs. Here is a model of a pelrsaur made for SLASH that occupied his new home also in Los Angeles. SLASH packed up the dinosaurs and moved outside LA in 2002.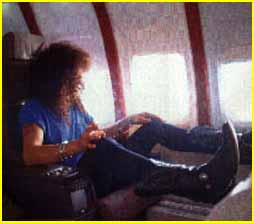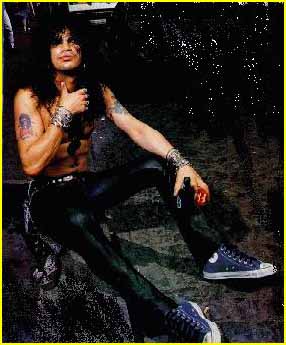 SLASH is on the road a lot. He can relax anywhere. At left, SLASH looks out the plane window maybe thinking of the gig ahead. Here's SLASH at right relaxing on a Paris street. Even sitting on the curb he manages to look ready for the Paris nightlife!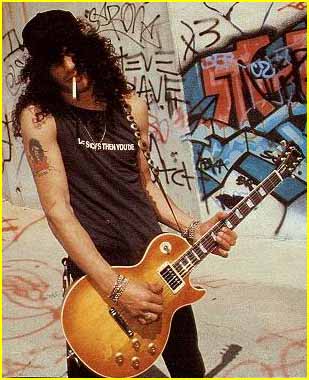 When he's on the road, SLASH doesn't always get time to sightsee. He's rehearsing, doing interviews, performing. Sometimes he is out on a photo shoot, and he gets to see where he is! This was taken somewhere in South America but looks strangely like parts of L.A.! Wherever he is, people know him, want to talk, get an autograph, take a picture. A very popular musician!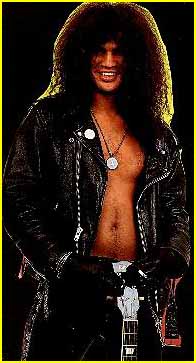 In 1995 SLASH was voted one of the Top 10 Sexiest Men in Rock Music by Playgirl Magazine. Is it any wonder? SLASH looks sexy onstage and off. No shirt, tight leather pants or jeans and blazing riffs. What more can we ask for? A backstage pass?

To Return to SLASH'S OFFICIAL FAN SITE's Main Menu, Click On SLASH in a purple t-shirt and purple spotlight below: