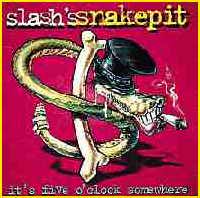 When Guns N'Roses finished the Illusion tours, the band went home for a well deserved vacation. SLASH says he is not one to stay around the house smelling the roses, so instead of gardening, he built a home studio nicknamed Snakepit. Matt Sorum, GNR drummer, came over, and he and SLASH started arranging some material SLASH had written. SLASH put on the bass and rhythm guitars, and then former GNR rhythm guitarist, Gilby Clarke came around and put in some new rhythm guitar. For bass, SLASH picked up Mike Inez of Alice in Chains, but finding a singer was difficult. 40 singers were auditioned before SLASH found Eric Dover, formerly of Jellyfish. SLASH and Eric worked well and quickly together with lyrics written the day vocals were recorded. In fact, all the guys worked easily together and experienced none of the heavy scrutiny they are used to when working with their home bands. In time there was an album. The Snakepit band name was borrowed from SLASH's studio. The album title, "It's Five O'Clock Somewhere" came from a bartender! SLASH was at an airport leaving for another GNR tour, and he wanted a drink but the signs said that no liquor was served there before 5 pm. SLASH asked for a drink anyway, and the bartender said....the album title! Geffen records agreed to back the album if the group name was changed to SLASH's Snakepit providing the new band with some name recognition. And that's how some rockers started out jamming and created a new band and a great rock album.
SLASH and the guys had the music nearly done when he finally found his singer, Eric Dover. Eric wrote a lot of the lyrics on the album, with Slash and alone. To check out the lyrics for It's Five O'Clock Somewhere, click LYRICS!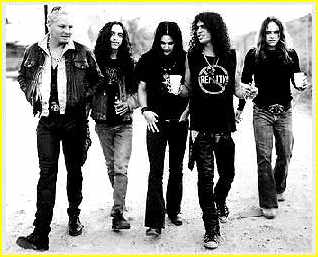 Above, the Snakepit recording band. From left are: Matt Sorum (drums), Mike Inez (bass), Gilby Clarke (rhythm guitar), SLASH (lead guitar), Eric Dover (lead vocals).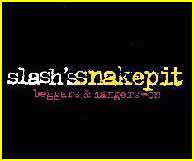 A tour was set up to begin April 1, 1995 if all the members could free themselves from other commitments. Unfortunately for SLASH's Snakepit, Mike Inez had to bow out as Alice In Chains began recording their own album. Then, Matt Sorum went back to Guns N'Roses to begin working on their new album. While they would not tour with the band, the original band members were able to put together a great video for the first single, "Beggars and Hangers-On".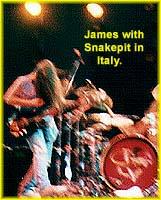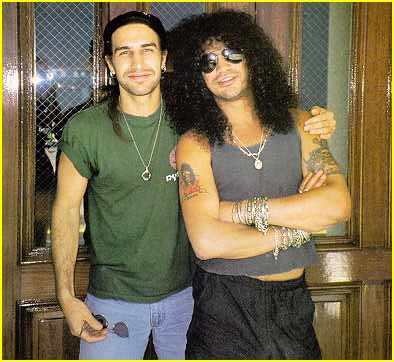 SLASH needed a replacement for Matt. Tom Maher, SLASH's personal manager, at one time worked for Big FD Management which also managed pride & glory, Zakk Wylde's band. When SLASH was looking for a drummer to tour with Snakepit, Tom Maher got pride & glory's drummer Brian Tichy (above right, with SLASH) an audition with just two days time to learn the songs! Brian suggested bassist James LoMenzo, also from pride & glory who joined Brian as the newest in the 'pit. Brian and James were able Brian and James were able to cram in a few days of rehearsal in L.A.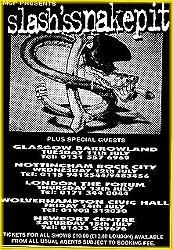 Then the whole basket of snakes headed for Memphis for three days rehearsal. SLASH's Snakepit was coiled and ready to spring for the opening gig, March 31, 1995 at the Six One Six Club in Memphis. MTV was there for the opening, recording wildly enthusiastic fans.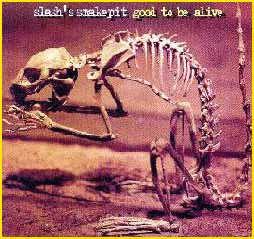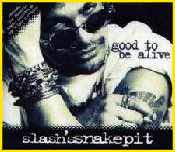 The video of "Good To Be Alive" was done that night, and it is a must see. The band and audience are so in tune and so excited. This was what SLASH wanted to get back to - being toe to toe with the audience - and he got it in spades. A really triumphant opening that set the vibe for future gigs.

Here's the Snakepit touring band (below) looking relaxed but ready to rip. That old snakecharmer, SLASH, is to the left of drummer Brian Tichy. To SLASH's right are vocalist Eric Dover, guitarist Gilby Clarke and bassist James LoMenzo. Is this a band you would want to miss? No way, and the crowds at the Snakepit shows were large and crazy. After the show, most of the band would come outside to meet the fans informally, answer questions, have photos taken, sign autographs for every last person there even if it meant they pulled out at 3 am. The band traveled by bus, not limo, and the close accommodations made for close friends. While these were not the original band members he had chosen, SLASH soon had constructed a second, strong band.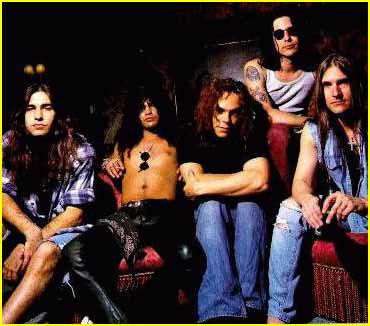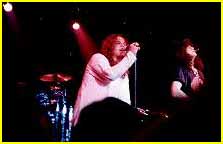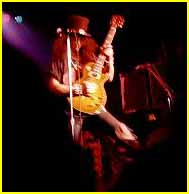 Starting with Memphis, the US tour took off. These photos were taken by a fan at the New York City show. Canadian gigs branched off the US tour. Just when we thought we had them back for good, they slithered off to Japan for a tour at the end of May 1995. Next came a European tour from early June to mid July followed by a South American ten day tour. The band returned home but got an invitation to play at Monsters of Rock at Donington Park in the UK.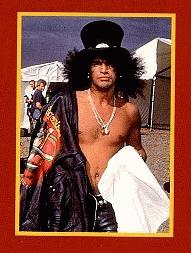 That was the last gig SLASH's Snakepit would play, and it was August 25, 1995. A triumphant 5 months! SLASH did many, many interviews in support of Snakepit. Near the end of the tour, SLASH said he would bring back Snakepit again. Recently, he announced that again on an internet chat.



And if you've been following recent events, GNR is no more - at least with the tophatted one as lead guitarist. SLASH has put aside his blues cover band, too (SLASH's Blues Ball). He has been busy during 1998 getting the new Snakepit ready to go. See the Current Events section for details!



All we have to say on this is:




Come On, SLASH!!!




Put on that Snakepit jacket!!!




GET IN THE PIT!!!






Here are some short clips from SLASH's Snakepit. First the recording band brings you one of SLASH's favorites from the album, "Be The Ball".

CLICK ON THE SNAKEPIT BOOT CD, GET IN THE PIT, TO HEAR SOME OF "BE THE BALL":

(WAV format,349K)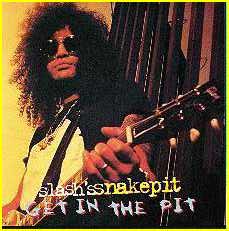 And you can hear the touring band in a live performance of "Beggars & Hangers-On", also a cut from IT'S FIVE O'CLOCK SOMEWHERE. This was recorded at the New York City show, April 13, 1995. Listen to the crowd singing right along with Eric!

CLICK ON THE SNAKEPIT BOOT CD, GOOD TO BE LIVE, TO HEAR PART OF A LIVE PERFORMANCE OF "BEGGARS & HANGERS-ON":

(WAV format,349K)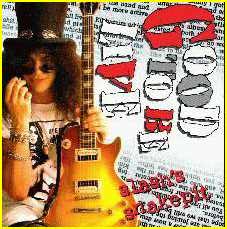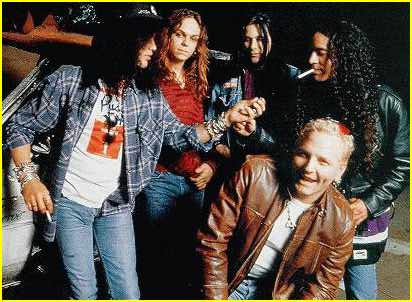 To the guys in SLASH's Snakepit's recording band, thanks for a great album! It rocks! In 1999 we are still waiting for Snakepit II to live up to that first Snakepit album.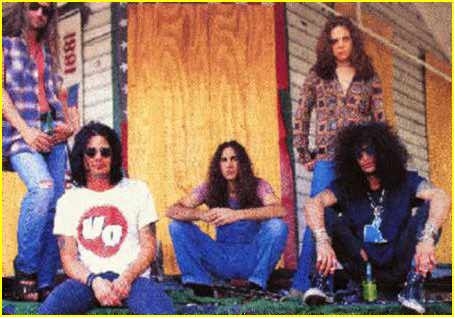 And for the guys in the touring band of SLASH's Snakepit, thanks for bringing the music to us! Some of us traveled a long way to see you, and you didn't disappoint us! What great shows you put on! We won't forget you and the time you spent after the shows with the fans.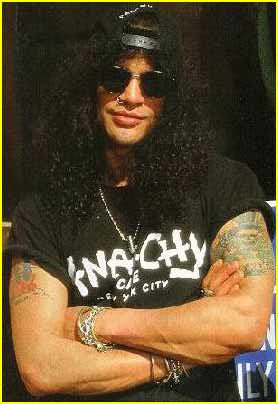 SLASH, as always - thanks for the music. IT'S FIVE O'CLOCK SOMEWHERE is a rockin' album. And the concerts were great! You said you wanted to be closer to the audience....and that was wonderful, because all along WE wanted to be closer to YOU, too!





To Return to the SLASH Official Fan Site's Main Menu, Click on the back of the boot Snakepit album, Get In The Pit: