THE BAND, THE TOUR AND...
AIN'T LIFE GRAND!

SLASH'S SNAKEPIT LIVE!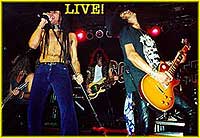 If you know anything about SLASH, you know he HAS to keep busy. The man is a certified workaholic! When he left Guns N'Roses, he had many offers to consider. Some were from bands looking for a legendary lead guitarist and some were one-offs. SLASH wasn't sure what he was going to do long term, so he accepted an offer from Hungary to play in a blues concert there. He pulled together some friends and headed over for what was to be a one-off. Thanks to the fans there, SLASH was welcomed with open arms and loud cheers. So, he kept Blues Ball going. But SLASH's Blues Ball was a cover band, and SLASH really wanted a band that would write new music and lyrics, record albums, and tour! He decided rather than reconstruct SLASH's Blues Ball, he would resurrect SLASH's Snakepit. The 1995 band members had already returned to their home bands or had started bands of their own. SLASH put together the new SLASH's Snakepit with all new members. They wrote songs, rehearsed, recorded...and finally their album, Ain't Life Grand was ready. The 'pit would tour hard in support of their album. Here you'll find information on the SLASH's Snakepit band, the tour schedule, and the album, Ain't Life Grand.


We are always interested in pictures you have for the photo album and for this section. We need lots and lots of pictures, advertisements, flyers, etc. Anything you send will be helpful! You can reach us at: webmaster@snakepit.org. Thank you!

Choose One of the Following:

To Return to the SLASH Official Fan Site's Main Menu,
Click on SLASH in San Diego on the PreAlbum Tour: