Lots of fans want to learn to play like SLASH! How about using a SLASH-related song or two for practice? Some wonderful SLASH fans have come up with the guitar tabs for some SLASH songs. But remember, it isn't just playing the right notes - you've got to have that SLASH feeling and attitude! So be sure to run around while you're playing and jump off some tables - or chandeliers! If you have any SLASH-related tabs to contribute, here's how you should do them so they are easy for others to use and print on the web. Web translation is very particular.

1. Use fixed width fonts NOT proportional. Courier is an excellent fixed width font. Use 10 point, please.
2. It's best to use the Notepad for entering the tabs and save them as a text file (e.g. nightrain.txt).
3. No pictures. No headings. No colors.
4. Include your name or what you want to be called. Include your email address if you want to be contacted directly. And of course, include the song title.
5. Mail the text file as an attachment to your mail message.
6. EXPERIENCED USERS may make the file with Microsoft Word and save it as an html file. You can look at this file with a browser and check that your tabs will appear as you wrote them. Web translation may shift a string note or two, and you can adjust before sending them. Send this html file as an attachment (e.g. nightrain.html).

Please contact the SLASH page by clicking on the SLASH guitar below (email tabs to this address):

SLASH Guitar Tabs: webmaster@Snakepit.Org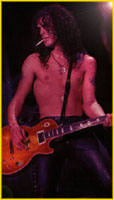 Here's a list of songs for which we have guitar tabs. Hey, get with it, and get SLASH some more! He doesn't want just a couple - he wants them ALL. Click on the small picture of SLASH to jump directly to a song. When you're finished, scroll to the end of the songs, and you can check out more of the SLASH page!

Guitar Tabs


Obsession/Confession
Good To Be Alive
Always On The Run
Neither Can I
Give In To Me
Fix
Theme From The Godfather
Beggars & Hangers-On
Monkey Chow
What Do You Want To Be
Lower
Jizz Da Pit
Dime Store Rock
Back and Forth Again
Doin' Fine
Take It Away
I Hate Everybody (But You)
Don't Damn Me
Knockin' On Heaven's Door
Don't Cry
Paradise City
Only Women Bleed
Sweet Child O'Mine
Wild Horses
Sympathy for the Devil
I Don't Live Today
Shotgun Blues
November Rain
Bring It On Home
Bad Obsession
Rocket Queen
Nightrain
Locomotive
My Michelle
Soma City Ward
Be The Ball
Break You
Le Freak
Ain't Life Grand
Live And Let Die
Double Talkin' Jive
Since I Don't Have You
Pretty Tied Up
Mr. Brownstone
You Ain't The First
Estranged
You Could Be Mine
So Fine
14 Years
Bad Apples
I Don't Care About You
Patience
Welcome to the Jungle
Coma
Right Next Door to Hell
The Garden
Dust N' Bones
Dead Horse
Get In The Ring
Nice Boys
Move To The City
Reckless Life
Used To Love Her
New Rose
Civil War
Back Off Bitch
Shadow Of Your Love
Yesterdays
Breakdown
Speed Parade
Garden of Eden
My Baby Wants To Rock & Roll
Just Like Anything
Been There Lately
I Don't Live Today
One In A Million
Shine
Serial Killer
Landslide
Mean Bone
Life's Sweet Drug
The Alien
Buick McKane
Back To The Moment
Crash Diet
The Truth
Think About You
It's So Easy
Something About Your Love
Black Leather
Anything Goes
Perfect Crime
Cure Me...Or...Kill Me
Guitar Licks
Set Me Free
Slither
Loving the Alien
Fall to Pieces
Do It For The Kids
Ain't It Fun
Come On, Come In

To Return to the SLASH Official Fan Site's Main Menu, Click on the closeup of SLASH's hand: