(Updated July 2005)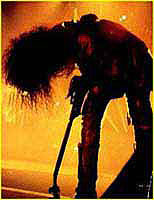 Seeing SLASH photos, reading about his guitar style and his life in magazines is great! Luckily we have a lot of his music to listen to. But if you have never seen him LIVE, then you've missed a great stage performer! SLASH connects with the audience like no one else. He likes to get close to the audience, and when he talks to the fans, he's funny and cool!

NOTE: The videos here used to be up on a fan's server. He is no longer making that available, so we have to use the one we are on and paying for. Therefore, we can only make one or two videos available at a time. We hope you will stop back again from time to time and see if the videos have been rotated. Thank you for your patience.

NOTE: Older videos are in avi format. Consequently, they take some time to load, but the videos are extremely clear. In the more recent videos, MPlayer is required to hear the sound. MPlayer is a plugin to Netscape Version 4 and above. New releases of Netscape are available free on the Netscape site. You may also obtain just the MPlayer software free at the Microsoft site. The most recent videos are in Real Media (RM) format unless another type is specified.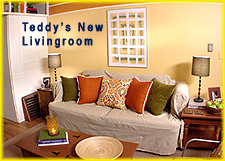 There's a show on The Learning Channel (TLC) called "Trading Spaces". Two couples do a makeover of a room in each other's home with the advice and help of the show's staff. Teddy Andreadis, who played keyboard for the old GNR and continues to do so for Alice Cooper, Carole King, etc., was selected for the show. He and his wife have the greatest home full of souvenirs, dogs and fun. When this clip opens, Teddy is about to learn how to use the sewing machine. In comes a curly haired pal of his, SLASH. SLASH hangs out for a short time, checks out the sewing machine and a pinball machine. This is great! Click on the picture of Teddy and his wife below: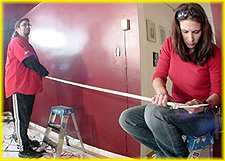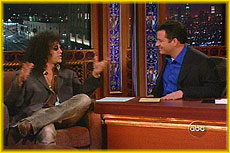 The week of March 24 - 28, 2003, SLASH cohosted the Jimmy Kimmel show on ABC. On that Wednesday, SLASH and The Project played their debut session on national TV. Duff and Matt were there. Dave Kushner was second guitar, and two guys from Cypress Hill did the vocalist honors. This is the second of the two songs they did, and it is in Windows Media format:
"Paradise City"!

To return to the SLASH Official Fan Site's Main Menu, Click on SLASH signing autographs after a Snakepit gig in Montreal: