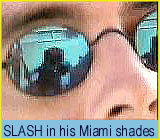 SLASH's Snakepit has another great show for fans in the southeast. This one will be on April 30 at the Bayfront Ampitheater in Miami. Radio station 94.9 ZETA is sponsoring this show so tune in there for all the details. They call this their Bonsai Festival, we believe. If we get more details on the number of bands playing, when Snakepit will be on, etc., we'll post it right here. Thanks to John for all the information!




SLASH's Snakepit has another new date. The 'pit will play on May 2 at the House of Blues, Lake Buena Vista, Florida (Disney World). This is an all ages show which begins at 7:30. So take the family to see Mickey and Goofy...then head over to the House of Blues to see SLASH and his gang.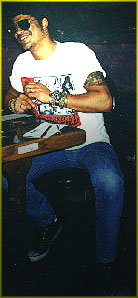 If you're going to the Anaheim show on April 6, you can get your tickets a little cheaper than at Ticketmaster. Jason from the band Barely Legal (opening that night) has the tickets. Call 714/256-4328 to get one or for more information. Please note that the venue name is The Cowboy Boogie not The Boogie as we have listed it. Location/date/everything else is the same.


Another new video has been added to the SLASH videos section. This is from the video, Band Of Gypsies: Live at the Fillmore East. SLASH appears on the video along with Lenny Kravitz and several others. SLASH talks about the Band of Gypsies and also about the importance of Hendrix as a model for guitarists. To see the video, go back to the Main Page at www.snakepit.org. At the Main Menu, click on SLASH Videos. This video is located at the end as it is the newest.

While US fans have had to buy the video, we've been told that Band of Gypsies is being shown on television in some Scandinavian countries including Finland and Sweden. So watch for that! It's a great show.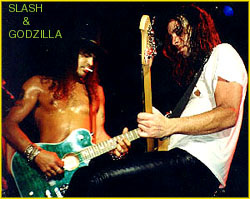 We've just got word on even more shows this month, and one in May! The complete tour schedule is located on the section titled SLASH's Snakepit 99 Tour Schedule. You'll see the entire schedule, photos of the band, setlists, tickets, ads for shows, etc. Thanks to everyone who generously shared their photos. Here's a list of the forthcoming April shows:



4/6...The Boogie...................Anaheim, CA
4/9...Schooners Bar & Grill........Lancaster, CA
4/10..The Crossroads...............Yucaipa, CA
4/18,4/19,4/20..Gussie L'amours....Honolulu, HI
4/22..Trees........................Dallas, TX
4/23..Instant Karma................Houston, TX
4/24..White Rabbit.................San Antonio, TX
4/28..Jimmy's Club.................New Orleans, LA
4/30..ZETA Radio Show - TBA........Miami, FL
5/1...WXTB Livestock Show..........Tampa Bay, FL
More are in the planning stage, but they will be in this same area. The northeast, midwest and the rest of the world just has to wait for the world tour! Hey, SLASH, hurry up!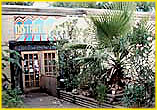 If you're from San Antonio or Houston, Texas, SLASH will be in your town this month! SLASH has two Texas dates in April:



4/23 at Instant Karma in Houston

4/24 at White Rabbit in San Antonio

We hear both of these are cool clubs, so come out, bring your friends, see the 'pit, and meet SLASH and the boys.

One more date so far for April, and that is in New Orleans! New Orleans is one of the best music cities in the nation, so go down and check out our guys, stay on, and hear some of the sweetest jazz you've ever heard. Here's where SLASH's Snakepit will be:

4/28 at Jimmy's Club in New Orleans

Instant Karma and Jimmy's Club are on sale at Ticketmaster online right now. All are available at the venue. And don't forget - we really would like a copy of your pictures, tickets, ads...anything. You'll see them right here on the Current Events section or in the Snakepit 99 Photo Gallery section.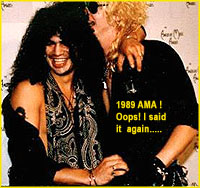 Duff and SLASH are showing you how to act when you're a winner! This was the AMA Awards for these guys. We'd like to announce our three winners in the SLASH promo photo contest:


hectgi@autobahn.mb.ca

jinkercv@value.net

che@casema.net

Hector is from Canada, Cedric is from California, and Alinda is from the Netherlands, so we have some good representation from the world. The next contest will be for a different promo picture of SLASH. Thanks to everyone who entered. It was nice meeting all of you!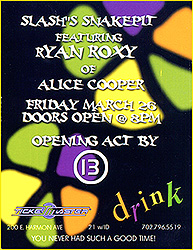 Questions on the Las Vegas show at The Drink: We asked some questions a fan raised - why was the show so short? SLASH was surprised and said they played their usual 90 minutes. We told him that it must just seem short because people want them to go on and on. He's happy to hear that! Teddy Andreadis was not there as he was in Europe with Bruce Willis & his band; these were gigs Teddy had taken on before the Vegas show was arranged. Teddy will be glad to hear he was missed! SLASH and the band did sign autographs there, but it may have been hard to find them. The venue had no place they could use, so SLASH found about 20 people, signed autographs , and then left. For those of you who missed out, head to the Ahaheim show!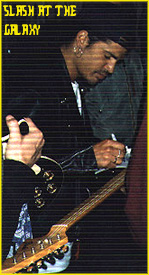 Leslie gave us the lone report on the Memphis show. She said the show was really awesome with several bands playing that day and evening. She was able to get a good picture of SLASH after the show for which she wants to thank him. Leslie said Rod is a really great singer! She got to say hello to him, and she says he is really a friendly guy. Leslie said she did not know many of the songs (that's ok, Leslie, none of the rest of us do either) and wasn't able to get the setlist. She is hoping one of you out there could supply a setlist for Memphis. "Beggars & Hangers-On" was very good, but she is looking for the name of a song near the end she really liked. We'll check with the band and see if they still have it! She is hoping SLASH's Snakepit will come by again! Thanks, Leslie!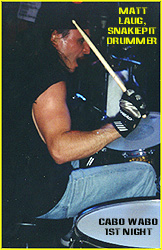 Another rumored SLASH's Snakepit show to pass along - this one is in Florida! Mike tells us that the local rock station in Jacksonville, Florida announced today that SLASH would be in town there at the end of May. Mike wasn't sure of the exact day, but he says he will call the station and let us know. He is also trying to find out when tickets go on sale. It looks like Ticketmaster will handle these. The venue is Choices Niteclub and Sportsbar. If anyone finds out more, let us know. Right now this show is NOT confirmed by SLASH's people. So far, though, all the unconfirmed dates have become confirmed, so there is hope in Florida! We'll pass along any information we get! Think SLASH will have time for building a sandcastle or having a swim? Party!

Randy sent us mail to tell us the April 10 gig in Yucaipa, CA (not Ukaipa as previously stated here) will be at The Crossroads. Randy says they have all kinds of acts there with a heavy 70s influence. In 1970, SLASH was 5 years old. Ahhhhh.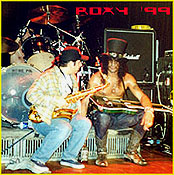 Jason from the band, Barely Legal, got in touch with us to say that his band will open for SLASH in Anaheim on April 6! Jason says the 6th will be a dream come true for him...sharing the stage with SLASH. Barely Legal opened recently for Gilby Clarke, Bang Tango, and Pretty Boy Floyd. Teddy Andreadis knows the band, too! They are bringing TWO HUNDRED people themselves! It sounds like a great night. If you are planning to go, better get your tickets! They are on sale through Ticketmaster and at the venue which is The Boogie. Sounds like one of the best shows yet!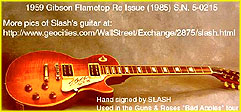 We were lucky enough awhile back to get one of SLASH's guitars through a charity auction. There's a whole section of the SLASH page about this. Many people have asked how they could buy a guitar that SLASH once owned. Wake up! It's time to play auction! Go on over to the ebay online auction site. Look up item 82109574, and get your checkbook out! The guitar is up over $2000 now of course. It is a 1959 Gibson Flametop ReIssue (1985) not only owned by SLASH but used by him during the GNR "Bad Apples Tour". Even if you can't afford it, there are great pictures to look at right there and a link you can go to see even more! Let's try to get this beautiful guitar! Auction ends March 30.

If you can't get the May issue of Guitar World, we'll give you a summary here. The author roundhouses Axl for breaking up Guns and not producing any album after all this time. He talks about how SLASH spent his time getting together a hard rock band. SLASH names the bandmembers and says that singer Rod Jackson is called "Hot Rod Lickin'." He says Snakepit reminds him of GNR when it first started out. The band has about 50 songs, and 12 are selected for the album. SLASH says that some songs are heavier than anything Guns ever did while some are more pop. All recording is done in his home studio. SLASH's studio at any time has about a dozen people there, so his home no longer feels like a home and doesn't give him a break from what he was doing all day. He has moved into an apartment down the street with his girlfriend as a place to relax and get away from the studio. Asked if he is concerned that there are few hard rock bands around, SLASH replies with the comment above!

Did anyone make it to the Las Vegas show? We really would like to hear from you - send us a quick or long review of the gig. Can you share a copy of your ticket or pictures for us to put on the page? Send us an email!

Don't forget the contest. Win a SLASH promo picture donated to us by SLASH himself! Contest ends midnight ET, March 31. See below for contest details!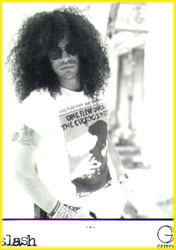 See this great promo picture of SLASH? How'd you like to try and win one? We have 3 of these that SLASH sent along for us. The picture is 8x10, black and white, and is a Geffen promo done in 1995. It's great! Yellow border is only on the image...not on the picture itself. Take it to a show and get SLASH to autograph it! OK, here's what you have to do. Answer the following questions correctly. Spelling counts. Then mail it to the SLASH page. One entry per person. Multiple entries will be discarded. In the event of more than 3 winners, there will be a drawing. Winners will be notified via email and also on this page. The photos will be mailed first class in the US and airmail outside the US. All answers can be found on the SLASH page:



1. Name the singer in SLASH's Snakepit's 1995 band.
(first and last name)
2. Name the singer in SLASH's Blues Ball.
(first and last name)
3. Name the singer in SLASH's Snakepit's 1999 band.
(first and last name)
4. SLASH has a new green doubleneck named "Godzilla". Who is the manufacturer?(one word answer)
5. SLASH appeared at Slamdance in Utah with 2 GNR buddies. Name them.(only first names or nicknames needed)

Contest begins March 25 and ends at midnight ET March 31.


Contest Mail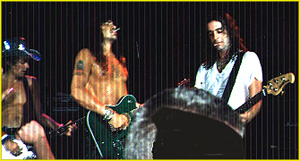 Just want to remind you that SLASH's Snakepit will be in Las Vegas on March 26 at The Drink. Looking at early April, station yourself in California for several shows! These are all confirmed, but, as always, things can change. "Musicians and club owners lead complicated lives. It is therefore always advisable to call ahead." (The New Yorker)

April 6 *** The Boogie *** Anaheim, CA

April 9 *** Schooner's Bar & Grill *** Lancaster, CA

April 10*** (???) *** Yucaipa, CA



If anyone knows the venue for Yucaipa, please let us know! SLASH's team did not list it. And if you go, a review would be great. If you can email some pictures and your ticket, that would be very useful!

SLASH has a company in New York working on tshirts that will be sold at the shows as soon as they are ready. If the working design holds up, these will very cool! And you'll know they are from SLASH himself and the 'pit when you see them. And you won't have to shell out an arm and a leg for them either. As soon as we here the availability, we'll let you know.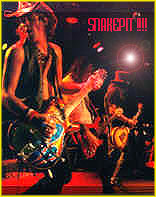 We haven't received many reviews on the Memphis show, and here is the Las Vegas show just around the corner. If you were there, how about writing what you thought of the music? How was the new singer, Rod, doing? Did SLASH totally blow you away? What about the other guys? Did you get a chance to meet the band and maybe get an autograph? The northeast and midwest and the whole rest of the world wants to know!

We did get a short note from Leslie. She told us that she and a friend caught SLASH just coming offstage, but he was kind enough to stop and have his picture taken with the two friends. SLASH had to leave right away, but they are hoping for a return trip when he has more time. Leslie wants to thank SLASH for stopping for the photograph. Thanks, SLASH!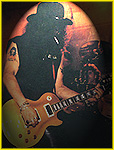 Two SLASH fans with subscriptions to Guitar World were kind enough to let us all know that we should be on the lookout for the May issue of that magazine. There's an excellent SLASH article inside, and SLASH talks about Snakepit! May issue - Guitar World - check it out.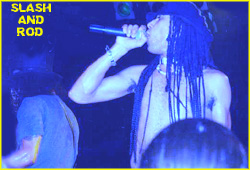 If you're in California, you might be hearing the rumor that SLASH's Snakepit will be playing a gig in Lancaster at the Schooner Bar & Grill. The date is April 9. While the venue may be advertising, the 'pit has not confirmed it. The venue dates are not set in concrete because the SLASH team is deciding between a western US tour (Vegas, California, Texas, etc.) and a southeastern US tour (Florida, for example). When this gets decided, more dates may fall into place. If you see any dates or venues, let us know and we'll post it right here. We'll check with SLASH's people to confirm it. If unconfirmed, we'll let you know that, too. Unconfirmed dates often become confirmed, but give yourself some time before you run out and get tickets. The 'pit doesn't want disappointed fans.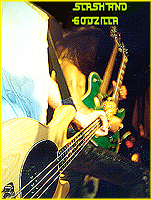 A show reminder! It's not too late to get tickets to the gig on Saturday, March 20 in Memphis, TN. The show is at the New Daisy Theatre and SLASH's Snakepit is headlining (of course!). Several other bands are taking part in this show sponsored by a local radio station. Tickets are available at Ticketmaster and at the venue. The show begins at 8 pm, but there will be some outdoor things going on beginning at 4. So, call long distance information and get to Memphis, Tennessee! And please email the SLASH page with your review of the show. Any photos and ticket scans you can share for the Photo Gallery would be appreciated! Mail us at:

Memphis Show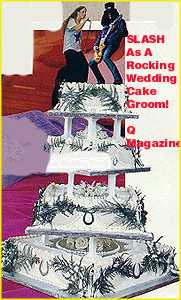 Ever think you would see SLASH as a wedding cake decoration? Well, here's the picture that appears in the April issue of Q, a music magazine from the the UK. Q has an article about people who have popular music at their weddings. Instead of Beethoven, they have Van Morrison. Or Michael Jackson. Or Elvis! So Q made a very tiny SLASH picture and stuck him on the top of the cake. SLASH looks cool in any situation! We have just one question - who is the bride?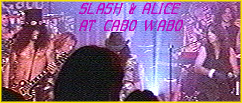 Remember we told you that the Alice Cooper box set, The Life & Crimes of Alice Cooper, due out April 20 would have SLASH on with "Hey Stoopid" and "Under My Wheels"? Alice has a DVD/VHS concert coming out at the same time. As far as we know, SLASH is not in the video. Jumping right in to the Alice celebration, in May, VH1 will have one of its "Behind The Music" specials with Alice as the subject! You'll see an interview with SLASH! Others on hand include Rob Zombie, Dee Snider, and Alice's original band. If anyone gets the date and time for this VH1 special, be sure to let us know. Thanks!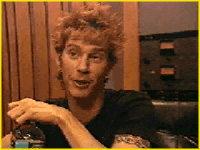 Last night Duff held a chat on his web site. While the lack of a moderator and the advertising-laden software needs to be re-thought, it was good to hear from Duff again. He didn't answer too many questions as he got bogged down with questions he did not want to answer on GNR. He did report that he will be at Al's Bar in L.A. this weekend and will be recording a live album there. The album will be sold off his web site in about 2 weeks. He reported that Izzy had done some album artwork for him and will be getting a web site soon. His personal life is going very well. He is living with his girlfriend and their young daughter. He says that he and SLASH and Matt play together all the time and are the best of friends. When asked about "Beautiful Disease", his current album that was never released by Geffen, Duff said it was stuck in a corporate vault somewhere. Since Duff is no longer with the label, the music done by him there is owned by the label unless it is purchased by the artist. This is the album that SLASH guests on. It's a winner. There are advance copies floating around, so see if you can give this rocking album a listen.


A rumor was going around that seemed impossible, but we have the final word on this. We haven't posted it before because we were in denial! Seems that those one-hit wonders, Right Said Fred, the band that brought you the '91 single "I'm Too Sexy", are trying to stage a comeback; and who better to help them than SLASH! Yes, SLASH was contacted to see if he could help the RSF boys with a remix of their old hit. From RSF: "The reason for asking SLASH is that when we were in the states in the early nineties - and he might sue me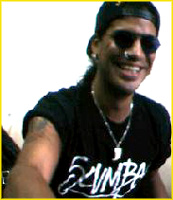 for saying this - I'm sure he said "I'm Too Sexy" was one of his favourite tracks that year.We've approached him and his manager, and they haven't told us to f--- off, which is a good sign". We read this and laughed. Nice try, RSF, now go back to oblivion. However, we have been told by SLASH's manager that the approach was made and at first SLASH was thinking about it when he was bored. SLASH! Fortunately for SLASH's musical reputation, and those of us who would have bought it, SLASH got busy on the new Snakepit album, and Right Said Fred has sunk like a stone. They keep calling, but SLASH ain't trying to hear them anymore. Bye, RSF. SLASH, you didn't really think it was the best song of the year, did you? Our man might have had a musical breakdown! Now he's back in the hard rock groove again.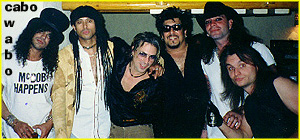 ANAHEIM, CA! Be advised that Ticketmaster is selling tickets for a SLASH's Snakepit gig in your town! The SLASH camp is not ready to confirm this one just yet, but it must be pretty close if the venue and Ticketmaster have tickets right now! The venue is The Boogie at 1721 S. Manchester Avenue in Anaheim, California. The show will be on April 6, 1999 at 8 pm. The Ticketmaster ad says there will be special guests! We'll try to find out who that could be. If we got a vote, we would lobby for a Duff appearance! SLASH has so many friends in the music biz that it could be anyone. We'll let you know as soon as SLASH's people give the word that this gig is definitely on.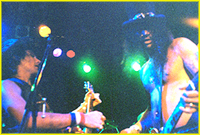 We just got the final word on the Memphis and Las Vegas shows - they are definitely on! The Memphis show is coming up this Saturday, March 20, at The New Daisy Theater in Memphis, TN. The Las Vegas show is at The Drink on Friday, March 26. More shows will be announced soon, and you can get the schedule right here or on the Snakepit 99 section of this page. Slithering soon to a club near you...Snakepit! Get ready to send your review of the show - the band really wants to hear what you think. And if you get some pictures, tickets, ads or tapes you'd like to share or trade, just let us know right here. Thanks! We've heard a rumor that there may be some Snakepit merchandise there, so take some extra money!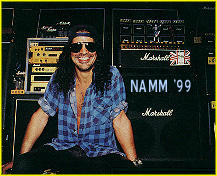 Awhile back we told you that SLASH was going to be at NAMM '99, the convention for those manufacturing musical instruments and related gear. SLASH was there manning the booths for Marshall, Gibson, and others whose equipment he uses. Sounds wonderful, doesn't it? Check out some information and pictures in the June 1999 Metal Edge. Nice picture of SLASH, and also Duff! Duff's band appeared at the Whisky that night. Metal Edge said that SLASH had an overflow crowd at his booth, and he has a great big smile for the camera so he must have been enjoying it.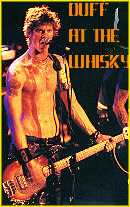 You just might want to pick up this issue of Metal Edge. There is a three page interview with Duff touching on his illness, sobriety, career, child, and GNR. He says that Guns fell apart because the members were no longer like family; they were just zombies. The band and members were just overwhelmed with a success that precluded a normal life. They were unable to go anywhere after a show or hardly get to a gig due to the huge amount of people that wanted to touch them, sit with them, just be with them. When the Illusion Tour ended, he and Izzy started going to SLASH's house to write songs; and for just a minute, it seemed they were getting it together, but then it just fell apart. He said the band was just too much a big business, and none of them had the training to handle that. He's accepted that big business rules all, but he remembers the electricity when the band got together to rehearse or to play some of those first gigs. When asked what he thinks of Axl getting some guys and calling it Guns, Duff says he knows them all, and it is not Guns. He says commercial reasons are why it's going where it's going. "What a shame." Agreed. Much, much more in this article, so get a copy.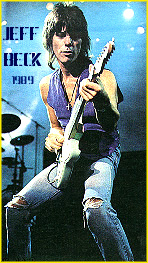 SLASH is in another magazine this month, the April 1 issue of Rolling Stone. The article is called "Guitar Gods", and some world class axemen are asked about their guitar idols. SLASH spoke about Jeff Beck, the guitarist that influenced every band in the US and UK. SLASH says, "It's a lot easier to appreciate Jeff Beck if you are a guitar player. He just has such natural control over the instrument...It's the ability to make it do something you've never heard anybody else do." SLASH talks about Jeff Beck's album "Blow By Blow" which blew the charts apart some time ago. The album showed the terrific range that Jeff Beck has. By the way, Jeff Beck's new one, "Who Else!" is out March 16. The range of music and styles on this album are incredible. If SLASH is one of your major influences as a guitarist, maybe you ought to get some Jeff Beck and see why Our Man holds Jeff Beck in such high regard.


We'd been told that SLASH was on the new video Band Of Gypsys, but the SLASH people seemed to think this wasn't so. We're pleased to say that Band Of Gypsies, the documentary about Jimi Hendrix and his band, DOES contain some SLASH footage. SLASH makes three brief comments. The first remark concerned Hendrix' readiness to move from a threesome to a larger band. The second was about how the Band of Gypsies was a good format for Hendrix. And the final one was a recommendation that guitarists should watch footage of Hendrix because he can show you how much freedom you really do do have. The documentary is very good. If you're interested in how a musician grows then this is a good show for you. And you'll see SLASH, too.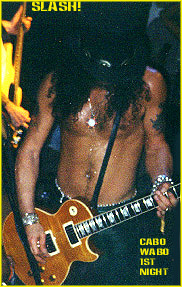 Great news! Rumor has it that SLASH's Snakepit will be doing some major rocking at more shows during March! One lucky fan in Tennessee already has tickets to a show on Saturday, March 20. The show is sponsored by radio station 92.9 WMFS in Memphis, and will feature several bands. Headlining, they say, will be Snakepit! The show is at the New Daisy Theatre on Beale Street. We've also heard that SLASH's Snakepit will be at The Drink, a great indoor/outdoor club in Las Vegas, on Friday, March 26. Please contact venues for specific information on tickets and times! The venues are already advertising, and we expect confirmation from SLASH's team any time now. We'll keep you posted on that.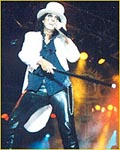 Some news of SLASH guest appearances! We have to live on these till the new album is out. As we told you, Humanary Stew, the Tribute to Alice Cooper is out now in the US, Japan and Europe. Having heard the "No More Mr. Nice Guy" track featuring SLASH and Roger Daltry, we were really excited about this SLASH appearance. SLASH is great! Roger Daltry is one of the premier voices of rock and roll. And that's not the end of the great musicians on this track: Mike Inez (Alice In Chains and ex-Snakepit 1995 bassist), the wonderful drummer Carmen Appice (who put together the double cd Guitar Zeus), Bob Kulick (also produced this cd), and David Glen Eisley. The rest of the album is very good with standout performances by Vince Neil and Mick Mars (Motley Crue) on "Cold Ethyl", Matt Sorum and Duff McKagen on "Elected" (Steve Jones, vocals), and Dee Snider's (Twisted Sister) roaring vocals on "Go To Hell" with the great Zakk Wylde wielding his axe. You'll have your own favorites, but the SLASH track is worth the price of admission.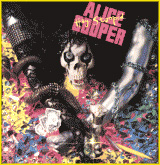 Just when you've got that Alice purchase made, you need to start saving for another. Alice gets the box set treatment on April 20 when Rhino releases the four-disc collection, The Life & Crimes of Alice Cooper. The box set covers Alice's 30 year career in rock and roll. And SLASH is on it twice! Both are on Disc 4. The first is "Under My Wheels" featuring SLASH, Axl and Izzy! This is a cut from the soundtrack, The Decline of Western Civilization, Part II: The Metal Years. SLASH also appears on the "Hey Stoopid" track off the Hey Stoopid album. That's a great SLASH performance. Keep in mind, though, that if you see the "Hey Stoopid" video, you are not hearing SLASH. Joe Satriani plays SLASH's licks and sounds not at all like SLASH. No word on price yet, but this box set is a must have for Alice Cooper fans and SLASH collectors.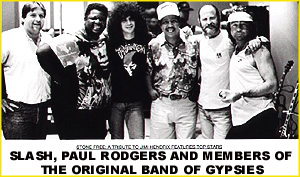 Speaking of videos, Hector tells us about the new Hendrix home video, "Band of Gypsies". His information is that SLASH is interviewed on the video which is from a PBS show where Jimi's life and music were documented. All Jimi's bandmates are interviewed, and some more recent rock stars are interviewed about their thoughts on Hendrix and his contributions to rock and roll. Lenny Kravitz is one of these, and Hector thinks SLASH may be also. ****NOTE: SLASH's people could not confirm that SLASH was indeed on the video although he has done radio interviews about Jimi Hendrix. Hold tight on this till we get a copy in our hands. If you have a copy, how about emailing the SLASH page about the SLASH content, if any? (Of course, all Hendrix lovers have left for the video store already.) Should be an excellent Hendrix video, and we're hoping that Our Guy makes an appearance. One Hendrix/SLASH (or is that Hendrix// ??) related cd is Stone Free, a Hendrix tribute album released awhile back, put together by Paul Rodgers. SLASH played on the track "I Don't Live Today". An interview cd was released concerning some of the artists appearing on the album. A producer said Jimi would have really liked SLASH. He said that he could just see Jimi up in heaven, watching and listening to SLASH's licks, smiling and nodding approval. Another great tribute album!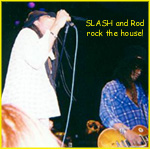 We mentioned last month that if you can get a promoter to put together a show, SLASH's Snakepit can be lured out of the pit to play another gig while the new album is in progress. One fan in Lubbock, Texas is trying to do just that. If you are from the Lubbock, Texas area and would turn out to see SLASH, email the SLASH page! Hey, if you are from anywhere and would go to see SLASH anywhere, here's your chance to put your cards on the table, and visit Texas! Anyone who thinks they can be there, email the SLASH page:

Texas Show??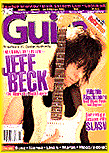 Kirk tells us there's a great SLASH article in the April issue of Guitar (one of SLASH's influences, Jeff Beck, is on the cover). The article is about a beginner's first guitar lesson! You can see what's coming here, can't you? SLASH, armed with a Les Paul, tries to teach the writer how to play guitar! Imagine SLASH as your guitar teacher.... something like ...OK, let's start with Estranged, and play it f*ckin' loud! Well, you didn't think he'd teach you scales, did you? This has to be one we all pick up! Should have been the guitar teaching video!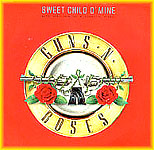 Another magazine SLASH mention is in Guitar One which Ray gave us. Look for the section on playing Sweet Child O' Mine. They preface the instructions with an update on SLASH, and they have it right (ex-GNR, Snakepit, etc.) The instructions given are very specific to SLASH... for example, "...at this point, SLASH blows through every blues phrase in the book." And you thought SCOM was easy! Funniest thing here is the statement that "Ever since SLASH penned this song's classic intro riff, it is almost impossible to enter a music store without hearing some guitarist picking through this passage at a near-deafening volume." Must have heard those "play it f*ckin' loud" instructions! SLASH would be a good teacher - let's see if we can arrange private lessons!


SLASH was recently interviewed backstage at the Grammy Awards. He was asked about his current solo projects and the Sundance Film Festival. He again clarified that SLASH's Snakepit is not a solo project, and he is no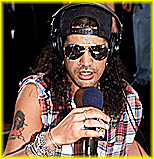 longer in Guns N'Roses. There was a discussion of Snakepit and where the new album stands. SLASH said it is in pre-post-production, and he gave a release date of May/June but that is not definite. The Sundance (really Slamdance) Film Festival entertainment was not a Guns N'Roses Reunion. Matt Sorum worked on the soundtrack of the film Soundman, and SLASH and Duff both played on it. The show they did was in support of the film. If you would like to hear the whole interview, click on the picture below where SLASH is being interviewed! (Requires Real Audio). Good to hear your voice again, SLASH!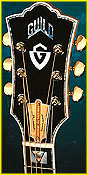 In the Winter/Spring '99 Guild Gallery, Bonnie spotted a SLASH mention. An article about the new Crossroads Doubleneck says that this beautiful guitar was commissioned from Guild by SLASH! It incorporates a hollow acoustic 12-string and a solidbody 6-string. You'll find a small picture there of SLASH with his new doubleneck. Thanks, Bonnie!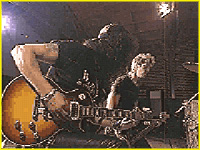 Some of us have been lucky enough to score an advance promo copy of Duff McKagen's Beautiful Disease album. It rocks! Both SLASH and Izzy Stradlin guest on the album. The advance promos have no credit list, just a simple track list. Even though you are a SLASH sound wizard, you might want the confirmation that SLASH plays on these tracks: Hope and Mezz. No word yet on the official release date of the album.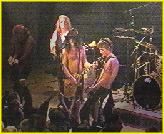 In the March 18 issue of Rolling Stone, in the Random Notes column, there's a super picture of SLASH playing at the Slamdance film fest in Utah. SLASH, Duff and Matt appeared in support of the film Soundman. Duff and SLASH are on the soundtrack. But it seemed like old GNR times when the band zoomed from covers of Honkey Tonk Women and Superstition to Welcome to the Jungle! Unfortunately, SLASH stopped playing and said it wasn't going to happen. And it's our fave song, too! SLASH was asked about a full scale GNR reunion, and he said all we need is a little patience. Just have to wait for Axl to get his head together, says SLASH, and I'll be around. He said that band would be a lot more fun than seeing a "bunch of f*ckin' mapped-out techno anal bullshit". Whoa, SLASH, tell it like it is!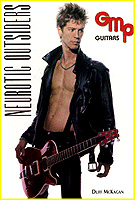 Duff McKagan recently gave an interview which has news of interest to SLASH fans. As you may know, Duff has a completed album called Beautiful Disease that's just waiting to be released. SLASH and Izzy guest on the album so we are looking forward to this new material. Due to the recent turmoil at Geffen Records, Duff's album has been delayed again. The new date went from early January to March 26. The recent Universal/Polygram merger will in effect shut down Geffen Records at the end of this month. The Geffen logo and building will disappear. It is not clear how many of the Geffen staff are affected, but the effect on artists is at least a delay in their recordings and releases. MTV gave a mid-summer date as the new date for the Snakepit release. Reuter's had an article saying some artist contracts will be bought out and the artists released.

We're very sure that SLASH will not be part of that group as he has a proven history as a successful artist with GNR and solo. Duff says that Interscope is now the label that will make the decisions on his Geffen album. Interscope was a rap label which the other record companies are merging into. This is a very confusing time for fans, artists, and label employees. As information comes in on this new arrangement, we'll have it right here for you. Look for big changes in 1999 for all concerned. We have one message for Interscope: Get that SLASH's Snakepit album out NOW!



Here's some news on the indie movie "Soundman" that SLASH was doing some soundtrack work on. Actually, he and Duff jammed on the track while Lanny Cordolla and Matt Sorum were the musical composers for the film.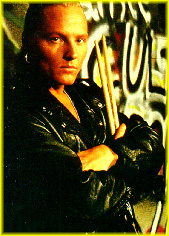 Matt had a cameo part in the film which was shot in New Mexico and L.A. This is the official listing of the film: SOUNDMAN - (USA, 105 min.) US PREMIERE A darkly comic character sketch about a sound man who goes over the edge. Directed by Steven Widi Ho. The news is that the film is premiering at the Slamdance Film Festival in Utah January 25 and 26. The film is one of 14 chosen from 17,000 submissions!

We've been told that there was a private screening last month in Beverly Hills last month, and SLASH, Duff and Matt were all there! The film was said to be good, and SLASH had some terrific riffs featured...especially on the intro song. SLASH received a credit on the film by himself for his work. Of course! SLASH fans in Utah....let's see about getting someone at this festival! Check out the information on www.slamdance.com. We've been told there is a chance that the soundtrack will be released if the film is distributed. Let's hope so! SLASH, Matt, and Duff will be jamming at a private party for the film in Utah. Let's hope someone covers this or gets some photos! If anyone hears anything more, please let us know. Thanks to Marci for gathering this information for us.

An update on this: Slash's manager says they are not certain Slash will be at the festival due to business meetings concerning the new record company and getting the new album going. If there is any way he can be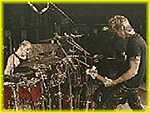 there, he will, of course, but don't head out to Utah without checking here first. The band playing will be Teddy Andreadis' Cocktail Hour that plays regularly at The Baked Potato in L.A. Slash, Duff and Matt would be joining in with that band. There's a rumor going around that MTV will be there to film this GNR "mini-reunion", but that has not been verified. There will be lots of press coverage, but we're not sure about MTV.

One last update. SLASH is on his way to Utah! The live music will be the music from the soundtrack, and the music will last about 20 minutes. MTV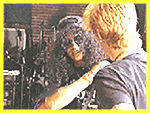 will be at Slamdance along with many others from the media. This will not be a "GNR reunion" as the three will not play together since they are on different tracks on the soundtrack. Still, it would be great to see. Let's hope someone makes a tape or that MTV captures more than its usual 15 seconds on film!


Merry Christmas to guitar fans from The Learning Channel! December 24, TLC will air Guitar Heroes at 8pm Eastern. SLASH is in this episode! What a terrific Christmas Eve program this is. TLC says in its program description that without the electric guitar, rock and roll would not be here to stay. Guitar Gods from Chuck Berry to Jimi Hendrix, Eric Clapton, to The Edge (and SLASH!) created a new musical era. Tune in and see the guys talk about how the electric guitar changed music and their lives. And to all of you out there, Happy Holidays!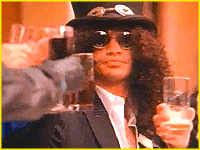 An especially Happy New Year to all the SLASH fans! We've got a great year to look forward to with the new album and the tours. This might be your year to meet SLASH. Hope we'll see you at least one of the gigs!

AND...


HAPPY NEW YEAR, SLASH!

If you haven't looked around the SLASH page recently, you may have missed a new section! There are now SLASH postcards that you can send to anyone on the internet. Choose from one of 16 photos, fill in the email information, type in a message, and send SLASH on his way! Go to the main entrance, www.snakepit.org, scroll down to Main Menu (don't miss SLASH wishing you Happy Holidays), and click on SLASH postcards. Share SLASH with everyone! Accompanying music will be available soon.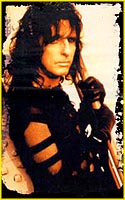 Here's an update on the Alice Cooper tribute album due out in late March 1999. SLASH's track with Roger Daltry (The Who) on vocals and Mike Inez (Alice in Chains, Snakepit) along with Paul Stanley and sideman Bob Kulick is completed. This is the "No More Mr. Nice Guy" track. You might recall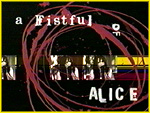 that SLASH was on the "Elected" track on the A Fistful of Alice live cd. This time ex-GNR buddies Duff McKagan and Matt Sorum do this track with Steve Jones (ex-Sex Pistols, ex-Neurotic Outsiders) and former Cult guitarist Billy Duffy. The list of great artists goes on and on: Don Dokken, Dave Mustaine, Eric Singer, Dee Snider, Vince Neil, Mick Mars and others. The name of the album is Humanary Stew, so watch for this one on Cleopatra Records this March.

With the holiday season upon us, there won't be many dramatic announcements on plans and schedules. Stay tuned for 1999! We do have a couple of interesting reports. Remember that Viper pinball machine that SLASH did the music for? Michael tells us that it has been spotted in Greensburg, Indiana at the local Pizza King. So you midwesterners have a chance to test that one out! Michael reports the white Viper DOES have SLASH on the license plate!

And we have another report here from Chris who says that he spotted Viper in the Dearbrook Mall which is in the Kingwood suburb of Houston, Texas. So, you Texans have the Viper game and are most likely going to see the new Snakepit band on their prerecording tour...we are calling a moving van now!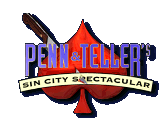 A little while ago, SLASH made a brief appearance on Penn & Teller's Sin City Spectacular on the FX channel. This Sunday, December 13, SLASH will be on again! Other guests scheduled for this 10 pm ET/PT show are: Space Hog, and Alice Cooper who helps Penn & Teller in a magic trick involving a slithery partner. Now we know why SLASH wants to be on...love those reptiles! Also on the show are Newsradio's Andy Dick, comedian Gilbert Gottfried and The Long Twins. If you can't be there Sunday, the show repeats on Monday at 9 pm ET/PT.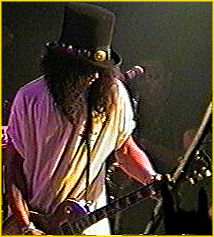 Update: SLASH was great! They introduced him as SLASH of SLASH's Snakepit which was very accurate and very cool. SLASH came out with his Les Paul and started laying it down. Then, Penn & Teller came over, and SLASH came to a stop. They told him he was very good, but he needed something else other than just the music. Should have flashed them a big smile! And they asked for a trick. He took off his tophat, and after some rummaging in the hat, a rat was pulled out. SLASH said that was his "rat in the hat trick"! So they said fine, and SLASH said...get the f*ck (bleeped out) off the stage! And then he went back into playing. There was a terrific shot of SLASH standing in front of his amps at the lip of the stage with this huge audience cheering and clapping. When he finished (with a nice neck bend for the Gibson), they really cheered, and he was out of there. Slash had on his tophat, his hair pulled back, the purple sunglasses, white tshirt with something about cannibal women on it, tight black leather pants, black shoes. Oh, SLASH, looking extremely sexy these days!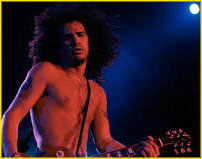 With the excitement over the new Snakepit we've neglected to mention some SLASH encounters. In early November, Brian was at the Greek Theater in L.A to see Blues Traveler. For their last song, John Popper brought out "our good friend SLASH". According to Brian, SLASH did a very cool blues jam with Blues Traveler. After the show, Brian was able to meet SLASH and shake his hand. SLASH was all smiles and very nice. What a night!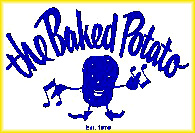 In mid-November on a Tuesday, of course, Ravi went to the Baked Potato in L.A. Sure enough, SLASH was there! He played with Teddy Andreadis' band for awhile. Johnny Griparic, bassist for the new Snakepit, was also there as he plays in Teddy's band all the time. Ravi also got to meet Teddy who is a really nice person and friend of SLASH. Ravi had a chance to talk with SLASH and tell SLASH what a big fan he is. SLASH was very pleasant. Ravi went home with his clothes smelling like cigarettes from SLASH, but to some of us that would be better than perfume!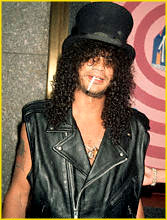 Did you see the MTV program "Where Is Jesse"? Watch for a re-run if you missed this program about the top 25 songs of the decade. The top song of the decade was "November Rain" by GNR. The great thing here is that they said November Rain was chosen NOT for the singing or lyrics...but for the awesome guitar solos. And we know who did those! Congratulations, SLASH!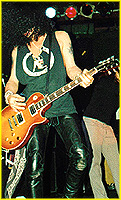 Go to any great parties before Thanksgiving? SLASH hosted a pre-Thanksgiving Day celebration on November 15 at the Barfly in LA. He and Teddy Andreadis and the band were the entertainment or at least part of the entertainment! The night was called the China Club Projam featuring the China Club All-Stars. Past years have seen the following rockers as members of the All-Stars: Sting, Stevie Wonder, Chaka Khan, Bonnie Raitt, Bruce Springsteen. Wonder who was there this time?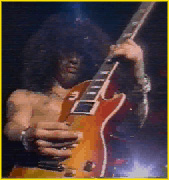 We found out who was there this time! It was the debut performance of the new Snakepit. The new band played several songs that will be recorded next year for the new album. The new band members were (finally) announced - lead vocalist is Rod Jackson, said to be a newcomer on the music scene. Rhythm guitarist is once again Ryan Roxie who was previously in the band, then left, and has now returned. Johnny Griparic continues on bass and Matt Laug is drummer. So there you have the new lineup! SLASH's manager is reported to have said that there will be unannounced shows before the album is recorded, and there may be a short club tour after the first of the year. This is an important step! The band is actually together and onstage. Can the album be far behind?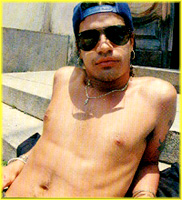 An announcement from the SLASH camp on the prerecording tour. With the amount of work to be done getting the tour together and on the road, SLASH and his manager have decided to let the prerecording tour drop for December 1998. Doesn't mean they won't be working hard on things in December! And we will be hearing about the schedule for the album and tour in the New Year. This gives you west and southwest people time to finish your Christmas shopping before you line up to see the new Snakepit!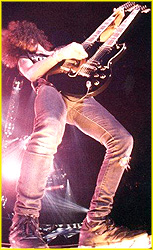 SLASH's manager reports that they are pretty much on schedule! Of course, this means the mini, pre-recording tour should happen around mid-December. Right now, he says they are looking at the Texas area for the tour. So if you live down that way, get ready! The new Snakepit is going to slither into your neighborhood. And we hope those of you that get to see Our Man will give us a full report on the new band and the new music! Geffen just has to approve the tour, and everything will be go! Full schedule announced here as soon as we have it.






We all know that SLASH favors Gibson guitars, but he does use others occasionally. Everyone knows the red B.C. Rich from the Illusion Tour - is that a beauty or what? In fact, one of the nicest posters of SLASH shows him playing the B.C. Rich. Want to have a look at two that B.C. Rich designed for SLASH and maybe order one? You can see them at the B.C. Rich website! The address is bcrichguitars.com/catalog.html and then click on Mockingbird.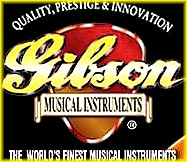 We love to read articles about SLASH and his guitars. Ozzy, a SLASH fan from the UK, told us about a small treasure trove of articles. This is on the Gibson page, www.gibson.com. When you get there, look for a link to their magazine, Amplifier, by clicking on the News & Info link. Then click Search and choose their three magazines and type in SLASH! You should get a bunch of interesting reading.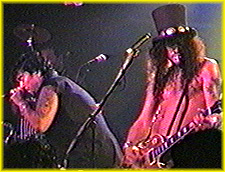 It looks more and more like The Baked Potato in LA is the place to go on Tuesday evenings if you are trying to catch a glimpse of SLASH. He was there again this Tuesday playing with Teddy Andreadis' band. He played about 3 songs and then relaxed. Fans were able to come over and say hello. They reported that SLASH looks excellent and was very nice. They also said that he seems shy which he has said about himself many times. If you are out there on a Tuesday, stop in and see Teddy for sure. And if you're lucky, SLASH may be there, too.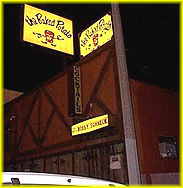 Gilby Clarke is opening on the LA Guns tour right now. A friend caught up with Gilby at a recent gig, and Gilby said for anyone around LA over the Thanksgiving holiday, be sure to stop in at the Baked Potato on Tuesday, November 26. Teddy Andreadis plays regularly on Tuesdays, and joining him that night will be SLASH and Johnny Griparic (bass player for the new Snakepit and formerly of Blues Ball). Later, our friend told us that SLASH turned up that Tuesday night, too! He jammed for an hour from about 11:30 to 12:30 am. So you might head down there next week if you are in the area and see if he shows up again. It appears that the songs may be new Snakepit songs or they are Teddy's songs because our friend says they were not GNR or the 1995 Snakepit's. He's planning to go the week of Thanksgiving. Get there early, the Baked Potato probably holds 100 people max. Tshirts, hats, meals, drinks all available!

After running this by SLASH's manager who also spoke to SLASH about it, SLASH has no definite plans to turn up at the "Spud" as they called it. He drops in if he feels like jamming when Teddy's there. So he might be there, and he might not. If he comes, it would be a dynamite show, but even if he doesn't, seeing Gilby, Teddy, and Johnny ought to be worth your 10 bucks admission.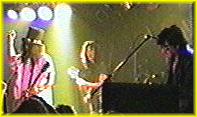 SLASH fans always want to know how he was dressed, what guitars he used, and just about any information that makes the rest of us feel like we were there, too. At the Spud, SLASH had on tight jeans, Converse shoes, black tshirt, and sunglasses. He didn't bring his guitar(s) - he used what was available. SLASH smoked about 10 cigarettes during his hour onstage! When he was in the bar, he was running a tab for drinks or someone else was buying - no money changed hands each drink. Note: the rest of us better bring the cash or plastic! He was said to be talking with some woman when he wasn't onstage - the same one, that is. Maybe this is the new girlfriend? And although he spent his offstage time in the bar talking and drinking, we've been told that he was in good shape and just having a nice evening.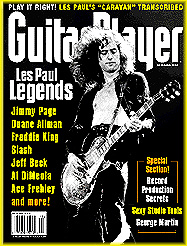 As you can see by the cover of the December 1998 issue of Guitar Player magazine at right, SLASH can be found inside. There's a feature article, "Legends of the Paul", that highlights 13 players who define the classic sound of Les Paul. And of course one key player is SLASH. Read an interesting article and see a great picture of SLASH with all his guitars!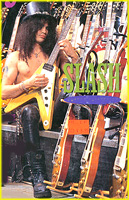 At left, this picture of SLASH and his guitars appeared on an older issue of the Japanese magazine, Player. Magazines with articles about SLASH and his music are always going up in value, so keep your copies in great condition for your SLASH collection or to sell or pass on to another collector. Issues with SLASH on the cover are most valuable to SLASH collectors for obvious reasons, but the Guitar Player magazine mentioned above may go for 2 to 3 times its current value in the future depending on condition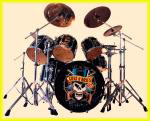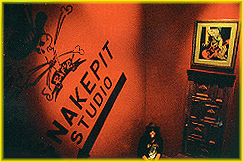 Some of us have had the next Snakepit album on our Christmas lists based on a couple of interviews where SLASH said that was his target date. The album is still coming out, but you may not find it under your Christmas tree. SLASH's manager said that due to some scheduling considerations, they may have to push it back a little. There are some outside projects (!) which have to get factored in. He promises to give us the lowdown on these as soon as SLASH's schedule is finalized. Can you imagine keeping SLASH's schedule?! So, if it's not in the stores for Christmas, return that Hanson cd someone got you and hang onto the money for Snakepit!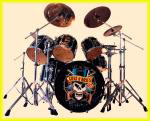 You drummers out there will want to look out for this one! Matt Sorum has made an instructional video called "Drum Licks + Tricks From The Rock & Roll Jungle". Clever title, Matt! And guess who appears on the video? SLASH and Duff! Get one today. One source we have been able to identify is Musician's Friend.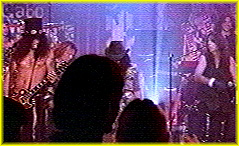 Alice Cooper recently did some L.A. shows and had some post-concert VIP parties for the media and his friends. He was asked how the tribute album is coming, and he said it's not quite ready yet. Alice is enjoying the interpretation of his songs by other musicians. He remarked that he really liked the version of "No More Mr. Nice Guy" done by SLASH, Roger Daltry, Mike Inez, Carmen Appice. This one song is worth the cost of the album!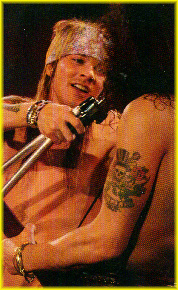 Rumor Central: Metal Edge printed a rumor that Axl is planning to re-record Appetite for Destruction! Their comment is...if it ain't broke, don't fix it. Absolutely. The SLASH page is also feeling some appetite for destruction at the thought of Axl's strange band re-recording the debut GNR album.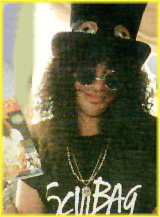 Since our last update, there have been no announced developments on the Snakepit album. To keep you updated on other SLASH news, we've got some more information from fans. A UK magazine called Black Velvet (web site www.blackvelvet.demon.co.uk)says they have pictures of SLASH in their current issue. However, email to their site goes unanswered, so you UK fans will have to track this one down and let us know. Another UK publication, Metal Hammer, does have a picture of SLASH in their September 1998 issue. No information given that we don't already know, but it's supposed to be a great picture!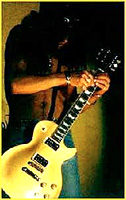 If you've read the Equipment and Techniques section here or almost any guitar magazine's SLASH interview, you know SLASH uses nothing but Ernie Ball strings. Ernie Ball has changed the back of their string packages to include a list of famous guitarists who use their strings. Who else but SLASH is listed in the top line?! He's one of their success stories and part of why SLASH sounds like SLASH.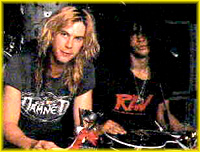 One of our Houston readers tells us that he was in a club called Rick's, and three different people there told him that SLASH, Matt and Duff were there on October 3. Were our guys partying in Houston? Working out a tour? Talking to Matt about new movies? Very interesting. Thanks for passing that along, and we'll keep it in mind. Duff is living in Seattle so he had a long way to come for a drink. Houston isn't particularly handy to L.A. either. No matter what, it would have been extremely cool to have been there when one of the better ex-GNR groups came in!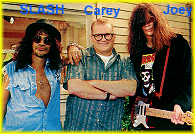 For everyone who hasn't seen him recently, here's a picture of SLASH taken at the recording of the Drew Carey Show. The show was on at the end of September 1998 (see details in other articles below). This picture appears in the October 10, 1998 issue of TV Guide in the Cheers & Jeers section. Don't worry! TV Guide cheered for this rock & roll-based episode of the Drew Carey Show. They loved the roster of musicians who showed up in Drew's backyard to audition for guitarist in Drew's band. They named SLASH, Rick Nielsen from Cheap Trick, Dusty Hill from ZZ Top, Dave Mustaine from Megadeth, Jonny Lang, Joey Ramone (pictured at right), Joe Walsh of the Eagle's and others. As you can see, Slash is looking just fine. If you want to see the whole SLASH part of the show, go back to the Main Page, scroll down to Main Menu, click on SLASH Videos, and it is the last video on that page section!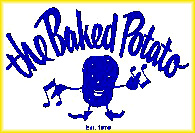 A person very close to us is in LA on business this week. He dropped in at the Baked Potato Tuesday night to see Teddy Andreadis, but Teddy was in Mexico, and a blues band was playing.

In the audience and about to join the band onstage was...Gilby Clarke! Gilby was smoking a big fat cigar and was all over the place looking for someone. As the group was leaving, the man who was either owner or manager spotted the Slash's Snakepit tshirt, and he said that SLASH had been at the Baked Potato a couple of nights before.

He says SLASH drops in often to jam there. So if you are in that area, stop in and if you get lucky, you could see Teddy, Gilby and SLASH! The man was told to pass the word to SLASH, please finish the album! At which point this man told the guys that SLASH had played selections from the new album when he was there, and it sounded fantastic! He also said that a new Baked Potato will open soon at the corner of Hollywood and Vine, and SLASH will be there for the opening! If you are out there, try to make the opening and give us a report! Maybe you'll hear those new songs, too!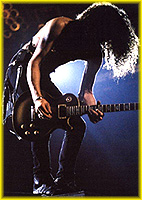 Just in case we haven't reminded you enough, don't forget the Drew Carey Show! SLASH is making a short guest appearance as himself. The episode will be aired Wednesday, September 30 at 9 PM eastern time. Check out our guy! We'll try to capture the SLASH portion and put it on the video section. SLASH is going to rock! And hey, how do you like this super picture? A friend from South America emailed SLASH to us. Looking mighty good there, SLASH!

Update! SLASH was on The Drew Carey Show, and he was great! He really is very relaxed and natural in front of the cameras. When you've played in front of 80,000 people live, what are a few TV cameras? We have a video of SLASH's audition on this episode. If you missed the show, try to see a rerun. In the meantime, check out the video on the SLASH VIDEOS section. Return to the Main Menu, click on Videos, and scroll down. Great to see SLASH again!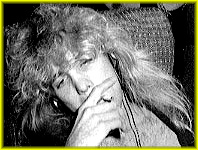 Still no news on Snakepit this week! While SLASH has been keeping a low profile, an old GNR bandmate and high school friend was in the news; and a Snakepit buddy was moving his career right along. The bad news was that Steven Adler, former drummer for GNR, is apparently going to jail on battery charges in two separate domestic violence cases which violates his probation from a 1997 domestic violence case. Adler is required to turn himself in on October 29 to begin serving his 150 days in jail. Apparently drugs were a factor in these cases, and you may recall that Adler was fired from Guns N'Roses for continuing drug abuse and inability to perform. SLASH met Steven Adler in high school, and those two were friends for years forming small bands before the GNR band got together. It was very difficult for SLASH to agree to his long time friend's firing, but the band has always come first with SLASH. SLASH says Steven denies being on drugs, but he can't fool SLASH. How sad to see this old friend going off to city jail - another stop on the downward spiral for Steven or the shock he may need to turn his life around.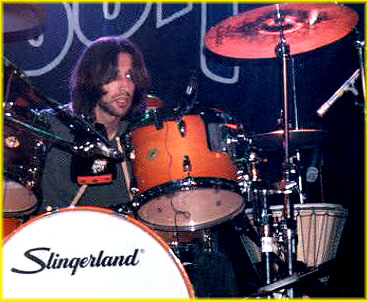 On a much more positive side, here's an update on Brian Tichy, drummer for the Snakepit touring band. Brian plays guitar as well as drums, and you might have seen Brian's picture in Metal Edge where the band Ball was pictured and interviewed. Brian's summer tour with Foreigner is done now, but there will probably be a series of dates in October that will take them through the southern states and end in Florida where they will work on their new album. Brian should be off to Phoenix soon to do tracks for George Lynch's new album. Lynch is formerly in Dokken and The Lynch Mob. So if you get a chance, stop in and see Ball or Foreigner. Tell Brian the SLASH page says hello! He's a super guy and a wonderful musician. He has a million SLASH stories he can tell you from the Snakepit tour - all nice ones, of course!






Good news for Guns N'Roses fans! No, Axl hasn't regained his senses and lured SLASH back to the band, but a new video is coming out that will give fans of the REAL GNR something to be happy about! Geffen Records announces the November 3, 1998 release of Welcome to the Videos! The tape contains 13 great GNR videos including 10 never seen before on videotape.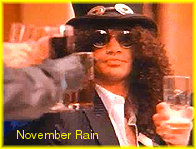 The list of videos: Welcome to the Jungle, Sweet Child O' Mine, Paradise City, Patience, Don't Cry, Live and Let Die, November Rain (an MTV Video Vanguard Award-winner), Yesterdays, The Garden, Dead Horse, Garden of Eden, Estranged, and Since I Don't Have You.

We've gotten tired of the videos taped off tv, so this should be an excellent GNR item to get! Remember, on sale November 3!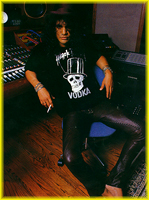 SLASH's manager reports again that SLASH is still busy in his home studio working on the new Snakepit album. He says SLASH is really burrowed in there and working hard. Since there are no new developments on the new band and album, let's clear the deck of some SLASH appearances we've learned about.

Recently E! had a special on about Tommy Lee and his domestic abuse problems. Showing a picture of Tommy in single and happier days, what flashed on the screen was a picture of... SLASH, Tommy Lee, and a couple other pals. Tommy Lee needs to emulate SLASH who has never been known to hit anyone. Too cool, too much of a lover to be a fighter, and gotta protect those hands! Get with it, Tommy.

Another item: Frank Guill is a megaGNR fan with a big website devoted to the band. He has polls on his site - favorite GNR song is one. His first poll was favorite GNR member. Bet you can't guess who won? With 483 votes, SLASH was the big winner (shoving Axl Rose out of the way by 11 votes). We love you, SLASH!



Ever see Pop Up Videos? Watch for one on Lenny Kravitz! There is a small SLASH mention - SLASH and Lenny went to school together. Small world. There is a rumor going around now that SLASH is touring with Lenny on his 5 tour. Not true. However, some of us are buying tickets! Even if SLASH doesn't show up, let's show his buddy Lenny some support. Speaking of SLASH and concerts, BAM magazine reported recently that SLASH showed up at the Alice Cooper concert in LA. Where do you suppose guys like SLASH get to sit? You have the first 10 rows filled with the promoter's kids and pals. Do they make SLASH wear a backstage pass or are his hat, hair and smile his pass?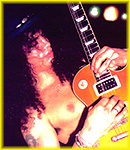 A friend in Spain writes that he was improving his mind watching an old Baywatch episode. One of Mitch's boys asked him which was the best car. Mitch said...Chevrolet, and the boy said... no way, Ferrari F-40. When asked who was the best guitarist, Mitch said Carlos Santana. But the boy who said Ferrari had a different thought...huh uh.. it's SLASH from Guns N'Roses! Hey, maybe our friend WAS improving his mind!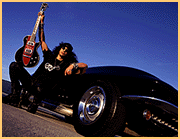 This one is a little more distantly related to SLASH. A friend in Wisconsin says that SLASH's idol, Les Paul, was born in Waukesha, WI. Now the city council there has named a highway there the Les Paul Parkway in his honor. The council is considering using guitar shaped signs to decorate the new parkway. So if you are out that way, be sure to get over there, snap a few pictures, and send one to us here at the SLASH page. What would be way cool is for SLASH to visit for a formal (??) and rocking dedication. Tear up that Parkway!



Here's one coming to us a little late from someone in the UK. He reports that the May issue of Kerrang! has a double page spread of SLASH and the Underground Comedy Movie with pictures of the set. This was a movie that SLASH and Axl were in. SLASH appears as a drunken dj. Axl was ambush-interviewed outside the Rainbow one night. Thus far, the movie has yet to see the light of day, and Geffen Records and GNR management are hopeful that it will stay that way as the movie is more of a porn vehicle as we hear it. Not that our guy does any porno stuff, but the rest of the movie is in that direction. So far, no movie distribution company has picked up on this. If anyone out there can get a copy of that Kerrang! for us, let us know.

Well, that about wraps it up here. For those of you who sent in those SLASH reports, much appreciated! Keep them coming. Still have a stack here for the future. SLASH is everywhere! And when you see him, let us know!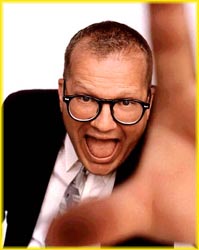 Here's an update on SLASH's appearance on The Drew Carey Show. The show will air on Wednesday, September 30 at 9 PM (Eastern Time) on ABC. This is the episode where Carey and his band, The Horn Dogs, need an axman,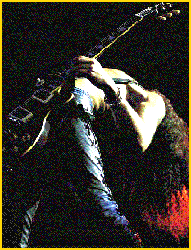 so they get SLASH to audition! SLASH is rejected because he is too good. Others that tryout are Matthew Sweet, Rick Nielsen, Lisa Loeb, Joey Ramone, Roby Clark, Joe Walsh, Jonny Lang and more for the gig at the airport Ramada Inn. The episode is called "In Ramada Da Vida"! This ought to be a very funny SLASH episode. Get those VCRs set!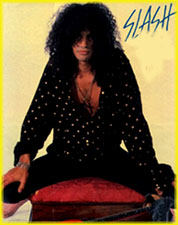 SLASH's manager says that SLASH and the new Snakepit guys continue to be working very hard in the studio. SLASH received an offer of a Blues Ball gig at a California festival but turned it down to devote full attention to the new album. You may have heard another rumor that SLASH will appear at a Japanese concert that is a tribute for Hide, a master guitarist there. This is also not true. So, it will be awhile before we see him live again.

In the meantime, here's a story that honestly makes you believe SLASH is everywhere. Todd Gray, a friend studying in the midwest to be a vet tells us that he went to the American Veterinary Medical Association recently. While there, he attended some lectures by Dr. Mader, a well known name in reptile medicine. Dr. Mader wanted to illustrate the overuse of a medicine called baytril in the treatment of infection. He told the story of working in the California area and receiving a call from Guess Who!! The tophatted one called the doctor who was taken aback by some of SLASH's language! Hey, when a pet is sick, owners tend to take it very seriously! Apparently SLASH wasn't too happy about his vet using baytril to treat an infection, so he just called up Dr. Mader for a consult! He told Dr. Mader

that $@*&$?!, he didn't have to go to vet school to use baytril and wanted something else prescribed. We'll assume all was resolved to our man's satisfaction. SLASH knows a lot about snakes, and his pets are his pets. You never know when you will hear something about SLASH!





On August 29, 1998 SLASH was on The Pet Shop on The Animal Channel. He appeared with his pet albino boa and had film of some of his other pet snakes and an iguana. SLASH is so good with his pets that he doesn't even want the show's host to handle them! A very considerate owner. SLASH talked about how he has downsized his collection from being a breeding operation to just pets. He really loves these guys and gets so much pleasure from them. He says he does not believe in snakes being part of musical acts because he has seen too many snakes die on the road. SLASH brought along his guitar, and as the show ended he jammed with the small studio band. SLASH looked very good himself but very thin. He needs to get out on the road and fatten up!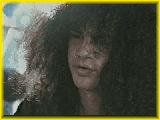 SLASH was on another TV Channel on August 29, 1998. this was on the SciFi Channel, and they had a short special on pinball. SLASH was interviewed beside the Guns N'Roses pinball machine. SLASH talked about his role in designing the game and which parts he worked on first. He talked about developing a personality for each ball (bandmember). He had the Snakepit section for himself. The host said the trend now is to have a pinball game in your home - so which do the SLASH fans want - Guns N'Roses or the Sega Viper? We think we'll just wait for the Snakepit game!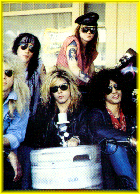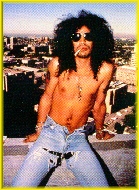 As fall 1998 approaches, the stores are putting out the 1999 calendars. There is one for Guns N'Roses again this year! Oliver Books, the UK manufacturer, has seen fit to reach way back in GNR history for this one. There are pictures from the glam era, the Appetite era, and Illusions. SLASH is pictured in just one month by himself. The picture is the one seen here. He's with the original GNR band in 2, and one is at right. He appears with Axl in one which is really history! The nice thing is that Izzy is here by himself as are Steven and Duff. Axl is pictured by himself 4 times which is both incredible since this is the person who dissolved GNR and reasonable since he owns the band's name. Last year's calendar with 7 SLASH pictures was MUCH better. Oliver needs to look at who's doing something and who's a dim memory. 'Nuff said.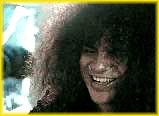 European readers: Pick up the August issue of the UK magazine, Metal Hammer. SLASH is featured in the "at home with..." recurring section! The article is about 4 pages long with great pictures of our favorite curly haired guitarist. SLASH comments on the upcoming Snakepit album and says, "I'd like to have a Christmas release and a pre-summer tour. But I'm going to do a small tour before I do the record, just to break the material in, let it sweat a little." He has some comments on his past drug use, his ex-wife Renee, and the Vega pinball machine he worked on for Sega. Sounds like a terrific article! Be sure to get a copy.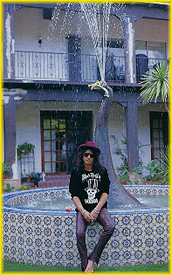 UPDATE! Check this out! Metal Hammer was kind enough to see that the SLASH page got a copy of the August issue. And it's wonderful. SLASH fans: be sure to get a copy no matter what! The two pictures here are from the article. Want a tour of SLASH's new home in Beverly Hills, California? Like to find out who owned it before? How about filmmaker Cecil B. DeMille and director Roman Polanski?? Our guy has come a long way! The fountain has a neat dinosaur statue in it that SLASH commissioned from his own design.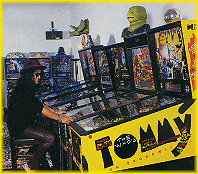 The pinball room is very cool, and SLASH says he uses pinball to relax. He says the house has a tunnel that stretches to where there were speakeasies during Prohibition. About pets, SLASH has downsized his reptile collection from about 300 to 50 snakes, a couple of iguanas, and 3 cats. Although the house is described as Spanish and gorgeous, SLASH says the selling point was the basement which he has made into a first class studio. The whole band can play live in the room, and there are isolation booths for each member if they need to run through material alone. As for decorations, you see a lot of dinosaur things around everywhere. You won't see his gold records and awards because he gives those away. SLASH says he doesn't believe in that kind of self-gratification. In addition to the dinosaur collection, he has the original Appetite for Destruction artwork and the poster for the first Monsters of Rock that Guns N'Roses played. Above the bar is another guitar hero, Jimi Hendrix. The pictures alone are worth the money. The article on SLASH is better than any we've seen in the US media. Get Metal Hammer now!





SLASH's manager has confirmed that SLASH was asked to tape a Drew Carey Show episode in August 1998. Last season Carey had an episode where his high school band got together again. The new show features Carey's band auditioning for a new guitarist, but they can't find anyone bad enough to match the band's talents! Featured as auditioning are SLASH, Lisa Loeb, Joey Ramone, Jonny Lang and Billie Joe. Not all are confirmed to have accepted the offer, but SLASH is definitely going to do the show. Imagine you are a really awful band, and SLASH joins you. First he turns up the speakers to drown the rest of you out and just does a huge solo! It could work!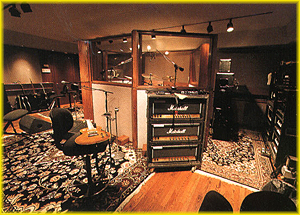 Can you read Japanese? If you can or if you'd just like to see some great SLASH pictures as well as pictures of his new studio, look for the September 1998 issue of Player magazine from Japan. There are interviews with SLASH (whose picture graces the cover), Adam Day (SLASH's guitar tech), and Jim Mitchell (engineer who worked on many GNR recordings). Mitchell and SLASH designed and built SLASH's new home recording studio (which is also called Snakepit!). One picture of the new studio is shown here above, left. Is this a big one or what?? If anyone can provide a translated synopsis of this article, we would really appreciate it and could post the highlights right here.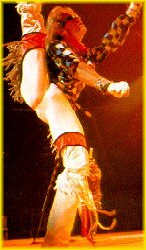 There's a truly hilarious skit done by Virgina Beach, VA FM99 WNOR's Tommy and Rumble and revolving around SLASH's current singer dilemma. The idea here is that David Lee Roth is trying out for the vocalist in SLASH's Snakepit! Somehow you knew this wouldn't work! This skit was on the web till recently. We're working to contact Tommy and Rumble for a link or copy we can play for you right here. If you are in their area and purchased any of their skit CDs, this one is on the one with the duck featured right now at the station's web site. Let's hope we can get this for the rest of you really soon. We'd be willing to buy a tape copy or anything. These guys are too much.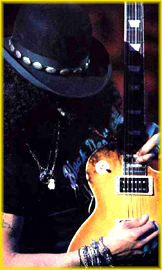 Any crossword puzzle fans out there? Even if you're not a puzzle freak, we bet you know the answer to this clue that appeared in the TV Guide crossword puzzle (week of 7/25-31):


Guns N'Roses Guitarist


If you wrote down SLASH, you got it right! Although technically we would like to see Ex-Guitarist there or Snakepit's Frontman! Nobody forgets SLASH! Not even TV Guide!

Update: An alert SLASH fan in Sweden said SLASH was a clue in his TV Guide also. The clue was: Real name Saul Hudson and got famous with Axl Rose! There is someone in the TV Guide crossword department that is a SLASH fan! Let us hear from you and see more SLASH clues.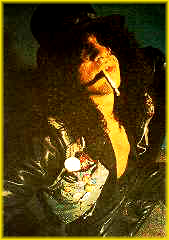 Be sure to pick up a copy of the new Guitar magazine, the one with a guitar made of money on the cover. Lots of good SLASH things. The old GNR members (the ones we all loved) are featured in an article on what each is doing. There's an update on all the side projects of SLASH, Gilby, Duff, and Izzy. There's a great full page picture of our favorite lead guitarist, and there are smaller ones of Izzy, Duff, and Gilby. Axl's mention is that none of these guys seem to think much of him. Surprise? We don't think so. One interesting update is that SLASH did turn down that project with Puff Daddy. We can all rest a little easier tonight. SLASH said about the Puffster, "I don't like him. He's flying on borrowed wings as it is." So, take that, Puffy!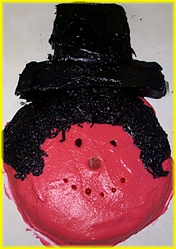 July 23, 1998! Today is SLASH's 33rd birthday! Happy Birthday, SLASH! When we didn't get an invitation to his party (an accidental omission, we're sure), some of us got into the spirit with our own parties. Here is one SLASH birthday cake baked and eaten by some of SLASH's ardent admirers.

If you want to hear our man try to play Happy Birthday, check out the main SLASH page! And if you want to hear our man in one of his older but longer audio interviews, check out this url:


SLASH Interview - 4/14/95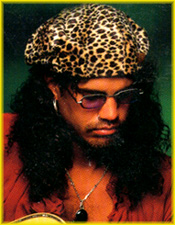 In the new issue of Guitar World, you'll want to check out the article on the "100 Greatest Guitar Solos". Our favorite lead guitarist was named twice! The solo in "November Rain" was #6, and the one in "Sweet Child O'Mine" was #37. If you page through the magazine, you can see that Guild Guitars ad with SLASH in his leopard hat, and there is another SLASH ad in there, too. So hurry out and pick up your copy.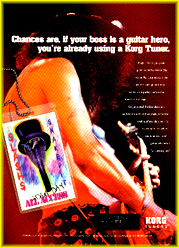 Guess which curly haired guitar player is on the entire back cover of Guitar magazine for August 1998? Yep, it's SLASH! Check out the picture here - this one is for the SLASH-knowledgeable only. If you can recognize him by his right side....then you are studying too many SLASH pictures! This ad is for a guitar tuner and features the name of SLASH's guitar tech, Adam Day, and a picture of Adam's famous boss, SLASH. Adam is the one who helped with the equipment and effects section of the SLASH page. Thanks again, Adam! And SLASH...lookin' good, babe!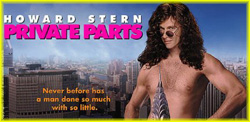 If you missed Private Parts at the movies, you missed your chance to see SLASH on the big screen! SLASH had a very small part in Howard Stern's movie - he basically played himself backstage at an awards show. SLASH and then-wife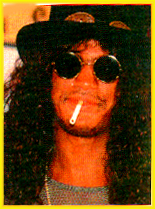 Renee reacted to the sight of Howard in his Fartman costume. You can rent the video...or...see Private Parts on tv this week if you get HBO. The date is Thursday, July 9 at 1:05 am. So, get some popcorn, and check out SLASH on HBO!

For more Howard and SLASH, watch the Entertainment channel (E!) at 11pm eastern time on Wednesday, July 8. SLASH can be seen on a rerun of the Howard Stern Show. SLASH really has to think fast around Howard, and it's usually a very funny and interesting interview. Watch for Howard to attack Axl again for breaking up the band!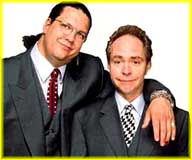 SLASH and his manager just got back from Las Vegas where SLASH taped a couple of segments for a new series on the FX cable channel. The new show is based around the magicians Penn & Teller and is called Penn & Teller's Sin City. It has a variety show format and the first airdate is August 10. It's not yet known when SLASH's segments will be on, but we'll post the date and time when we get the information here. We're told that SLASH's segments are very cool (of course), and SLASH really liked Penn & Teller. OK, SLASH, that's super! Now back to the studio!

Update: SLASH's manager suggests we watch the Penn and Teller show on Monday, August 10, at 9 PM on the FX channel. He believes SLASH's segments will be on that night. Set your vcr!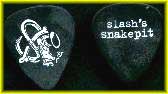 An announcement on the new Snakepit band: SLASH's manager says that Ryan Roxie will not be in the band due to other commitments. So, that means SLASH has to track down a rhythm guitarist as well as a vocalist. Ryan played so well with SLASH, but it just is not going to work out. We always seem to have just a little more waiting, but SLASH is very busy on the new album in his home studio.


Remember SLASH worked on the design for that new pinball game called Viper that Sega produced. At right you can see the backlite panel for it - this is the panel that sits up above the game to advertise it. If the picture were a bit more detailed, you would see that the white viper car has as its license plate: SLASH! Maybe you do, too! Anyway, a SLASH fan has let us know where at least one of the pinball machines is located. As always it seems, you have to be in California. Anaheim to be exact! Try the Garage by the Century 25 Theatre. If you spot another one, let us know and we'll put the location right here on the SLASH page so more of us get a chance to see it. There have to be SOME east of the Rockies!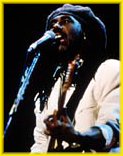 If you were around in the 70's for disco, you'll recognize the name Chic, a band fronted by Nile Rodgers and Bernard Edwards. Rodgers is preparing the release of the band's last show in April 1996, a final reunion with guest artists that included SLASH! This show took place in Tokyo, Japan. Sadly, Edwards died of natural causes in Japan, and Rodgers didn't feel emotionally capable of producing the album until now. This might seem like another strange gig for SLASH, but Rodgers says that SLASH fit so well with Chic that he should have always played with them! (Except that SLASH was 5 years old in 1970, but it's possible!!) So look out for this one! A DVD is available called Chic Live In Japan with Chic/SLASH doing Le Freak. Rodgers album will make the whole concert more accessible. Thanks!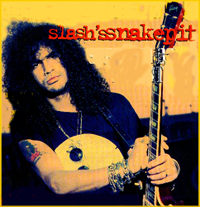 An interview with SLASH focused on the new Snakepit band and album. SLASH says he is writing music on a daily basis and working up songs in his home studio with a band that includes guitarist Roxie Ryan, drummer Matt Laug, and bassist Johnny Griparik. Ryan was in Dad's Porn Mag and Alice Cooper's band. Laug was in a band called Venice, and Johnny Griparik is in SLASH's Blues Ball. SLASH said the band sounds great as good as GNR when they started. The new vocalist remains unnamed at this time, but SLASH is working with a singer based in LA. No album title or release date has been set. He does say that he hopes to name that elusive vocalist in the next few weeks with long range plans including a Christmas release and a pre-summer tour. SLASH plans to do a small tour before recording the album to break the material (and no doubt his band)in. Looks like we might get a terrific Christmas present from SLASH!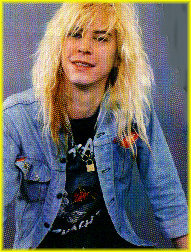 Duff McKagan is set to release his second solo album called Beautiful Disease, and SLASH plays on it! Along with SLASH, there is Izzy Stradlin, Al and Curt Bloch, drummers Abe Laborio and Mike Bordin and guitarist Michael Berrigan with his band Plexi. Duff says the album title stems from some bad things in his life that he has been freed from - his alcohol addiction and a bad marriage. More on the release date as soon as we get the information.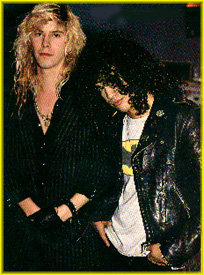 SLASH is working with Duff and Matt on a new project. They are working with guitarist, producer, singer/songwriter Lanny Cordola on the soundtrack for the film "Soundman". Cordola describes the soundtrack as an eclectic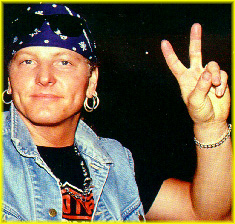 mixture. Duff sings on one track, another is described as having a Pink Floyd type of vibe, another hip hop/mariachi, and a French waltz, too. SLASH ought to be enjoying this as he likes the chance to fit his music into different kinds of vibes. Let's hope the soundtrack comes out on cd, and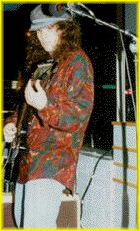 let's keep an eye on those smaller theaters. Matt has formed a production company with Cordola called Orange Curtain Productions and have a number of projects going including "Soundman". An interview with Lanny Cordola and more news on this is available on his web site if you'd like to read more:


Lanny Cordola's Web Site


Now if we could just get SLASH a starring role!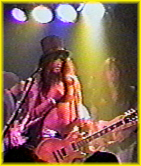 More information from the West Coast. First, SLASH's manager stopped a rumor going around that SLASH would appear at Bridge Hill, NJ this summer. SLASH may round up Blues Ball and play a couple of dates just to keep fresh while he is in the studio so much, but those engagements will almost certainly be West Coast dates. SLASH can't drag the whole band to the East Coast or Midwest for two gigs. Not cost effective! But he will be coming to see the rest of us soon. SLASH appears on Politically Incorrect June 15. It was a great show with SLASH being his usual witty self. He answered questions intelligently but he always had something funny to say, too. If you missed it, go to the Politically Incorrect website and get the transcript for June 15. It really was good to see SLASH again. Oh, and for whomever was saying they saw SLASH, and he didn't look well, his manager says SLASH is just fine! And you saw that for yourself if you watched P.I. June 15. If you were worrying, how about relaxing and listening to some Blues Ball audio clips? These are great. Go to Main Menu, then click on SLASH's Blues Ball and scroll down till you see the text about them. There are three clips: Hoochie Coochie Man, Bad Luck, Key to the Highway. Each one is in wav format. These clips are really long! Hoochie Coochie Man was timed at 10 minutes of playtime! Get a drink, lean back and listen to the MAN!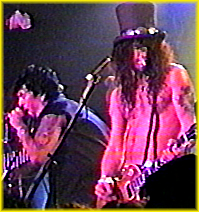 SLASH's manager tells us that things are going well in SLASH's studio. He's still working on the next Snakepit album. No announcement on the band (especially that elusive singer) or release date or tour as yet. SLASH may have some other things coming up which we'll report on as soon as they are finalized. In the meantime, there are some SLASH's Blues Ball video clips for you to check out. Go back to the Main Menu, click on SLASH videos, and you'll find a lot to choose from. The new four are at the bottom so scroll down till you see them. One is a band introduction by SLASH. The next two are clips from Hoochie Coochie Man and Bring It On Home. The last one is a long one of the band doing Suspicion. Hope you enjoy them! There will be some more added along with some audio clips from Blues Ball.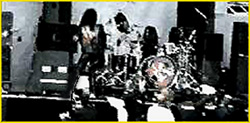 Everyone seems to be wondering what's happening with the GNR and ex-GNR guys and the Snakepit bands. Right now things seem very quiet. The remaining GNR members, Axl and Dizzy Reed, have been joined by Axl's childhood buddy, Paul Huge, on rhythm guitar, a NIN touring band guitarist is replacing (!!) SLASH and a drummer has signed up. Bass is not settled yet. Moving right along to the guys we all knew as GNR, we first and always have SLASH. He is still getting his Snakepit album and band together. Mostly he is working in his home studio. Gilby Clarke will be releasing a new album soon. It can be pre-ordered right now at your import dealer's. Duff McKagan is still with 10 Minute Warning, and the band is planning a tour. Shows are being set up in the west and southwest (L.A., Phoenix, San Diego, Las Vegas, etc.) and back up the coast in the first couple weeks of August. Duff fans in that area: start watching for 10 Minute Warning! Izzy Stradlin will not tour nor promote his new 117 Degrees album. Matt Sorum did a movie for an indie company. Steven Adler seems to be doing some LA gigs with a band out there. You can see that GNR has really blown apart with all the members going their own ways.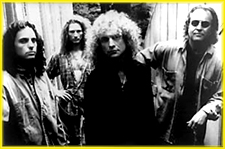 Some word on the Snakepit band. Mike Inez, recording band bassist, is doing one-offs on other albums now that his home band, Alice In Chains, is in hiatus. In the touring band, we do have word on Brian Tichy. He is still doing some shows with Ball in the L.A. area. Good news for Brian, though! He's been selected to tour this summer with Foreigner and then do the next album! At least Brian is going to be out there on tour, so get out there and see Foreigner and tell him the SLASH page says HELLO!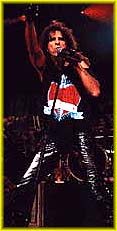 Awhile ago, SLASH's manager told us that SLASH might be doing a track on the forthcoming tribute to Alice Cooper album. MTV reports this is a done deal! The album is due out this summer, and it will be a must buy - SLASH will be there and many other top artists. SLASH will be doing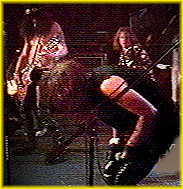 the track "No More Mr. Nice Guy" with The Who's legendary Roger Daltry on vocals. Other artists on board are Dave Mustaine, Phil Anselmo, Carmine Appice, Don Dokken, Mike Inez (Snakepit recording bassist), Steve Jones, Duff McKagan (ex-GNR bassist), Eric Singer, Matt Sorum (ex-GNR drummer), Zakk Wylde and other. The as yet untitled album will be out end of the summer.


Click on the SLASH combination picture to return to more recent SLASH events: