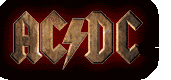 SLASH says that Snakepit touring with AC/DC is not certain as yet. The concept is that Snakepit would open for AC/DC on the North American leg of their tour. AC/DC is touring in support of their new album Stiff Upper Lip. Snakepit is very interested, but it remains for AC/DC to make them a firm offer of a berth on the tour. SLASH says AC/DC has to decide as a band who to take on as the opening band. When asked if he knew the band members well, SLASH said just one of them. The AC/DC tour is an arena, not a club tour so we also asked if fans would be able to see Snakepit after the show as they do in clubs. SLASH typically comes out after a show and talks, signs autographs, has pictures taken. The whole Snakepit band is usually available. SLASH said that this would have to happen outside the venue near the tour bus. This could be the parking lot, so check out where the buses are parked at your arena, and we'll hope SLASH and the 'pit will meet you out there after the show. The AC/DC tour begins in early August and ends mid-September. If Snakepit goes on tour with AC/DC, we'll have the tour schedule right here. The next week should give us the answer.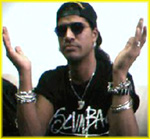 We have an enormous amount of questions for SLASH, and we'll be sending them off within the next day or so. Thank you to all who sent a question. SLASH is looking forward to reading and answering them. Please hold any new questions as we are not sure when SLASH will be able to answer more.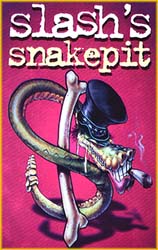 SLASH said that when he signed his contract, he would know the release date for Ain't Life Grand. What we know now is a month, September. SLASH says he has pushed very hard for a specific release date, but he still has not been given one by Koch Records. If he starts the tour in August, Snakepit will be touring without an album for the audience to buy and enjoy. Let's hope that date moves up so that you have the album before the concert! It looks like September is the new date, though, so check out the audio clips on the Snakepit 1999-2000 section and the videos on the SLASH video section.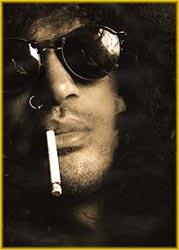 SLASH will be getting an official record label page. He will be designing it himself. SLASH calls himself a dinosaur when it comes to technology. When it comes to design and layout, his artistic ability is amazing. His thoughts on what he wants to have are so cool! It's a site you will want to visit again and again. When the site is ready, we'll let you know. It's one you won't want to miss.






News Reported: 06/30/00


SLASH has announced that he has signed with Koch Records. This is the domestic record division of Koch. The company is located in Manhattan, New York City. Obviously, that will please SLASH who really enjoys jamming there. Stabbing Westward also announced that they have signed with Koch. SLASH said that he really likes the staff at Koch and feels they are going to do a great job promoting Ain't Life Grand. It is said the album will be released in September, and SLASH's Snakepit will go on tour in support of the new album. Billboard reports that Snakepit will open for AC/DC on the North American leg of their tour. It's all finally happening: the new album, new manager, new label. Before you know it, they'll be in your town!

News Reported: 06/29/00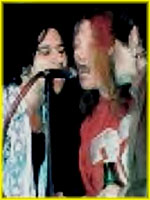 Thursday night in West Hollywood, SLASH's Snakepit's Johnny G was onstage with Gilby Clarke and The Starf*ckers at The Cat Club. Axl Rose appeared in the club and sang with the band. It's Roses's first public singing appearance in 7 years. A surprise for Johnny G, the rest of the band and the world. What brought this about or what it means is anyone's guess. One ridiculous guess was that Rose is looking for a bassist and is eyeing Johnny G. Don't even think about it! The top hatted one would not take kindly to a raid on the 'pit.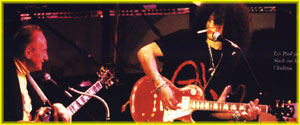 Al sent us a note about the chemistry between Les Paul and SLASH. Al has seen them at the Iridium in New York and also at the Chicago House of Blues. After the show, SLASH told Al that Les Paul had completely humiliated him. But Les Paul said, "I'm just an old man that got a lucky break, but that kid showed no mercy on me. He completely won over the audience. If I didn't like him so much, his infinite open invitation to play with me would be revoked!" Did these guys play together? SLASH is very humble, but Les Paul tells it like it is. When you see SLASH, you are seeing a total master of the electric guitar. Thanks, Al!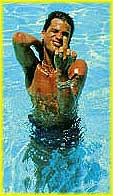 Although we don't think it will be on tomorrow, don't forget to check Celebrity Deathmatch on MTV, 10 pm, ET. Mark has seen the preview for the show, and he says it's great. SLASH is beating Axl to a pulp! The clay SLASH figure has long curly hair, wears a top hat, tshirt with rolled up sleeves, and the usual black leathers. So check MTV, and cheer on the little clay SLASH! Thanks, Mark!

News Reported: 06/28/00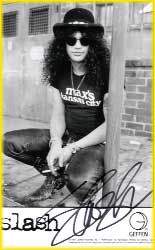 Another SLASH contest! Answer all 10 questions correctly for a chance to win one of two autographed SLASH pictures. These are SLASH black and white promo pictures from Geffen. You won't see anymore Geffen photos! SLASH autographed two of these for this contest. Entry is free! Shipping and handling are free! The answers can be found somewhere on the SLASH page. All you do is send the answers to the following questions in an email to:

webmaster@snakepit.org

One entry per person. Winners will be notified by email. The contest begins today, June 26 and runs through Friday, July 14.


1. Latest mod rocker that SLASH guested with. Album not released. Name the artist on whose album SLASH will appear.
2. Current SLASH's Snakepit band member who recently appeared on stage with Axl Rose.
3. SLASH's Blues Ball vocalist.
4. Name these 3 Snakepit drummers: '95 recording band, '95 touring band, 99-00 recording (and we hope someday soon) touring band.
5. Among others, SLASH's mom designed stage clothing for this androgynous UK artist.
6. Name two artists (or acts) that SLASH played with at the Paris Pay Per View. GNR doesn't count on this one!
7. LA club where SLASH has his own table!
8. Company that makes SLASH's guitar picks.
9. On the tribute to Alice Cooper, "Humanatary Stew", SLASH played on which song?
10. A year ago, Graham Bonnet released an album that SLASH guested on. Name the Beatles song that SLASH covered.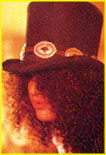 Many fans have asked where they can get a top hat like SLASH has. SLASH buys his top hats in a regular men's hat store, but the conchas are custom made and attached. If you are looking for a top hat very similar to SLASH's hats, Rattus has found them on the web. He says the hats are very high quality but a little expensive at $120. Rattus believes this price is below most of the others on the web. The site is Clearwater Hats. Rattus says the "top hat tall" is most similar to SLASH's hats. The hat is according to head size and takes a few weeks to get, but Rattus is really happy with his!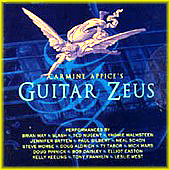 We had a note in the mail about the Guitar Zeus guys. Carmine Appice and others put together a group called Guitar Zeus, and SLASH was included. He played on the Guitar Zeus album on the track "Where You Belong". It was released as a single, and the album came out as one CD. Then it was released as a double cd. Now they are talking about a record deal to release the two albums in the US. Right now the albums are available here, but they are imports with the usual high import price. Another project is to make a third Guitar Zeus album and tour on it and the others. They would like SLASH in on this but much depends on his schedule and theirs. If you haven't heard this great album with all these guitar gods, you're missing something special!

News Reported: 06/26/00


The fifteenth and final fan question (in this batch) for SLASH is from Aaron:

Do you really use Ernie Ball RPS 11-48?

SLASH: Aaron, I use Ernie Ball 11 to 48 Gdg. strings.

Thanks to Aaron and SLASH. We're sending more questions to SLASH. If you'd like to be part of that, please see the instructions under June 22 below.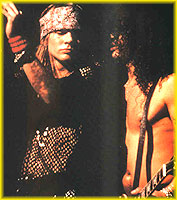 Coming soon on MTV, Axl and SLASH battle it out on MTV's Celebrity Deathmatch. MTV says they will show new episodes this week. First new one is scheduled for Thursday, 6/29 at 10 pm ET. No description is given, so just in case, you might want to check out the first few minutes. Thursday 7/6 at 10 pm ET looks like a new one with no description either. If anyone learns when the Axl/SLASH match is on, please let us know.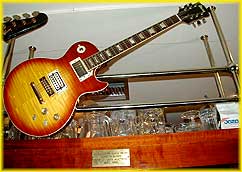 Whenever you go to a rock-themed place, you're likely to find some SLASH memorabilia. A band from Pittsburgh is touring Europe and stopped at a bar in Amsterdam called Rock Planet. Looking up they spotted SLASH's guitar (pictured at left) and sent the picture home to us. Looks great! This weekend we made a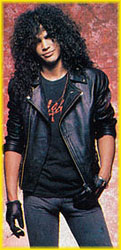 pilgrimage to the Rock and Roll Hall of Fame in Cleveland, Ohio to see the Rock Style exhibit. This is clothing rock artists have worn on stage. While we had been told that Axl and SLASH clothing was there, just SLASH had something there. We'd also been told it was a black leather outfit with a top hat. Instead it was SLASH's black Converse sneakers (left one torn on the side), light blue jeans with huge tears below the knees and on the upper right leg with a bandana in the back. His beautiful DTUD black leather jacket was there. It was great to see it, and we checked it out several times. Above was a monitor and there were SLASH and the Gunners onstage. Well worth seeing!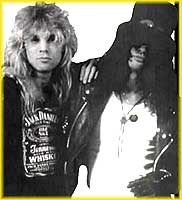 Oystein tells us that in issue 16, July 2000 of the UK magazine Classic Rock there's a long article about LA Rock in the 80s. They interview Steven Adler and some other guys. Oystein says the article is 10 pages including a big live pic and a double sided pic of the original GNR. They asked Steven about how he met SLASH and how he introduced SLASH to his guitar and to drugs. This sounds like a good one. Oystein says they also talk about Poison and Motley Crue as part of LA Rock. Thanks, Oystein!

News Reported: 06/24/00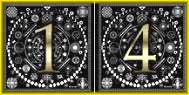 The fourteenth fan question for SLASH is from Bob:

In your opinion, what do each of the individual members bring in regards to their playing style with the band?

SLASH: Bob, in my humble opiniion each member of a real band brings his/her individual sound and style, etc. To the overall sound of any band whether the combination has chemistry or not is one of the many variables of life.



There's one more Q and A to go, but SLASH has agreed to take another set of questions. Even if you had one answered in this group, you can ask another. Let's give him a lot to choose from. Questions of a personal nature will not be submitted to SLASH, but this is a good time to ask about guitars, training, bands, SLASH's career...you get the idea. The questions are converted to text and faxed as SLASH has no PC. If you are using a browser for email, the conversion introduces html characters which SLASH finds nearly impossible to read. So these will be deleted. If you use a browswer for mail, put your question and information about yourself in a .txt file. Then send that as an attachment. The mail subject should be Ask Slash. We'll submit these as soon as we have a fair sized group to send him. Thanks! All mail should come to:

webmaster@snakepit.org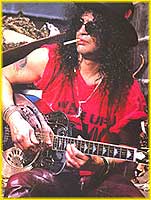 SLASH commented on the Kerrang! picture where he is holding his new Dobro guitar. He said the guitar was a gift, and that the top is silver background and the raised portion is also silver making it really eyecatching. He uses a Dobro primarily as a lap steel or an acoustic guitar. It has a metallic sound to the resonance and is not overpowered by the electric instruments. You can hear SLASH play slide Dobro on "You Ain't The First" (UYI I). He sang part of the song trying to remember the title, and he's just great to listen to! Thanks for the information, SLASH.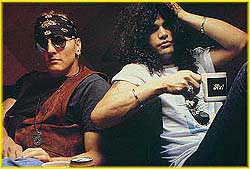 Matt Sorum, SLASH's drummer friend, formerly GNR and now with The Cult, appeared recently on VH1's The List. Four celebrities appear and discuss artists and music. The issue on Matt's night was Best Song by a Female Artist. So watch for that episode in the VH1 repeats. Thanks, Jordan!



MJ told us that MTV Europe is running a commercial for this weekend which is a Do it Yourself weekend. It says something along the lines of: "Would you like to sing like Britney Spears or play like Slash or....? Watch MTV this weekend ......". During the commercial they show clips from "November Rain" and have a SLASH solo in the background. That's the kind of MTV commercial we like to see! Thanks, MJ!

Thanks to Kim who did all the leg work finding out about Duff's latest band, The Racketeers. What follows is from MC5's Wayne Kramer's website: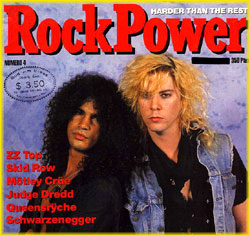 I just finished mixing the Racketeers record with one of Los Angeles' most talented engineers Jason Roberts. In case you haven't heard, the Racketeers is the brainchild of Brian James (ex-Damned, Lords of the New Church). We've been talking about working together for years, and last spring he came over to L.A. for a working visit. Before you knew it, we wrote a record and then summer came and we recorded it like a strategic mission! And with a pretty damn-good line-up: Duff McKagan on bass, Stewart Copeland, Brock Avery and Clem Burke on drums. Brian and me on guitars and vocals. We like it. It's a fun record. We're getting the business end set up now and planning to tour later in the fall of 2000.

Thanks, Kim, for the information on Duff! By the way, Duff and his wife are expecting their second child in July!

News Reported: 06/22/00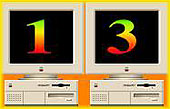 The thirteenth fan question for SLASH is from Dane in Perth, Western Australia:

SLASH, I am a guitarist who has been a big fan for ages and have always strived to achieve your sound. I am reasonably close but have always wondered what setup you used in the recording of Appetite for Destruction? The sound is so perfect. The natural tones of the guitars and the amp have the most raw and powerful harmonics that I have ever heard and my aim in life is to copy this amazing sound. I am particularly interested in which guitar and pickups that were used in recording. It would be greatly appreciated if you could inform me of this equipment although it was a fair while back.

SLASH: Dane, I used an 80's handmade '59 Les Paul copy with Seymour Duncan Alnico II pickups which I still record with to this day. This went through a mid 80's JCM 800 100 watt Marshall head and two 4x12 Marshall cabs - 1 slant, 1 straight - side by side with 25 or 30 watt celestions. I don't remember the exact mike setup. It was probably 1 close, 1 far Shure 57 per cab and maybe an overhead room mike.

Thanks to both Dane and SLASH. That was an extremely detailed answer from SLASH, and you can now rush out and buy a lot of new gear!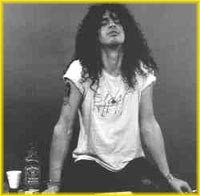 A couple days ago, there was a question for SLASH on his first Les Paul. He said he loved this Memphis Les Paul more than it loved him, and it became unplayable. Our friend Button wrote and said she had also had a Memphis Les Paul and had the same relationship with it! She just loved it but it had some problems. It wouldn't stay in tune and it had a really bad electrical short in it. When you plugged into an amp, ZAP! Button says it is so heavily actioned that she can't fret a guitar string without it killing her fingers. So, looks like this one is not one you should plan on buying. Thanks, Button!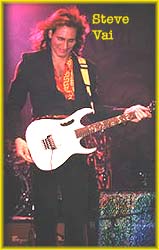 The discussion continues over which guitar player is soloing on that MP3 (see below). The MP3 circulates with "Somewhere Over The Rainbow" and Jimi Hendrix as the artist. We'd like to chip in here that "Somewhere Over the Rainbow" was recorded by Hendrix and released in 1975 on the Crash Landing album. We're trying to get a copy of that. In the meantime, SLASH has denied that it's him. He says he has only played one song that Hendrix played and a bit in his style. This is "The Star Spangled Banner" which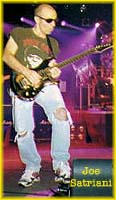 appears on the Panther soundtrack (by the way, a tremendous version). We've received lots of suggestions on the "...Rainbow" artist. The one suggested most was Steve Vai. Here are some others: Michael Angelo of Nitro (suggested by Slash 347) for the tapping technique, artificial harmonics and the "all out" shred technique. Joe Satriani was also suggested a few times and Al points out that a Stratocaster is being used on the melody. Mike said it could be Zakk Wylde whose guitar playing is similar to SLASH's at times. On the other hand, Jason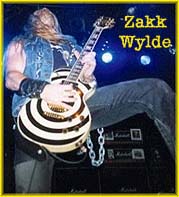 mentioned Jason Becker might have played. Other possibilities from Mike are Al Pitrelli and Yngwie Malmsteen. GNR6R says the intro is totally SLASH-like but the rest is so flashy sounding with a lot of gimmicks, and he votes for Steve Vai. Johnny K says it is either Steve Vai or Joe Satriani. He says there are too many dives, effects, etc. for it to be SLASH. David presents a new name, John Petrucci of Dream Theater. He says this is exactly John's style and tone. Nicolas also suggested Steve Vai. Harper thinks it's either Eddie Van Halen, John Petrucci or Zakk Wylde. Mike also says this is the work of an 80s "shredder" type guitarist" such as Steve Vai, Eric Johnson, Joe Satriani, Jeff Beck or Yngwie Malmsteen. Lewis likes Eddie Van Halen or Eric Johnson. Not sure how we can ever find out for certain, but we do know it is not SLASH.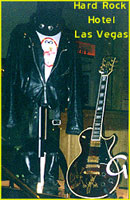 Have you noticed how often SLASH is spotted in Las Vegas? Seems like this is one of his favorite spots for relaxing. Someone has seen him again! Buck saw him at the Mirage standing in the middle of the casino in his leather pants, old tshirt, and a backwards baseball cap. SLASH was talking to a card dealer who asked SLASH to wait a second while he went and got something. Buck zoomed over, and he got a strong handshake from SLASH. They talked about Snakepit, and SLASH bragged about Rod! Minutes later the dealer returned with a guitar magazine (SLASH on the cover). SLASH signed it and drew the little skeleton guy. Buck couldn't believe that SLASH waited for the guy to come back as he has met SLASH before and he was always in a big rush. According to Buck, SLASH looked relaxed and sober! SLASH is the best. Don't ever hesitate to approach him to say hello and ask for an autograph. Buck saw SLASH there on a Sunday at 4:30 am!

News Reported: 06/20/00

The twelfth fan question for SLASH is from Dave:

Although I am not a guitar player, I think that these are questions that SLASH would like to answer (and that would bring back some nice memories) and allow him to elaborate a little bit on something near and dear to his heart. What was the first guitar you owned and how much did it cost you? What was the first Les Paul you played, and why did that experience convince you that you wanted to be a Les Paul man? What did you say to Les Paul the first time you met him? What did he say to you?

SLASH: Dave, my first guitar was a Spanish nylong string (minus 5 strings!) acoustic, and it was free 'cause my grandmother gave it to me. The first Les Paul was a Memphis Les Paul copy that I loved more than it loved me. Because eventually it became unplayable! But after trying this guitar and that guitar, I would eventually always end up with what has now become my soulmate axe. Now, the first time I met Les Paul, I can't remember what I said. I was floored. I do remember though after we played that night his saying saying "with practice, kid, you could be good".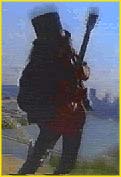 We're having a disagreement on who really is playing on the net MP3 "Somewhere Over The Rainbow". SLASH was the first choice, but he says he doesn't think it was him. This means to me that he has no memory of learning or playing the tune, so it probably is not him. Jimi Hendrix was proposed, but a lot of fans feel it is just too modern sounding for Jimi. So, what do you think? We have the MP3 right here for you to listen to, and it does sound like SLASH to us...off and on. See what you think:

Thanks to everyone who wrote in about SLASH's new guitar. If you didn't know either, it is a Dobro. We're told that it is used for slide/acoustical work. SLASH used one on the Illusions album. It is listed under the credits. Now you know what one looks like! Gibson has some good basic literature on their site if you would like to learn more. We've selected just one article there to link with, but if you're interested, do a search there on Dobro and there are many others to read. We'll try to find where this beautiful gift came from.
Gibson Dobro Information




Dave tells us that you can now see the new, GNR Live video of "Welcome to the Jungle". It's on the GNROnline site. The whole video is there, and though the screen is small, you can play it over and over again. We also found it possible to harvest a copy for our own use off line. We love to see SLASH JUMP! Here's our copy that we are happy to share:

News Reported: 06/17/00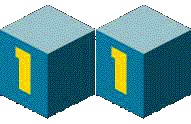 The eleventh fan question for SLASH is from Maria:

How is it, having cats and snakes? Do they get along? Do they ever come face to face? What happens if they do? I ask because I have a cat and want a snake badly. I am scared to get one because of my cat.

SLASH: Maria, my cats and snakes have an agreement. The cats don't hang out with the snakes and vice versa. So far it's been a good system.

Thanks, Maria and SLASH!



There was a previous question as to whether or not it is SLASH playing Somewhere Over The Rainbow on an MP3 that's floating around the net. Our friend Schmidty tells us that it is not SLASH but Jimi Hendrix. SLASH also thought it was not him. So, if you have a copy, it's Hendrix.


Kim, a friend from the UK, sent us this dazzling picture of SLASH at left. The picture appeared in a recent issue of Kerrang!. SLASH looks great! For you guitar experts out there, what kind of guitar is SLASH holding? It's a beauty!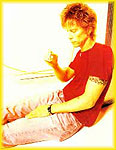 Just to keep you up to date on TV appearances fans have been waiting to see - this is one with SLASH's buddy, Duff! Duff once appeared on an episode of the sci fi series Sliders. If you missed it, you can catch it again on the Sci Fi channel June 26 at 6 pm ET. Thanks, Bob, for letting us know!

Is there a Lesley out there who received an autograph from SLASH...made out to someone else? We know who has your picture, Lesley! If you get in touch with us, we'll put you in touch with them. Just a little mixup on SLASH's part which we'd like to correct. Write us at:


webmaster@snakepit.org




News Reported: 06/15/00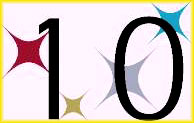 The tenth fan question for SLASH is from Jose Martinez:

Just a lil' question for Slash. Did Slash played "Somewhere Over the Rainbow"? I found that MP3, and it sounds like Slash but I have a doubt.

SLASH: To everybody that heard I played "Somewhere Over The Rainbow" on MP3, I'm pretty sure it wasn't me unless I thought I was Richie Blackmore in my sleep. Sorry!

Thanks, Jose and SLASH! This is one we've had a lot of questions about.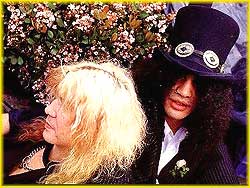 Here are some notes from a couple of international fans. Maaike from Holland writes some more about "November Rain". This song was voted best song of the Millenium in a poll taken by TV station TMF. More recently, TMF aired the Best Songs of the Nineties, and "November Rain" won this also. Maaike says you have to figure that "November Rain" is THE most popular song in Holland, even today. And rightly so! Thanks, Maaike! Renee sent a message from Thailand about a magazine there called Crossroad. The current issue has four pages about GNR, but she says we have all seen the information before. It covers the band from beginning to end including their unbelievable success, their problems, etc. Only SLASH's words appear. Axl was mentioned a little but not in a very good way (Renee is a diplomat!). Thanks very much, Renee!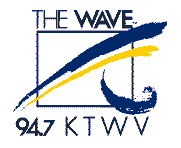 Laure in California was listening to Smooth Jazz 94.7, and there was a very interesting SLASH mention. They played a song with SLASH and Mark "Slick" Aguilar (lead guitar, Jefferson Starship). It turned out to be "Obsession Confession", and it was being played at UCLA. Evidently, SLASH played live there with Mark. Other musicians who played that day were Kenny G. and George Benson. Laure said SLASH did a great job on this beautiful instrumental. If anyone has any information on the date and the occasion where SLASH played at UCLA, we'd really like to have that information! SLASH tells us that this was, he believes, in 1996 when the song came out and the show was done for Smooth Jazz 94.7 If you were there or know more about this show, email the SLASH page at:

webmaster@snakepit.org




On a similar topic, radio station 97.5 The Oasis in Tucson, Arizona took a listeners' survey. Each question had the top 5 responses listed. The last question was "Which song would you like to hear on the show?" and "Obsession Confession" by SLASH was in the Top 5. This is a survey from last week! "Obsession Confession" is a beautiful instrumental, and it's great seeing SLASH getting recognition for this solo.



A final note: there's a rumor going around that SLASH will tour with Rod Stewart this winter. SLASH says that's not true. He will be out with Snakepit.

News Reported: 06/13/00


The ninth fan question for SLASH is from Mike Krug:

Before the JCM Slash amp came out, I went through lots of Marshalls trying to find the perfect one. When the Slash amp was released, I played one and it was perfect; so I bought one immediately. I recently bought another Slash for a back up amp. It had hardly been used and still had the original tubes. I had been playing the first one for five years and to me it was the only amp in the world. However, the second one just sounds way better. I couldn't believe it.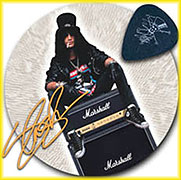 I have my amps serviced about every five months, so I always have relatively new tubes. I love both amps, and they sound great, yet I was wondering if you experience inconsistencies in the amps you have. I notice that you use original Jubilee amps for some things. I have never been able to find one. Are there differences? What do you suggest I do to get optimum performance out of both amps?

SLASH: Mike, Good amps are like good women. They've got good qualities, but no two are alike, God Bless 'Em! Thanks, Mike and SLASH!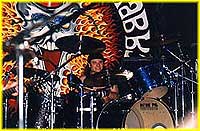 The drummer with the big smile is Matt Laug of SLASH's Snakepit. Recently, we asked Matt some questions via email, and he was kind enough to give us some answers. Now, when you meet Matt after a show; he won't be a stranger! He really is a very nice, pleasant and talented guy!

NEWS: Matt, do you play any other instruments?
MATT: I play and write on guitar. It's like a guitar lesson at every Snakepit rehearsal. SLASH plays facing the drums with one foot on my kick drum. So he's about 3 feet away from me. I watch his fret board all the time saying to myself, "That was cool! I gotta try that when I get home."

NEWS: Which Alanis Morissette album did you play on?
MATT: I lucked out and got to play on Jagged Little Pill. The tracks I played on were "You Oughta Know", "Mary Jane", "See Right Through You", "Wake Up" and "Forgiven". Working with Alanis was amazing to say the least. I remember laughing in the middle of a drum take because the lyrics were so f*cking good!

NEWS: Do you like drum solos?
MATT: I'm not into drum solos. It's not that I can't do one. It's just that I'm the type of drummer who would rather play a song with a band. I grew up listening to bands like The Beatles, Kiss, Aerosmith, Led Zeppelin, Queen; and to this day, that's the music I love the most. I know there were a lot of drum solos in those bands, but I love those bands for their songs. If you ever hear me do a solo, it's because someone else really wanted to hear me play one.

NEWS: Do you practice?
MATT: Not as much as I should. Sometimes I don't have the time to practice. Luckily it's because I'm either rehearsing with Snakepit or doing a session somewhere. If things get really slow, I'll set up a drum kit in my house and bash.

NEWS: Who are your favorite drummers?
MATT: All of them!!! I'm going to steal/borrow/learn something from anybody who sits behind a drum kit.

Thanks, Matt! Being the Snakepit drummer sounds like a wonderful job, and it sounds like you are well prepared! See you soon!



News Reported: 06/11/00


The eighth fan question for SLASH is from Joe:

I read on this page that you use Seymore Duncan Alnico II Pro pickups when playing live. Now, when I went to my local music store to buy a pair of these, the salesman said that they are the same pickups that come stock in a Les Paul. I really don't think the guy was right. Can you please tell me a little more about your choice of pickups and the difference between the two? Thanks a lot!

SLASH: Joe, the pickups I use are "Seymour Duncan" Anico II's not stock Les Pauls! Trust me, I have them in almost all my Les Pauls except for my vintage Pauls which I keep stock. I use the Alnico IIs because I really like them.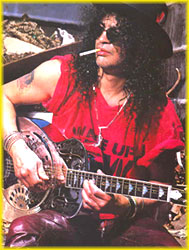 Within the past couple of weeks, SLASH did an interview with the UK magazine Kerrang!. Our friend Kim did the long job of transcribing this so the rest of the world can read what SLASH recently had to say. Kim, thanks so much! Click on the small past issue of Kerrang to see what SLASH had to say: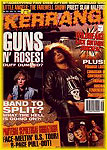 Kim says there is a sidebar on head warmers in rock. SLASH gets a mention for his top hat and given a cool factor rating of High!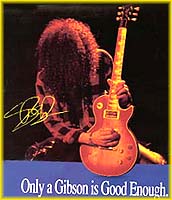 Here's one video we'd like a copy of! NK12 from the UK says he was on a ferry and picked up a video called The Gibson Guitar Story. It has SLASH and a whole host of others including John Lee Hooker, Les Paul and BB King. SLASH is the first one you see! That's about 20 seconds long, and then he's back in about 50 minutes. Slash talks about feeling lazy if he doesn't play for more than a day or two and says how playing guitar really hard justifies his other activities. It has a solo on it from 1992. Anyone with a copy to trade/sell, let us know!

News Reported: 06/09/00


Here's the seventh fan question/SLASH answer:

Question #7 from Diana in New Jersey:
1-Growing up in England, did you have a British accent as a child?
2-You look so gorgeous in your many bracelets, do you have a favorite one or a favorite place to shop for them?
3-A few years ago, I saw a beautiful photograph of you in People magazine where you were bungee jumping! What was that like?

SLASH: Diana, yeah, I did have a pretty thick accent when I was really young, but it wore off in L.A. And, no, I don't really have any favorite bracelets; but I love wearing them. And, finally, bungee jumping is something to do when you feel crazy enough.



SLASH announced that Jerry Heller of HQZ Mngmt will be his new manager. Mr. Heller will also, of course, manage SLASH's Snakepit. Things are moving ahead! Ain't Life Grand?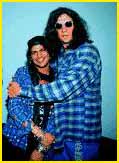 Today SLASH called in to Howard Stern's radio show according to some early rising fans like Ryan. SLASH did some publicity on Snakepit. He also said he has been a fan of Howard's show for years. Howard, who loves controversy, brought up Axl and his new musical direction. Howard gave SLASH several openings to jump in and let Axl have it, but SLASH said nothing negative at all. Howard wanted to discuss Axl's horrible new music and his using the GNR band name. SLASH replied that he and Axl don't see eye to eye right now, but he is not bitter. He says he and Axl have not spoken in about five years. Listening to the show, you could feel the willpower it takes not to rise to the media's bait and add fuel to the Axl/SLASH controversy. SLASH came out looking mature and professional. Howard came out looking zany as always. He asked SLASH about the girlfriend he had when Howard last saw him. Turns out that was SLASH's ex-wife, Renee. SLASH said his new girlfriend is the only one he has been monogamous with, and this is a strange state for him. As always, Howard tried to pry out of SLASH what his finances were like. He wanted to know if SLASH was set for life, but SLASH said he was set for life from the beginning; but who knows what that means? SLASH also said that Ain't Life Grand is due out in SEPTEMBER! (Last we heard was August). Howard tried another time to get SLASH to badmouth Axl by asking if SLASH had heard Axl's horrible music that was out recently. SLASH wouldn't criticize the music and just said again that he left GNR because of the direction Axl wanted to go with the music.

News Reported: 06/07/00


Here's the sixth fan question/SLASH answer:

Question #6 from Ashish Joseph in Texas: My question is that since you decided on new musicians for Snakepit 99, why didn't you go with your former GNR partners (ie. Duff on bass, Izzy on rhythm guitar, Matt Sorum on drums and yourself on lead guitar)? All you would have needed is a singer. Surely such a venture would have helped the public embrace Snakepit to a greater extent.

SLASH: Ashish, the new lineup in Snakepit 99 is the result of wanting to start fresh, put together a permanent band, and record and tour as a new band. Ex-Guns guys and ex-Snakepit guys in the group wouldn't feel as new for any of us.

Thanks Ashish for that excellent question, and thanks to SLASH for that honest and enlightening response.



Some SLASH media items now. First, if you missed the times that SLASH appeared as a DJ on VH1's atWork, you'll be glad to hear that VH1 recently archived the show. This means you can go to their site and catch the show any time you want. And it's a MUST! Click on SLASH to go to VH1 and to bookmark the SLASH DJ appearance.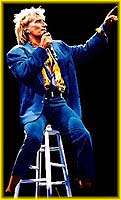 SLASH recorded two tracks with Rod Stewart on Friday. He said it was a difficult session, but he feels that he got it just right. By the way, SLASH says this is NOT the 1961-69 album. It is the album to follow that one, but SLASH didn't get the title. So, be on the lookout for that SLASH guest appearance.


MTV has a funny, weird show called Celebrity Deathmatch which appears on Thursdays at 10 pm ET. Two opponents are paired on the basis of their antagonism, different styles or viewpoints, etc. The opponents are two claymation figures which tear off body parts as the fight progresses.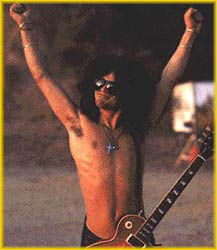 Which two original GNR members might you think would make a funny but believable fight? How about Axl and SLASH? You've got it! We are still watching to see the air date for this fight of the new millenium. We did see a commercial where SLASH goes after Axl with his Les Paul! Let's hope the SLASH claymation guy is still running around at the end of the show. We're a little worried about the top hat, long hair and those long slender legs. Watch out, SLASH!

News Reported: 06/05/00

Here's the fifth fan question/SLASH answer...it's a good one:

Question #5 from Pam Gonzalez: When you get an idea for music, what do you do most of the time? Do you sit down and write the whole thing or do you record a little bit at a time and then put it all together? Thanks!

SLASH: Pam, I wish it was that predictable. Sometimes it comes so easy. Other times you feel you'll never play again. You sit down and make a conscious effort to write and nothing happens, or you'll be squeezing vegetables at the market and suddenly you're inspired. Putting it all together is the same type of thing. It can pour out in one fluid motion, or it can be like assembling a Rubik's cube!

Thanks to both Pam and SLASH. These fan questions and SLASH answers really give an insight into areas of his work that he has really never focused on with us before. Very interesting! More to come...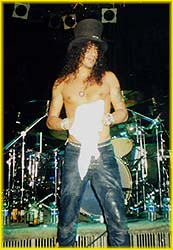 SLASH may not have signed his recording contract yet, but still he's busy with plans for the new album. He says it looks like there will be four singles off the album. If you've heard any song titles thrown around, better wait till SLASH gives us the word on them. Two are in the rumor mill, and at least one is not in the singles plans according to SLASH. SLASH says what is planned is a video! The band should be making one very soon, and they have been rehearsing at SLASH's house. Everyone's back except Ryan Roxie who was still on tour with Gilby Clark. SLASH said that is not a problem for rehearsal. We feel that if SLASH is there, there are no problems at all! He mentioned that MTV was coming to his home this week to do some filming for a show. We'll try to get the name of that for you. It was not the one about a fan meeting with him. We said we would volunteer for that one! And of course the Rod Stewart recording was Friday. And SLASH reported that he was all caught up with the fan mail; so if you are expecting something, you should have it soon. Don't forget SLASH will be 35 on July 23, so get a cool gift and/or card in mind to send around July 1. This would be a time for sending something to him and not requesting a reply or something in return! Let's make plans to cause a post office box overflow!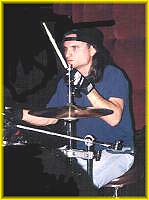 We had a chance to speak to Matt Laug on the net, and he was kind enough to answer some questions about himself and his music. Matt is a terrific guy, very gracious, nice and intelligent! As the drummer for Snakepit, he has the job of holding that rock beat while SLASH and company blaze away on the guitars and vocals. We've heard many good reports from fans at the pre-album shows and were anxious to get some background on Matt. Matt says he was born 3/17/68 in Fort Lauderdale, Florida; and his family moved when he was 4 to Florence, South Carolina. He got his first drum kit for Christmas in 1975. Matt is self-taught. Like SLASH, he learned to play by playing along with favorite albums. Matt graduated from high school in 1968 and made the move to LA two weeks later. Matt is still an LA resident. Matt has toured with a number of bands and recorded with Alice Cooper, Alanis Morissette, Beth Hart, The Corrs, The New Radicals, and South Park. Lots of good experience! This information will also be found in The Band bios under Snakepit 1999-2000 (off Main Menu). Thanks, Matt, for the information. We're hoping to see you soon!

News Reported: 06/03/00


Here's another reply from SLASH to a fan's question:

Question 4 from Tiffany Piland: My question is: what do you think of today's music with all of the different styles and types that have risen in the past few years including everything from boy bands to rap-metal bands? Do you agree with many people that say that music is no longer based on a talent but a style that will sell albums?

SLASH: Tiffany, today's music is in some way, shape or form, the same (in essence) to music culture throughout its history - cool, weird, good, bad, etc., not to mention all the new labels for each different syle people come up with. There will always be talent, I think, as well as there will always be mediocre music driven solely by record sales. It's only human nature.

Thanks, SLASH! Q and A's published thus far can be found off the Main Menu at SLASH Answers Your Questions. We'll be publishing these till all 15 have been reported.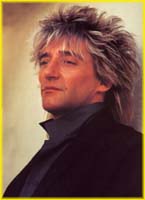 SLASH spoke about his involvement in the coming Rod Stewart album, and he was so surprised that we all knew about it! He said he will be doing two songs on the album with guitar solos. We asked how SLASH hooked up with Rod The Mod, and he said that he has known Rod ever since he was a child. SLASH says Rod is a great guy. We agree, SLASH! One of the best pop singers in the world, and the list of hits goes on forever. We asked if the album was the one due out in June, but SLASH didn't know. He did say that he was doing new songs with beautiful melodies, so this is most likely not the 1964-69 greatest hits album. We'll try to find out the album nam soykllkl;lklkkku see anything, let us know! Also, SLASH w as going into the studio on Friday, June 2 to work with Rod. SLASH said that he was nervous and always is when he has to to do recording. So, Good Luck, SLASH although we know you will be magnificent as always.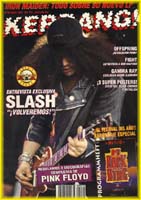 Our friend Kim from the UK let us know that Kerrang! has a very small SLASH mention this week. It is an appearance comparison of SLASH with a dj. The dj is nude while SLASH appears in a very old picture (clothed). The dj has long black hair and outweighs SLASH by about 75 pounds! Also, clearly SLASH has the blue ribbon looks. Kerrang! must be having a slow news week. But next week, we're looking forward to SLASH's interview with Kerrang. SLASH did the interview just last week, so get ready for all the hot news when SLASH tells all (according to the magazine). UK fans should get right to the stores, Kim says, as this issue will be a sellout. Thanks, Kim!

News Reported: 06/01/00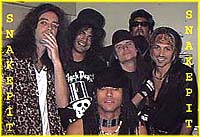 This is another fan question answered by SLASH:

Question 3 from Gary Fuller in New Jersey: Slash, if you could create a "dream band", (a band consisting of five or so guys, none from the same band), who would be in your band?

SLASH: Gary, my ultimate dream band would be the band I'm playing in now. Snakepit is a hell of a lot of fun!

That SLASH, ever the diplomat. Questions are being archived in the "SLASH Answers Your Questions" section (reachable from the Main Menu).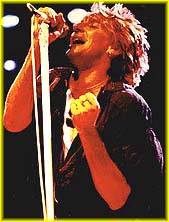 Music sites are buzzing with the news of Rod Stewart's recent throat operation (successful) and the news that Rod is going back into the studio to work with SLASH! We haven't reached SLASH to confirm, but it looks like this must be happening! Rod's new album is due out June 6; and if this is the one SLASH is on, it is listed with the title 1964-1969. This is early days for Rod who appeared more as lead vocalist with a band than a solo artist. His huge solo hits came in the 70s. Other guest artists are Keith Richards, Ron Wood, Peter Green, John Paul Jones and others. This will be a 2 disk set with a 38 page booklet of photos, bios, and detailed track information. We'll keep you posted on this one.

Speaking of Rod the Mod, there is a Rod Stewart tribute album. It came out in 1997 and originated in Japan. The title is Forever Mod. SLASH's buddy Matt Sorum plays on a track, and there are many other good artists such as John Corabi, Eric Singer, Bruce Kulick, Gilby Clarke, and Eddie Money.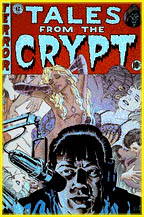 If you've looked at the section on SLASH's TV credits, you know he was in an episode of Tales From The Crypt where he played a disc jockey. If you've been hoping to catch that show, good news! The show is repeating on Wednesday, May 31 at 9:00 PM on the Sci Fi channel. The episode is titled "In The Groove". And we thank Janet for rushing that information to us.




Our last item: we're starting a weekly newsletter! The contents will be taken from this Current Events section (no graphics or pictures included). There will also be mention of site sections that have had some change. The newsletter will start on Sunday, and it will be mailed out sometime Saturday. You subscribe/unsubscribe to the list on your own. The list will be run through WWW.ONELIST.COM, and the list name is slashnews (it is case sensitive, use lower case only). If you have never registered for a list there, you go and register, search for the slashnews list name and then subscribe. There are no postings to this list as it is a newsletter. If you want to discuss Slash and his music, then you also want to subscribe to Snakepit. Members are monitored as are the postings. It's a good group! If you have questions on the newsletter or the discussion group, email:


webmaster@snakepit.org

and click Slash Newsletter to sign up for the newsletter list.

News Reported: 05/30/00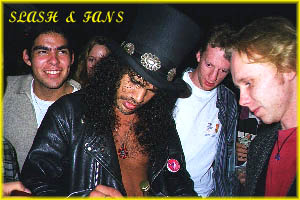 At left is a picture of SLASH and some fans at a Snakepit show. SLASH likes to hang out with the fans, but not all of us can make it to a show. Seems like everyone has one important question for SLASH! Recently we asked you to send questions that were passed along to SLASH. Thanks to everyone who contributed to this stack of questions! These were sent to SLASH, and we hoped he could maybe answer five of these. Well, SLASH made time for fifteen! We're going to post one or two of these at a time here in Current Events, and a summary archival list will be kept in a new section called Answers From Slash. We hope one of these will be yours. If not, we'll ask Slash if he could spare the time to do more. The questions here are from the fans; the answers are from SLASH. Read on and see what our favorite guitarist has to tell us: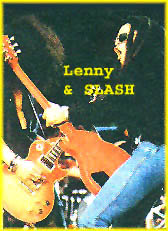 Question 1: How was it working with Lenny Kravitz and would you ever tour/work with Lenny again?

SLASH: Working with Lenny was great; & if the opportunity again presented itself, we could come up with some more great music.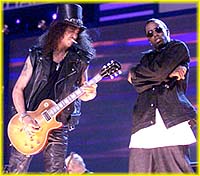 Question 2 from Alex (Paris, France): During the last past years, you've played in a lot of TV shows, movies, and with lots of "non-rock & roll" artists. Does the fact of being one of the most popular guitarists influence you or your music a lot, considering that the "rock n' roll star cliche" is more dealing with antisocial and anticonformist issues?

SLASH: Alex, I love playing guitar, & I also love playing in occasional situations that are different than what I normally do which is hard rock & roll but in no way a cliche.



There you have the first two! See you next time with more. Due to the Memorial Day weekend, Current Events will next appear on Tuesday, May 30. To all in the States observing Memorial Day, and especially to SLASH, have a good, safe holiday weekend!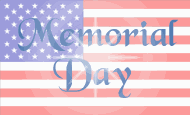 News Reported: 05/26/00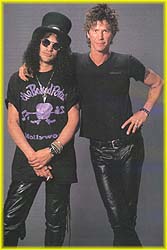 Today we have some news of an ex-GNR member that everyone likes. Not SLASH this time! Duff! In answer to the many questions as to what Duff is up to these days, we did a little research and found that Duff just finished touring with Izzy in Japan. This was in support of Izzy's new album, Ride On. Duff was the bassist on the album and tour. Trivia question: who was the last original member to leave GNR? Duff! Like SLASH, Duff has moved on with his life. We read on one of the music web sites that Duff has been putting together yet another new band called The Racketeers. If you think it's a punk rock band, you know about Duff. The Racketeers are being called a super group in the same vein as Neurotic Outsiders. Listen to this lineup: Brian James (ex Damned) on lead guitar, Stuart Copeland (ex Police) on drums, Clem Burke (ex Blondie), Wayne Kramer (ex-MC5) on vocals/guitar, and of course Duff on bass.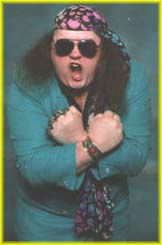 One of SLASH's friends was Sam Kinison, a brilliant comedian who died much too young in a car accident. Sam led a crazy showbiz life and attracted the rockers and the other party people in L.A. SLASH played on two of Sam's albums and was in a promo video. There's a SLASH fan who is just devoted to Sam Kinison's memory, Timmi Jamison. Timmi does Sam Kinison impersonations, and you can see Timmi locked into Sam's persona at right. Timmi tells us he has met Sam's family, and they were just blown away. He's coming out to L.A. for a couple weeks in early June, and he has some gigs lined up. Timmi wants to see everyplace that Sam went, and he hopes to see you out there too. A SLASH fan, he's hoping to meet the man who rocked on "Wild Thing" and just get to say hello. Good luck, Timmi!

News Reported: 05/24/00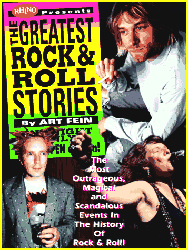 The Greatest Rock & Roll Stories by Art Fein has a large GNR mention with a smaller mention of SLASH. The book was written in 1996 and is full of stories about rockers. The GNR section has this as its title and direction: "Another Manson-Related Death...Guns N'Roses Records His Song, Dies". The author covers the band from its beginnings especially dwelling on the outrageous behavior. For example, the recalled cover of Appetite is on his list. Fein says the band went too far recording the Manson song "Look At Your Game Girl" on TSI?. A backlash of anger from fans, parents and everyone else who felt the psychotic murderer was getting part of the album sale proceeds led to the death of GNR, according to the author. An interesting theory which might be one for the X Files. There's a picture of SLASH here with his former wife (unidentified), both topless and hugging each other. Rather than being wildly erotic, the picture seemed to us to be a loving picture of a married couple. The only other mention was of GNR getting the Nyphs' producer through Tom Zutaut. Inger Lorre's unhappiness with this decision led her to stand on Zutaut's desk and urinate. GNR only figured in this mess as a side issue. The book might be a good one for other bands, but it certainly is incorrect in its band breakup theory for GNR. Worth a look.



VH1 is taking a vote now for Who plays the most rockin' riffs? It's the fans' chance to program Rockshow with Cane. So get on over there and vote so we can see a SLASH video on Friday night, May 26! Click on SLASH to register your vote!


News Reported: 05/22/00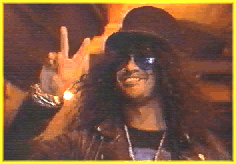 The UK magazine Kerrang! published a story this week that GNR was reuniting. It had SLASH and the boys in Phoenix rehearsing and Axl nowhere in sight. SLASH himself denies that this is true! SLASH is close to signing, as we have told you before, and when he does, he can tell us the name of his new label and, most importantly to us, WHEN that new album is coming out! He will have a promoter and agent and all those new helpers he's going to need. SLASH was a little worried that none of us would care after the long wait, but we told him that his fans are just waiting for the big release date and tour schedule. So, stay tuned! When we get the word from SLASH, we will have it here!



While SLASH was away, he was busy working on that mountain of Ask Slash questions. We should be getting the answers soon.



There's a new section on the SLASH page called Fan Music. If you play guitar or have a guitar band, you might want to share some of your licks with other fans. Get a clip(s) of your music and put it up on your own web site. Then email us with the url, a short description of you and the music, and a picture of you, your band, your guitar if you want that, and we'll put it on the Fan Music page. Visitors can read the description and link to your site to hear you playing. Send information or questions to:


webmaster@snakepit.org




Have you seen Rated X on Showtime yet? This is the film where SLASH worked on the soundtrack. Ray watched the show, and he was surprised to see that it was not an X rated film. He said it is more like a PG documentary on the two brothers who were kings of porn in San Francisco. Ray felt the movie was too long, but he hung in there to hear SLASH. SLASH plays two 30 second segments. The producer hired the bass player, keyboard player and drummer; and SLASH joined them for his part. Ray said he spotted one SLASH segment for sure, and the other he was not as sure about. SLASH rocked! Ray also said that SLASH was listed in the credits as playing Electric Guitar. Thanks, Ray! Here's the next appearances of Rated X on Showtime: May 29 at 10pm, June 4 at 10 pm, and on Showtime 2, June 10 at 11pm.

News Reported: 05/20/00

Savannah was a porn queen with a big drug habit. Her exploits easily led her into relationships with such rock stars as Vince Neil, Greg Allman, Billy Idol and SLASH. She also had a relationship with actor Pauly Shore. Rejection by these men and her astounding drug intake led to her suicide at age 23 by a gunshot wound to the head. Not one rocker appeared at the funeral. If you'd like to see what all the fuss is about, you can catch the story of Savannah on E! True Hollywood Story - Savannah. The show airs frequently on E!, and it is on this week on May 20 at 4pm.

We've had some mentions of that Saturday Night Live show with an Axl/SLASH sketch and starring Adam Sandler as Axl, Kiefer Sutherland as SLASH. Well, we've had two wonderful fans, Brainless314 and Roelof of Holland, send us the video! It will be on the Comedy Central channel on June 16 at noon, but you can see it now and tape it later! This is SO funny! Click on the REAL SLASH and Axl below:

News Reported: 05/18/00


Saturday Night Live comedians played Axl and Slash in a nursery sketch way back in 1991. This show was a good one featuring Skid Row as musical guests. The sketch with "GNR" was on toward the end of the program. If you missed it, Bob sent us word that you can see it soon! Comedy Central will carry that episode on June 16 at noon. Get the VCR rolling!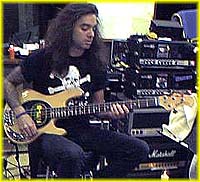 While SLASH's Snakepit is waiting to get started (and by the way, SLASH is out of town now working on his plans), a couple of the guys are enjoying a tour of Europe and South America! Keeps their chops up! Gilby Clarke is fronting this tour, and Marco saw the band in The Netherlands recently. He said the band rocked! Gilby is primarily known for his work as GNR rhythm guitarist replacing Izzy. He plays a lot of GNR music in his sets. Johnny Griparic, bassist for Snakepit, was playing bass for Gilby's band.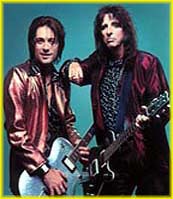 Johnny told Marco after the show that Teddy Zigzag Andreas and Ryan Roxie would join up with Alice Cooper for Alice's summer tour. Teddy will be in and out of the Snakepit tour as his schedule permits. Johnny reported that SLASH is working on his contract,and the Snakepit album will be out this summer (August). Gilby was angry over his credits on Live Era. He was listed as an additional musician while he played on 19 of the songs. Matt Sorum is said to be upset over his listing as well. Considering Matt played on every track, it does seem strange. Johnny talked to Marco about this website and said he liked it! Thanks, Johnny! Marco promised pictures later in the week, and we thank him for keeping track of Johnny and sending him back!

Glitter is a big fan from Argentina, and she sent us the news on the rest of Gilby's tour. In addition to Johnny G, Ryan Roxie will be there. The band will play at La Trastienda, Balcarce 460, Capital. Shows are scheduled for May 26, 27, 28. So if you're down that way, head on over and give the 'pit guys some support! Thanks, Glitter!

News Reported: 05/16/00

There's an old Saturday Night Live program with "Axl" and "SLASH"! We wanted to hear more about this episode. Eric sent us a note that Kiefer Sutherland (at left)played SLASH in the "Kiddie Metal" sketch. Skid Row was the musical guest starring in this sketch. The sketch was a parody of a commercial for children's bedtime tapes with "classic" songs interpreted by GNR! "Dueling ABC's" was performed by "Axl", "SLASH", Sebastian Bach and Rachel Bolan. Thanks, Eric! Kiefer Sutherland as SLASH??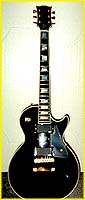 Guitarists out there...do you have a clip on your website where you or your band are playing a GNR/Snakepit song? We want to link our site to your music! If you can put clip(s) on your own site (plenty of free ones available), we'd certainly like to feature your sound. This could be on the Guitar Tabs Section or a new section depending on how many links we get. If you're interested, put a clip up on your site, then email us here with the url, the name of the song(s), and your name or the band name. We think there are some terrific guitar players out there with some great bands. Our SLASH community would like to hear more. Send email to:


webmaster@snakepit.org



To all the SLASH fans out there who are Moms, Happy Mother's Day! We're sure there have to be some Moms out there by now especially if you started out as a GNR fan in the late eighties. Maybe we could have some feedback on that...get the demographics straight! And to a really special Mom, we say Thank You and: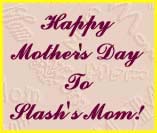 News Reported: 05/14/00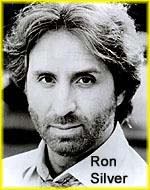 Sage in California tells us that Ron Silver was on a local radio show recently. Silver is a fine actor in TV and movies. You may have seen him in Enemies: A Love Story, Reversal of Fortune or Wiseguy. When asked about the San Francisco rock scene of the past, Silver said that his favorite rock scene was the late sixties and early seventies and that he loves the classic guitarists like Clapton, Page, Hendrix and SLASH! Maybe SLASH can do a soundtrack for him some day.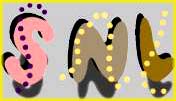 Saturday Night Live had an old rerun on the other day with a SLASH "appearance". Slash764 saw a sketch that looked like Axl and SLASH were in it! Have you seen this one? It's really a couple of SNL cast members dressed up as the guys. They come in when a little boy is trying to go to sleep and wants to listen to his new tape. Slash764 says "Axl" (Adam Sandler) was close but the "Slash" character wasn't. The guys came in and started playing the new "kiddie metal". The show first aired November 2, 1991, but it's just as funny today. Anyone know the actor who played "Slash"?

The Ask SLASH request brought in a lot of questions for SLASH. Thank you! We sent them all out to SLASH. Please don't submit anymore questions! Thanks to all of you who responded. SLASH will be looking through them soon.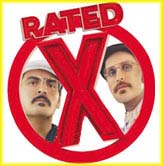 And a reminder that Saturday, May 13, is the debut on Showtime of Rated X. This is the show starring Charlie Sheen and Emilio Estevez. SLASH did some work on the soundtrack. The movie is receiving a lot of publicity; there have been multi-page articles in TV Guide and full page ads in Entertainment. The cast list is given on the Showtime site, and SLASH is credited! Be sure to check out this movie. Other viewing times are given on SLASH's May and June calendars.

News Reported: 05/12/00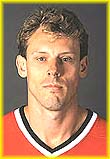 If you follow US NHL hockey at all, you'll recognize this player as Sean Burke of the Phoenix Coyotes. David from Pennsylvania tells us that ESPN The Magazine has pictures of Burke in a recent issue. On his helmet, he wears pictures of Jimmy Page and Jimi Hendrix! Burke says he'll have an even cooler helmet next year with a collage of his musical gods: Robert Page, Eddie Van Halen, Eric Clapton, Kirk Hammet, Buddy Guy, Rick Emmit and SLASH! SLASH fans are everywhere, even on the NHL rinks. Thanks, David!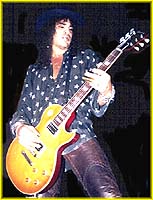 Victor the Snakemann is a photographer, and he saw the mentions of SLASH photographs here. He wanted to share with us his SLASH concert photographs. These are great! There are some of Snakepit '95, Snakepit '99, SLASH and Austin guitarist Eric Johnson onstage in Las Vegas, and even some of SLASH and Victor after a show. Victor has shots of other bands on his site as well. We hope you'll enjoy seeing these!

SLASH/Victor & SLASH/Eric Pics

Snakepit Pics

News Reported: 05/10/00









SLASH has agreed to answer some questions from his internet fans. He says he'll take 10 of those submitted! Most likely these will be printed one at a time. If you have a burning question you have always wanted to ask him, now's the time to write it down and send it in. Questions about his equipment, his musical career and projects, the new Snakepit, and any other professional questions are good candidates. Questions about his personal life will not be selected. Start submitting them now! You can send in any number of questions. When we have a reasonable amount for him to choose from, we'll let you know! Please use "Ask Slash" as the subject of your email message and send it to:


webmaster@snakepit.org


The contest is over, and the two winners have responded. We'll have another soon. Here are the answers:
1. The Underground Comedy Movie
2. The Freddie Mercury Tribute Concert
3. Duff and Matt
4. Chic
5. Los Angeles Music Awards (LAMA)
6. Sam Kinison
7. Metallica
8. Slamdance Film Festival (or Slamdance)
9. Midem
10. Washington D.C.


News Reported: 05/08/00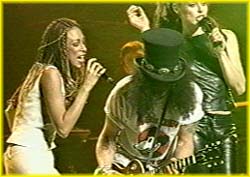 Did you enter the SLASH contest? Did you get #4: who did SLASH play "Le Freak" with in Japan? Maybe if you had seen this picture, you would have known it was Chic! The entries are in, and the winners selected from a large group that had all the answers correct. The winners are Carolyn from Australia and Mark from the US. We've sent them email to let them know. We'll be sending those autographed pictures very soon.

If you didn't win this time, get ready! Very soon now we'll have another. SLASH donated the autographed photos, and we'll be back as soon as we think up more questions. Congratulations, Carolyn and Mark!

After we posted the item about the great pictures Neil Zlowzowski took of Slash, Laure wrote to us to point out a smaller, very different display by Jeff Dunas. These photos are really very special, and you ought to have a look at Jeff's site when you have the time:

News Reported: 05/06/00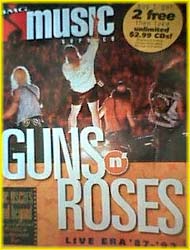 Today we have some information on Guns N'Roses to pass along. For all the guitar players, Cherry Lane Publications will release a songbook for Live Era! The release date is expected to be August this year. Since all the songs are out already in anthology books, it might be that this is a transcription of the live songs. Cherry Lane products can be purchased at music stores throughout the US and on the net at www.musicdispatch.com (Music Dispatch Online).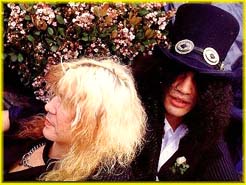 Maaike says that Holland has not forgotten SLASH or GNR. On their very popular music TV station TMF, they listed the millenium Top 2000 most popular songs. "November Rain" was chosen as best song ever! TMF had a GNR week where they showed, among many other GNR clips and shows, a '95 SLASH interview. In April TMF had an awards show where GNR's "Welcome to the Jungle" (live) was nominated for best '99 video. Unfortunately, the video didn't win, but we all like it anyway. Radio Veronica aired their list of best songs ever as chosen by the listeners. Guns N'Roses "November Rain" WON! Maaike says GNR is so popular in Holland, and so is SLASH. Sounds like a great place to live!



The UK's Kerrang! is celebrating its 800th issue. They have a feature article this week on the most influential bands in the history of their magazine. They looked only at bands that have done something since since 1981. The bands had to be important in their influence on rock music. GNR rated #4 behind Nirvana, Black Sabbath, Metallica. GNR continues to break the charts even though they no longer exist! Maybe someday...



One last reminder...the contest here ends Friday (date on your email must be Friday, May 5). See below on 4/24 for rules and questions!

News Reported: 05/04/00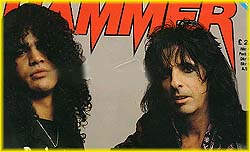 Brad sends us a note from Phoenix, Arizona, where Friday Alice Cooper was doing an interview on a local rock station. They were discussing props for the tour, and the talk turned to Alice's famous props: Live Snakes! When asked where he might get snakes for the tour, Alice replied, "Oh, I'll just call SLASH. We have a mutual likening to snakes,and he has hundreds of them. Great job, SLASH!" Thanks, Alice! As we're sure everyone knows, Alice was joking. SLASH doesn't think snakes should go on tour as "I've seen too many snakes die on the road"! And thanks to Brad for telling us that one.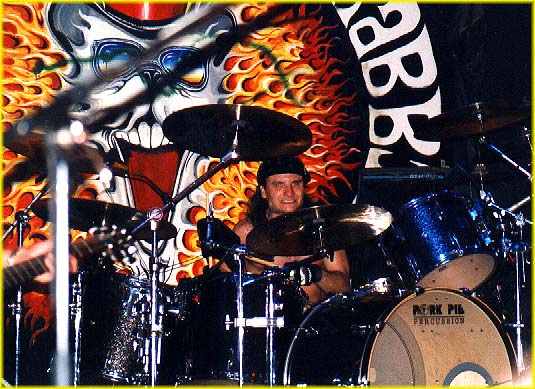 We got a note from Steve, a childhood buddy of Snakepit drummer, Matt Laug. He told us that Matt is from Florence, South Carolina where he went to South Carolina High School and McClenaghan Junior High School. Steve and Matt were in the junior high band together, and Steve recalls Matt throwing down his sticks and walking out of the band room claiming he had quit and was starting his own band! Steve would go to Matt's house where Matt would play right along with a new Rush song...in 7th grade! When there would be a big drum solo, and Matt didn't have enough drums, he would play them in the air as if he did. Probably Matt's first show was a school talent show where Steve and he threw together some songs. Steve chickened out, but Matt played! Thanks, Steve, for that information! Matt sounds like a drum prodigy! Can't wait to hear him live!

News Reported: 05/02/00

News Reported: 04/18/00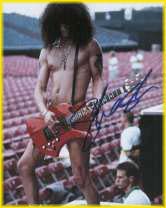 What has SLASH signed for you lately? One of his promo photos, one of your photos, a pick guard, a guitar, a pinball backlite, a GNR biography, a GNR tabs book, a cd booklet, a cd, an album cover? Those are all things people have had SLASH sign for them. We get email telling us how thrilled people are to have an autograph and a guitar pick. We know of no other artist who takes this kind of time with his fans. The other night SLASH talked about what the fan mail means to him. He had done half the stack the night before and was going to do the other half that evening. He carries it up to his bedroom, opens it, reads every letter and note and tries to send you just what you want. SLASH says the letters keep him grounded and help him remember that the fan is a huge part of music. Right now he is so tied up with the business side of his career that he is not performing. No performance, no fans. Your letters remind him that we are all out here waiting for Snakepit and the new band. The letters are very sweet and so nice, he says, that he can't help but get a lift from them. So if you haven't written lately, how about digging out that old cd booklet or that magazine photo and sending it off to Slash. And tell him we're still waiting for Ain't Life Grand! You're his fans, and he really does listen!



While we were speaking to SLASH, the Snakepit band started to drift into his house. They were having a meeting and rehearsal. We got to talk to Rod Jackson! What a super rich, deep voice...like warm carmel. WOW! We told Rod he had a beautiful voice, and we were not exaggerating. We were thrilled to hear that he has the same speaking voice as his singing voice. Some singers sound squeaky or raspy offstage, but Rod's voice is very much the same that we heard on show tapes.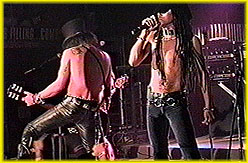 We asked Rod about his hair. With so many artists chopping off their hair, we were afraid that long, sexy hair might be gone. Rod says it's still there, and he will never cut it! We hope Rod and SLASH keep their hair as it is. Finally, we asked Rod if he has to buy a new wardrobe for the tour, or would he be like SLASH and take those old jeans and tennis shoes along, too. Rod said he probably has to get some new things, but he is definitely taking along his tried and true stage clothes. We think Rod and SLASH go for the casual but cool look. And they manage to wear the same thing for the entire show. What a novel idea! Always nice to see them onstage instead of heading for the dressing room. Rod is just a super nice guy with this huge voice! When you see him at the shows, don't hesitate to talk to him. Take lots of pictures, and send some to us! Thanks. And thanks, Rod, for telling us some more about you! We look forward to learning more in the future.

News Reported: 04/16/00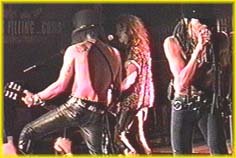 Another week past, and SLASH has yet to sign his contract. He says he has to check everything out so that "I end up owning what I ought to own." He says that when he sends out the autographed pictures that he is now writing on them that the album will be out this summer. The challenge is to remain patient but excited. We can do that! SLASH is also working on the tour schedule but didn't have anything firm enough for publication. There are a lot of decisions being made right now behind the scenes. When we hear anything, we'll post it!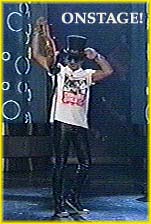 In keeping with International Guitar Month that we reminded you about a couple of days ago, one of the great guitar techs, Adam Day, was in touch. Adam is SLASH's guitar tech and has been for many years. SLASH says that Adam makes him sound better than he is. He knows all SLASH's equipment inside and outside. We sent a copy of the Equipment, Techniques and Style Section to SLASH and Adam. Adam made several corrections for which we are very grateful. If you have been wondering what SLASH's amp settings are, the correct ones are now on the page. We had SLASH owning a '58 Flying V when it is really a '59. And there's an update on the live speaker cabinets too. Adam, thank you so much!



We have some publication news from the editor of a GNR fanzine in Japan:

Hi GNR freaks. We're happy to tell you the news. Finally, the YESTERDAZE new issue (#4) is out here in Japan. For the most part it is in Japanese, but if you're still a big GNR fan (including solo careers), you can enjoy it! It has back and front color sleeves and 36 pages. It features a special column, a live report from Snakepit in Honolulu, 1999. Related musical information and the latest discography are given, too. So you should check it out now! #1 and #2 are sold out. If you need further information, drop a line to info@yesterdaze.net with the word Subscription in the subject line. Thanks for your interest!
YESTERDAZE

News Reported: 04/14/00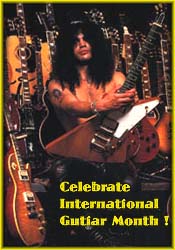 Whether you play guitar or just love guitar music, you should know that April is International Guitar Month! At left, SLASH shows off some of his collection. This is a good time to get your first or add to your collection as many online sites are having special deals to celebrate the occasion. Why not get better acquainted with this versatile instrument? Buy a book, check out the guitar tabs (all SLASH-related) in our Guitar Tabs Section, or send us some new tabs! Read up on SLASH's equipment and see pictures of his collection in our Equipment section. We've found a site of guitar photos around the net that includes classical guitar photos, left handed guitar photos, personal collection photos of web guitarists (you can contribute yours). To take a look at these all you need is time and to click on the flying guitar: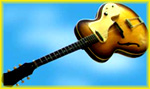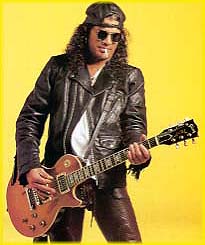 Going along with International Guitar Month, we have a SLASH feature from the April issue of Total Guitar. Thanks to Kim for seeing that we got this. There's a short SLASH bio including influences. And they cover SLASH's playing techniques in case you haven't figured that out yourself. For those who wonder about tuning, there is a short note on SLASH's sound. Finally, there's some music you can try yourself to see how close you come to the top hatted one. And they very nicely include a great picture of SLASH for those who are totally puzzled by all the terminology! Read the article, see the picture:


News Reported: 04/12/00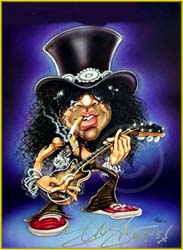 Today we have three SLASH mentions to report. Two are a little unexpected! One is a solid book mention. Let's take a funny mention first! Mike spotted this one night when watching late night HBO. HBO had on one of their typical "sex around the world" shows, Mike reports; and at the end of that program, they had a German cartoon with a singing doctor. While the doctor was singing about sex, there were cartoon people having sex in many ways. One of these little sex illustations showed the people banging away while a cartoon SLASH played the guitar. Hey, the little cartoon SLASH wants to get in on it, not just play the f*cking guitar! This is a riot!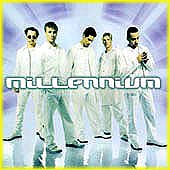 At least the sex cartoon was more in keeping with the SLASH image than our next sighting. We really would like to know the story behind this one. Stacey writes that her sister has the Backstreet Boys album, Millenium. In the thank yous in the booklet, A.J. of the Backstreet Boys lists SLASH as one of the all time greats! A.J., we now have a better appreciation for the Boys! SLASH has fans all over the musical genres. Thanks to Stacey and her sister for sharing that with us. And, thanks, A.J! He's the cool one in the group.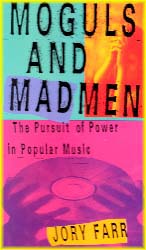 This 1994 book, Moguls and Madmen: The Pursuit of Power in Popular Music, by Jody Farr discusses the F brokers in the world of popular music. Among those presented are Jonny Zazula (Ministry manager), Rick Rubin (Def Jam Records, Slayer), Jerry Heller (Ruthless Records, N.W.A.) and Tom Zutaut (Geffen Records A&R, Guns N'Roses). The book dives right in with Zutaut and Inger Lorre, lead vocalist for The Nymphs. This is a famous story about Inger's rage when Zutaut pulled her producer away to mix GNR's long overdue Illusion cds. In retaliation, she stood on Zutaut's desk and urinated while intoning her band members' names. Notice that GNR was the cause of the trouble! Zutaut talks about GNR, too as he is the man who signed them to Geffen. He says, "SLASH was the best guitar player I'd ever seen." SLASH and Tom Zutaut remain friendly to this day. SLASH has a big fan in Tom Zutaut.

News Reported: 04/10/00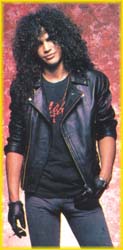 SLASH went to New York a couple of days ago to shoot an episode for a new MTV show. Each episode will be about an artist and will trace his/her life. Emphasis will be placed on the key decisions they made and how they lived and worked over the years. Sounds like a great idea! SLASH says his episode, covering his life from age 14 to the present, is not certain to be shown. MTV will make the decision this summer on which artists to spotlight. It was not an easy show for SLASH to film. He was asked questions that called for some soul searching, and he didn't have immediate answers. He said he felt shy and was often silent as he thought over his answers. SLASH said a lifelong friend will appear in the episode and give his perspective on SLASH over the years! SLASH said the taping was really distracting with lots of cameras and music. He hopes he did well enough to be on the show. Our SLASH is not an actor but a musician! And if anyone has led an interesting life, it's SLASH! When we get the word, we'll post it right here.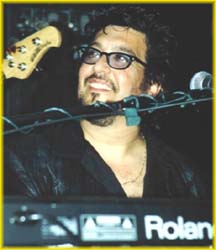 If you were a fan of GNR, Blues Ball and the new Snakepit, you've seen Teddy Andreadis before! He plays keyboard and harp (harmonica) for Snakepit and also does backing vocals. Did you know Teddy was given the LA Music Award for Outstanding Keyboards, 1999? SLASH pulled in an award also, so Snakepit has some top performers. And don't forget! If you're out in L.A., go and see Teddy and the Screaming Cocktail Hours at The Baked Potato, almost every Tuesday night. We heard from Teddy this week, and we heard from someone who played with SLASH when he was just starting out.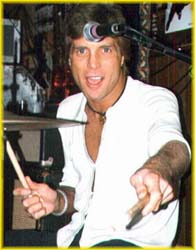 If you guessed Steven Adler, you guessed right! Seems like Steven has gone through some rough times, but he's working his way back into the music business again. Steven was recently spotted in the Beverly Hills club, Chassons, where the former GNR stickman jammed with the house band on "Honkey Tonk Woman" and "Roll Over Beethoven". Steven said that he was very interested in SLASH's proposal for a GNR reunion with the original band; and he is ready to sign up for his original position, GNR drummer! Would that be great! OK, everyone is interested; everyone is ready to hit the stage for some earth shaking reunion songs! Now we just have to convince that red haired guy. You know, if we got Teddy to sing....! A GNR reunion with the original band: Steven, Duff, Izzy, SLASH and Axl... Forget keys to the city, these guys would own the continents!

News Reported: 04/08/00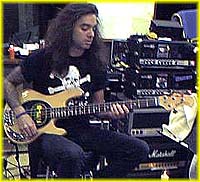 Ravi ran into Johnny G. the other night at an L.A. club. Johnny will be touring with Gilby Clarke in May. When asked about Ain't Life Grand, Johnny said that the album will come out in late May.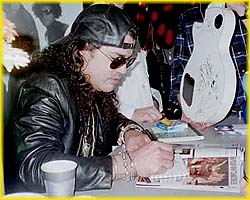 D. (GNR6r) sent us a note about his experience seeing SLASH at the NAMM 2000 show in January. Luckily, he was able to snap a couple of pictures, and he got one of SLASH at right by himself. SLASH is at the Seymour Duncan booth doing his autograph event with a drink closeby surrounded by fans with autograph books, magazines and guitars. So, if you've wondered how SLASH does autograph sessions go, here he shows you how it's done! Thanks!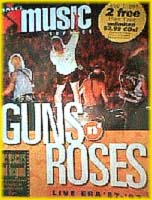 If you know a BMG Music Service customer, you might want to get hold of this month's booklet. The feature selection is GNR's Live Era 87-93! The photo at left and the information comes from Larry. You're looking at the guys (Duff, Axl, SLASH, Gilby,)and they're looking out at one of their massive audiences. SLASH has a quote on the album: "It's one of the best live records I've ever heard. I'm proud of it." Thanks, Larry!

One last GNR-related item. Pittsburgh native Joe Rock passed away. He was the lyricist and manager for The Skyliners and as such wrote "Since I Don't Have You". The song was written while Rock was at a stop sign! It was originally recorded by Pittsburgh band, The Skyliners, but it was covered by many, many other bands including GNR on The Spaghetti Incident? Joe Rock will be missed. Here's an audio clip of "Since I Don't Have You" done by The Skyliners in 1959:

News Reported: 04/06/00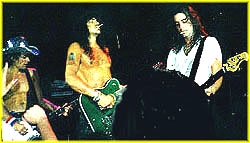 Still no news on SLASH's signing with the new label. As soon as we find out, we'll let you know right here. In the meantime, we did have a chance to ask SLASH about the Snakepit band. Many people have asked why SLASH didn't use the '95 band. He says that when the tour ended in 95, he went to GNR; and the others went on to new things or old bands. Snakepit '95 was expected to be a one-off; but as GNR problems happened, SLASH formed the new Snakepit and came up with new members. This time he wanted band members who would think of Snakepit as their band. SLASH knew Teddy Andreas from GNR and recruited him. Teddy introduced SLASH to Matt Laug who was playing at The Baked Potato sometimes and doing mostly session work. Johnny G. works with the Screaming Cocktails and Teddy. He and Teddy both worked with SLASH in Blues Ball. SLASH knew Ryan Roxie from Alice Cooper's band. SLASH says he and Ryan play really well together. Rod Jackson was one of many people who auditioned for the band. The five band members are Ryan, Matt, SLASH, Johnny and Rod. Teddy is not a member due to his many outside commitments, but SLASH says he is more like his family anyway. Any other people you see onstage such as a sax player are not full-fledged band members but are working with the band on the tour.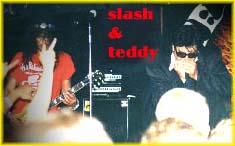 While SLASH is sweating it out in label meetings, Snakepit is keeping busy with other short term projects till the tour begins. Teddy and most of the gang perform at The Baked Potato. Teddy was also spotted by Cinder on a repeat episode of Full House recently. He was playing keyboards for the band one of the guys on the show has put together. Teddy was listed in the credits at the end of the show! Good eyes, Cinder! Gilby Clarke is on tour in May in Europe and Argentina. Going along to Europe is Johnny G! Both Johnny and Ryan will be on Gilby's short tour in Argentina. So watch out for the boys there! Matt and Rod have no firm commitments at this time other than keeping SLASH calm! See you soon, guys!

News Reported: 04/04/00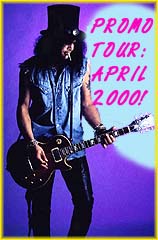 The new album and the tour might seem to be at a standstill, but things have been happening in L.A. What we're waiting for now is SLASH to decide on a new label and sign a contract. When that happens, the new album will be released in about a month, Slash will go on a promotional tour, and then the world tour will get underway. SLASH told us late last night that he expects something to happen tomorrow, Monday, April 3. We'll get the word as soon as everything is signed and official. SLASH says he will be going on the promo tour very soon; this month in fact! He'll be visiting radio and TV stations around the world talking up the new album. He will be doing this alone, without the band. We don't know the schedule for this tour. You may just have to watch for him. SLASH says he will be going in and out very quickly. But local stations will no doubt have some advance coverage. Get down to the station and give the man a big welcome if he comes to your town. And let us know here, so we can let other fans in the area know! It's all starting to happen now! Hopefully, we'll be buying Ain't Life Grand in May and getting the liner notes signed in June!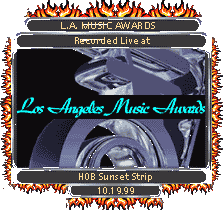 Things are still a little uncertain with dates and schedules, but there is a certain way to see SLASH on video right now. Manu found this wonderful video on the House of Blues site. It was filmed at the House of Blues on November 18, 1999 when SLASH picked up his LA Music Award. SLASH jammed with Paul Rodgers (also an award winner) on Muddy Water Blues. We love to hear SLASH play with Paul Rodgers. Paul's vocals and SLASH's guitar are the perfect complement. This is a nice long video, and you're sure to enjoy it. Click on LAMA below:


News Reported: 04/02/00

Michael sent some news of SLASH in France. He says the bestselling monthly French magazine, Guitar Part, features this month a special lesson on SLASH's playing style in Ain't Life Grand! The May issue has tabs for 3 or 4 new SLASH riffs and playbacks on a CD that comes with the magazine. Michael says you can tell the new album rocks! So if you're a French guitar playing fan, better hurry out and get the May Guitar Part today!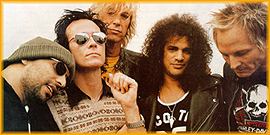 Mark sent us word on Revolver, a magazine about troublemakers in the music industry. An article on page 50 has 5 artists, including SLASH, and 5 cigarette brands. The object here is to match the artist with their favorite cigarette brand. The answer for SLASH is "Gitanes". Hey, we thought it was "Marlboros"! Mark also told us that he was watching MTV's Real World reunion, and they were playing a Snakepit 95 song in the background! Mark's pretty sure it was "Good To Be Alive"! Thanks, Mark!

Just a reminder that our contest ends Friday, May 5 at midnight wherever you are. #7 is giving some trouble. The answer is on the SLASH page, but the clue (Axl tries to get the video pulled) is not. We recently added the clue to the discographies, so you should find this easier! The contest is below on 4/24/00.

News Reported: 04/30/00


SLASH is a good friend of actor Charlie Sheen; and when Sheen and his brother Emilio Estevez came up with a new film, they asked SLASH to work on the soundtrack. The film is called Rated X and will air on Showtime during May. Tyler Bates produced the soundtrack, and we hope we can hear SLASH loud and clear on this movie! Bates asked SLASH to jam on some seventies-style music so listen for that. Rated X is the story of porn kings Jim and Artie Mitchell who owned the O'Farrell Theater in San Francisco. SLASH says the film had a personal significance for him because he and Steven Adler used to hang out at what SLASH describes as a strip bar, porno film theater, and just about anything for sale involving sex. SLASH tells the story of the Mitchells, saying one of the brothers went insane and was killed by the other who then went to jail. SLASH said it is a sad story in a bizarre, sordid environment. Thanks to Maria for getting us that information! Be sure to watch and get those VCRs set. The May/June Showtime schedule for Rated X is:


Showtime: Saturday, May 13 at 9:00 pm

Showtime: Thursday, May 18 at 10:00 pm

Showtime: Monday, May 29 at 10:00 pm

Showtime: Sunday, June 4 at 10:00 pm

Showtime 2: Saturday, June 10 at 11:00 pm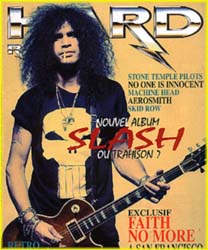 There's a rock photographer SLASH likes to use, and if you have seen Player magazine recently with its SLASH cover, you've seen some of his work! This is Neil Zlozower who photographed Led Zeppelin, Motley Crue, Steve Vai, and so many others. Damian wrote to us that right now, Neil has a display on his home page with recent photographs of SLASH. There's a link below to take you there. Once there, you need to click on Recent Photos, then SLASH to see the SLASH pictures. Plan to spend some time looking through the Classic Shots (GNR is here)and the magazine shots (more SLASH). These are great! Several years ago, Neil Zlozower held a chat with SLASH and so many internet friends that the server crashed immediately (it didn't help that SLASH kicked it over when he came in), and we had to move to an alternative server. Neil did such a great job that night that it's still our favorite SLASH chat. Neil never held another chat, but he's taken some great photos. Enjoy!
News Reported: 04/28/00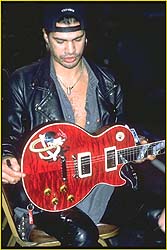 SLASH continues to go over his contract with his manager and lawyer. He said at the end of last week it looks very close. Ain't Life Grand will be out this summer. The tour schedule is not announced as it depends on the album release date. SLASH's Snakepit has a US/Canada agent and an international agent hard at work on the tour plans. A tour manager will be along with the band to make things run smoothly.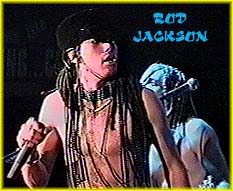 We've gotten some information on the Snakepit vocalists. Rod Jackson is lead vocalist for the current Snakepit. Rod was previously with a band called Rag Doll out of Richmond, Virginia. The band started out practicing in a mini-storage in Richmond's West End and picked up a strong local following. You Richmond fans may have seen one of Rag Doll's shows or been at one of their many parties. Some additional information is coming in, and we'll share it as soon as it gets here.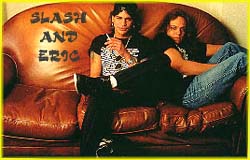 Snakepit '95 fans often ask what Eric Dover is doing. Eric was lead vocalist for Snakepit on It's Five O'Clock Somewhere as well as on the tour. After Snakepit, Eric formed Imperial Drag which broke up a few years ago. Their self-titled album was very good. Eric is working on a solo album right now, and he is looking at putting out some songs on www.mp3.com in the future. Thanks, Tobbe, for that information!

News Reported: 04/26/00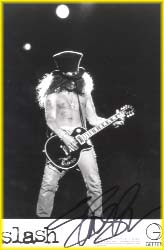 SLASH sent promo photos for contest prizes, and they are autographed! Answer the 10 questions below, and mail the answers to webmaster@snakepit.org. In case of a tie, a random drawing will be held among all those with the correct answers. One entry per person. Please use Subject: Contest on your email message.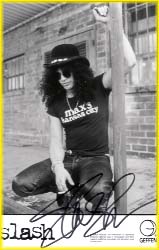 First winner (entry with most correct answers or drawn first) will choose one of the two pictures. Second winner takes the remaining picture. Contest begins Monday, April 24 and ends Friday, May 5. Winners will be notified by email. Entry is free! Shipping is free! And a big hint, as always, is that the answers are somewhere on the SLASH page.

1.SLASH stars as a pageant judge in this 1999 movie. Name the movie.
2.SLASH appeared with GNR at this UK tribute concert made into a video. Name the video.
3.SLASH appeared in this 1998 drum tutorial video with two musicians and friends. Name the two musicians.
4.This DVD video was made in Japan. SLASH appeared on Le Freak. Name the band he played with.
5.SLASH received the Paul Rothchild award at these awards. Name the awards.
6.SLASH appeared on the Wild Thing video. The friend who did the video is now deceased. Name the friend.
7.SLASH appeared on this band's video. Axl Rose tried to get the video pulled because it gave his backstage food and decor requirements. Name the band.
8.Name the 1999 film festival where SLASH, Duff and Matt appeared.
9.French music festival where SLASH played classical guitar as part of the entertainment. Name the festival.
10.SLASH took part in the New Year's Millenium Party where he made a new friend in Tom Jones. What city was it in?

Send answers to

. Good luck!

News Reported: 04/24/00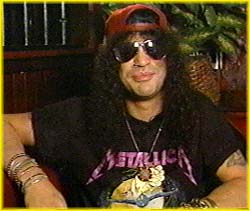 Markus sends a report from Germany, so all you German SLASH fans, check this out. In the German edition of Guitar, there's a SLASH interview! Markus says this is really interesting as SLASH talks about some songs and how he played them. He also comments on the new GNR.

The world's largest music fair is in Frankfurt, Germany; and Markus was there. He said the first thing he saw upon entering was Godzilla! SLASH was mentioned in the Guild catalog (no picture). Markus went to Musicstore in Cologne, Germany. Musicstore is a big guitar/music store that sells internationally. In their catalog is a picture of SLASH with a Gibson doubleneck! Lots of SLASH interest in Germany. We'll try to send him over soon for a long visit. Thanks, Markus!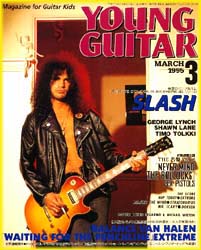 At the listen.excite.com site, we looked up GNR to see what music was there for listening. They had a short bio of the band. We thought you'd like to know they said this about SLASH for his work in GNR: "...the enigmatic SLASH will no doubt continue to be the subject of fawning guitar magazine profiles for decades to come." Decades to come? Sounds very, very good to us!

Due to the religious holidays, Current Events will next appear on Monday, April 24 (skipping Saturday, April 22). Of course, if anything earth shaking happens, we'll stop eating jelly beans and let you know right away!


HAPPY EASTER AND HAPPY PASSOVER, SLASH!




News Reported: 04/20/00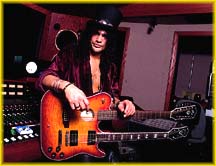 SLASH designed the first acoustic/electric guitar, and Guild Guitars has put it into production under the model name Crossroads. SLASH describes the guitar as a hollowbody at the top and a solidbody at the body. He says he feels comfortable with Guild building it, and the doubleneck is very efficient for live performances. If you were at the pre-album shows, you saw SLASH's green Guild doubleneck, Godzilla.

There is more guitar information as well as Snakepit information in the Guild Guitars web site's feature article, "Back In The Snakepit". SLASH even says here that the new album is called Ain't Life Grand!? (note punctuation at end) which we had never seen before! This is a long, detailed article you'll want to read, and it's right here on the web. Thanks, Todd, for letting us know about it! Click to check this out!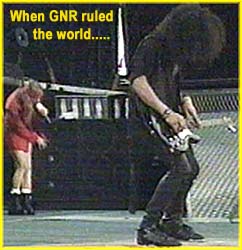 The May 11 issue of Rolling Stone has a big article on Axl Rose. It's quite long and gives some insights into this man and how the wreckage of GNR came to be scattered over the rock field. SLASH gets some mention in the article although what he says has appeared in other magazines before this one - the regret he feels at giving up the rights to the GNR name, the problems in the band when Axl brought in new people that didn't really click with the existing members, etc. Even SLASH's old girlfriend is mentioned as having lived with Erin Everly and having witnessed the brutality which led to Erin's suing Axl. The band's litigation morass and the use of psychics and regression therapists to work with Axl and plot the venues is all detailed for your amazement. Reading this, you see Axl's downward spiral into isolation and stumbling creativity. Good reading for GNR fans everywhere.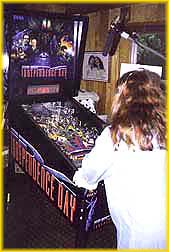 See that Independence Day pinball machine at left? That's SLASH's! And the woman playing is Mandi Martin. Mandi is a singer/songwriter who this week succeeded in breaking the record time for playing pinball and has earned herself a mention in the Guinness Book of Records. Mandi put in 555 hours, 55 minutes and 55 seconds on SLASH's pinball machine and used the event to bring attention to her favorite charities. Musician friends stopped in to perform and help keep her awake. Matt Sorum and SLASH were there; and if those two can't keep you awake, then you're dead! Thanks, SLASH, for sharing that story with us.

Getting back to SLASH and the magazines, Michael let us know some more on the Gitarre und Bass German magazine. Michael says there is a large article about SLASH, but it doesn't say much that's new. It's more like a SLASH bio with a few pictures, but it's a good read. SLASH talks about the old GNR days, his guitars, his idols and a bit about Ain't Life Grand. Sounds like a good one for German fans to pick up! Fabrizio from Italy recommends the Italian hard rock magazine, Flash, from March 2000. There's a three page interview with SLASH about Ain't Life Grand, the forthcoming tour and the GNR story. SLASH is on the cover, and Fabrizio says it is a good photo.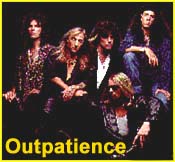 There's a review of Outpatience's Anxious Disease. SLASH played on the album which came out in 1996 only in Japan but is now distributed by Frontiers Records in Europe. You may remember that Outpatience was fronted by West Arkeen who died of burns from an exploding gas grill not long after the album was released. Arkeen provided songwriting support to GNR. Nice to see the album is moving again. It's a good one.

News Reported: 03/31/00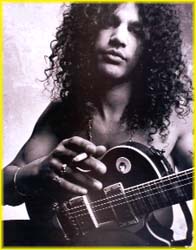 This great picture of SLASH appeared in the April 2000 issue of Gear magazine. If you've been looking for Gear in the music section, it can be found with the men's magazines. SLASH has this full page picture and a full page interview where they discuss pinball, music, and some other interesting items! Can't find it? We've made a copy here for you. It's a large image, but a good interview! Click SLASH in his home pinball room: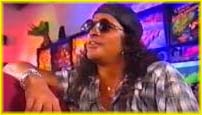 A final update on the 10 Most Expensive Videos program that ran on TV: Stefan saw this program in Germany, and he gave us the specs we were missing. "Estranged" came in #2 beaten out only by Michael Jackson's "Scream" video. Total cost to make "Estranged"? $2.5 million dollars. Stefan caught some of th major costs:

Coast Guard Chopper $3,200/day
Dolphin Rental $15,000/day
Visual Effects $18,000
6 Cam Concert Shoot $350,000
Malibu Estate Rental $20,000


OK, SLASH, let's try to bring those Snakepit videos in under budget this time!

News Reported: 03/29/00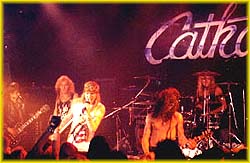 Here's Guns N'Roses, the original band, playing The Cathouse. Those were the days! A question asked over and over by some fans is...Will GNR get back together again? Getting together on a long term basis seems unlikely, but SLASH says he has at least thought about reunion shows. In several recent interviews, he says they've been offered millions for one or a few one-offs. And SLASH says he is interested! BUT, he only wants to perform with GNR if it is the original band: Axl, Duff, Izzy, Steven and himself. He said the Illusions band with Matt and Gilby was fine, but they never had the great sound of that original GNR. The only member he could see replacing would be Steven if his health is not up to doing shows. He says he hasn't talked to Steven, and he really doesn't know what Steven is doing these days. So, swap Matt in if necessary. SLASH is definitely NOT interested in signing up with the new GNR and playing with a bunch of strangers that sound nothing like the GNR he was in. He says Axl knows his number and can call him up anytime. Then, they'll see. Would that be great?! Sign up up for front row seats!


Speaking of Guns N'Roses, MTV had a show covering The Ten Most Expensive Videos of All Time. Robin Leach (Lifestyles of the Rich and Famous) was the host. GNR had two that were very expensive, "November Rain" and "Estranged". "November Rain" was the ninth most expensive video of all time. Remember the little chapel where the wind was blowing, and SLASH did that great solo? That chapel was built for the video and cost $150,000 alone. The entire video came in at over $1.5 million. Remember the scene in "Estranged" where Axl jumped from the tanker into the sea? Just that scene cost $40,000. We didn't get the total for "Estranged" or its position on the chart. Did anyone catch that? Thanks to Chad and Joe for sending in those numbers!

News Reported: 03/27/00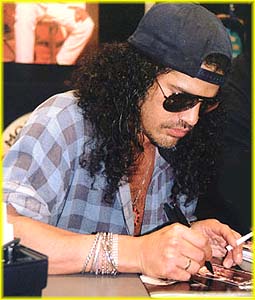 Just to keep you up to date on where things stand with the album and tour, SLASH says that he has not yet signed a contract with a new record label. He should be doing that soon. At this point, since no contract is signed, it is premature to announce the label's name. SLASH also said that when he does sign, he can't just toss the new album to them and leave for his tours. He will need to give them about a month to get it ready and distributed. And he needs some time to make final arrangements for his promotional tour. There will be a few warmup shows which most likely will be on the West Coast. Then the world tour will begin. As of now, it looks like Ain't Life Grand will be out in May. If it can be done sooner, it will! So, please hang on! A recording contract is like a wedding in that you need to make sure everything is understood before you sign on for what can be a strange but interesting journey.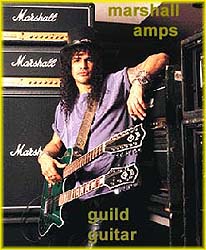 Recently we made some additions to the SLASH page. First, on the Equipment, Styles, Techniques Section, there are now seven direct links to the seven equipment manufacturers SLASH endorses. The Equipment Section is a good place to start as much of it came from Adam Day, SLASH's great guitar tech. SLASH says that Adam has made him sound better than he is! If you need additional information, then you will find these equipment links to be very helpful. The SLASH Page does not link to any commercial sites as this implies endorsement by SLASH, but in the case of these seven, SLASH does recommend them highly. Click the Snakepit pick to go to the Equipment section. The links are at the end.


News Reported: 03/25/00


Before you make another trip to the newsstand, check out this news! Is SLASH everywhere or what? We've received many reports of SLASH mentions, articles, pictures; and we'll share them with you so that you know what to look for! By the way, SLASH does want to know about any articles or mentions all over the world, so you tell us and we'll tell him (and give you the credit)! Spin has a feature called "Transformers" in which they look at musicians who have been changed by an ordinary object or who have changed the object itself. SLASH is listed first with his top hat which he's been wearing since 1987. You can see him wearing it for the first time in the Appetite picture collage where he is playing a red guitar. He loved it because if he couldn't see you, then it seemed you couldn't see him! We're glad to see more of him these days. If you'd like to see a big picture of the famous hat and read SLASH's story on this, click the top hat below:




Thanks to Brian and Louis who alerted us to that great article which you can also find in the April issue of Spin.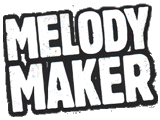 There's a long list of contributors on this next mention. Cinder, Jonathon, Olav (who saw it reprinted in a Norwegian paper), and Kim sent notes about a SLASH mention in the UK magazine Melody Maker. They did a list of the Top 20 Hellraisers, and SLASH is in at #16! Personally, we were a little surprise at SLASH's inclusion but they must have factored in his younger years. SLASH was surprised, too, to be there because he thinks he is a quiet guy who occasionally likes to get up and jump off tables! In the #1 position was Kurt Cobain beating out Keith Richards at #7 and Jim Morrison at #12. Thanks to everyone who sent this in!



The UK magazine Arena has a really nice article about SLASH. SLASH has provided some quotes for the article, too. He talks about being sued by BFD and how the whole problem with Axl over GNR musical style came about. SLASH says when grunge was huge, Axl started wearing the grunge band tshirts and started wanting keyboards and computers and teaching himself guitar. SLASH said he left so as not to be upstaged by a f*cking computer. He says all he knows is a guitar, an amp and a strip of AC wire. Hey, SLASH, we'd rather hear that raw rock sound than a computer any day! SlASH says he will never go to see Axl. Axl knows where he lives, and he can call and then he'll see. Sounds to us like the door is closed but not locked! Thanks to Kim who found this for us. Very interesting and current.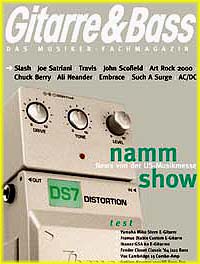 Michael found a good SLASH interview in the German guitar magazine, Gitarre & Bass. This is the April 2000 issue. Michael is going to buy the magazine and send a summary; but if you're from Germany, you might want to get a copy in hand now. We'll post Michael's update as soon as it comes in. Thanks, Michael!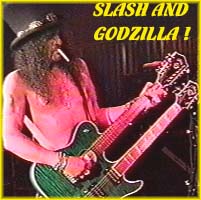 Alan saw a huge picture of SLASH playing Godzilla, his Guild signature doubleneck, at the Van Nuys Guitar Center. He also saw a smaller one, a poster, in the guitar shop he frequents. Alan, we need several hundred copies! James sent us one more UK SLASH mention. He saw this in the free metro paper handed out around the metro train stations in Newcastle and in McDonald's. The short article mentioned that SLASH had left Interscope and that Ain't Life Grand would come out on the new label. Thanks, James!

News Reported: 03/23/00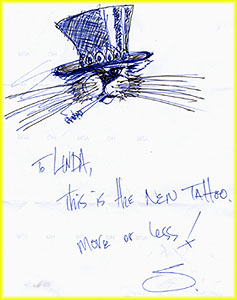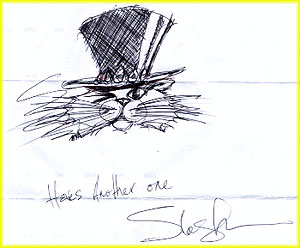 SLASH has a new tattoo on his belly, right hand side. We've been asking for a picture, but SLASH claims not to have a camera! Camera-shy, no doubt! He offered to send us a couple sketches of the cat in the hat smoking a cigarette that lives on his tummy. This tom is winking at all the ladies, we think! SLASH says it is all black except the cigarette end and mouth. What a sexy tom cat this guy is...and so's the tattoo! SLASh said the tat is much smaller than what you see here. Now, if you go to a show with a camera, you know we need a real closeup of this! Thanks!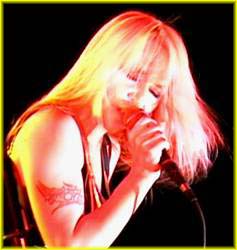 Now for some professional news, SLASH did another guest appearance. Metal queen Doro Pesch has returned to the US and has a new album coming out on the Koch Records label. It is on this album, currently titled Hope in the Darkest Hour but possibly being renamed to Kiss Me Like A Cobra, that SLASH plays some solos. Al Pitrelli and possibly Lemmy will appear. SLASH says that Doro is primarily a European artist who was lead vocalist with a band called Warlock. Warlock was popular when Motorhead was at its peak. When Warlock broke up, Doro continued as a solo artist. SLASH did his solos when he was in New York mixing Ain't Life Grand. Doro characterizes the new album as very heavy and free of industrial influences. No release date has yet been announced for the album.

News Reported: 03/21/00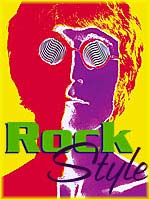 We've been tracking the Rock Style exhibit, and it's getting ready to move again. It's a celebration of the relationship between rock and fashion. The exhibit includes a complete SLASH stage outfit! The exhibit now moves to the home of its sponsor, the Rock and Roll Hall of Fame, in Cleveland, Ohio. The exhibit opens May 12, 2000 and closes September 10, 2000. In the fall of 2000, the exhibit moves to London, England! Hopefully, you midwesterners will get to see the exhibit, and the UK fans are next. We've heard good things about the exhibit and the chance to see one of SLASH's black leather stage outfits including tennis shoes and top hat! See you there. If you go to the Hall's web site, you can see a preview. They are using a small and a regular sized top hat from SLASH for a couple of links. You can also see his beautiful D.T.U.D. leather jacket pictured at their site. Nice SLASH fashion mentions. The Hall of Fame is at:



There was a funny bit on Late Night With Conan O'Brien last week. Both Slinger and Aron caught the show on March 15 where O'Brien did a skit involving Bush and Gore, the current presidential candidates. They do this skit every once in a while. They show a picture of these two and someone else, and as a joke, it is someone totally unrelated to the presidential race. In the past, they have shown Whoopi Goldberg, Chewbacca, etc. Today's person was SLASH! Conan and Andy made some funny remarks about how SLASH would probably have a chance to win or at least be a running mate for the others, e.g. GORE/SLASH! This is too funny! Think SLASH/GORE has a good ring to it? Well, he gets our vote! Thanks, Slinger and Aron, for sending that late night SLASH mention! We'll be sure to tell him, too.

News Reported: 03/19/00

Matt and JT sent us the word that latest issue of Guitar One, the one with the Korn men on the cover,has an interview with SLASH! Matt says there's not much new, but it's a good read. Topics covered are the GNR breakup, the new album, etc. SLASH also discusses some of his signature riffs from "Welcome to the Jungle", "Sweet Child O'Mine", "You Could Be Mine" and "Paradise City." JT echoed that -- a recap of what we already know but still a good article. There are some pictures, too! Thanks, JT and Matt for letting us know.

Jan from Holland found a SLASH-related audio on the Napster site. We heard this ourselves many years ago but never got a copy. This is a riot! Two djs, Tommy & Rumble, do a skit about the original Snakepit band when SLASH was looking everywhere for a lead vocalist. He went through hundreds of applicants. The djs premise is -- what if David Lee Roth were to audition? At this time, Diamond Dave had just been fired by Van Halen. Sounds like a perfect match? Listen to this a couple of times to get all the in-jokes. This is one of my favorites; click on the sign below. This is an mp3.




And one last thing:







News Reported: 03/17/00


Gear is a magazine that addresses the issues of young men - fashion, music, movies, TV, cars, etc. Susan and Tami told us they spotted a great picture of SLASH with an interview in the April 2000 issue. SLASH talks about pinball, dinosaurs, snakes, and a little on Axl. It sounds like a good interview covering SLASH's interests! It's on sale right now. Thanks, Susan and Tami!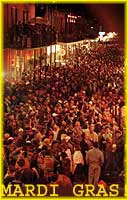 SLASH was in New Orleans for Mardi Gras. He was taking a well deserved break from the record label meetings. He said he had a wonderful time there. SLASH wore his top hat and walked in the parades. Once he stopped in a bar that had a band playing, and he jammed with them. The door was open to the street, and people came pouring in! It was great! When he left, he had to get another carryall for all the bead necklaces, cups, stuffed animals that rained down on him in the parade. OK, SLASH! Back to work!

News Reported: 03/15/00


Joe sent us information on a great rock and movie photography book that has some SLASH pictures! The book is called Physiognomy, and it's by Mark Seliger. Seliger has taken some great cover photos for Rolling Stone.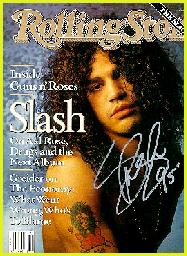 Pictured here are SLASH photos from the book that also appeared in Rolling Stone. The book is on sale at the online book stores. There was a funny sidebar written by Seliger when he went to SLASH's (old) house to take his picture.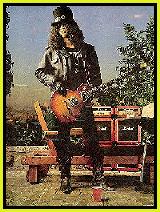 At the time, SLASH had two big rottweilers, and there was dog excrement all over his yard. SLASH advised.."Watch where you walk!" We dog owners can relate. It's a great book for your collection. Thanks Joe for sending that in!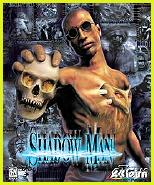 We've heard from a Playstation fanatic that the "Shadowman" game for the Playstation has a character that is a snake...wearing a top hat! There's another for the Arcade called "Final Fight". In one of its levels, there are enemies called Axl and SLASH! If you can read Spanish, you can check it yourself at http://members.xoom.com/gnr_brasil/artigos/a_23.htm While the Axl character might look a little like the red haired one, the SLASH character looks nothing like our guy. Here they are:








News Reported: 03/12/00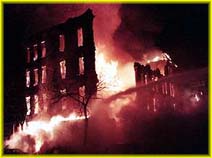 If there were a fire, what would you save? One of SLASH's biggest fans had to make that decision when fire struck his apartment building in Minnesota (see picture at left). Olav saw the fire from outside, ran in, woke his girlfriend and grabbed a picture of SLASH and himself. Olav has been to so many Blues Ball and Snakepit shows that SLASH's people all recognize him! It seems natural that he would save his SLASH photo and his girlfriend! What a dedicated SLASH fan! Olav got out safely but ran back in to save...his Snakepit photos and negatives! His last trip was for his clothing and laptop, but the smoke was so thick he couldn't see to get everything. He grapped his laptop and some clothing and ran for his life! Olav lost over 300 CDs, clothing, SLASH picture and autographs, an autographed (by SLASH and Duff) copy of the "It's So Easy" 12" and his pretour tshirt. How sad. We SLASH fans know what to save first, though! Thanks to my friend Olav for sharing his story, and we hope you will have some new SLASH things soon.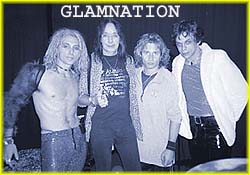 On a calmer note, we have some news on Ryan Roxy. On March 9 in celebration of the Kiss tour, ex-Kiss Eric Singer performed with Ryan Roxie's cover band Glamnation. Glamnation will appear March 12 at the Gig in Hollywood and May 9 at Clu! We wonder how this will work if Ryan is on tour with Snakepit. Those dates are from Metal Edge Online. In the new Metal Edge magazine, there is a small mention of SLASH and Duff being sued by BFD Management, and they also report on the new album name. In their review section, Dad Porno Mag's self-titled album took a beating. The album is characterized as Sunset Strip, platform shoes rock. Juvenile, repetitive lyrics were cited. DPM was hammered for being a sugary pop band pretending to be rock, and the four producers couldn't find a way to take this album. Ryan is said to sing in a British voice half the time. There's a hidden track on 77, so watch for that. While Ryan's guitar playing got positive mention, the songs are called clunkers with vapid lyrics. Let's hope forthcoming reviews are more positive. Last, our friend Lisa from Italy sent us a note about a magazine called Hard. This hall magazine had a special all about GNR, about seven pages long.



News Reported: 03/10/00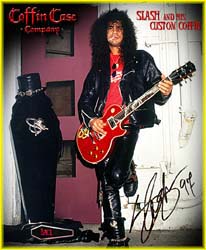 Two days ago we had some serious news here about SLASH's departure from Interscope/Geffen. We've got some funny things to tell you about today. Paul was looking at guitar cases on the net and came upon some fairly strange cases shaped like coffins! And surprise! There's a picture of SLASH with his custom made coffin guitar case (at left). All you guitarists will want one of your own, so here is the site address for Coffin Case: http:\\www.coffincase.com. We expect to see all those tribute bands with one of these soon. Thanks, Paul!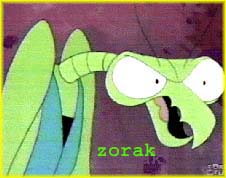 Phoenix sent a message about a funny SLASH mention. He was watching the BRAK show on Cartoon Network. Remember Zorak from Space Ghost? Well, Zorak did a funny imitation of SLASH including top hat, curly hair, screaming guitar. Hilarious!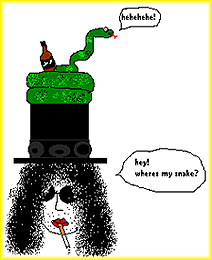 One of our great friends, Louisa, found an X-Files coincidence for us in the grocery store. She picked up a little book about Chinese astrology, and she looked up SLASH's birth year, 1965. Believe it or not, SLASH is a SNAKE! He was born in the Year of the Snake. Believe it....or not!


News Reported: 03/08/00


SLASH announced today the reason for the delay in getting Ain't Life Grand out to the fans. He left his record label, Interscope/Geffen several weeks ago and is in the process of moving to a new label. The separation was amicable with SLASH deciding that this primarily hip hop label could not do an adequate promotional job on a rock album. The company agreed saying this was not their area of expertise. SLASH has been approached by seven record labels ranging from very large labels to indie labels. At the moment he is in the process of deciding which of the last few he is considering will be the final home of SLASH and SLASH's Snakepit. SLASH did consider starting his own label, but he has decided that would be a big effort requiring a lot of time. Right now, the album is set to go, and this would mean a major delay. As soon as he is settled with one, the album will come out, and the tour will begin. As you may know, when the record label mergers came about, Interscope bought Geffen but soon gutted it of many of the staff that had been there for years. Their increasing hip hop orientation is seen in that of the new Geffen president who has a decidedly hip hop background. For SLASH, it was just not the right environment for him as a rock artist. More details and announcements as soon as we have them.


News Reported: 03/06/00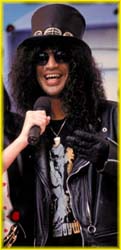 SLASH appeared in The Underground Comedy Movie awhile ago. The movie still appears on a late night schedule usually. On April 7, UCM will show in Sacremento (at the Crest) and Minneapolis. They're working on getting the rating changed from NC-17 to R and hope to be in 300-500 theaters this summer. SLASH played the part of a drunken dj who judges the Miss America Bag Lady Pageant. The UCM web site at www.ucmovie.com is still going strong with some new pictures and trailers added. Coming soon will be merchandise and some sound clips. There's even an address you can write to for information on where the movie will appear. The site has a trailer which can be taken away, and we have it right here for you. Click on the logo below, and watch closely for SLASH!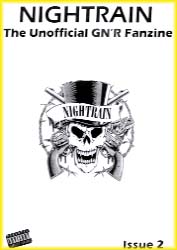 The second issue of the GNR fanzine Nightrain is out! Ian and Kim sent us a copy, and this is a good one. The fanzine is packed with information on Gunners past and present. There's information on how you can contact other fans and some of the band. It's a very exciting publication to read - makes you realize how many of us there really are! Why not buy a copy today (cost covers just the mailing and materials)? Want to order or need more information? We have a link for you here:

Nightrain Fanzine




News Reported: 03/05/00


Been checking your mailbox twice a day for a reply from SLASH? It seems some of the fan mail has gone astray, and SLASH is looking for it, but it may be gone for good. SLASH was having his fan mail forwarded and held for him while he worked on the album. He's really sorry this didn't work out for everyone. You know SLASH likes his fan mail! SLASH has a new post office box number, and the mail will come to him directly as it did last summer when we all got replies and presents from SLASH. When SLASH goes on tour, we might have to do something else since he can't be at the post office and rocking you in London at the same time! If you have cobwebs on your mailbox because your reply didn't come, WRITE AGAIN! This time things will be better because only SLASH will receive your mail. We have a new address for you! The address will always be in the WRITE TO SLASH section of the SLASH page (see Main Menu on home page). Get out those pens and pencils and write right away! The address is:

SLASH
P.O Box 1016
Beverly Hills, CA
90213-1016 USA




News Reported: 03/03/00

SLASH is getting some hot publicity now that the album release is getting closer. And by the way, SLASH said "...end of March, first week in April" when he did a call in to VH1 a couple of weeks ago. In the meantime, we're picking up all kinds of SLASH items! Jack Douglas, producer of Ain't Life Grand was recently interviewed live on webstation KNAC. Douglas talked about his experiences working with some of the great rock bands such as Aerosmith and Cheap Trick. He was asked about working with SLASH and he describes SLASH as a "great guitarist, total pro, and really great to work with." Douglas gives an eyewitness report to the crazy domestic abuse arrest, and the pressure on SLASH to reunite with Axl. The whole interview is worth reading on the KNAC site, and we have here the excerpt where Jack Douglas talks about SLASH: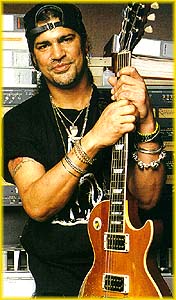 Lisa from Italy sent us some information on a German magazine with a three page article about SLASH! This is Rock Hard, and Lisa says there are some good pictures, but she has to have the article translated into her native Italian. So, we'll be expecting an update on that one soon. Alexandre sends us word from France on Slash's interview in the French Guitarist magazine. Six pictures come with this article (one shown at right). Slash tells about the story from the final GNR tour to Ain't Life Grand. He talks about bandmates past and present. He talks a lot about Ryan Roxie, "a better version of Gilby Clarke and ... a bit of Izzy Stradlin in him..." Ryan's rhythm style is said to complement SLASH's solo style completely. There is a technical discussion of playing styles and equipment, too. SLASH gets into his work with other artists, and the Snakepit World Tour. He says Europe will be first! If you see this magazine, it sounds like an excellent one to pick up. Thanks, Alexandre!



We've covered SLASH on the web, in magazines...how about radio? VH1 repeated SLASH's stint as a DJ on their VH1 AtWork station on Monday. Watch for this in their schedule as they repeat it from time to time. We're hoping they will put it in the archives there soon so that everyone can listen at their convenience.



Finally, how about TV? Yes, SLASH appeared recently on MTV in a taped short interview. The show, which no doubt will be showed again, was The Millionth Video and was a program to commemorate the millionth video shown on MTV. MTV published a list of most played videos, and both "November Rain" and "Sweet Child O'Mine" were on it. Mercades saw the show and said that SLASH was on for "Sweet Child O'Mine" and said he didn't like this song at first. Chad also saw the program and said SCOM was the fourth most played video in MTV's history. Thanks, Chad and Mercades!

News Reported: 03/02/00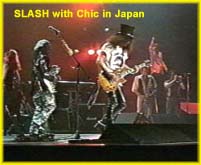 Raymond and Kim of the UK sent us some interesting news! SLASH is in the April issue of Guitarist. This is a European magazine for guitar players, and there is a good article about SLASH in there this time. SLASH tells a story we had not heard before. When he was in Japan recording with Chic (he guested on their "Le Freak" track of the Live at Budokan album and Live in Japan DVD video), SLASH says he was bending his guitar neck as he always does, but this time it broke and he was hit in the face with his broken Les Paul. According to SLASH, there was blood everywhere, and he was rushed to the hospital emergency room. He had to recuperate in the hospital and relied on his old friend Jack Daniels for anesthesia. SLASH is too funny. He finished the story by saying he got his Les Paul repaired and played the concert later that year.

News Reported: 02/29/00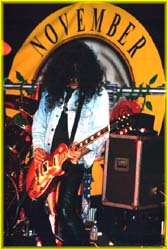 Great picture of SLASH, right? Wrong! That isn't SLASH! That's Mark from the Australian GNR tribute band, November Rain. Mark or "SLASH" is from Sydney, and he's been a huge SLASH fine ever since he first heard Appetite For Destruction. The band has a great new website, November Rain with lots of pictures, audio and video clips. If you're in that area, you'll want to check out the list of forthcoming gigs, and you can even book the band from their site. If you get a chance to see them, check them out. And tell SLASH, er...Mark, we said hello! Mark will always be special to the SLASH page. By the way, we told SLASH about the band and Mark, and he hopes to get a chance to meet them next time he's in Australia. Thanks to "SLASH" and "Sorum" who gave us all the news on November Rain.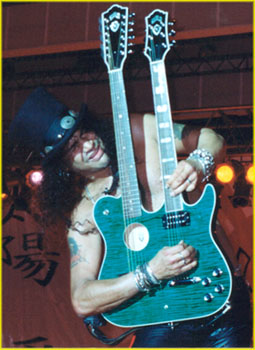 We mentioned some good news awhile ago...that some of the items stolen from SLASH's house have been recovered. This includes two guitars, notably Godzilla! and a Spanish guitar which he said he was very glad to have recovered. SLASH also got back all his DAT tapes from Snakepit, his DAT recorder and his microphones. A man has been arrested for receiving stolen property, but so far has declined to say who he got the items from. Many SLASH guitars remain missing including SLASH's Snakepit signature guitar. Gibson CustomShop is making a new one for him now. Keep a lookout for that signature guitar. It is serial number 1 or 2. It was made by Gibson CustomShop and is not an Epiphone model. Meanwhile the police have the two recovered guitars in the Stolen Property room as evidence. We're hoping Godzilla will be released to make the tour. Free Godzilla!

News Reported: 02/27/00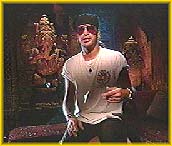 Last year SLASH was in a video called Band of Gypsys - Live At Fillmore East. The video was about Jimi Hendrix, the bands he fronted and how he got to the Band of Gypsys. SLASH spoke several times about the genius of Hendrix and especially about the size of the Band Of Gypsys and how that band enabled him to soar as a guitarist. This week, that video won a Grammy for Music Video/Long Form. We're proud of SLASH for once again being asked to be part of such a prestigious project! There is a video clip of SLASH discussing the Band of Gypsys and Hendrix. It's in the SLASH Video section which you can get to from here: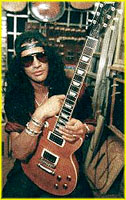 Adeline sent a note from France that SLASH is on the cover of a French magazine called Guitars this month. The cover story is about the new Snakepit! Adeline read it in the store, so she didn't have more details for us, but she wanted the French SLASH fans to pick this one up. Thanks, Adeline!



Remember NAMM? Guitar.Com has put together a video of NAMM highlights. SLASH is shown doing an autograph, but he does not speak on camera. The video was spotted by Cinder, a SLASH fan! It will definitely appeal to guitar players - you get to see and hear some new equipment as played by some big name axemen. Click below to see the video over at Guitar.Com. Look for the big NAMM sign on the Convention Center.





News Reported: 02/25/00


There are two more magazine interviews with SLASH! Carl got his copy of Total Guitar, and there is a two page interview, some current pictures, and a feature on SLASH guitar tips and techniques. Carl tells us its great to use these while playing along with the CD that comes along with Total Guitar. This magazine is a UK publication, but a limited amount seem to sail over to the US.



Dave received his copy of the US magazine, Guitar One (look for the Korn guitarist on the cover), and there's an interview with SLASH in that one, too. Dave says there are lots of cool pictures, mostly of SLASH with his gear, there are some others, notably, SLASH on his bed with some guitars. He's asked questions about the Snakepit album, about his choice of gear, about his time in GNR, and questions about a GNR reunion. Dave promises to send a summary when he has time to read the article. Sounds like a good interview.

Mike sent us a note that Hitparader has some SLASH mention in an article that talks about how the band broke up, what the new GNR might or might not be able to pull off, and some interesting comments from Duff.


The UK's Channel 4 had a number of SLASH fans tuned in last weekend when they aired their program Top Ten: Stadium Rock. Carl, James, Fiona (Scotland), Craig and Ben sent us some information on the show. Alice Cooper presented the show which was about the Top Ten US rock bands. Alice talks about how each of the bands fought their way to the big stages with talent, audacity and verve. There are decadence tales involving money, groupies, drugs, alcohol. GNR was rated as the Number 3 band (behind Number 2 Metallica and Number 1 Aerosmith).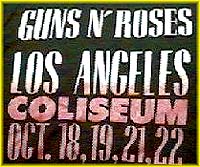 SLASH appeared talking about GNR and their days in the stadium spotlights. He was sitting in a room with 2 Marshall amps behind him and a Les Paul Sunburst. SLASH was dressed in black, wearing a bowler-type hat, dark shades, smoking, with no shoes. They described him as "guitar genius SLASH originally from Stoke-on-Trent". SLASH said that GNR was a band with bad habits but not too scary and said that the sex, drugs, rock and roll that they lived and breathed were out of control. He commented that St.Louis is an awesome rock and roll town but said to this day he can't watch the riot video because it was a really harrowing event for him and everyone onstage. About the new GNR, he says that there are lots of very loyal fans out there that think Guns is not Guns without the original members. Matt Sorum and Duff were on the show as well. Thanks to Ben, Craig, Fiona, James, and Carl who contributed all that information. Excellent reports!

News Reported: 02/23/00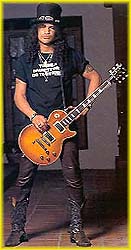 SLASH recently did interviews for some Japanese publications, Young Guitar and Burrn! Magazine. We have the translated interviews right here for you to look over. SLASH talks about Ain't Life Grand, and we get a chance to find out more about some of the individual tracks. SLASH tells us the songwriter and what inspired them to write the song. Very interesting! The Burrn! interview is concerned with a period in his life that SLASH admits was very depressing for him, the end of Guns N'Roses. The decision to leave the band was a very difficult one as you will read. Then SLASH ends on an upbeat note talking about putting SLASH's Snakepit back together. Important SLASH articles!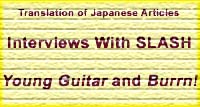 News Reported: 02/21/00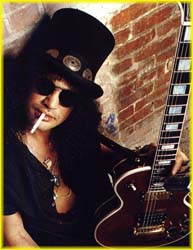 Did you see SLASH on VH1's Rock Show last night? This was an all star call in night, and the rockers were calling in to talk to the host, Shane, and request videos. Preceding SLASH were Sammy Hagar, Nikki Sixx, Alice Cooper. Cane invited SLASH to stop by next time he was in New York. SLASH gave him a status report on the album saying it will be out "the last week in March or the first week in April". Then SLASH requested Alice Cooper's video "I'm Eighteen" and said this is the song/video he's lived his life by!

Although SLASH has no idea where they are getting the music, reviews of Ain't Life Grand are appearing on the net from magazines. If you see one in a magazine or on the net, please email it to the SLASH page at Webmaster@snakepit.org. SLASH asked us for some help in finding these so he can see them. Right now we have none but have heard of ones in FHM and Spin. If you have these or see any others you can send, that would be great. If you need snailmail information, let us know. Thanks!



Guitarists out there know about Seymour Duncan pickups and know that this is the brand SLASH uses. Seymour Duncan has an interesting web site where you can look up artists, see what they use, and make purchases. But there can be incorrect SLASH information no matter where you go. (Under SLASH, they list - we believe, incorrectly, these pickups: the JB Jr. for Strat, the SJBJ-1 and the '59 Model SH-1.) SLASH has always used Seymour Duncan Alnico II Pro Humbuckers on his Les Pauls. They characterize the Alnico II Pro Humbucker as "...[having] a warm, sweet tone with more natural string vibration for greater sustain...humbucker with great balance and warmth". That sounds more like SLASH's tone! We've written to the site, so hopefully they will get a correction out there. We actually visited the Duncan site because SLASH says he did a photo shoot for them for a new ad. He says it should be appearing in guitar magazines soon, so watch for that, guitar players, and let us know when you see it, so we can let everyone know! Thanks.

News Reported: 02/20/00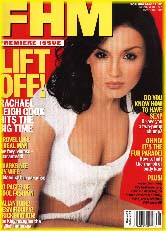 We're still looking for a March release date of Ain't Life Grand; and as the time gets closer, we're seeing more magazine coverage of SLASH. Canadian fan Adele sent us information on a SLASH interview that just appeared in the Canadian magazine FHM (For Him Magazine). Adele sent us a copy of the article which you can read by clicking on the FHM link below! Many thanks, Adele!


FHM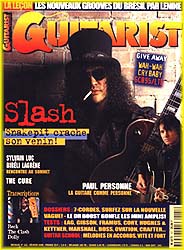 We told you about the French magazine Guitarist Magazine before, and here's a great new picture of SLASH on the cover sent to us by NK12 of the UK. SLASH looks great! We're told that the magazine covered the court case BFD Management has filed against Duff and SLASH. SLASH doesn't look too worried about the lawsuit, does he? Thanks very much for the pictures and translation!



Moving right along in the media world, we have TV! In the US tomorrow, February 18, SLASH will do a call in to VH1's Rock Show between 12:30 and 1:30 am. UK fans should get ready for this Saturday, February 19, when SLASH will appear on the program on stadium rock bands. Craig sent us that information. The show will appear on Channel 4 at 9pm in the UK. The program name is Top 10 - Stadium Rock. The program listing indicates Alice Cooper is the host, but we've been told that SLASH will appear to talk about GNR. Hopefully, someone in the UK will let us know about the program and SLASH's role in it! Thanks, Craig!

News Reported: 02/17/00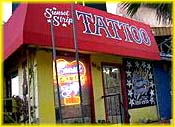 SLASH Trivia Question: How many tattoos does SLASH have? If you answered four, you were right till this past weekend! SLASH sports a brand new fifth tattoo on the lower right hand part of his belly! He sketched a cartoon-like cat that's black, smokes a red-tipped cigarette, and has one gleaming red eye! The famous Sunset Strip Tattoo by the Whisky did it for him when he strolled in at 4 am. At 6 am, he left with his new tattoo. Let's watch for that! Don't forget, if you have a SLASH related tattoo, we'd like to show off a picture of it on our Fan Page.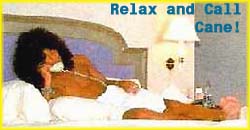 SLASH LIVE! This Thursday night between 12:30 and 1:00 am Eastern Time, SLASH will call into VH1's Rock Show on the VH1 TV cable channel. SLASH appeared on the show in late 1999 as a guest host with Cane, the regular VJ. They liked SLASH very much over at VH1. He then did their radio show for them, and now he's going to call in a request. This week is an all request week on Rock Show. You can make an email request by visiting the Rock Show site at WWW.VH1.COM. Cane plays some great headbanging videos, and you'll have to watch to see what SLASH requests. He wouldn't tell us in advance! Set those VCRs and get ready to rock with SLASH.

News Reported: 02/15/00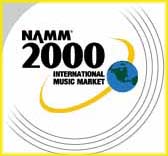 Here are a couple more followup items on NAMM last weekend. Ryan Roxie's Glamnation played Sunday night at The Gig.With many musicians on hand for NAMM, Glamnation had a lot of rockers in the crowd including Steven Adler! SLASH wasn't there having played Saturday night at The Viper Room. Ryan is taking Glamnation to two gigs in the L.A. area soon: the first is Valentine's Day at Scream 2000 in Hollywood and the second is at Scruffy O'Shea's in Marina Del Ray on the 18th. Get out there and see Ryan and da boys.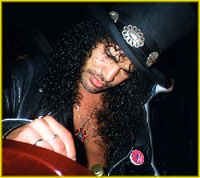 A friend of Rattus was at NAMM, and he and his son did get to see SLASH. SLASH was signing posters with Jim Marshall of Marshall amps. SLASH was running late due to L.A. traffic. Mr. Marshall was not too thrilled until SLASH arrived, and about 500 people descended on the booth for autographed posters! SLASH was not able to spend any time talking to the fans due to the large crowd and his schedule, but when Rattus' friends came up, the son was wearing a Snakepit tshirt. SLASH stopped signing, told the fan how much he liked his shirt, and told him to HANG OUT with him! So, it always pays to have that Snakepit shirt on. Buy several when you see them at the venues.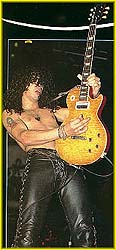 Joao from Portugal sends us our last item of the day. He says that the new issue of Magazine Guitarist is out. It has an interview with SLASH! Joao says that the pictures are just great, but the magazine is in French. Any translation volunteers? And how about sending us those great pics? Thanks Joao, and we hope SLASH will be over to see you soon.
We can't let tomorrow's romantic holiday go by without wishing our guy a


HAPPY VALENTINE'S DAY, SLASH !!

News Reported: 02/13/00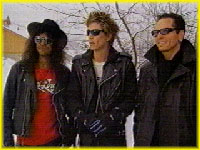 Lisa told us about a great GNR TV special that ran in Italy recently. The show was over three hours long! She said that they chose to run first a video and then a live performance of the same song which really chewed up a lot of time. At the end they ran 1992 interviews with Duff, Matt and Gilby; and one from 1989 with SLASH. Not exactly new material, but exposure is exposure! The very end of the show had a special treat, a short version of "Coma" from Live Era with a videocollage. Thanks, Lisa!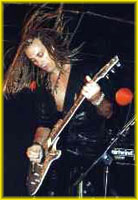 Ryan Roxie is featured in the Sunn Amplifier ad campaign. Be on the lookout for the ads in fine guitar magazines. Ryan has worked with Sunn since he started playing with Alice Cooper and SLASH, and he finds the Sunn to be a good complement to Pete Friesen's and SLASH's Marshalls (Pete is the other guitarist in Alice Cooper's band). He says the Sunn provides a counter balance to the Marshall set-up. Ryan thinks the amp moves a lot of air and says that Sunn just re-released them as the Sunn Model T's. Thanks to Marco who sent that information in.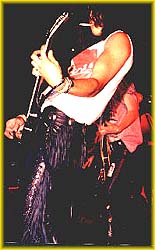 We've been checking out those rock guitar books again. The one we're looking at now is called Legends of Rock Guitar by Pete Brown and HP Newquist. Published in 1997, the book gives a quick bio of GNR. Seems ok till you read the incorrect statement that Izzy was fired. They talk about SLASH and how he is a legend of the nineties and is a clear fan of Michael Schenker. They cite SLASH's sticking to the pentatonic minor and blues scales which they call "rock's driving forces". With his Les Pauls, Marshalls, and an occasional wah-wah, they call him one of the most stripped down performers around. He's nailed down the niche of pure rocker and controls it like no one else has since Joe Perry. With his ability to create memorable riffs, subtle melodies, and well-placed solos, he deserves much more credit than an association with Axl Rose can ever bring him. We think the authors would be pleased with the GNR split which gives SLASH a chance to shine on his own! Nice book, very informative!

News Reported: 02/11/00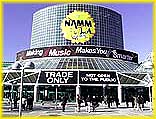 The NAMM (National Association of Music Merchants) held their convention last week, and SLASH was on hand in the exhibit area on Saturday, February 5. SLASH says he was really into it this year and stayed from noon till 9 pm. He was at the booths for Dunlop (they make his guitar picks), Marshall (amps), Gibson and Guild (guitars). He signed autographs and talked with attendees. There was some new equipment around, so SLASH tested out some new guitars. He said part of his band was there visiting the dealers whose equipment they endorse. Ryan Roxie was there for GMP guitars and Teddy Zigzag for keyboards. When SLASH finished up, he went over to the Viper Room (Johnny Depp's club) which was reserved for NAMM also. Gilby Clarke was onstage when SLASH got there; and when Gilby finished, SLASH jammed with the band. He had a great time!



Larry reported that he went to the show to see SLASH but didn't make out very well. Although he had a pass for the hall, Gibson wouldn't let him in their booth area. He did manage to run into SLASH in a convention refreshment area, but SLASH's bodyguard wouldn't let him do more than say hello. SLASH brought a bodyguard when he was mobbed last year at one of the booths, and security couldn't seem to control it. The guard may have been out of line since Larry was just one person, not a mob. SLASH sent his apologies. Most times he is very approachable, but sometimes the guards don't show the best judgment.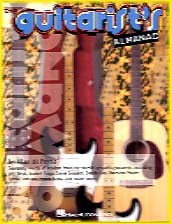 A small SLASH mention in a very nice book has come to our attention. The book is The Guitarist's Almanac by Alan di Perna and has information on guitar history, equipment, care, maintenance, playing live, etc. There are words of wisdom from many great axemen, including SLASH! There is a black and white, small picture of SLASH, and he comments on practicing. "I don't practice, I play". SLASH tries to play with his own and other bands as often as possible. He jams with bands he doesn't know, and this playing is, for him, more valuable than practicing by himself. This 1998 book is very nice, but don't buy it if you are looking for a lot of SLASH tips!

News Reported: 02/09/00


The Japanese magazine Burrn is out now, and this issue contains the interview with SLASH. There is also a separate interview with Duff. We haven't seen it yet; but if there is someone who can translate SLASH's interview into English, we'd be glad to make room for it here. The pictures are all current for 2000 and were taken at SLASH's home.


We're extending another invitation to SLASH fans to join us on the Snakepit listserv. The purpose of the list is to discuss SLASH. This includes his solo work, the bands he has been in, sightings, schedules, guitar information, and so on. This is a moderated list. It's a place to meet other SLASH fans in a positive way. If you are interested, sign up at www.onelist.com and look for the Snakepit list. See you there.


Previously we mentioned the Rock Style exhibition at the Metropolitan Museum of Art in New York City. Some addional information: the exhibit runs through March 19, 2000. Merchandise is being sold on the net. You can check that out and read some information on the exhibit by going to www.metmuseum.org and finding Special Exhibitions. The book, Rock Style by Tommy Hilfiger is available there. There is a small mention of SLASH saying that he and Axl were like Keith Richards and Mick Jagger in their clothing. Mick and Axl take time selecting onstage clothing and change frequently during a show. SLASH and Keith dress for comfort and never make dressing room stops during the show. SLASH has always said it takes him 5 minutes to get ready to go onstage! Everyone has his own style, it seems.

News Reported: 02/07/00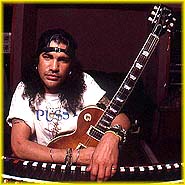 The exhibit of rock and roll clothing sponsored in part by Tommy Hilfiger and the Rock and Roll Hall of Fame is now going on at the Metropolitan Museum in NYC. Joe Parrish tells us that he stopped in and saw a complete SLASH outfit, one he actually wore on stage. The famous top hat was there, one of his leather jackets, ripped jeans and Converse sneakers. Joe said it was totally awesome and that SLASH fans visiting or living in NYC should check it out. Admission was a donation at your discretion, so Joe said he threw in a dollar! It's a bargain! Thanks, Joe.



Rolling Stone Online sent out their daily newsletter with a SLASH quote right at the top. And here it is: "Everybody looked like penguins." That was SLASH's comment on the tucxedo clad glitterati at his Washington D.C. Millenium Eve gig! SLASH was dressed in black leather pants, black tshirt, black tennis shoes, and a beautiful long black leather coat. He was definitely trying to keep warm on that freezing Washington evening. While most people would climb into a warm bath after a near-frostbite experience, SLASH says he just curls up with a bottle of Jack. This seems to be the SLASH cure for many ills!

News Reported: 02/05/00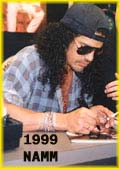 The NAMM convention is going on right now at the LA Convention Center. SLASH will be there Saturday, February 5. He'll be at the booths of manufacturers that he endorses, such as Gibson. Unfortunately, the public cannot attend due to the growing size of the convention. It is for convention attendees or exhibitors only. Some of these people have passes to give out, but you would need to find a dealer or store owner and talk to them. Good Luck! And let us hear from you if you get to see SLASH!

There's a new section in the SLASH page. In the Main Menu, it is called Snakepit 1999-2000. Right now the information is sparse in some sections (such as the tour schedule), but it will be added to right away as soon as we get more news. The Band is covered in one section, and we have some interesting items on each band member plus a photo. An official bio should come out at some point, and we'll put additional information in.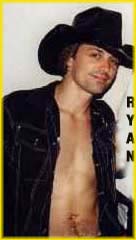 It's easier to feel closer to the band if you know something about them. If you live in or visit the LA area, you can go and see some of them. While they are waiting for Snakepit to take off, the band members are performing. Ryan Roxie, Snakepit guitars, is a really busy guy. Ryan is in Dad's Porno Mag and Glamnation. Dad's Porno Mag recently signed a record deal with the indie label Robison Records. Their new album will be coming out in March. And, the band has signed a deal with Tricycle Records of Tokyo. This is a really good rock band, and they have a beautiful new web site that you should check out. It's at www.dadspornomag.com. You can buy the album and posters right there. Dad's Porno Mag will be at The Whisky in LA on 2/5. Ryan's other band is Glamnation with Eric Dover and Gilby Clarke (sometimes). Glamnation will be at Club American Style in L.A. on 2/6.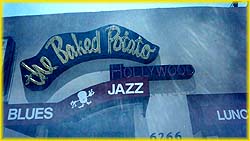 Teddy ZigZag Andreadis is with the Screaming Cocktails. And so is Johnny G. from Snakepit! The band is a regular act at The Baked Potato in West North Hollywood. This is a favorite hangout for SLASH when Teddy is there. Teddy and Johnny G. play at The Baked Potato (called The Spud by insiders)almost every Tuesday evening. Shows are at 9:30 and 11:30. The Baked Potato has a good web site at www.thebakedpotato.com. You'll find directions, the menu, the band schedule and some music.

We know Matt Laug, the drummer, is in Ventures (not the old surf band, The Ventures), but we don't know their schedule. They play in the LA area, too. Rod Jackson and SLASH seem to be the only ones with one band, but they are very busy with SLASH's Snakepit. If you are in the area, stop in and see Ryan, Teddy, Matt and Johnny G.!

News Reported: 02/03/00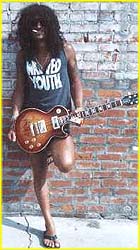 Heads up! More SLASH sightings, a couple of GNR/SLASH mentions and one for a 'pit member. Kilroy sent a note that in January he went to a Sam Ash custom guitar show in NYC. He went to meet Ryan Roxie, SLASH's Snakepit guitarist, and he found Ryan to be a very cool guy!

Here's some GNR trivia about the song where SLASH did a beautiful solo: "November Rain". Chad was looking at the Guinness Book of World Records 2000 and "November Rain" is the longest single ever to reach the Top 20 charts. It clocks in at over 8 minutes!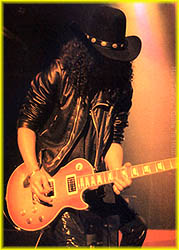 VH1 and MTV often repeat shows. Although these have aired, they are killer SLASH shows, so watch out for them. MTV Loveline with SLASH is not to be missed. SLASH answers call-ins (should you and your girlfriend have sex in a bathtub full of jello if it causes vaginal irritation... SLASH's answer: no, you don't hurt your partner). SLASH talks about some of his experiences..such as making love on a lawn where the sprinkler system came on. VH1's entry is a little tamer. Watch for a show called "Rock and Roll History" that shows a Les Paul tribute at The House of Blues in L.A. You'll see SLASH on stage with a group of guitar players. SLASH has his head down looking at his guitar the entire time, but you'll know him by his hair. Thanks to Brian and Denise who sent those in!

Here's a net mention which you guitar players are probably all aware of. Dave sent a note that if you go over to the Gibson site, www.Gibson.com, you can find quite a few stories on SLASH. Find the search feature, and search the entire site for "Slash". There are many articles about the signature guitar, but you'll also find more general ones such as the one where SLASH gave a guitar to a boy in the Make A Wish program. All are really interesting! Thanks, Dave!

Marco told us that the Dutch music TV station, "The Music Factory" or TMF, had a GNR week at the end of January. Programs like "GNR Live" and "GNR Video Top Ten" were on as well as "Bridget On Air" with TMF extra with SLASH! We haven't heard from Marco as to whether this was a new or old SLASH interview, but personally we like them all!

Thanks to all of you who sent in these sightings. Any new ones... just send a note to the SLASH page at the address above. Thanks!

News Reported: 02/01/00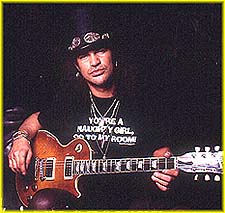 No announcements on the album, so we're going to go back and pick up some more SLASH sightings along with some tips on where you might spot SLASH yourself. The most exciting news we have is that SLASH was named the Fifth Greatest Guitarist of 1999 (rock category) by Guitar Player. Congratulations, SLASH! And thanks to Michael for sending that in. Did you know that SLASH likes to go to Las Vegas and relax? If you're there on the weekend, keep your eyes open! Hector tells us that once SLASH was there when Club Make-Up came to Vegas. He saw this on E! one night recently, "Club Make-Up Goes to Vegas". This club is from L.A. and all its members and entertainers go one night to Vegas. The show tells about how the group makes the trip, what they do, and so on. One reporter says the most interesting person she met at a club that night was SLASH! There was about 45 minutes of footage where SLASH was asked what he thinks brings people to Vegas. He says, "Y'know, honestly, it's convenient. Usually you come here and you go, 'Goddamit, I hate it! Why did I waste all this money? We did this, we did that...', but for some reason it's a good time! SLASH has been spotted more than once by tv cameras there. He's also been seen jamming with Vegas bands like Santana. And that leopard hat he wears on one of the guitar magazine covers...he traded his hat for the leopard one. So you are likely to spot him anywhere, but the weekends are probably the best time. He likes to get away from L.A. for a couple days, roll the dice, play guitar and check out the bars.

News Reported: 01/30/00

Some good news on the forthcoming SLASH's Snakepit album, Ain't Life Grand! At least two Japanese CD sites on the web are offering the new album for presale right now. This means you can order it now, and when the album comes in, it's on its way to you. This will be the Japanese version which will have a bonus track. Cost is about $30 plus shipping. The two sites we know of are CDJapan (www.cdjpan.co.jp) and HMV (www.hmv.co.jp).



The track list is still not 100% finalized, but the one we have looks like this: Been There Lately/Anything/Shine/One Mean Bone/Break You/ The Truth/Landslide/Ain't Life Grand/Speed Parade/Serial Killer/ Something About Your Love/The Alien/Bleed/What Kind of Life. We are familiar with many of these, and they rock! This is a great rock album...the kind where there is no vocalist screaming like a banshee, where the lyrics are cool and catchy, where the guitars rule the world, and the looping, drum machine, weird electronic effects have no place. SLASH said the 16 tracks they had first were too many so they cut to 14 which are here. Whether they cut more or not we don't know. Take this list as not finalized, but it looks good to us.

News Reported: 01/28/00


If you're in California and have been waiting for a SLASH appearance, here's one for you! SLASH always comes to NAMM, the National Association of Music Merchants show. It's in Los Angeles, Wednesday, February 3 through Sunday, February 6. This musical gear trade show is open to retail music buyers, music product manufacturers/distributors, manufacturer representatives of the music products industry, and recording studios. It's held in the L.A. Convention Center, and you can get a ticket without being a member. SLASH will be at the booths of manufactureres he represents, and he'll be meeting the music trade people as well as any fans that come by. You can get an autograph and talk to SLASH a little. Last year, SLASH was absolutely mobbed, so get there early and try to find him! Look at Gibson's, Ernie Ball, Marshall's for sure. This year SLASH will not be doing a special musical program as he has sometimes done in the past. Our Guy will be there on Saturday only, February 5. The show hours that day are 10 am to 6 pm. So get out there and see SLASH and tell him hello for the rest of us! If you get a photo or two, we'd be pleased to have a copy for the page.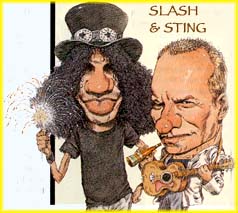 Thanks to Susan for telling us about the Entertainment Weekly issue (with Preview 2000 on the cover) that has this great caricature in it. The short but very positive article talks about the New Year's Eve show in Washington D.C. It said nice things like..."bigger stars like SLASH and Bono" and as you can see, they chose SLASH and Sting out of all the artists to be in the caricature. We're used to SLASH holding the guitar, but he looks really cute with a sparkler. Even SLASH had to laugh at that!



SLASH has a half page article in the current issue of Rolling Stone (Mariah Carey on cover). The article is titled "X-Rated Slash" which is fairly sensational considering the content. This covers SLASH's laying down tracks for Rated X, the Charlie Sheen movie we told you about that concerns the Mitchell brother porno kings. SLASH said he was to do something representative of the seventies which was no stretch for him. He talks about knowing the Mitchells and wanting to do this for one of his best friends, Charlie Sheen. The film is entered in the Sundance Film Festival going on at this time. If the show is picked up by a producer, we may get to hear SLASH!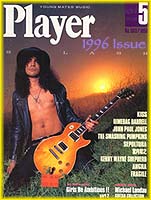 Tetsuya from Japan tells us that the February issue of Player has a note saying that an article about SLASH and GNR will appear in next month's issue. The magazine is in Japanese, but they have some of the best rock photography in the world. If anyone gets a copy, we really would like to see the SLASH photos and share them with our SLASH-world here.



Ian from the UK always tries to keep us posted on UK SLASH sightings for which we are grateful. He tells us that Total Guitar, the biggest guitar magazine in Europe, advertised that next month's issue is "SLASH Speaks Out"! This sounds like one we HAVE to have. Total Guitar is available in the US but sells out rapidly. Ian says that Issue 68 isn't due out till February 23, but he wanted to let us know ahead of time. We're told that the magazine is SLASH- and GNR-friendly and often transcribes GNR songs because you Europeans flood them with requests! Let's buy them all!

Guitar Player has a brief mention in the current issue about SLASH and the new Snakepit album coming out. It would have been nice to have a picture and indepth article from them, but maybe one will be coming along soon. Who is more of a Guitar Player than SLASH?! SLASH is getting more mentions in magazines and newspapers. If you see something...whether it's US or international...please let us know! Some of us have limited time for the newsstands but can make a special SLASH trip! We want to read everything and see all those new pictures. Thanks to everyone who contributed this time. VERY much appreciated!

News Reported: 01/26/00


NEWS FLASH! VH1 ANNOUNCED THAT SLASH'S SHOW WILL BE REPEATED ON THEIR atWork STATION AT 8 PM, THIS WEDNESDAY, THURSDAY, AND FRIDAY! Now you can hear the whole show! WWW.VH1.COM and look for the atWork sign!

SLASH did the VH1 atWork radio show last week. It was an hour of SLASH's favorites and influences. We have just the SLASH intros for you. The show was an hour long, and the musical selections were so long that we are unable to bring them to you due to space considerations. If you'd like to hear what SLASH said, the clips are on the SLASH discography/net appearances section. Click below and we'll take you to the section. You'll pass a couple SLASH chats as you scroll down to the broadcast clips!



News Reported: 01/24/00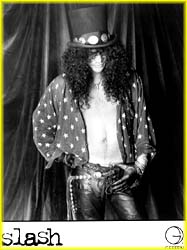 The SLASH photo contest is over. Seems like most everyone knew the answers. When SLASH found out we were having a contest, he wanted to answer the questions to be sure we had the right answers. And in one case, we didn't! So we substituted a better question. Magazine articles had misled us. The question was which sport did SLASH try out when he was on tour with GNR in Argentina. We had the answer as bungee jumping. SLASH says he did that in Australia and Thailand. He says he couldn't go out in Argentina because he was just mobbed when he did. He, Teddy Zigzag and SLASH's ex went out for dinner. Fans mobbed them. A young woman jumped on SLASH and pulled him over backwards onto the ground. His wife was terrified, and SLASH said it was pretty frightening. Hey, you guys in Argentina! Settle those wild ladies down!! So that is your SLASH story for today. Let's try to be gentle with him!

The three winners have been notified via email. And they are: Adam Tarling in the UK, Wolbe400 in the Netherlands, and Kidroc1973. Congratulations. Hopefully SLASH can supply some of the new promo photos that are being taken of him and the band. Thanks to everyone who took part!

News Reported: 01/22/00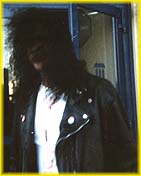 On January 19, SLASH did a one hour stint as DJ on VH1's atWork. SLASH chose the music and talked about why the song was chosen. If SLASH's influences are of interest to you, this was a great program! Every band was in some way an influence on his playing style or his love of hard rock. SLASH started out with Aerosmith's "Back In The Saddle" and said Aerosmith got him interested in rock. He said, "this song kept me from getting laid". We know that story, SLASH! He also let us hear Fear's "I Don't Care About You" which was a song he chose for GNR to cover on TSI. If you've checked out the SLASH page, you know how SLASH feels about Led Zep, especially Jimmy Page; and he chose Zep's "Black Country Woman" for the show. Hendrix is a big influence, and SLASH selected "Dolly Dagger". He said both his mom and dad are Hendrix fans. The wild man, Iggy Pop, was next up with "TVI". SLASH and Iggy have always been friends. SLASH said some terrific things about Metallica and played their "Disposable Heroes". One we missed the name of came from Black Sabbath, and one band we missed the name on was "Thunder and Lightning". If anyone caught those, please let us know. (James let us know right away that we missed Thin Lizzy for "Thunder and Lightning". SLASH is a HUGE fan of theirs. Thanks, James!) The final song was GNR from their Live Era album, "Welcome To The Jungle". The show will probably archived soon, so you can head over to the atWork section of www.vh1.com and check this out for yourself! Rock on, SLASH!



More from VH1! They've sent us word that tonight, January 20, they will play a rarely seen GNR video, "The Garden". This will be on VH1's Rock Show which airs 12:30 to 1:00 am Eastern time. Cane, the host, talks a bit about SLASH's Ain't Life Grand before the video. Set those vcr's!

News Reported: 01/20/00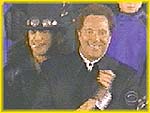 At left is a picture of SLASH and Tom Jones when they entertained the US at the New Year's Eve Millenium Party at the Lincoln Memorial. SLASH entertained everyone who watched and listened and made some new fans. We heard from one, Jess, who worked backstage getting the musicians to the right place at the right time and providing drinks and snacks. Jess's first assignment was one we'd like to have: get SLASH a bucket of ice! Before SLASH went on, they were able to talk, and Jess agreed with those who've met him before that SLASH was "an incredibly nice guy...with none of that 'rock star' persona". Jess says this was a wonderful opportunity to meet nearly everyone who performed, but "SLASH was the nicest, and definitely the person who made my New Year's Eve the most memorable". Jess was really having a lucky night being able to dig out SLASH's pick from under the confetti, get his autograph, and wish him a Happy New Year! So, for those of you who are worried about meeting SLASH on the tour, DON'T! He's very nice, very funny, and is always willing to talk and get his picture taken. We have had similar stories from fans all over the world who have met him. So, don't be shy. If you see him, walk right up and say hello! Thanks, Jess, for that report. And be sure to check out Ain't Life Grand when it hits the stores.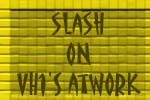 And everyone: don't forget SLASH is on VH1's atWork tomorrow, Wednesday, January 19 at 2pm. Set your browser for www.vh1.com. Let's see if we can put the biggest load on their server they've seen yet!

News Reported: 01/18/00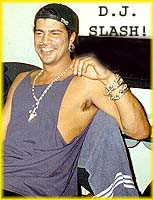 On November 5, 1999, SLASH recorded a show for VH1's atWork. atWork is VH1's new 24 hour, internet only radio station. The show often has guest D.J.'s, and SLASH was asked to come in and give it a shot! The show was taped for future airing; and, finally, the date is almost here! This Wednesday, January 19, SLASH's tape will air at 2 pm. The show is an hour long as nearly as SLASH can remember. He had a lot of fun choosing and talking about songs as well as about SLASH's Snakepit and Ain't Life Grand. To listen to the broadcast you are going to need software, and four choices are given: Quicktime, Real Player, Real Player G2, Real Player 7, and Windows Media Player. All are available for free download, but download takes time so be sure to get over there and test out your version. The site is www.vh1.com, but the direct route to the atWork location is:

VH1's atWork

We'll definitely be taping it for you, and we'll get some highlights out here of SLASH spinning tunes!

News Reported: 01/16/00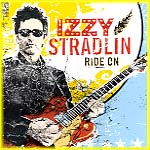 Good news for Izzy Stradlin fans (that includes SLASH)! Izzy's new album is out. Right now it is a Japan-only release but import distributors are getting it in, and you can preorder or even buy your import copy right now. The album title is Ride On, and Duff McKagan joins in as bassist with the usual Izzy pals Rick Richards (formerly of Georgia Satellites)and Taz Bentley (formerly of Rev. Horton Heat). Rumor has it that Izzy may tour with Duff (and possible Duff's band) and that Izzy and his band might join up with SLASH's Snakepit for some shows. Maybe Duff's band would like to join in! We'll look forward to seeing any of these rumors come true, but for now we're just happy to hear Izzy again on Ride On.



US fans are sometimes embarrassed at the music rags that tear GNR to shreds. We've found one from the UK that can give US magazines a run for their money. This particular one is called NME for New Musical Express. In the final December 1999 issue, there is a 3 page article on GNR in which these oafs go back, way back to GNR's start and publish a lot of sordid stories about the band. Steven is indicted for his drug habit, SLASH for excessive drinking, drug addiction, and neglecting to help someone overdosing to save his image. Axl gets hammered for being a reclusive, woman beating psycho, and Duff for gun use and general drunkeness and stupidity. They claim that SLASH left GNR over Axl's decision to put Manson's "Look At Your Game Girl" on TSI?. Some of these episodes have been chronicled and admitted to by the band members. For the ones that have not, they claim unnamed women sources that they say certainly fit the band so they must be true. It's unfortunate that someone new to the band will read these and believe them. What the guys did early in their careers is very different from what they are doing now. Give this rag the brush-off.

News Reported: 01/14/00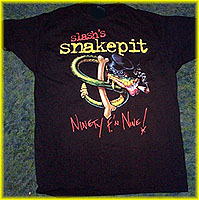 The Snakepit 99 tshirts are on sale no longer. Please don't send in any orders. We're trying to clean up everything before the tour, so if you have not received your order, you might want to let us know. If you live in the US, and it has been more than 4 weeks since you mailed your order, or if you are outside the US and it has been more than 8 weeks since you placed your order, you should get in touch with us now. Send your name, address, quantity, size, alt. size, amount sent and what form it was in (e.g. money order). Then we'll research these and get in touch. Very careful records have been kept of orders received/sent so hopefully we can track your order easily.


Tshirt Order Problems





New tshirt designs are ready for Snakepit 2000, and these will be available at the tour venues. There may be other Snakepit merchandise for sale as well.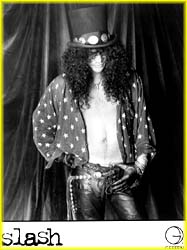 This is our final SLASH page contest with the '95 promo photos. We have three of these we'd like to give away. They are not signed, but you can take them to a show, tell SLASH you won it because you know so much about him and the band, and he'll give you a personalized autograph and maybe hire you for his biography. Make him more famous than he already is! Questions are below. Send your answers to webmaster@snakepit.org. In the likely event of more than three people with the correct answers, there will be a drawing. Winners will be notified by email and will need to supply a mailing address. There is no charge for the postage/handling. One entry per person. The deadline for entries will be Friday, January 21 at midnight eastern time. Thanks!

1. Name of the producer of Ain't Life Grand.
2. City where Slash mixed and mastered the new album.
3. SLASH keeps this tied to his back pocket:


a. snake b. bandana c. silver flask


4. City where SLASH played New Year's Eve.
5. Member of Snakepit 2000 who was also in SLASH's Blues Ball and was a sideman for GNR on tour.
6. Lead vocalist for Snakepit 2000.
7. Who did SLASH perform with at NetAid in 99?
8. Which city recently honored SLASH with a music award?


a. Montreal b. St. Louis c. Los Angeles


9. Snakepit guitarist who is also in Dad's Porno Mag?
10.Name of SLASH's longtime guitar tech.



SLASH Photo Contest

News Reported: 01/12/00

There's some news on the Snakepit album and tour. The album will be released March 7 in the US! The band recorded 16 songs for the album and have dropped 2 of these. They don't want the album too long - so fans don't get tired of listening! They may crop the number down to 11 or 12 although they all really like the 14 songs, and it will be tough to pare the album down further. Also, on Ain't Life Grand, the Japanese version will have a bonus track. SLASH is trying to think of a way to get this track to the rest of us...a single, a contest, something!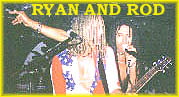 About the tour, SLASH's Snakepit will most likely begin in Japan or Europe. The US will most likely be later along with South America. They hope to tour extensively, so they should be coming to a club near you. The itinterary is not set...no countries, no cities. It will be posted when the schedule is available. SLASH says he is definitely ready to go. He can't wait! He is starting rehearsals with Snakepit this week if possible! There will be warmup shows before the tour. Where these will be is not set...Los Angeles or at the country that starts the tour.

The promotional tour will be starting up in February. Look for SLASH alone or with Rod or with Ryan or with the whole band on your local tv or radio station! Take lots of pictures and let us know here if you see them!

One of those articles we promised you has appeared. It is in Player, a Japanese magazine. Our thanks to Andrew who passed it on to us and his friend who did the transalation. SLASH says it's too bad we didn't get the two pictures as they were great. Anyone having them...how about sharing them with the SLASH page? Thanks.


Player Article

News Reported: 01/10/00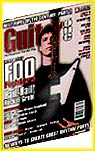 SLASH is getting ready to roll out the 'pit, get the album in your hands, and tour, tour, tour. He's been doing photo shoots and interviews for magazines and press kits. We should be seeing the magazine items soon. In the meantime, we can pick up on some regular coverage. Guitar One had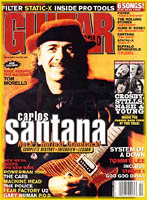 some SLASH music in their December 1999 issue; this was some instruction in how to play "Patience". Raoull let us know that "Sweet Child O'Mine" was in Guitar One's Best Riffs of the Century list. Also on the newsstand is the Guitar World with Carlos Santana on the cover. There is a lesson here on playing GNR's "Mr. Brownstone".



Fabrizio in Italy let us know about the Italian metal magazine, Metal Shock's article about the 50 best guitarists of the century. At #21 (total) and #11 (hard rock), is SLASH! They say that SLASH's style is an inheritance of 70's hard rock showing his excellent blues soloist style with solos rich with feeling. His way of playing comes from his heart and is very touching. "A true guitar hero!" Oh, but you knew it all along, didn't you? Thanks to Metal Shock and to Fabrizio both!

Kevin Yorio passed along an interesting item on the L.A. Music Awards. The Thanksgiving webcast generated nearly 200,000 hits. Most viewers were in the US, but it was truly an international event. Excerpts of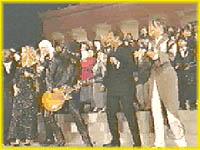 the concert are still accessible from the USA Video Interactive and L.A.Music Awards sites. You can re-visit SLASH and his jam with Paul Rodgers if you get there soon. And don't forget the Washington, D.C. "Midnight Hour" song that SLASH did with Tom Jones and other artists on New Year's Eve. This video is found on the SLASH page at:

SLASH New Year's Eve Video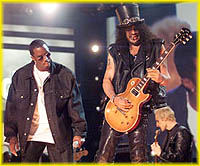 Another event taking place on New Year's Eve was a rebroadcast of the whole NetAid concert in Germany. Alex let us know that happened there. What better way to spend New Year's than drinking champagne and waiting for SLASH to appear?

News Reported: 01/08/00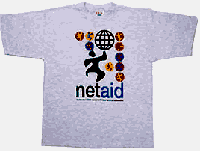 Remember when SLASH took part in NetAid with Puff Daddy? NetAid now has some merchandise on their site. How about a tshirt to commemorate the concert? And there's a big concert program with lots of photos and information. NetAid is a worthwhile charity supported by SLASH. Why not make a contribution or buy some merchandise that will help fight world hunger, elimate third world debt, improve the environment and other goals? Set your browser for www.netaid.org!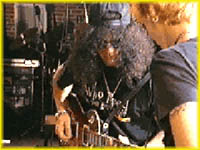 Early this week we were still on Cloud 9 over SLASH's successful appearance at the Washington D.C. New Year's Eve party (see video below). We were hit by a surprise left from the Rose camp again. This time, Rose's management group, Big FD Entertainment, filed a lawsuit against SLASH and Duff! We don't pretend to be contract law experts, but something is just wrong with the suit, the filers, and those behind them using the American judicial system to persecute fellow musicians. Big F D (hearafter known as BFD) say that SLASH and Duff didn't pay them for the stellar work BFD did on the Live Era CD. Excuse me, it seems that Duff and SLASH did more to get the album out than those guys. Did they play an instrument, mix the album, do the artwork? Maybe they organized all that publicity we never saw? So, they want to be paid for what seems to us, nothing. And they want the money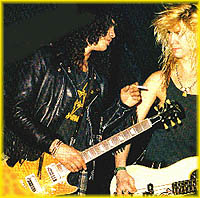 from the time when SLASH and Duff each hired their own personal managers and used them instead of BFD..So about 4 years of BFD doing what? Nothing. Maybe your boss would like to pay YOU for doing nothing. We'll check into that right away. And of course they say SLASH and Duff have to pay till Axl Rose finishes his tour. What??? When will that be?? And why does it matter to SLASH and Duff? Could it be that money is a bit tight in the old BFD camp since Axl has produced almost nothing over the past few years? Could it be that BFD would like to ruin SLASH and Duff for leaving them and Axl holding an empty musical bag? Come on, guys! Get those scumbag shirts on. This misuse of civil law to bludgeon musicians into serving masters they no longer want or need ...well, we thought it went out with Prince and George Michael. Rose should call off his dogs, get in gear and produce some money for those fine BFD folks. Maybe they will crawl back under the rocks they came from. note: opinion here is that of the webmaster, a staunch friend of SLASH and Duff who continues to hope for honor and ethics among musicians. Freedom of speech on the web permits us to lambaste this crowd as we sit fit.

News Reported: 01/06/00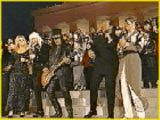 We were able to tape the finale of America's Millenium Celebration in Washington D.C. If you've read the previous two news items below, you know SLASH was up front and grooving with Tom Jones and other musicians. We made a video from our tape, so you can see how totally cool SLASH looked! Just to set this up for you, SLASH has Tom Jones on his left and well known sax player, Edgar Winter, on his right. Edgar and SLASH really have it together especially at the end when confetti rains down on audience and performers alike! The performers are on steps in front of the Lincoln Memorial, and we like to think that Abe would be pleased with "Midnight Hour".

To play the video, we're going to take you to the Video Section of the SLASH page where some more information is available on enjoying the SLASH video. By the way, SLASH was really pleased to know the video is on the page! Click the picture of the Lincoln Memorial to go to the New Year's Eve 2000 SLASH Video: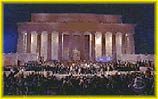 News Reported: 01/04/00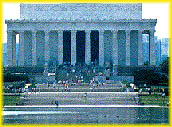 At right is the Lincoln Memorial with the Reflecting Pool in front and The Mall beside and beyond. This beautiful National Park is in Washington, D.C., and it was the site of America's Millenial Party in the U.S. The party was hosted by President Clinton and his family. They invited a few hundred artists to entertain and enjoy the celebration. SLASH was invited to attend by Quincy Jones, producer of the show. Originally, SLASH was to play with another band, but he and Tom Jones became fast friends the first night there, and he decided he would prefer to play for and with Tom Jones at the finale. It was a long wait! The artists

were shown packing the steps of the Memorial. Finally SLASH came out! He had been up checking his amp. Due to a choir being onstage near them, the amps were turned facing the Memorial instead of facing out. SLASH couldn't hear anything he was playing. Nothing! We were happy to tell him he was heard on CBS Television, a US national network. SLASH stood between Tom Jones and Edgar Winter (great sax player), bent over and really let his Les Paul go. It was wonderful to hear and see! He smiled so much and looked very well dressed in his long black leather coat, black leather pants and top hat. His hair was pushed back so you could see his face smiling. He moved around as much as possible in front of the first line of artists. The first number was "Midnight Hour" which we thought was a great choice for this night. They also played "This Land Is Your Land" which was shortened for us by the CBS credits. We heard SLASH do at least two solos, and one of these SLASH played on camera. It was really exciting to see SLASH on national television and many times to see him as the only one on camera! We saw the camera flash from SLASH to the audience which included Teddy Kennedy (swaying to the music), John Glenn, and all the Clintons. We told SLASH he is moving in a different level of company these days, and he laughed about that.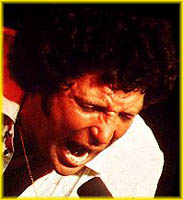 We could tell he had had a really impressive and wonderful time. Then, when the show was over, the performers went to The WHITE HOUSE (!!) for a party. They ate, drank, danced and talked till 4 am. SLASH walked in with his guitars (his guitar tech did not come)and was lugging them around till a Secret Service agent offered to store them beside him where they would be watched for him. SLASH is not so jaded as to be unimpressed by the Secret Service guarding his guitars! He said that he and Tom Jones adjourned to a lighted table for drinks and were soon busy signing autographs. He really liked Tom Jones, and it seems the two are friends now. We'd like to see SLASH rock out a remix of "It's Not Unusual", and we'd like to hear Tom Jones do a rendition of "Beggars & Hangers-On"! SLASH had a terrific time. The only glitch (not Y2K in origin) was the rotation of the amps. He just had to play from memory. He did a great job. SLASH is a class act, and we were proud of his entertaining the American people and being a guest at The White House. The Year 2000 is beginning so well for SLASH, and we hope for you, too.

News Reported: 01/02/00


Click on the SLASH picture to return to more recent SLASH events: