There have always been places on the SLASH page for fan tributes. Some fans have taken a lot of time writing guitar tabs for SLASH-related songs. Others have made drawings, cartoons, paintings, cakes...just about everything. This section contains fictional stories about SLASH! If you have a story to contribute, email the SLASH page! Click on the non-fiction, unauthorized GNR book below: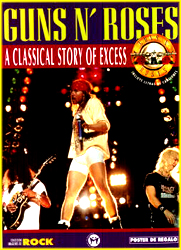 The first story, "Guess My Name" by Linda Scott is a horror story that tells a tale of what happens when a person is willing to go to any lengths to succeed...what happens here affects not only SLASH but threatens Guns N'Roses! Want to read "Guess My Name"? Click on the tophat below NOW!



Guess My Name

Did you ever see the Space Ghost cartoon show where SLASH is the guest? It is so funny! How would you like to read about a cartoon SLASH meeting another famous cartoon character...like Scooby-Doo, everyone's favorite Saturday morning dog? In this full length play by Kate, SLASH, Axl and Duff meet up with the Scooby-Doo gang and have an adventure in a haunted house! Want to read "Scooby-Doo Meets Guns N'Roses"? Click on the tophat below NOW!



Scooby-Doo Meets Guns N'Roses

Here's a lovely poem by Eische from Germany. This is "For Slash", and when you read it, you can see all the wonderful things about him. His dark hair and eyes, the silver bracelets...it's a beautiful description of our favorite guitarist. Click on the tophat below to read this incredible poem.



For Saul, For Slash

This story is by Martin who must have some great scifi knowledge. This is a long story that really tells us all about an adventure GNR (Duff, SLASH and Axl) had in outerspace. It's a good one. Grab a cup of coffee or your bottle of Jack and prepare to be entertained! Click on the tophat below to read about SLASH and the GNR gang zipping around in a G N R S C (GNR Space Cruiser!).



Guns N'Roses And A Polymorth

What happens when lightning strikes? Can it change a fun loving bass player into a monster? What lengths will bandmates go to to retrieve their friend from the gates of Hell? Want to read more about this frightening Guns N'Roses story? Click on the tophat below NOW!



DeathWish

Ever see those movies called Scream? Pretty scary! One of Slash's fans imagined what it would be like if cool SLASH were stalked by Scream. Does he laugh? Is he frightened? Does he move to the midwest? Read this horror story and find out! Click on the tophat below NOW!



SLASH Stalked by Scream

The next story is lovely and exotic. Have you ever gone to a show feeling unhappy and lost? SLASH can restore your good feelings through his music and presence. The young lady in this story by Ternell wants to show her gratitude to SLASH with a special gift. Step into Jade's world with this eerie story, "Thank You". Click on the tophat below NOW!



Thank You

Everyone likes adventure comic books. This is a really special one because SLASH is in it! Alberto Vargas sent in this SLASH comic strip, and it's just wonderful. The story is excellent and so are the drawings and the captions. Click on the tophat below NOW!



SLASH And Izzy: Adventure In The Future

Everyone is fascinated with stories about vampires. These awful creatures convert everyone they bite to their own hideous fate. What would it be like if someone in GNR were a vampire? What if SLASH were a vampire? Would you still want him to show you how to play one of his riffs? Would you still want your picture taken with him? Or would we all become part of his undead fan group? Check out this frightening story on the GNR vampire curse. Click on the tophat below NOW!



Descending To The Unknown

You're a big Slash fan. What's the best thing you could win in a SLASH contest? How about getting to spend a few days with him! Our next author may have had a dream about that or did it really happen? Click on the tophat below NOW!



Fan Asylum

Ladies, have you ever wanted a romantic relationship with SLASH? If you say no, we don't believe you! SLASH is a very sexy guy and a chick magnet. So if you fantasize about him, you're not alone. Kayleigh wrote a romance story about herself and SLASH. The story uses a direct novelization of the TV series, Buffy and the Vampire, edited by this author as the basis for the story. So this story appears here with a big tip of the top hat and sweeping bow to the author of Buffy the Vampire Slayer: The Angel Chronicles Volume 3 (the first section in the book). If you can't have SLASH for real, this take-off will improve your daydreams! Click on the tophat below NOW!



Hope of Heaven

Lynn had the opportunity to meet SLASH, and this lovely poem was inspired by their meeting. If you've met SLASH, you know how it is to want to freeze the moment, make it last longer and be able to relive it over and over. Click on the tophat below NOW!



Chance of A Lifetime

Robert is from London, England; and he is 16 years old and a self taught lead guitarist! Robert wrote this comedy about a guy's day leading up to going to a SLASH's Snakepit concert. The guy has the worst day ever, but at the end is the Snakepit concert. All his problems are forgotten, and he has the time of his life! We know how that feels! You'll like the many GNR and Snakepit references, and SLASH makes an appearance at the end. Thanks, Robert! Click on the tophat below NOW!



Days Can Never Suck

Jovana is from Serbia especially likes this Fiction section, so she sent in her cartoon of Axl and SLASH at school. Actually, we think SLASH is a chick magnet for all kinds of ladies! This one has some great drawings, and we think you'll enjoy it. Thanks, Jovana, this is pretty cool! Click on the tophat below NOW!



Axl and SLASH At School

Whitney is from St. Joseph, Missouri, and this is her fictional story about SLASH and his best friend Duff in the bad old days of Guns N'Roses. Why do we think this story could have been based on their lives? Read it and find out. Thanks, Whitney! Click on the tophat below NOW!



Duff and SLASH Near Death

Tyler Spiegeland has written one of the coolest, longest stories about SLASH and his cohorts. SLASH, Duff, Matt, Scott, Dave appear along with the new GNR although one of these guys has an untimely demise. The whole plot is just great, and probably is pretty much like the convoluted lives these guys live! Thanks, Tyler, this is great!Click on the tophat below NOW!



SLASH Story: The Axl Hunt

This story is about something near and dear to GNR fans' hearts, a reunion of the band. Want to read "The World Tour Story"? Click on the tophat below NOW!



World Tour Story

To Return to the SLASH's Official Fan Site's Main Menu, Click on the GNR riffs book below: