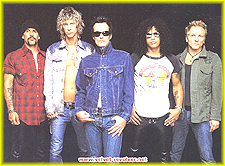 The Starland Ballroom in Sayreville, NJ announced on their web site that Velvet Revolver will play their New Year's Eve show there this year. Tickets are on sale at $100 a pop and are on sale through Ticketmaster. This is an all-ages event (21 to drink). The ticket includes an open bar from 8 pm till 9:30 pm. There will be a champagne toast at midnight for those over 21, party favors, continental breakfast and more. And of course, the chance to hear that rocking VR band! So, if you can get a ticket and get there, it will be a New Year's Eve party to remember. Let us know if you go!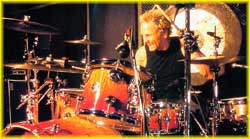 No word yet if Matt Sorum will be appearing then, but he was on Indie 103.1 FM with his mom on November 19. This was Matt's birthday, and it was great that he shared it with his many fans. A webcast of this event could be seen through 6767.com.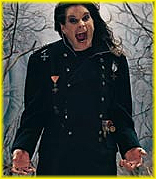 On November 21, Ozzy Osbourne sang a version of The Beatles' classic "In My Life" in Cardiff. Ozzy's wife/manager introduced him and called him her personal rock. He was accompanied by SLASH wearing his trademark top hat for the show, the first Royal Variety Performance in Wales. Thanks to Brian for that. Mykaela lives in North Wales and had the Welsh news on talking about this Royal Performance. She saw SLASH with Ozzy and some Welsh opera singers and celebs meeting the Queen! This took place in Cardiff, the capital. Mykaela said it was great to see SLASH on the Welsh news. Thanks!

Coming up in December, SLASH and former STP principals Dean and Robert DeLeo are among the artists scheduled to perform/appear at a December 10 Grammy Jam at the Orpheum Theatre in L.A. to honor legendary artist and 22-time Grammy winner, Stevie Wonder. Billboard.com says tickets are available to the public by calling 5B Events at 310/550-9334. All proceeds benefit the Entertainment Industry Foundation's National Arts and Music Education Initiative. This has to be a great show! SLASH was asked once in an interview which artist of the ones he had not worked with would he most like to jam with. And he replied Stevie Wonder, so we're hoping that will happen for him at this show.


Awhile back we told you about the elegant and limited edition Nixon watches in honor of musicians. They were only to be sold in certain places. Dave found the one for sale at The Old Man in Amsterdam/Netherlands/Europe. It is number 4 of the 13 created. The price is 1395eur or about $1500 US. Dave says that's a bit too expensive for him. Put that on the Christmas list! Thanks, Dave!


Here's a strange bit of news that Brian sent us from contactmusic.com. They say that Ozzy Osbourne has ordered a life-size clone of himself. Ozzy will be immortalized forever with the $10,800 life-like body double. They also claim that Pam Anderson and SLASH are on the waiting list! The creator says that celebs see it as a way of retaining their looks forever. And fans have been flocking to buy replicas of their favorite stars! It doesn't seem like a SLASH thing, but we'd sure like to have one if we could just raise the money.


Rolling Stone had a short mention of the forthcoming GNR album, titled Welcome to the Jungle: The Very Best of Guns N'Roses. They list the release date as December 20, just in time for the fans on your Christmas list. Thanks to Ray for sending that in.

Page Updated 11/28/05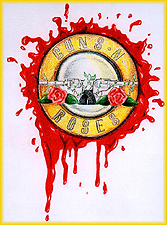 Just in time for Christmas, there will be a new GNR album. This is a two-CD collection from Guns N'Roses entitled Welcome to the Jungle: The Very Best of Guns N'Roses. Reportedly, there will be a Parental Advisory and edited forms and should be out on December 20. Other reported dates have been mentioned, but we're hoping for the before Christmas date. The first hits collection released in 2004, sold nearly 2.5 million copies in the the U.S. SLASH, Duff and Axl sued to block the release of that one saying they had assembled the CD without their input. This CD does not have that problem. We checked and amazon.com did not have it out for pre-sale as yet.

And while you're out shopping or preparing your Christmas list, note on your list that Target has or will have an acoustic version of "Fall To Pieces" on the Sound Advice CD sold only in the Target stores or on Target.com. The CD goes for $7.99 and 100% of the sales of the proceeds go to the Hurricane Katrina relief effort. We checked and target.com was out of the CD but points you back to amazon.com where you can order a copy of Sound Advice from their associated dealers. It's a good price and a special cause, so this is a good one to order.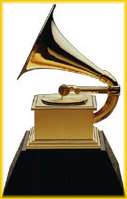 We've heard from the GRAMMY Foundation & MusiCares Charities. At this year's GRAMMY Awards backstage area, SLASH made a one-of-a-kind drawing for them to use as a fundraiser. This will be featured in their Holiday Online Auction, and we'll put a link to the item on this web site. This way the item can be showcased on the site and you, the fans, can have direct access to bid on the item. They will send us the link when the auction goes live and runs from November 28 to December 8!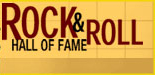 Lesley from Manchester in the UK got to see SLASH on the UK Hall of Fame show. The tribute to Jimi Hendrix featured SLASH with Jimi's original band. He blew everyone away with a fantastic version of "Hey Joe". Lesley was watching on TV. Brian May was in the front row, rocking and clapping. The version show only lasted 5-6 minutes so it may have been edited down...there was no way to tell, but it was formidable. SLASH also was the one to introduce Jimi's wife to collect the award for Jimi's induction into the UK Hall of Fame. Thanks, Lesley!


After a serious bout of the flu, we missed telling you that Matt Laug, ex-Snakepit drummer, would appear with Melissa Etheridge on the Jay Leno show. Maybe have to catch this one in re-runs. The same delay caused us to miss the US Today Money Section about Sony pulling the CDs that have the XCP copy protection, "Sony to pull controversial CDs, offer swap". Halfway through the article, they say that Sony began adding the copy protection to its CDs in June 2004 with the release of Contraband by Velvet Revolver saying it was a step against unauthorized online file sharing and CD burning. Evidently the CDs contain hidden files that leave them vulnerable to computer viruses when played on a PC.

Page Updated 11/18/05

UK music fans are and will be enjoying the return of the UK Music Hall of Fame to their TV screens on Channel 4, from November 6 - 17. You can win tickets to the one of the nights at the show and to hang out at with the celebs. One winner will be selected at random every day. To enter for the remaining days, click here to put in your entry form. This year's performances includes one by SLASH! So maybe you can track him down to the hotel and hang out with him. Good luck! The hotel is the K-West Hotel and the performances are held at the Alexandra Palace.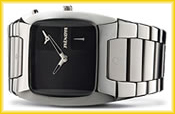 For the second year in a row, Nixon, the southern California based premium accessories company, will release a limited collection of one-of-a-kind watches made from celebrity leather jackets, pants and guitar straps. Proceeds will benefit the MusiCares MAP fund. Each watch will be etched on the back with artist name, individually numbered and come in premium wooden boxes with a certificate of authenticity. Both SLASH and Scott are going to have watches along with Chris Cornell, Ozzy, Kirk Hammett and more. SLASH donated a black leather jacket with tobacco filled pockets. Scott donated his black leather jacket. Watches created for this collection are gto, duke, rocker, dictator and duchess. Watches will be available in 12 stores globally for one month starting November 15. In the US, it's all Barney locations. In Paris, Colette; in London, Bond; in Barcelona, Ltd. Edition; in Dusseldorf, Vibes; in Zurich, Vibes; in NYC, Atrium and Barneys; in LA, Barneys; in San Francisco, Villians Vault; in Chicago, Barneys; in Amsterdam, The Old Man; in Sydney, General Pants; in Tokyo, Beams; and in Bologna, Scout. For more information about the collection, contact The Nixon Ltd Collection (Shelby Meade at Fresh and Clean Media at 310/313-7200). Sounds like a great item for a good cause. They didn't list the price, so if someone can find these and send in the price, we would really be glad to have this. Remember, this is for one month only.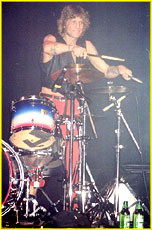 Diego sent us a review of Steven Adler's band performing on the Latin American Sports Network called, he believes, Football for Everyone. Steven and Adler's Appetite were special guests. They jammed and played 4 songs from GNR. The songs were "It's So Easy", "Nightrain", "Sweet Child O' Mine" and "Welcome to the Jungle". Diego said they did a good job and Steven reminded people his wife is from Argentina and the last time he was there it was with Gilby. He said he has a good relationship with Duff and SLASH and wonders about a reunion although it's been 15 years apart. Diego says it was a good performance although only GNR can play those songs the way they used to sound. Thanks, Diego!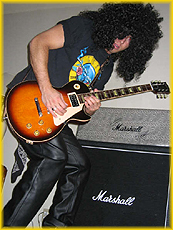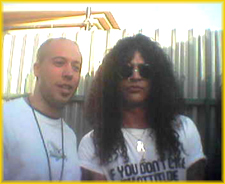 Marc says he's a little late with this picture of him dressing up as SLASH for Halloween, but it's just too good to miss even without a top hat. He also included a picture of himself and SLASH at the first show in San Diego where he met everyone except Scott and Dave. He got to go to soundcheck and sit in the first row. He says SLASH's music speaks to him and he doesn't know quite why...it just does. He's glad they found such success with Velvet Revolver. Thanks, Marc!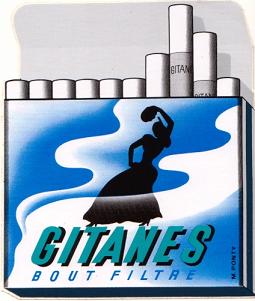 Several people brought to our attention a new SLASH tattoo. It is the Gitanes cigarette logo! It looks like a girl dancing. Looks like he has a little more room there, doesn't it? Thanks to all who sent that in.





Page Updated 11/08/05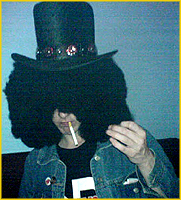 We asked you to send in pictures if you dressed up as SLASH for Halloween, and David dressed up as The Man himself and went clubbing. He says he got an insane response with people asking to have photos taken with him and everything, he felt like a real rock star. You can't see it in the picture, but David says he had on leather pants on, and he really likes them! Thanks, David, for showing us clubbing in Scotland dressed as SLASH!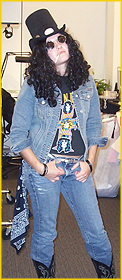 Melissa's from New York, and she was in the Greenwich Village parade. There were three other SLASH's in the parade. People called out "SLASH" as she walked by. She said it was so much fun dressing up as her fave guitarist and being the only woman to be SLASH. Everyone was so happy to see SLASH and they all recognized who she was made up to be. Thanks, Melissa!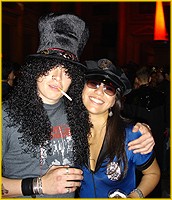 Michael sent some photos of himself as SLASH for 2005 Halloween. People went nuts over the costume, and they love SLASH. Michael said he met SLASH at the last Velvet Revolver concert at the Hardrock grand opening in NYC...a super cool, down to earth guy. This seems to be what everyone has to say that runs into him.

And who knows? You might have a chance at the NAMM show in Los Angeles in Anaheim. We haven't seen the list of scheduled performers or attendees, but SLASH almost always stops by the Geffen booth at one time or another and signs autographs. So if you have tickets already, keep an eye on their booth. It's January 19-22, 2006 in the Anaheim Convention Center. If we hear for sure he will be there, we'll let you know.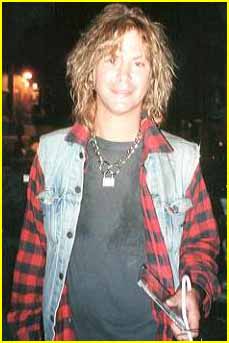 We saw in one of the online news reports that Duff has bought a house in the Los Angeles neighborhood called Sherman Oaks for just under $3 million. It's an adobe style hacienda with five bedrooms and 5 baths in 5,800 square feet. The 1935 home has 5 fireplaces. The master bedroom has 20 foot ceilings. The half-acred walled and gated property has a guest house, stables and barn, an underground wine cellar, gym, pool and spa. This may be more than you wanted to know, but for Duff fans, you helped to make it all possible for your hero. And as an added attraction, SLASH is not so far away. All this according to one of the Yahoo news services.


Geffen Records confirms that there will be a second GNR hits album coming out. Several dates have been tossed around starting with December through March. The first one, the Greatest Hits album caused the three band members, Axl, SLASH and Duff to join forces to sue trying to block that album claiming the record company put it together without their input. Axl's long delayed album has yet to be released. This album will be Welcome to the Jungle: The Very Best of Guns N'Roses. No word yet on the tracks. Thanks, Brian for that update.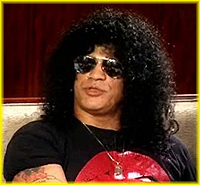 Jamie sent us another update. This one was on SLASH's guesting on radio station 95.5 in LA on Tuesday, October 25. SLASH was unable to make this, and he is now rescheduled for Tuesday, November 8, 2005. Same station, same time (10 pm) with Jim Ladd live in the studio. Thanks, Jamie, we didn't hear about this switch. That's next week!





Page Updated 11/03/05

At the end of each week, the news is moved to the current month below to permit faster downloading of the News section. Clicking a month in that month brings up all the archived news for that month. The news for 2004, 2003, 2002 and 2001 are archived below by month as are the past months in 2005. Years previous to 2001 are also below but grouped into larger month sections, that is, 6 months may be together.




2005 News By Month
2004 News By Month
2003 News By Month
2002 News By Month
2001 News By Month

Read about some older SLASH events! Items here are from July 1, 2000 through December 31, 2000. Click on SLASH below:


Read about some older SLASH events! Items hear are from January 1, 2000 through June 30, 2000. Click on SLASH below: